"The book is in approximately 60 libraries in Australia."
AUGUST 19, 2019
A pro-

LGBT

book released in 2014 that includes a lewd sexual descriptions is allegedly being promoted in the youth sections at Australian libraries.
"Beyond Magenta: Transgender Teens Speak Out," which includes the story of a 6-year-old enjoying oral sex, is being promoted in the youth sections of at least 60 Australian libraries, according to Binary Australia, an organization that says it affirms "the fact that gender is binary."
"From six up, I used to kiss other guys in my neighbourhood, make out with them, and perform oral sex on them. I liked it. I used to love oral," reads an except from the book shared by Binary Australia. "And I touched their you-know-whats. We were really young but that's what we did."
Kirralie Smith, director of Binary Australia, told the Daily Caller, "The book is in approximately 60 libraries in Australia. I found the book in my local library: Greater Taree Library — two copies in Taree and Wingham."
She adds, "I know it is in the nest region in Port Macquaire as well. The book was on a promotional stand in Taree Library in the youth section."
The book is primarily focused on six young adults as they struggle to embrace their transgender identities.
Author Susan Kuklin was asked back in 2014 by CBS about the controversy of libraries featuring books like hers and other novels such as "Fifty Shades of Grey." She said, "I think it's the outsider. You know, it's whatever part of our society that mainstream Americans still feel some discomfort with."
Smith added in a statement, "These stories are being promoted to young people who may not have the capacity to judge whether this is good or bad behavior. And despite the illicit nature of their accounts, each concludes by celebrating their transition."
Smith continued, saying, "such material has no place in tax-payer funded libraries and should certainly never be promoted to children."
By Joe Hoft – AUGUST 13, 2019
Yesterday we reported that

Clinton

and

Obama

economist and the former

President of Harvard

, took numerous flights on

Jeffrey Epstein

's jet. He even flew on Epstein's jet to Epstein's infamous 'Orgy Island' ten days after his marriage in 2005.
Today we can report that another Clinton elite creep, former Clinton National Security Advisor, took a flight on the Epstein Express from Epstein's 'Orgy Island' as well.
Yesterday we uncovered that creepy former

President of Harvard, Larry Summers

, flew numerous times on

Jeffrey Epstein

's jet and even flew to Epstein's so called 'Orgy Island'.
Flight logs from the previous Epstein trial show that Larry Summers flew a couple times on the 'Epstein Express' to Epstein's now infamous 'Orgy Island'! According to flight records released from the Epstein case, Summers took four trips on Epstein's Jet. On one trip he took his newlywed second wife, Elisa New, to Epstein's Island for their Honeymoon in 2005.
Today we can report that the same flight records show that former President Bill Clinton's National Security Advisor,

Sandy Berger,

flew on Epstein's jet from his 'Orgy Island' as well.
Berger was also famous for being charged with stealing documents from the National Archives but stuffing them in his clothes to protect President Clinton and himself from actions related to Osama Bin Ladin.  US News reportedabout Berger –
It's been almost eight years since Clinton-era national security adviser Sandy Berger smuggled classified documents out of the National Archives that detailed his boss's efforts to thwart terrorist threats to the millennium celebrations. The crime cost Berger $50,000, 100 hours of community service, his security clearance, and his law license. But the agents who went after him haven't forgotten. "It weighs on you," says Archives Inspector General Paul Brachfeld.

And now they've made Berger the poster boy for a new anti-theft initiative. The outreach to archivists includes a slide show that pictures Berger and three other smugglers under the headline: "To Catch a Thief." What's more, Brachfeld now has an archival recovery team assigned to work theft cases. "Those acts I don't think can be re-created today," he tells our Caitlin Huey-Burns.

Still, the Berger episode gnaws at Brachfeld because the former top official abused his privileges and because Berger's actions might have robbed the 9/11 Commission of key details related to its probe of the terror plot. Brachfeld says Berger was given "unique privileges" just "because he was Sandy Berger." But, he adds, that kind of special treatment will never again be provided. "Those unique privileges were rescinded, in terms of it wasn't going to happen again," says Brachfeld.

He notes that the 9/11 Commission report, which also looked at the Clinton administration's handling of terrorism, could have been compromised. "We all know what 9/11 meant to the country, and his treating those records in such a manner will always leave, in my mind, a cloud over whether or not the 9/11 Commission got full production of the records that they requested, and that to me is extremely serious and an affront to all Americans."

The misdemeanor to which Berger admitted took place in late 2003. "It was a terrible experience for me," Brachfeld says. "I was going after big game." He adds: "It was very disquieting to me that somebody that was a household name in Washington, somebody that was a trusted person, somebody that you hope would be a good steward of the records and would be responsive to the 9/11 Commission, treated the records in the opposite manner. So you know, you lose faith. It's a success in terms of getting him to admit to the crime in some degree. But at the same time, it's sad."
Berger was not only a crook, he was a creep!
We've identified a documented flight for Berger FROM Epstein's Island (NOTE: There are NO Epstein flight records for Berger TO Epstein's 'Orgy' Island.)
On September 24, 2005, Berger flew from TIST (Cyril E King Airport, St Thomas, US Virgin Islands) to TEB (Teterboro Airport, Bergen, NJ).
Also accompanying Berger on this flight out was a Tatiana "Simanova/Simonova" (sp)
Former President Bill Clinton on the Epstein Express 27 times, mostly with underage girls.  One sex slave from the island says she met Al Gore, Clinton's VP, when she was underage.  Clinton's Treasury Secretary,  Summers, flew on the Epstein Express to Orgy Island on his honeymoon and his National Security Advisor, Berger, flew from Orgy Island on the Epstein Express.
Was the entire Clinton Administration a gang of creeps?
Via Paul Blum
Virginia Giuffre accused former President Bill Clinton's energy secretary of abusing her when she was underage.
By Shane Trejo
Documents are being released that are related to convicted sex predator and prominent Democratic Party donor

Jeffrey Epstein

's illicit activities, and the initial revelations are already explosive.
Virginia Giuffre, a woman who claims she was kept captive and forced into sex slavery by Epstein and his accomplice Ghislaine Maxwell when she was a child, implicated former New Mexico Governor and Secretary of Energy Bill Richardson as one of the powerful men who victimized her.
Other men who she alleges abused her include former U.S. senator George Mitchell who once served as Bill Clinton's Special Envoy for Northern Ireland, Prince Andrew of Great Britain, the late MIT scientist Marvin Minsky, influential financier Glenn Dubin, and modeling agency founder Jean-Luc Brunel. She also listed "another prince," a "foreign president," a "well-known prime minister," and the French owner of a "large hotel chain" as unnamed men who preyed upon her.
In a series of depositions, Giuffre claimed that Maxwell sent her to Europe to give "massages" to powerful men.
"I was instructed by Ghislaine to go and give him an erotic massage," Giuffre testified.
"She used the words erotic massage?" Maxwell's lawyer Laura Menninger asked.
"No, that's my word," Giuffre replied. "The word 'massage' is what they would use. That's their code word."
She told Menninger about how she was sent as apart of Epstein's child sex trafficking operation to Richardson, who served in the Clinton administration as energy secretary and U.S. ambassador to the United Nations.
"They instructed me to go to George Mitchell, Jean Luc Brunel, Bill Richardson, another prince that I don't know his name. A guy that owns a hotel, a really large hotel chain, I can't remember which hotel it was. Marvin Minksy," she said.
Giuffre claims she was victimized by so many men that she could not possibly remember who they all were.
Menninger asked Giuffre: "Other than Glenn Dubin…Prince Andrew, Jean-Luc Brunel, Bill Richardson, another prince, the large hotel chain owner, and Marvin Minsky, is there anyone else that Ghislaine Maxwell directed you to go have sex with?"
"I am definitely sure there is," Giuffre replied. "But can I remember everybody's name? No…look I've given you what I know right now. I'm sorry. This is very hard for me and very frustrating to have to go over this. I don't—I don't recall all of the people. There was a large amount of people that I was sent to."
Richardson was forced to return $50,000 in campaign donations from Epstein after he was convicted of sex crimes in 2007. Richardson has also been accused of illegally giving a woman $250,000 to keep quiet after being accused of sexual harassment, although a federal investigation ultimately found no wrongdoing.
He denies any culpability regarding Guiffre's allegations of abuse.
"These allegations and inferences are completely false. Governor Richardson has never even been contacted by any party regarding this lawsuit. To be clear, in Governor Richardson's limited interactions with Mr. Epstein, he never saw him in the presence of young or underage girls. Governor Richardson has never been to Mr. Epstein's residence in the Virgin Islands. Governor Richardson has never met Ms. Giuffre," said Richardson's spokeswoman Madeleine Mahony.
The unsealed opinion issued by Judge Robert W. Sweet in 2017 can be viewed in full here.
Protecting child abusers while attacking free speech seems to be Big Tech's modus operandi.
By Shane Trejo
In the wake of two mass shootings over the weekend, tech services company

Cloudflare

announced that they were denying service to

8chan

, the controversial free speech website where killers have posted their manifestos.
Cloudflare wrote a blog where they congratulated themselves for enforcing censorship and taking another step on the road to Big Brother.
"We just sent notice that we are terminating 8chan as a customer effective at midnight tonight Pacific Time. The rationale is simple: they have proven themselves to be lawless and that lawlessness has caused multiple tragic deaths. Even if 8chan may not have violated the letter of the law in refusing to moderate their hate-filled community, they have created an environment that revels in violating its spirit," they wrote.
However, despite their haughty virtue signaling, Cloudflare gives service and protection to websites that promote pedophiles and the serial victimization of children.
NOTE: We are not listing the actual names of these websites because we do not want to drive traffic to these predatory entities hosted by Cloudflare.
One such website is a Facebook-style web platform that allows pedophiles to gather, share tips, and meet children for the purposes of depraved and illegal sex acts. Cloudflare is listed as the current provider for Domain Name System (DNS) services for this website.
This pedophile haven is serviced by Cloudflare.
Another website serviced by Cloudflare is a portal that serves as a hub for "Virtuous Pedophiles," a movement designed to rehabilitate pedophiles and normalized their disgusting urges in the eyes of the public. This perverse movement even has a WikiPedia page that reads as follows:
Virtuous Pedophiles is an Internet-based mutual support group for pedophiles who acknowledge having a sexual interest in children and do not act on their attraction. Members support each other in trying to lead normal lives without committing child sexual abuse. Members share the belief that sexual activity between adults and children is wrong and always will be. They also work against the stigma attached to pedophiles. The two founders of the group use the pseudonyms Ethan Edwards and Nick Devin. They do not reveal their true identity because they fear ostracism and hatred against their stigmatized psychological disorder. There are over 2000 users registered, 
Liberal rag Salon even ran a piece sympathizing with one organizer in which the man was painted as a figure worthy of praise rather than scorn for masturbating in a bathroom while working as a babysitter for a 5-year-old girl.
Salon was forced to take the video down after widespread anger, but it was archived here:
This movement is aided and abetted by Cloudflare, who provides DNS services to allow these individuals to meet and build a movement of acceptance for their vile actions.
Cloudflare's services allow "Virtuous Pedophiles" to spread their propaganda to the world.
With Cloudflare picking and choosing who they conduct business without neutrality based on their subjective morals, could doing business with known pedophiles and facilitating their networking abilities be seen as an endorsement for those illicit activities?
Cloudflare accused 8Chan of violating the "spirit" of the law and proving "themselves to be lawless" by refusing to restrict freedom. In issuing that judgment, Cloudflare implies that the pro-pedophilia websites enabled by the tech firm are essentially lawful and just.
The drag queen taught children how to twerk at a public library in Britain.
By Shane Trejo
Once again, a drag queen has been caught on video sexualizing children at a 'Drag Queen Story Hour' event. This time, crossdresser Mama G was seen teaching children how to twerk at a library in Britain.
According to the Petite Pantos theater company, drag queen Mama G "has appeared at libraries, theatres, bookshops and cafes all over the UK." He was brought to Devon Libraries to share "tales that celebrate being who you are & loving who you want." That is where he conducted his twerking lesson, shaking his posterior in front of precocious children.
"All you need to do is you just need to stand with your feet sort of shoulder-width apart like so…and then you crouch down in this sort of position, so you're bump's sticking out," Mama G said before glancing backward to ask an off-camera individual if they were "taking this all in." And "then you just move your bum up and down like that. And that's twerking."
WARNING: The video of the sick display can be seen below.
Making matters worse, Mama G was caught soliciting personal information on social media from children so she could reach out to them personally. LifeSiteNews shared a screenshot of the request he made to the kids before the crossdresser set his Twitter profile to private.
"You could always do some Mama G inspired arts and crafts!" he said. "If you want one of my colouring sheets for a rainy day, DM me your email!"
Suffolk Libraries UK has issued a damage control tweet attempting to cover for letting this depraved individual have intimate access to young children.
While the library system may downplay this reprobate's grotesque behavior to save face, there is a trail of degeneracy that follows these Drag Queen Story Hour events as they become more and more pervasive throughout the West.
Two child sex offenders were found to be administering the program in a Houston, TX public library. Another drag queen participating in these events admitted that they are meant for "grooming" children into a life of sodomite perversion. Other library events teach children about graphic and brutal sexual acts.
Other excesses of the LGBT plague include children as young as eight years old being drugged to prepare them for genital mutilation at adolescence and strip shows with children being the centerpieces as lecherous homosexuals throw dollar bills toward them.
By Cristina Laila
The Royal Canadian Mounted Police

raided the home of "Wax My Balls" trans activist

Jessica Yaniv

on Monday night, The Post Millennial 

has confirmed.
The raid of Yaniv's home followed an explosive debate he had with another transgender individual named Blaire White.
Via The Post Millennial:
The raid follows Yaniv's explosive live appearance on Blaire White's YouTube channel, brandishing and demonstrating the functionality of a taser at one point in the debate, and claiming to be fully aware of its illegality. Yaniv also claimed to possess pepper spray.

Yaniv's discussion of the weapons followed a lengthy racist rant disparaging the East Indian and immigrant communities of British Columbia, asserting "we have f*cked up people who migrate here, who think they can do whatever they want."

Yaniv was reportedly not allowed access to the residence while the RCMP conducted their search, with Langley Police guarding the residence since police arrived last night.

While the RCMP declined to provide a specific name unless charges were laid, they were able to confirm to The Post Millennial that a warrant was executed at a Walnut Grove address confirmed to house Yaniv. The warrant concerned a prohibited weapon, with the responding officer noting that "an active file is still ongoing."
Recall, a previous complaint about Jessica Yaniv was called into the RCMP by a young woman named Jessica Rumpel who alleges Yaniv sent her sexually explicit messages when she was only 14 years old.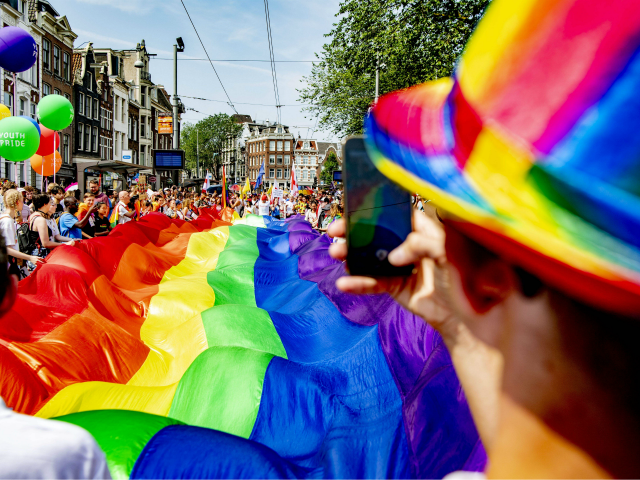 By Chris Tomlinson – 2 Aug 2019
A pro-paedophile group calling themselves the "Children's Liberation Front" attempted to infiltrate a pride parade over the weekend in

Amsterdam

before being removed.
A man claiming to represent the group handed out leaflets and other materials on the edges of the parade calling for paedophiles to be allowed to join the LGBT community, but members of the public reacted with anger, Le Figaro reports.
Some people participating in the parade became so angered by the man's actions that police were forced to evacuate him from the area and confiscated his materials, but did not arrest him.
"Public order was going to be disturbed. Due to strong reactions to the leaflets, they were confiscated. The individual then left of his own accord, " police spokeswoman Jelmer Geerds said.
"He was not arrested. He can pick up his prospectuses later, as is customary when items are temporarily seized in the interest of public order," Geerds added.
While several in Dutch media have claimed that only one man is behind the group — the same man who handed out the leaflets at the pride parade — the group briefly had a Twitter account claiming to have participated in the parade. The account has since been suspended by Twitter.
Following the incident, a petition was signed by over 14,000 people to "Prohibit paedophiles at the gay pride of Amsterdam".
Earlier this year, the Stockholm pride association was also forced to deal with a paedophilia scandal after it was revealed one of its members had attempted to request sex from an underage boy over the gay dating app Grindr.
The "boy" was, however, a pair of journalists named Negra Efendić and Adrian Sadikovic of Swedish newspaper Svenska Dagbladet who found more than a hundred men propositioned 14-year-old "David" for sex.
In 2017, another member of Stockholm pride was fired from the organisation after it was revealed that he had been previously convicted of raping a 13-year-old boy in 2011.