Social distancing proving to be a problem in Pakistan.
By Paul Joseph Watson – April 3, 2020
A video out of

Karachi

,

Pakistan

shows a violent mob chasing away a police car after authorities tried to shut down a local mosque as part of social distancing rules.
The clip shows a mob of hundreds of men pursuing the police cruiser while screaming and hurling rocks at the car.
"Today when police reportedly tried to stop a Friday prayer congregation at a mosque forcibly in #Karachi's Liaquatabad, residents reacted violently," tweeted journalist Zia Ur Rehman.
Another clip shows one of the officers wearing a mask being manhandled by the crowd.
According to the Business Recorder, "An Imam of a mosque in Liaquatabad area was holding Friday congregation prayers despite a ban imposed by the government from 12 noon to 3 pm. A large number of people also gathered in the mosque to offer Friday prayers."
The Imam then incited the mob to attack the police, causing them to flee "in a bid to save their lives."
A larger contingent of officers later reached the site and arrested the Imam along with three other people.
As we previously highlighted, Muslim migrants living in Europe's "sensitive" ghettos have also largely ignored the lockdown measures.
The situation is so dire that a top government official in France suggested not enforcing the law in migrant-heavy areas and keeping shops open in order to prevent riots.
Health minister blasts "astonishing breach of faith"
By Dan Lyman – 4/2/2020
An

Australian private hospital

system owned by a Chinese investor has

laid off 800 staffers

and might close altogether in the middle of the coronavirus crisis, according to reports.
Healthe Care was purchased by Chinese billionaire Liu Dian Bo in 2015 and now serves as Australia's third-largest private hospital operator in Australia with 34 clinics nationwide.
After the federal government suspended all elective surgeries to focus treatment for coronavirus patients, Healthe Care began laying off employees and is now "putting in doubt 8000 beds" if state financial aid is not delivered, 9News reports.
"We have received no firm proposals," the company said in a letter to staff.
"Regrettably, this has driven us to these immediate actions."
State and federal governments are "locked in crisis talks to keep doors open" at Healthe Care and other private hospitals as the coronavirus crisis grows in scope.
"The important thing is that we keep beds open, particularly ICU beds," said Deputy Prime Minister Michael McCormack.
Health Minister Greg Hunt blasted the firing of nurses as an "astonishing breach of faith."
China's direct impact on the health and security of Australian citizens has been highlighted repeatedly during the coronavirus outbreak.
Massive supplies of critical medical gear have been hoarded by major Chinese companies in Australia and other countries and flown to China during the Wuhan coronavirus outbreak, as Infowars reported days ago.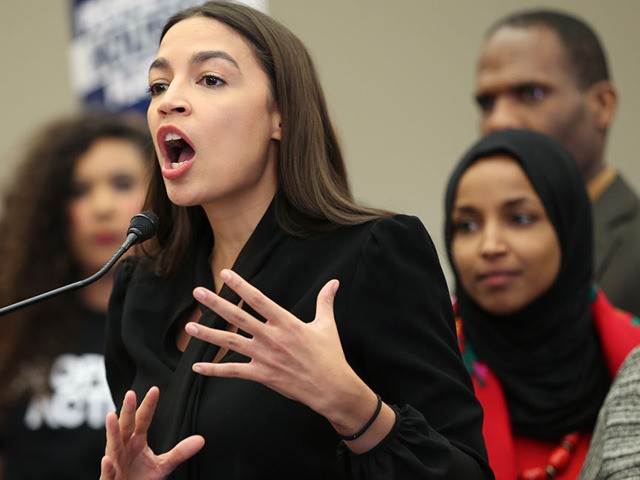 By Hannah Bleau
Rep. Alexandria Ocasio-Cortez (D-NY)

said during a live Q&A on Wednesday that President Trump is displaying an "epic level of negligence and incompetence that is costing human lives" during the coronavirus pandemic and suggested that people are dying because the president ignored scientists.
Ocasio-Cortez took questions from social media users on Wednesday and used the opportunity to criticize the Trump administration's response to the pandemic. The outbreak in the United States, she seems to believe, would not be as severe if Trump and Republicans took it seriously and listened to scientists.
"Someone said, 'Do you think if we took precautions earlier than we did our numbers would be lower than it is now?' Yes," Ocasio-Cortez answered.
She explained:
I think that if Trump took this seriously, if Republicans took it seriously, I think that if if we decided to listen to scientists early more than we listen to, you know, people who care more about profit than human lives, we would have taken precautions much earlier and we would have saved lives. We either would have gone into lockdown earlier in some circumstances or we would have started producing these damn ventilators way earlier than we are now. We would have invoked the Defense Production Act, but because Trump didn't do that early enough, now we're scrambling. And everything that is happening is happening late. And every decision that we make late means that people are dying unnecessarily.
The New York lawmaker's assertion falls in line with Speaker Nancy Pelosi (D-CA), who also suggested that the crisis is worse due to inaction from the president.
"What the president — his denial at the beginning was deadly. His delaying of getting equipment to where — it continues — his delay in getting equipment to where it's needed is deadly," the speaker, who remained laser-focused on impeachment as the first known person with the virus arrived in the United States in January, told CNN's Jake Tapper on Sunday.
Notably, Trump took decisive action that very month, announcing a ban on travel to the U.S. from China — a move many of his left-wing critics characterized as "racist."
Just weeks ago, Ocasio-Cortez suggested that people who were no longer patroning Chinese restaurants during the crisis are "racist":
"Honestly, it sounds almost so silly to say, but there's a lot of restaurants that are feeling the pain of racism," she said during an Instagram Live weeks ago.
"People are literally not patroning Chinese restaurants. They're not patroning Asian restaurants because of just straight-up racism around the coronavirus," she added at the time.
However, Ocasio-Cortez continues to believe that Trump and the GOP bear the brunt of responsibility for coronavirus-related deaths:
So understand, understand that people are not just dying of coronavirus. They are dying due to incompetence. They are dying due to poor decision making. They are dying due to a lack of listening to scientists and doctors, and they're dying due to a crisis and a pandemic of a lack of leadership — not just because of the disease. And so the people who made those decisions who decided to prioritize profit over human life need to answer for those decisions.
The socialist lawmaker also vented about journalists who are "out there just assessing the president's tone of his voice instead of what he's actually saying" and declared that Trump is "conveying an epic level of negligence and incompetence that is costing human lives":
"And it's not just Trump," she continued, bringing Florida Gov. Ron DeSantis (R) into the mix. "It is not just Trump. Look at DeSantis in Florida who's just calling for lockdowns today and Florida beaches have been packed."
"And these aren't people that are just in Florida. These are people who are traveling to Florida spreading disease and traveling back to wherever they came from, and these people aren't taking it seriously," she added.
While DeSantis formally issued a stay at home order on Wednesday, he had already taken aggressive action against travelers from coronavirus hotspots. Those actions include screenings at major Florida airports, checkpoints on roads along the Florida-Georgia border and Florida-Alabama border, and a mandated 14-day quarantine for individuals from the New York Tri-State area and Louisiana.
Ocasio-Cortez recently said that there "should be shame for what was fought for" in the recently passed and signed bipartisan emergency relief bill. Last week, she specifically expressed outrage that the cash payment portion of the measure did not extend to non-citizens.
Americans want their guns.
By Richard Moorhead – Apr 2, 2020
Federal firearms licensees sold more than 2.5 million guns to the American public in March 2020, easily smashing the previously held record for the most gun sales in an individual month by more than a million transactions.
The gun sale data has been gauged by Small Arms Analytics, and the estimation of a total of 2,583,238 sales has been pulled from raw FBI National Instant Criminal Background Checks System data. It's actually possible that the total figure of guns sales is a bit higher, considering gun sales between private individuals are not subject to the NICS system.
Not only does the figure of 2.5 million gun sales surpass the previous monthly record holder from March 2019, but it does so in a resounding fashion. 1.4 million guns were sold in that month, meaning that March 2020 surpassed the record by approximately 1.1 million sales.
A breakdown of the sales between long guns and handguns was provided by Small Arms Analytics. Handgun sales in particular spiked exponentially, easily surpassing previous quarterly highs in gun sales that preceded major American elections.
An alternate system of quantifying gun purchases utilized by the National Shooting Sports Foundation verified that March was in fact a record-setting month for gun sales.
The surge in gun and ammunition sales in the wake of the nascent Chinese coronavirus epidemic is well documented at this point, with gun and ammunition retailers reporting selling out their entire inventories and still not coming close to meeting demand.
As Americans arm themselves in unprecedented record-setting numbers, some major American municipalities and states have taken it upon themselves to wholly shut down the lawful firearms commerce and manufacturing industries. However, several of them have been stopped cold in their tracks, in light of federal guidelines from the Trump administration that recognizes businesses serving the Second Amendment community as "essential."
New Jersey and Los Angeles County are among the two biggest governmental entities forced to walk back arbitrary commands that gun stores close in light of the guidelines.
Dubious state of emergency declarations that try to implement backdoor gun control in a hour where more Americans are seeking to lawfully arm themselves than ever before simply aren't going to work, judging from historical amounts of armaments freedom-loving patriots have secured in the last month alone.
By Cristina Laila – March 31, 2020
James O'Keefe

spoke to an army national guardsman in

Glen Island Park

,

New Rochelle

, New York about the media's coverage on the

Coronavirus

.
The soldier told Project Veritas that the media coverage on the Coronavirus pandemic is way overblown.
"Is it as bad as everyone, the media is saying — the whole pandemic?" O'Keefe asked the guardsman.
The guardsman responded, "Oh, no. It's just, it's the flu. It's the flu. It's the flu."
TRENDING: A SHOCKING CORRECTION: Dr. Fauci Went from a Possible 1.7 Million US Deaths Due to Coronavirus to a Possible 200,000 US Deaths in 14 Days!
"Is the media accurately reporting accurately?" O'Keefe asked. "The media is making it out bigger? And it's not as bad as the media is saying?"
"No, I'm in the tents with them," the soldier said.
New York is currently the US epicenter for Coronavirus cases and deaths.
As of Tuesday it was reported New York has 67,384 confirmed cases of Coronavirus and 1,342 deaths.
Democrat lawmakers however are using the virus to shut down businesses.
On Monday, Los Angeles Mayor Eric Garcetti shut down farmer's markets after 44 Coronavirus deaths were confirmed in the city, or 0.000011% of LA's population of 4 million.
KKK-Blackface Virginia Governor Ralph Northam announced a shelter-in-place for his state until June.
President Trump extended his Coronavirus social distancing guidelines through the end of April.
If lockdowns continue, the cure will be far worse than the virus and the economy will be destroyed.
By Peter Andrews 3/31/2020
Many people are waking up to the fact that the Covid-19 "pandemic" is not turning out as billed. When we finally emerge from it, the big question will be how many people have died from the virus. Here's the most likely outcome.
You can bet that the institutions of international government, and the "experts" advising them, will try to massage and cherry-pick statistics to present the version of events that most closely matches their worst-case scenarios. The fact is, according to their early predictions, we are already long overdue millions of Covid-19 deaths that have failed to materialise.
But even when Covid-19 deaths are recorded, we have seen how it could be that people are dying with coronavirus rather than dying of it. This concept is easy enough to understand, and it encourages one to take a closer look at the breakdown of deaths across an entire society. The more you follow this rabbit hole down, the more interesting the numbers become. It may be somewhat morbid, but it is nonetheless very important.
The most popular twoarticles on the website of The Spectator over the weekend were by Dr John Lee, a recently retired NHS consultant and professor of pathology. He remarks that ''we have yet to see any statistical evidence for excess deaths, in any part of the world''.
How lethal is Covid-19 REALLY? Why massive fatality rates from Italy are MISLEADING
To check this out, I looked at the British government's own statistics on total deaths registered weekly across the UK. It shows that in the week ending on the 8th of March 2019, 10,898 people died in total in the UK. This year, in the week ending the 6th of March 2020, the equivalent figure was almost identical: 10,895. Make of that what you will. Statistics are currently available up to March 20, and while there is a lag between the spread of the virus and the resulting deaths, so far only about 1 percent of all mortalities bear any relation to coronavirus, and there is no visible spike. If nothing else, it helps to view the extent of the crisis in proportion – thousands of people die each week, and from the long-term view what we are seeing is not a plague, but a blip.
So when all is said and done, will any additional people die of the coronavirus? And what is meant by extra or additional?
Risk of dying
Understanding this requires a bit of lateral thinking, but it helps to remember that everyone on Earth has a terminal disease: being alive. We all have to go sometime.
Recording exactly how and when we do is a big part of the job of statistician Professor Sir David Spiegelhalter. In a recent blog post, he outlined the concept of background risk. This is obtained by recording all of the people dying in any given year, at any given age. At its most simple, this is the percentage chance a person has of not reaching their next birthday, based solely on their age. Of course, that is not to say that if you are a 40-year-old man you have precisely a 0.2% chance of dying this year – the data are based on averages, and do not apply to individuals.
But nonetheless, across a country or given populations, the averages will be right, and it is possible to predict with great accuracy how many people will die in a given year. In the UK, for example, 600,000 people die annually. But wait a minute! A novel, brand-spanking new coronavirus is terrorising us all. Therefore surely we can expect more people to die this year than would in a normal year? And come year's end we should be able, with simple arithmetic, to count exactly how many more there were.
In 2009 UK government experts wildly over-hyped dangers of swine flu — is history repeating with Covid-19?
Spiegelhalter, chair of the Winton Centre for Evidence and Risk Communication at Cambridge University, won't say exactly what he does think that figure will be. But he does say that if the deaths are towards the lower end of the current estimates, say at around 20,000 in the UK, Covid-19 will end up having ''a minimal impact on overall mortality for 2020''. He told R4 that his findings showed, to his own professed astonishment, that if someone contracts the coronavirus, they've got almost exactly the same chance of dying over the ensuing few weeks as they would normally have of dying over the next year, no matter what their age or background health.
And depending on who you ask, that 20,000 figure might still be an overestimate. In fact, Spiegelhalter says that if extra people die it will likely be as a result of the  knock-on effects of the lockdown, such as delayed normal health care, depression and isolation.
American political commentator Candace Owens has been Tweeting consistently about the apparent insignificance of Covid-19 deaths compared to overall trends. She tweeted about this issue in relation to New York City, where meaningless figures are being waved around by the media.
Final destination
With all of the numbers being bandied about these days by various universities and governments, one would swear that they knew exactly what they were talking about. Make no mistake: this air of certainty is just a front. It is definitely too early to accurately gauge how many – if any – extra people will die because of coronavirus. It will depend on how four key pieces of information intersect.
These are:
How many people will become infected by Covid-19?
How much does Covid-19 increase the risk of death?
Are deaths being properly recorded? Of those people who die having contracted coronavirus, are they dying from the virus, or just with it?
Of those who died, how many had comorbidities that would have killed them this year anyway?
Since all of this began, the mainstream media have focused almost entirely on the first of these points, and stressing with an onslaught of material how important it is to slow the spread. The most extreme possible measures have been implemented to do that. Meanwhile, the three other points could end up comparing Covid-19 pretty much to the common flu. Only careful consideration by governments of all the key factors will result in the best future decisions.
It is hard to believe that when this all blows over, the damage that will have been done by the shutdown measures – to businesses, to civil liberties, to individual lives and, of course, to the global economy – could have been for nothing. Nonetheless, it seems entirely possible based on the present data. Remember above all to not  take the figures the mainstream media throw at you at face value; there are lies, damned lies and statistics.
In Beverly Hills, the Pottery Barn and West Elm stores near Rodeo Drive were spotted with boards across the windows
By Tyler Durden – 03/31/2020
High-end stores across the country have been boarding up their stores in anticipation of

civil unrest

due to the Chinese coronavirus pandemic.
In Beverly Hills, the Pottery Barn and West Elm stores near Rodeo Drive were spotted with boards across the windows according to TMZ.
Meanwhile, stores in New York, San Francisco, Seattle, Chicago, Paris, Vancouver and elsewhere were similarly boarded up.
Thanks, China. 
"Trump supporters need to pledge to give up their ventilators for someone else … and not go to the hospital."
By Steve Watson – 31 March, 2020
A

New York hospital

executive has been fired after she posted public comments on social media fantasising about how supporters of President Trump would get the

coronavirus

and not be allowed to get treatment.
The executive also happens to be, unsurprisingly, a former Hillary Clinton advisor.
Laura Krolczyk, Roswell Park Comprehensive Cancer Center's vice president for external affairs, made the incendiary posts on Facebook, first sharing an article about The White House being reluctant to foot the $1 billion cost associated with producing ventilators.
Hauptman Woodward Medical Research Institute Director of Development Lisa LaTrovato responded to Krolczyk's post, writing "But will waste more than that on a wall and space force."
Krolczyk, who worked as Western New York Regional Director for Hillary Clinton's Senate office for 7 years, wrote back that "Trump supporters need to pledge to give up their ventilators for someone else … and not go to the hospital."
"Also don't cash your stimulus check," she later added, writing "It's all a hoax. Chew some ibuprofen and be on with your day."
LaTrovato further responded "I think they should be the only ones in packed churches on Sunday," to which Krolczyk replied, "They should barricade themselves in there and ride this out."
Another Facebook user saw the exchange, wrote "Wow, just wow, so your saying we decide who lives and dies based on political views? Great plan (thumbs up emoji)."
Krolczyk then responded "That's literally what he's saying. Take your 'wow' and comprehend what your hero is saying. Your hero is saying YOU don't need a ventilator. So don't take one."
The whole sorry conversation was then picked up by Republican strategist Michael Caputo, and the hospital was alerted.
While LaTrovato is still on administrative leave from Hauptman Woodward pending further action, Krolczyk has been terminated by Roswell Park.
In a statement to Buffalo News, spokeswoman Annie Deck-Miller confirmed Krolczyk had been fired.
CEO Candace S. Johnson added that "This behavior is not tolerated at Roswell Park. If any team members act in a way that does not accord with that commitment, we will take swift and appropriate action, just as we did in this instance."
Someone ought to tell Ms. Krolczyk that when engaging in her daily two minutes of Trump derangement hate, try to do it in private, rather than on her publicly available Facebook page.
Meanwhile, she should definitely make sure she does cash her stimulus check, as it'll be her only income for a while.
This isn't a one off. These people are everywhere, and need to be publicly shamed.