Social distancing proving to be a problem in Pakistan.
By Paul Joseph Watson – April 3, 2020
A video out of

Karachi

,

Pakistan

shows a violent mob chasing away a police car after authorities tried to shut down a local mosque as part of social distancing rules.
The clip shows a mob of hundreds of men pursuing the police cruiser while screaming and hurling rocks at the car.
"Today when police reportedly tried to stop a Friday prayer congregation at a mosque forcibly in #Karachi's Liaquatabad, residents reacted violently," tweeted journalist Zia Ur Rehman.
Another clip shows one of the officers wearing a mask being manhandled by the crowd.
According to the Business Recorder, "An Imam of a mosque in Liaquatabad area was holding Friday congregation prayers despite a ban imposed by the government from 12 noon to 3 pm. A large number of people also gathered in the mosque to offer Friday prayers."
The Imam then incited the mob to attack the police, causing them to flee "in a bid to save their lives."
A larger contingent of officers later reached the site and arrested the Imam along with three other people.
As we previously highlighted, Muslim migrants living in Europe's "sensitive" ghettos have also largely ignored the lockdown measures.
The situation is so dire that a top government official in France suggested not enforcing the law in migrant-heavy areas and keeping shops open in order to prevent riots.
President acts swiftly after Tucker Carlson exposes company's wrongdoing
4/3/2020
On 2 April, the US President slammed the

3M Company

after invoking the

Defense Production Act

to require the company to produce face masks.
According to the Act, the President is allowed to demand national companies produce goods that are deemed necessary to 'promote the national defence'.
"We hit 3M hard today after seeing what they were doing with their Masks. 'P Act' all the way.' Big surprise to many in government as to what they were doing – will have a big price to pay!" Trump said on Twitter.
On Thursday, President Donald Trump said at a daily briefing on the COVID-19 situation in the country that he hopes that the company will do their job.
"Hopefully they'll be able to do what they are supposed to do," Trump said.
The President added that the US government "anticipates issuing more orders under the Defence Production Act in the very near future".
In a White House memorandum regarding the order, the president requires the company to deliver the appropriate number of N-95 respirators.
"The Secretary, through the Administrator of the Federal Emergency Management Agency (Administrator), shall use any and all authority available under the Act to acquire, from any appropriate subsidiary or affiliate of 3M Company, the number of N-95 respirators that the Administrator determines to be appropriate," the memo reads.
Earlier in the day, Donald Trump invoked the Defence Production Act to order six US companies, namely General Electric, Hill-Rom, Medtronic, ResMed, Royal Philips, and Vyaire Medical, to repurpose their factories for building ventilators, another White House memo stated.
​As of 2 April, the total number of confirmed coronavirus cases in the United States has surpassed 213,144, according to the Centres for Disease Control and Prevention. More than 4,500 people have died from the pandemic. The John Hopkins University data shows that over 244,000 people in the country have been infected with the disease, with the death toll exceeding 5,800.
By Jim Hoft – April 3, 2020
While the US shuts down all commerce for weeks and destroys the economy, other countries like

Sweden

and

Brazil

are doing the opposite and allowing the

China coronavirus

to run its course. 
Data indicates there no material differences in fatalities between the three countries leading the casual observer to question why is the US killing its economy?
The US continues to prevent nearly all commerce from occurring to combat the China coronavirus.  Many other countries are following suit.  But some countries like Sweden and Brazil are keeping their countries open for business.  Data shows that the fatalities related to the coronavirus in these countries are very similar to those in the US.
Sweden announced they would pretty much keep their economy open for business when the China coronavirus became a threat:
We also reported that Brazilian Leader Jair Bolsonaro refuses to lock-down Brazil's economy to fight off the China coronavirus.
So how are Sweden and Brazil doing when compared to the US with their strategy to combat the coronavirus?
Below are today's numbers related to the China coronavirus:
The US has identified the most cases of the China coronavirus when compared to Brazil and Sweden but all three countries are in the top 20 in the world that have cases identified.  The US's number indicates it has tested more people and also it is a much larger country based on population than Sweden and even Brazil.
Due to its testing efforts the US has the highest number of cases per million of all three countries (US – 741, Brazil – 38 and Sweden – 551).
Sweden has the largest number of fatalities per million in their country (Sweden – 30, US – 18 and Brazil – 2).  The world average is 6.8 people per million.
The US, with all its efforts through social distancing to ward off the spread of the coronavirus, has the most active cases identified per million (US – 691, Sweden – 510 and Brazil – 36).
The US has the lowest percent of deaths per case of the three nations (US – 2.5%, Brazil – 4.1% and Sweden – 5.5%).  Two of these nations are under the world average of 5.2%.
The data is somewhat mixed and their are various reasons for the differences, but this isolated review based on data indicates that there is no need to shut down economies in an effort to combat the China coronavirus. 
The only thing that is eliminated by implementing these radical social engineering actions are economic commerce and prosperity.
'That Woman From Michigan' is being challenged in court.
By Shane Trejo – Apr 3, 2020
Michigan Governor Gretchen Whitmer

, who has emerged as one of the most partisan and classless leaders in the country during the coronavirus pandemic, is being challenged with a civil rights lawsuit over executive orders that have caused pro-life activists to be deprived of their

1st Amendment rights

.
The American Freedom Law Center (AFLC) filed the lawsuit on Wednesday night to dispute the constitutionality of Whitmer's "Shelter in Place" order. The group contends that Whitmer's executive orders unlawfully punish the free speech of pro-life protesters Andrew Belanger, Justin Phillips, and Cal Zastrow, who are listed as the plaintiffs on the lawsuit. Whitmer and the City of Detroit are listed as the defendants.
Whitmer issued the executive orders on Mar. 24, which effectively shut down most businesses throughout the state. However, abortion clinics were kept open so women could continue slaughtering their babies in the womb during the coronavirus pandemic. These clinics are also hogging medical supplies during a time in which they are desperately needed to combat the spread of coronavirus.
Trending: Hospital Exec Who Called for Trump Supporters with Coronavirus to 'Give Up Their Ventilators' and Die is Fired
The AFLC believes that the rights of these pro-life activists were violated when the individuals attempted to engage in pro-life activism last weekend. According to the lawsuit, Belanger was mobbed by eight police vehicles and 15 police officers while protesting at the Scotsdale Women's Center in Detroit on March 31. His fellow activists, Phillips and Zastrow, arrived after the cops showed up on the scene.
"We're here for a violation of a stay at home order by the Governor," one of the officers allegedly said to the pro-life activists who were not permitted to engage in 1st Amendment activism due to Whitmer's decree.
Belanger received a "State of Michigan Uniform Law Citation," which would be a misdemeanor violation if he is ultimately convicted of the offense, for his pro-life activism. This occurred despite Belanger's insistence that social distancing guidelines were being followed during the protest. The officers apparently told the pro-life activists that the baby murder going on in the clinic was considered "essential" while their Christian protest was considered not "essential."
"The scope of our lawsuit and request for a restraining order are narrow. We do not advance a general challenge to the constitutionality of the Governor's Executive Order, nor do we seek to halt its enforcement outside of the very limited and narrow scope of our challenge," AFLC co-founder and senior counsel Robert Muise explained about his organization's lawsuit.
"We understand the critical need to stop the spread of the corona virus, as do our clients, who are adhering to the social distancing guidelines. Through this litigation, we only seek to prohibit the use of the Executive Order to criminalize our clients' peaceful, free speech activity on the public sidewalks outside of abortion centers throughout Michigan," he added.
Muise believes that Whitmer's executive orders are capricious and unlawful because they carve out exceptions for Michigan residents to use public sidewalks "[t]o engage in outdoor activity, including walking, hiking, running, cycling, or any other recreational activity consistent with remaining at least six feet from people." However, there are no provisions in the executive orders to protect the 1st Amendment rights of protesters such as these pro-life activists.
"Indeed, under the current enforcement of this Order, our clients' First Amendment activity is a crime. Yet, an individual could use the very same sidewalk to walk, hike, run, cycle or engage in other similar recreational activity without receiving a criminal citation for doing so. This our Constitution does not permit," Muise said.
AFLC co-founder and senior counsel David Yerushalmi notes that the coronavirus pandemic, while an urgent public health emergency, will never kill a fraction of the amount that are murdered annually due to abortion.
"If the stated purpose of the Executive Order is true—that it was issued "to sustain or protect life"—then Governor Whitmer should order the immediate closure of all abortion centers throughout the State. Indeed, there is little doubt that abortion will be responsible for killing more human lives this year in the United States alone than COVID-19 will kill in the entire world during the course of this current pandemic," he said
The AFLC has also filed a motion that would stop the enforcement of Whitmer's executive orders while the case is active. The case was filed in the U.S. District Court for the Western District of Michigan on Apr. 1 and will be heard by Judge Janet T. Neff, who was appointed to the bench by former President George W. Bush.
Health minister blasts "astonishing breach of faith"
By Dan Lyman – 4/2/2020
An

Australian private hospital

system owned by a Chinese investor has

laid off 800 staffers

and might close altogether in the middle of the coronavirus crisis, according to reports.
Healthe Care was purchased by Chinese billionaire Liu Dian Bo in 2015 and now serves as Australia's third-largest private hospital operator in Australia with 34 clinics nationwide.
After the federal government suspended all elective surgeries to focus treatment for coronavirus patients, Healthe Care began laying off employees and is now "putting in doubt 8000 beds" if state financial aid is not delivered, 9News reports.
"We have received no firm proposals," the company said in a letter to staff.
"Regrettably, this has driven us to these immediate actions."
State and federal governments are "locked in crisis talks to keep doors open" at Healthe Care and other private hospitals as the coronavirus crisis grows in scope.
"The important thing is that we keep beds open, particularly ICU beds," said Deputy Prime Minister Michael McCormack.
Health Minister Greg Hunt blasted the firing of nurses as an "astonishing breach of faith."
China's direct impact on the health and security of Australian citizens has been highlighted repeatedly during the coronavirus outbreak.
Massive supplies of critical medical gear have been hoarded by major Chinese companies in Australia and other countries and flown to China during the Wuhan coronavirus outbreak, as Infowars reported days ago.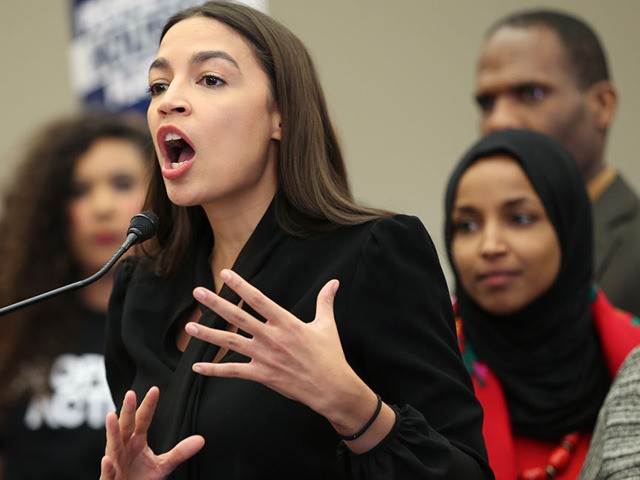 By Hannah Bleau
Rep. Alexandria Ocasio-Cortez (D-NY)

said during a live Q&A on Wednesday that President Trump is displaying an "epic level of negligence and incompetence that is costing human lives" during the coronavirus pandemic and suggested that people are dying because the president ignored scientists.
Ocasio-Cortez took questions from social media users on Wednesday and used the opportunity to criticize the Trump administration's response to the pandemic. The outbreak in the United States, she seems to believe, would not be as severe if Trump and Republicans took it seriously and listened to scientists.
"Someone said, 'Do you think if we took precautions earlier than we did our numbers would be lower than it is now?' Yes," Ocasio-Cortez answered.
She explained:
I think that if Trump took this seriously, if Republicans took it seriously, I think that if if we decided to listen to scientists early more than we listen to, you know, people who care more about profit than human lives, we would have taken precautions much earlier and we would have saved lives. We either would have gone into lockdown earlier in some circumstances or we would have started producing these damn ventilators way earlier than we are now. We would have invoked the Defense Production Act, but because Trump didn't do that early enough, now we're scrambling. And everything that is happening is happening late. And every decision that we make late means that people are dying unnecessarily.
The New York lawmaker's assertion falls in line with Speaker Nancy Pelosi (D-CA), who also suggested that the crisis is worse due to inaction from the president.
"What the president — his denial at the beginning was deadly. His delaying of getting equipment to where — it continues — his delay in getting equipment to where it's needed is deadly," the speaker, who remained laser-focused on impeachment as the first known person with the virus arrived in the United States in January, told CNN's Jake Tapper on Sunday.
Notably, Trump took decisive action that very month, announcing a ban on travel to the U.S. from China — a move many of his left-wing critics characterized as "racist."
Just weeks ago, Ocasio-Cortez suggested that people who were no longer patroning Chinese restaurants during the crisis are "racist":
"Honestly, it sounds almost so silly to say, but there's a lot of restaurants that are feeling the pain of racism," she said during an Instagram Live weeks ago.
"People are literally not patroning Chinese restaurants. They're not patroning Asian restaurants because of just straight-up racism around the coronavirus," she added at the time.
However, Ocasio-Cortez continues to believe that Trump and the GOP bear the brunt of responsibility for coronavirus-related deaths:
So understand, understand that people are not just dying of coronavirus. They are dying due to incompetence. They are dying due to poor decision making. They are dying due to a lack of listening to scientists and doctors, and they're dying due to a crisis and a pandemic of a lack of leadership — not just because of the disease. And so the people who made those decisions who decided to prioritize profit over human life need to answer for those decisions.
The socialist lawmaker also vented about journalists who are "out there just assessing the president's tone of his voice instead of what he's actually saying" and declared that Trump is "conveying an epic level of negligence and incompetence that is costing human lives":
"And it's not just Trump," she continued, bringing Florida Gov. Ron DeSantis (R) into the mix. "It is not just Trump. Look at DeSantis in Florida who's just calling for lockdowns today and Florida beaches have been packed."
"And these aren't people that are just in Florida. These are people who are traveling to Florida spreading disease and traveling back to wherever they came from, and these people aren't taking it seriously," she added.
While DeSantis formally issued a stay at home order on Wednesday, he had already taken aggressive action against travelers from coronavirus hotspots. Those actions include screenings at major Florida airports, checkpoints on roads along the Florida-Georgia border and Florida-Alabama border, and a mandated 14-day quarantine for individuals from the New York Tri-State area and Louisiana.
Ocasio-Cortez recently said that there "should be shame for what was fought for" in the recently passed and signed bipartisan emergency relief bill. Last week, she specifically expressed outrage that the cash payment portion of the measure did not extend to non-citizens.
This is part of a trend.
By Shane Trejo – April 2, 2020
A video of a Chinese factory worker deliberately contaminating medical face masks is going viral, as the coronavirus scare continues to heighten.
The factory worker can be seen taking the face masks out of their packaging and rubbing them all over his feet while laughing in the video.
This video emerged on the same day that New York City received a massive cache of facemasks from China under "Project Airbridge" in conjunction with the Trump administration.
The White House stated that a "majority of these supplies will be provided by FEMA to the states of New York, New Jersey, and Connecticut with the rest going to nursing homes in the area and to other high risk areas across the country." However, it is unclear whether or not these emergency supplies from China are tainted. China has already been shown to be sending poor and ineffective medical supplies throughout the West during the coronavirus crisis.
Officials in the Netherlands were forced to recall hundreds of thousands of faulty face masks bought from China on Sunday:
The Dutch government has ordered a recall of around 600,000 masks out of a shipment of 1.3 million from China after they failed to meet quality standards.

The defective masks had already been distributed to several hospitals currently battling the COVID-19 outbreak, news agency AFP and Dutch media reported. The Dutch Health Ministry has kept the rest of the shipment on hold.

An inspection revealed that the FFP2 masks did not protect the face properly or had defective filter membranes. The fine filters stop the virus from entering the mouth or nose. The masks failed more than one inspection.

"A second test also revealed that the masks did not meet the quality norms. Now it has been decided not to use any of this shipment," said the health ministry said in a statement to news agency AFP.

The masks were delivered to the Netherlands by a Chinese manufacturer on March 21. The Health Ministry said it would conduct extra testing on any future shipments.

Several hospitals in the Netherlands had already rejected some of the shipment even before the Health Ministry issued the recall.

"When they were delivered to our hospital, I immediately rejected those masks," a hospital source told Dutch public broadcaster NOS.
Big League Politics has previously profiled Chinese individuals deliberately contaminating public areas during the coronavirus crisis. This included video of a Chinese woman sneezing on produce in an open market and another Chinese individual spitting all over buttons in an elevator.
With murmurs that Chinese coronavirus may be a bioweapon, these disease-spreading cases may not be isolated incidents. They may be acts of war as insurgents spread the invisible threat throughout the globe.