By
anit-racist is just a cover for anti-white.
Alleged Epstein co-conspirator could be violently attacked by MDC inmates.
By Paul Joseph Watson – 7/9/2020
Former NYC Department of Corrections Deputy Warden

Ed Gavin

says that

Ghislaine Maxwel

l should be moved to

Rikers Island

for her own safety.
Appearing on Fox News with Tucker Carlson, Gavin said that the Metropolitan Detention Center (MDC) in Brooklyn, where Maxwell is currently being held, is not suited to handler her.
Following her transfer from a New Hampshire prison to MDC, the alleged sex trafficker was called a 'depressed loner' and branded a 'snooty rich bitch' by her fellow inmates, leaving open the possibility that she might be violently attacked.
"If I were William Barr, what I would do is, I would seek to obtain a substitute jail order and I would try to have Ms. Maxwell placed on Rikers Island with the New York City Department of Corrections," said Gavin.
According to the Sun, the former socialite will be "guarded by the highest security possible," entirely in an effort to prevent the alleged 'failings' that led to Jeffrey Epstein's suicide.
Gavin told Carlson that the MDC was notorious for its corruption.
"In 2011, there was a female corrections officer there, she had sex on duty with eight employees," he said. "Two of them were superior officers. She also had sex with two inmates … We [also] have a lieutenant and two corrections officers recently who were convicted of sexually abusing over 10 women … So I don't think that that facility is capable of handling it [Maxwell], there's just too much that's gone on there recently, and I don't think any female inmate should be housed there."
As we previously highlighted, Maxwell purportedly possesses secret sex tapes that would expose powerful Epstein acquaintances, a bargaining chip she hopes to use to secure a plea deal.
According to one of Maxwell's former friends, one of those acquaintances is Prince Andrew.
By Jim Hoft – 7/6/2020
This heinous act took place on Friday night.
Two boys were street dancing in Cape Girardeau with their instructor Michael 'Crank' Curry.
That's when a car pulled over, a man jumped out and he sucker punched the 12-year-old child.
Then he jumped back in his car and sped off.
TRENDING: DISGUSTING: Black Man Stops Car then Sucker Punches 12-Year-Old Boy Street Dancer in Missouri Giving Him Concussion (VIDEO)
TMZ has more.
The video is from Michael 'Crank' Curry.
Natalia Wallace

, a 7-year-old described as "an angel," was gunned down Saturday evening. A $2,000 reward was offered Sunday for information about her killing.
By David Struett and Ben Pope – 7/6/2020
Chicago was left reeling over the Fourth of July weekend as citywide gun violence left multiple children killed for the third weekend in a row.
As of 5 a.m. Monday, 79 people were shot, 15 of them fatally, including two children shot dead Saturday night. Nine other gunshot victims over the weekend were minors.
Ten children under 18 have died in Chicago gun violence since June 20, according to Chicago Sun-Times records.
The weekend ended up being more deadly than Independence Day weekend in 2019, when five people were killed and 65 others wounded. In 2018, 14 people killed and 87 wounded citywide in holiday weekend shootings.
Mayor Lori Lightfoot prepared for the historically violent weekend by deploying an extra 1,500 Chicago police officers — something the city did in 2019 — but the gun violence continued unabated.
Two more children killed
On Saturday night, 7-year-old Natalia Wallace died after being shot while visiting her grandmother at a party in Austin.
She was outside where kids were riding on bicycles when three gunmen stepped out of a car and let off more than 20 shots in the 100 block of North Latrobe Avenue, Chicago police said.
Natalia died at the scene of a gunshot to her head, officials said. Police were reviewing video from the scene and have taken a person of interest in for questioning.
Natalia was about to enter the 2nd grade at Crown Community Academy of Fine Arts in Little Village, according to a school official.
"She was a really good kid — an angel," said the official, who asked not to be named. "She had a lot of family at the school. Everyone in her class would've said she was their friend."
Nathan Wallace, the girl's father, said at a news conference Sunday he'd hugged her goodbye just 10 minutes before the shooting occurred.
"I just wanted her to have a chance at life," Wallace said. "Whatever she wanted to do, I was going to be there no matter what. To see my daughter on the table with a gunshot wound to the forehead, that'll change somebody's life."
He said he'd heard about other children being shot in recent weeks, but didn't think about it until it was his own daughter killed. He called for others in the community to take a more active, personal role in confronting the gun violence crisis.
We need help finding her killers," he said. "Kids can't be out here playing without worrying about people shooting. It hurts me that my youngest daughter is no longer here, that I will not be able to talk to her, hold her, tell her bedtime stories, anything."
In response to her killing, Lightfoot took to Twitter to say Natalia "joined a list of teenagers and children whose hopes and dreams were ended by the barrel of a gun. We cannot grow numb to this. We are making progress in slowing shootings, but we have to do better, every single one of us."
Also Saturday night, 14-year-old Vernado Jones Jr., died after being among eight people shot, three others fatally, in Englewood on the South Side, officials said.
Four gunmen walked up to a large gathering in the 6100 block of South Carpenter Street and opened fire, police said. Jones, of West Lawn, died at Comer Children's Hospital, according to the medical examiner's office.
The shooting also wounded two boys, 11 and 15 years old, police said.
Activists demand 'law and order'
Community activist Andrew Holmes announced Sunday a $2000 reward for "information leading to the arrest and conviction" in the case of Natalia Wallace.
"Let's stop pointing fingers and get these shooters off the streets," Holmes said at a news conference Sunday in Austin, "because with the technology we have in this city, there's enough cameras and enough citizens around here that's seen something."
Also Sunday, several community activists demanded federal funding to help with the "out of control" gun violence, while also accusing the mayor of turning her back on police.
In a news conference in Little Village, Raul Montes Jr. called the weekend gun violence a "carbon copy" of the last few weeks and blamed Lightfoot for allowing protests to devolve into looting while "giving a nod to Antifa," a far-left anti-fascist group.
Another activist, Jacqueline Baez of Belmont Cragin, said residents are scared to go outside and called for increased police funding.
"Here we are again, another bloody weekend in Chicago. Our innocent children are dying," Baez said.
Baez dismissed the calls of other activists to defund police departments, a refrain of nationwide protests since the police killing of George Floyd in Minneapolis.
"Defunding police is the stupidest thing to say," Baez said. "We need police. We need to feel safe in our communities … I don't feel safe letting my kids play outside."
'When you shoot children, we've lost it all'
Another activist, Frank Coconate, while acknowledging the extra officers over the holiday weekend, said it's not just about having more police.
"It's about cooperation; we need to build a bridge between community and police," Coconate said.
"People in Pilsen and Little Village, there's no bond with police. There's a fear of talking with them, and that's a huge problem. Here they're scared. It's good to have those [extra cops], but let's have those cops walk the streets and talk with people … There should be more invested in having Chicago police working with the community."
Coconate said it's up to the mayor — and for citizens to lay on the pressure — to stop the violence.
"When you shoot children, we've lost it all. And the mayor holds the bag now … This has been going on every weekend, and now what's really rubbing me — it's children … That poor little girl playing on a holiday weekend dies. That shouldn't be happening. We are, as citizens, are to blame. We're not working hard enough."
Three weekends of gun violence
The last three weekends in Chicago have been especially deadly for children.
Last week, 1-year-old Sincere A. Gaston was killed when someone opened fire on his mother's car as they drove home from a laundromat in Englewood. Lina Nunez, 10, was killed in Logan Square when a bullet came through her window and struck her.
Over Father's Day weekend, Mekhi James, 3 years old, was fatally shot while riding in an SUV with his father in Austin when someone opened fire on them from another vehicle. Amaria Jones, 13, died after she was struck by a stray bullet in a shooting that also wounded two boys on the West Side. They were among 104 people shot that weekend, 15 of them fatally.
Or will she be "suicided"?
By Paul Joseph Watson – 7/2/2020
The

FBI

has arrested

Ghislaine Maxwell

, the woman who helped

Jeffrey Epstein

procure young girls and minors as part of a sexual blackmail operation involving members of the global elite that could now be blown wide open.
"She was arrested in Bedford, New Hampshire around 8:30 a.m. on charges she conspired with Epstein to sexually abuse minors, and is expected to appear in a federal court later today," reports NBC News.
Now it remains to be seen whether Maxwell will suffer the same fate as Jeffrey Epstein, who conveniently "committed suicide" before he could talk.
Both Maxwell and Epstein were reportedly intelligence assets, which protected both of them from arrest for a number of years before Epstein's death.
Maxwell is the only surviving person to know the full extent of Epstein's blackmail operation and which members of the global elite were intimately involved.
Let's hope that cameras don't mysteriously fail and guards don't go AWOL, allowing Maxwell to "commit suicide," something which will likely see the full extent of the case buried for good.
Questions will also be asked as to what role if any the Trump administration had in pushing for Maxwell's arrest given that Trump has made it a cornerstone of his agenda to go after global sex trafficking rings.
Numerous global pedophile busts over the last three decades have had deep ties to the political classes and the establishment.
German authorities also recently announced that they were investigating a pedophile ring with a whopping 30,000 potential suspects.
By Hannah Bleau – 7/1/2020
The New York Times has set its sights on

Mount Rushmore

as protesters demand the removal of historic monuments in the name of racial justice, citing its location on "Indigenous land," the sculptor's purported ties to white supremacy, and two of its subjects' slave ownership.
"Mount Rushmore was built on land that belonged to the Lakota tribe and sculpted by a man who had strong bonds with the Ku Klux Klan. It features the faces of 2 U.S. presidents who were slaveholders," the New York Times wrote, linking to a news article detailing complaints against American landmark:
The Times piece lists three broad grievances with Mount Rushmore, beginning with the sculptor, Gutzon Borglum, who was previously involved in "an enormous bas-relief at Stone Mountain in Georgia that memorialized Confederate leaders."
"It was eventually completed without him, but Mr. Borglum formed strong bonds with leaders of the Ku Klux Klan and participated in their meetings, in part to secure funding for the Stone Mountain project," the Times wrote, adding that Borglum "also espoused white supremacist and anti-Semitic ideas, according to excerpts from his letters included in 'Great White Fathers,' a book by the writer John Taliaferro about the history of Mount Rushmore."
It is not just the sculptor critics take issue with but the faces featured in the landmark located in South Dakota's Black Hills. Their grievances even extend to Abraham Lincoln, signer of the Emancipation Proclamation:
Critics of the monument have also taken issue with the men whose faces were etched into the granite. Mr. Borglum chose Washington, Jefferson, Lincoln and Roosevelt, he said, because they embodied "the founding, expansion, preservation and unification of the United States."

But each of these titans of American history has a complicated legacy. Washington and Jefferson were slaveholders. Roosevelt actively sought to Christianize and uproot Native Americans as the United States expanded, Professor Smith said. "He was a racist," he added.

[…]

And although Lincoln was behind the Emancipation Proclamation — a move some have characterized as reluctant and late — he has been criticized for his response to the so-called Minnesota Uprising, in which more than 300 Native Americans were sentenced to death by a military court after being accused of attacking white settlers in 1862.
The Times piece also laments the location of the landmark, writing that it is "built on land that had belonged to the Lakota tribe." It goes on to quote Nick Tilsen, a member of the Oglala Lakota tribe and leader of the Indigenous activist group NDN Collective, who stated that Mount Rushmore "needs to be closed as a national monument, and the land itself needs to be returned to the Indigenous people."
This terrorist violence was organized courtesy of Facebook.
By Shane Trejo – 7/1/2020
Tech giant

Facebook

provided the platform that allowed

ANTIFA

and

Black Lives Matter

terrorists to foment a riot in

Provo

,

Utah

that resulted in gunfire striking one unfortunate motorist who encountered the mob.
Far Left Watch made the discovery that Facebook allowed the terrorists to collaborate and promote violence on their platform:
The organizers of the event, the Salt Lake City Antifascist Coalition, used a Malcolm X quote that explicitly endorses gun violence: "Sometimes you have to pick the gun up to put the Gun down." It seems one of their activists took that message to heart when he picked up a gun and fired it at an unsuspecting motorist, wounding him. The Facebook event page has been archived here.
The ANTIFA organizers urged participants to "come stand with us" and refuse to accept blatant acts of "discrimination, racism, and unethical acts toward people of color." They also advised demonstrators to "please wear all black," "wear your masks," "bring water," and "wear protective eye gear if you got it." They scheduled the event to challenge peaceful pro-police protesters with violent and combative street action.
Big League Politics reported on the ANTIFA/BLM terrorist who has been charged for shooting the motorist in the streets of Provo:
A Utah man has been arrested and charged with attempted aggravated murder following a shooting incident at a rioter's roadblock where a man was caught on camera firing two shots at a motorist crossing through the formation.

Jesse Taggart, 33, was arrested and charged Tuesday with attempted aggravated murder, aggravated assault, rioting, and firing a weapon near a highway.

Journalist Andy Ngo has reported that Taggart's social media accounts are filled with content in support of the Black Lives Matter movement.

Footage of the event in question reveals a man firing two shots from a semiautomatic pistol at a motorist who was inching through an illegal roadblock set up by Black Lives Matter protestors.

Reports indicate that an unnamed victim was in fact shot during the rioting event, a 60-year old man who is currently being treated at an area hospital for his injuries.

John Geyerman, deputy chief of the Provo Police Department, summarized Taggart's alleged crimes. "The male protester ran toward the SUV on the passenger side, pointed a handgun at the driver, and shot one round through the window. The driver, who was struck by the bullet, accelerated, trying to leave the situation. The same protester ran after the vehicle and fired a second shot that went through the rear passenger window."
By refusing to ban ANTIFA and BLM thugs from their platform, Facebook is condoning and sharing in the responsibility for the explosion of left-wing terrorism that is overtaking America.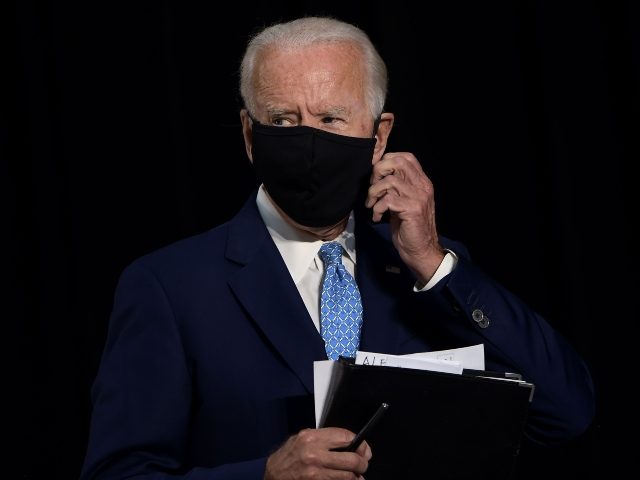 By John Carney – 7/1/2020
Joe Biden

told Wall Street donors to his campaign that he planned to reverse most of

President Donald Trump

's tax cuts.
"I'm going to get rid of the bulk of Trump's $2 trillion tax cut," Biden said during a fundraising conference call, Fox Business Network reported. "And a lot of you may not like that but I'm going to close loopholes like capital gains and stepped-up basis."
The former vice president said he would raise the corporate tax rate from 21 percent to 28 percent, which he estimated would raise taxes by $1.3 trillion over the next decade, FBN reported.
Biden said the tax cuts were "irresponsible, sugar-high tax cuts." He claimed, without evidence, that cutting taxes made it "harder to foot the bill" for pandemic relief. In fact, interest rates have declined while government spending on pandemic relief programs has skyrocketed.
"We have to think as big as the challenge we face. But this is America, there is nothing we cannot do if we do it together," Biden said, according to CNBC. "But I think the country is ready."
The event raised at least $2 million, CNBC reported.
When will Americans be judged by the content of their character and not by the color of their skin?
7/1/2020
While the establishment left-stream media is busy promoting the idea that white people are inherently racist, real-life experience proves that "white privilege" is not all it's cracked up to be.
https://banned.video/watch?id=5efbb2b5672706002f38331e
https://infowarsmedia.com/js/player.js