12/17/2019
"Fire the prosecutor or you're not getting the money"
"I promise u the president has a big stick" 😂
By Mark Dice – 12/17/2019
They can move to the Middle East. And see how they like Muslim culture
Another day of being told that being a Straight White Male is a bad thing.
America supports the Saudis but the relationship does not seem reciprocal.
A Saudi college student who was set to graduate from the

University of New Mexico (UNM)

was charged with possessing an illegal firearm, and law enforcement found a

"list of people he planned to kill"

that was allegedly made by the foreigner.
Hassan Alqahtani, a 27-year-old mechanical engineering student, reportedly had a kill list that included UNM professors. He is being charged with being a non-immigrant student visa holder in possession of a firearm in federal court, and additional charges may be levied because of the kill list.
According to an FBI affidavit, Alqahtani was in possession of a .380-caliber Cobra handgun that they found while searching his home last week. He is set to have his preliminary hearing today at the U.S. District Court in Albuquerque.
Alqahtani was supposed to receive his bachelor degree from UNM on Saturday, but instead spent the weekend behind bars. His family was set to take him to Disneyworld to celebrate, but his plans were upended due to the charges. Now he may be looking at years in prison.
The authorities believe that Alqahtani wanted to obtain more guns. The individual who tipped the FBI off to his illegal weapon also told them that he had a "list of people who he wants to kill before he leaves the U.S." This suggests that he may have been recruiting others into his plot, and the FBI believes his girlfriend, Sierra Shafer, may be an accomplice.
"Shafer is possibly conspiring with Alqahtani to conceal his possession of the firearm," an FBI agent wrote in the affidavit. "Shafer made additional statements that the two kept it out in the open in the bedroom and also used the firearm for protection when they traveled in Alqahtani's vehicle."
This comes just one week after Saudi National Mohammed Saeed Alshamrania opened fire at the Naval Air Station in Pensacola, FL, murdering three people and wounding seven others:
The murderer responsible for gunning down 3 people and wounding seven others at Naval Air Station Pensacola was identified as Mohammed Saeed Alshamrani.

He is a Saudi national and a member of the Saudi Arabian military who was residing in the U.S. for aviation training.

The shooting is currently being investigated as a possible terror attack.

The assailant fired upon a classroom building where he killed at least three and wounded seven other people.

Two deputies responded to the murderer and took out the shooter, while sustaining gunshot wounds, according to a report from David Morgan, the Escambia County Sheriff. One of the officers was shot in the knee and the other in the shoulder. They are both expected to recover.

The Escambia County Sheriff's Office held a press conference once the dust cleared from the shooting.

Congressman Matt Gaetz immediately responded to this shooting by offering up an alternative to the current screening process that involves the entry of foreigners into the United States and who train at bases throughout the country.
While the U.S. may give aid and weapons to Saudi Arabia, it does not appear that the relationship is reciprocal. The Saudi government's alleged role in the 9/11 terror attacks is more evidence that this foreign entanglement should be reconsidered.
Pushing diversity at the cost of great storytelling is wreaking havoc on the comic book industry sales and splitting the fanbase. But beware anyone who dares criticize as they risk being cast out of the industry.
Race swaps & hipster comics
In autumn 2014, readers of American Superhero comics came across something  a bit different. The first issue of Marvel's The Unbeatable Squirrel Girl saw an established character strangely changed from a cute and sassy young woman into an awkwardly shaped, goofwho cracked unfunny gags about pop culture. She was, bluntly, ugly – deliberately badly proportioned and drawn in a casual "indie" fashion. The book was aimed at hipsters, not Marvel fans.
Readers didn't take to the character because it looked an ironic in-joke. It became a flagship "diversity" book for Marvel.
Marvel Comics were 'looking to be politically correct'. Other changes soon became apparent at  Marvel Comics. Established characters changed race or sex; female characters became unfeminine; male characters became less heroic; and the number of gay characters increased dramatically. More and more traditional characters were changed for political reasons.
Newcomers arriving directly from the movies were baffled to find that the Hulk was Korean-American and Iron Man was a teen black girl. Recent years have also seen an Afro-Latin Spider-Man, a female Muslim Ms Marvel, and a black Captain America.
The drive to "diversify" comics was strange as American comics were already diverse; comic-book readers had always accepted new characters with good stories.
'This book wasn't written for you'
What made matters worse was that new writers seemed to have little ability to write American superhero comics, a genre with specific traditions and rules. In order to appeal to a new readership, Marvel Comics hired female authors of young adult fiction whose main subjects were human interest and slice-of-life drama – not very compatible with the hero mythos, action and thriller stories.
Some writers made no effort to conform to expectations. The current James Bond comic (published by Dark Horse) is written by Vita Ayala and Danny Lore, two black women who have focused their story on a black female character.
Fans resented the blatant alteration of history by newcomer writers and editors who believed they were more virtuous than the fans. Meanwhile, all criticism of the new authors was dismissed out of hand.
The new writers and their corporate backers accused critics of bigotry and hatred.  Creators abused fans and told them "this book wasn't written for you" and "I don't want your money". There was glee about upsetting devoted fans by despoiling beloved characters. Marvel Comics and DC to give work to freelance creators who were actively  driving away potential customers.
New creators alienated regular fans while not significantly increasing consumption by women, younger readers and non-white audiences. A war between comic-book publishers and fans had begun.
The Birth of ComicsGate
By 2017, long-time readers had become bored of masculine women acting like men, men being weak and stupid, and ordinary white Americans being portrayed as dumb racists. They were depressed by the absence of heterosexual relationships between characters. They resented the Mary Sues (tokenistic,overpowered characters who have no flaws and face no real peril) being used for purposes of representation. They disliked new heroes who moped around or acted like petulant bullies.
Readers simply had had enough.
On a daily basis I read websites and watch videos where fans reject political correctness and the disrespect of professionals. Eventually, these disparate voices formed a loose alliance called ComicsGate, critiquing bad comics and creating communities in video comment sections. In my book Culture War: Art, Identity Politics and Cultural Entryism I documented the rise of independent creators and readers who wanted traditional apolitical adventures.
The Future of Comics?
In an industry dominated by a few major publishers, a single distributor and a limited (and contracting) network of specialist retailers, politics has destroyed producer-consumer rapport and long-term trust. The narcissism of political activists in firms, lack of management oversight and predatory practices have decimated the American superhero comic industry at a time when its characters are more famous than ever.
But the future of comics could be the independent creators within the ComicsGate movement.
Prominent creators who believed that they had been unofficially blacklisted by their firms (including Mitch Breitweiser, Jon Malin, Doug TenNapel and Ethan van Sciver) decided to publish politics-free adventure books independently. Using the crowdfunding platform Indiegogo, they sold their apolitical comic books. Van Sciver's book CyberFrog Bloodhoney raised more than $950,000. Campaigns by ComicsGate creators have generated more than $2 million in a year despite being frozen out of media coverage.
And they have also had to face industry obstacles.
When Richard Meyer (who makes video critiques like Comics Matters w/ Ya Boi Zack) tried to publish his action-hero comic Jawbreakers with Antarctic Press, the project was abruptly called off. Meyer claims that the deal was interfered with by Mark Waid, prominent writer and public opponent of ComicsGate. Meyer is suing Waid for compensation in ongoing litigation.
The boom in crowdfunding projects has opened doors to new creators, including Clint Stoker, who runs the YouTube channel Sweetcast. Building a rapport with viewers through regular videos, Stoker's first book, Downcast, earned $31,667. I asked him if ComicsGate had changed the landscape for newcomers.
He said: "Yes! I had a lot of opportunities because of CG. There is a lot of excitement around Indie comics in CG. I benefit from networking and getting backers to give my book a shot."
Asked what ComicsGate should mean to an outsider, Stoker replies "Let the books speak for themselves!"
Can Stoker and others challenge the primacy of the industry giants? As long as people want to read classic stories of heroism, and Marvel and DC refuse them to the public, they have every chance.
By Alexander Adams, a British artist and writer. His book Culture War: Art, Identity Politics and Cultural Entryism is published by Societas.
12/11/2019
don't forget Hillary – She really is above any and all law
No one is above the law except all of Epstein's clients
They don't want the Saudi national's Islamist manifesto to get out.
By
A Fox News host has been banned from

Twitter

after sharing the manifesto of a Saudi military trainee-turned

Islamist terrorist

who carried out a mass shooting at a Pensacola, Florida Naval installation.
Pete Hegseth shared screenshots of postings on Saturday made by Saudi national Mohammed Alshamrani shortly before the attack. Alshamrani espoused on his motivations for the terrorist actions, in which he killed three U.S Navy sailors and wounded eight more.
Alshamrani created a manifesto in which he referred to the United States as a "nation of evil," attacked Israel, and praised Osama bin Laden.
Hegseth shared elements of his manifesto, only to go dark on Twitter sometime shortly after. He posted on Instagram on Sunday revealing that he had been banned from the platform for exposing Alshamrani's manifesto, slamming the platform's censorship tactics that leave the public in the dark after terrorist attacks.
Hegseth is appealing his permanent ban from Twitter, but he expressed doubt the platform would let him back on
Twitter has banned individuals who have posted writings made by terrorists before, such as the El Paso Walmart mass shooter and the New Zealand anti-Muslim terrorist. But it seems as if the platform is merely keeping the motivations of violent individuals in the dark and creating confusion by its broad policy.
In another concerning development, Secretary of Defense Mark Esper has confirmed that other Saudi nationals present at the Pensacola Naval Air Station filmed Alshamrani's attack.
Alshamrani's terrorist attack against U.S military personnel, and the apparent involvement of other Saudi military trainees, raises serious questions about ongoing programs that facilitate the training of Saudi military personnel in the United States.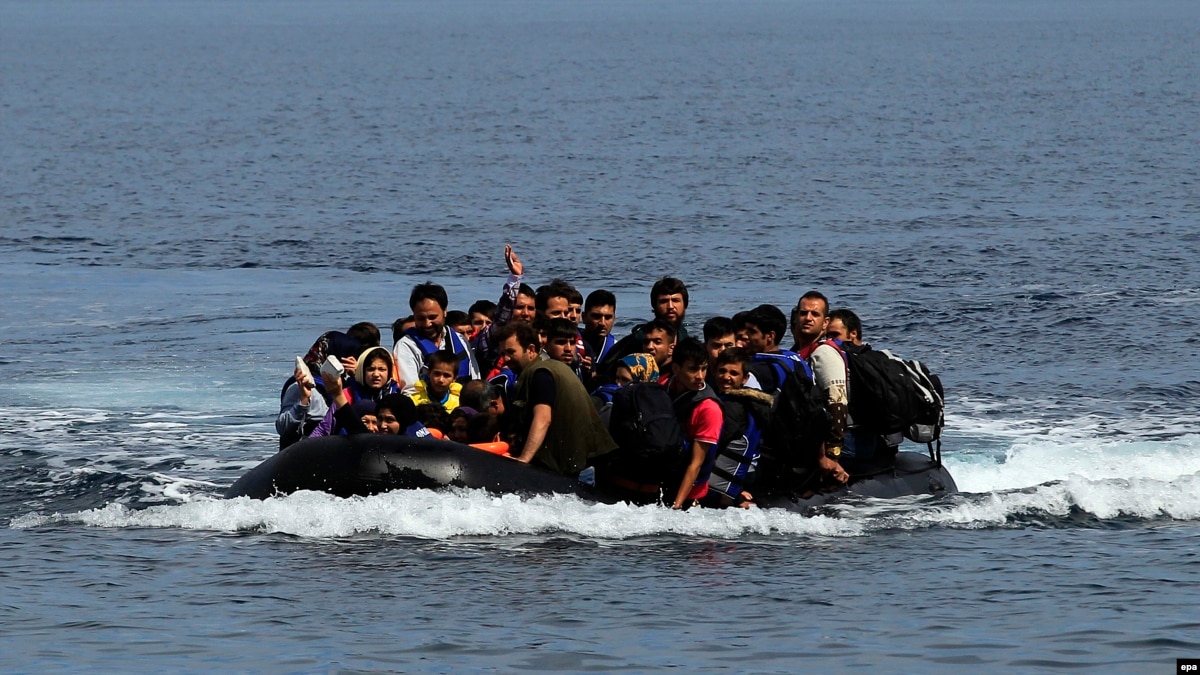 By Dan Lyman
Four boats bearing dozens of migrants were intercepted crossing the

English Channel

on Sunday, according to reports.
A total of 39 migrants, all identifying themselves as Iranian nationals, were apprehended by authorities with U.K. Border Force and Kent Police.
"The first boat, which was stopped by the Border Force at 4.40am, contained nine people with the second incident happening at 6am – with five more people being detained in a rigid hulled inflatable boat (Rhib)," the Evening Standard reports.
Another two vessels carrying 11 and 14 migrants, respectively, were located and stopped at 7 am and 7:30 am.
"Border Force dealt with four incidents on November 17 after being alerted to small boats travelling across the Channel towards the U.K.," a government spokeswoman said in a statement.
"The people from all boats were taken to Dover where they were medically assessed before being interviewed by immigration officials."
The number of migrants crossing the English Channel has been steadily rising, with over 1,500 successfully completing the journey so far in 2019, a 500% increase from 2018.
In September, U.K. authorities intercepted 86 migrants illegally crossing the English Channel during a record-setting day.
British authorities revealed that migrants have become so emboldened by the lack of disciplinary action being taken against illegal crossers, some are simply calling police from their boats to arrange pick-up.
"Illegal migrants are ringing police to collect them from boats in the Channel because they are so sure of avoiding being returned to their countries, MPs have been told," the London Times reported in February.
by Jim Hoft November 12, 2019
In February 2017 President Trump held a rally in Florida in front of thousands of supporters.
During his speech President Trump referenced the increased violence in Sweden due to the tremendous influx of refugees.
President Trump: "You look at what's happening in Germany, you look at what's happening last night in Sweden — Sweden, who would believe this? Sweden — they took in large numbers. They're having problems like they never thought possible. You look at what's happening in Brussels. You look at what's happening all over the world. Take a look at Nice. Take a look at Paris.
The media immediately pounded on President Trump.
They ran attacks all day Sunday claiming Trump said there was a terrorist attack in Sweden.
But Trump was right.
Migrants are changing the face of Sweden.
But Trump was right.
The bombings and violence have continued to escalate in once peaceful Sweden.
On Monday Denmark closed its border with Sweden as bombings spread.
Via Breitbart.com.
Denmark will temporarily reinstate border controls with Sweden and step up police work along the border after a series of violent crimes and explosions around Copenhagen that Danish authorities say were carried out by perpetrators from Sweden.

The checks, which start Tuesday for six months, will take place at the Oresund Bridge between Copenhagen and the Swedish city of Malmo and also at ferry ports.

Lene Frank of Denmark's National Police said there will be both random and periodic checks of people crossing the border and officers will focus "particularly on cross-border crime involving explosives, weapons and drugs."

Since February, there have been 13 blasts in Copenhagen. Authorities believe an Aug. 6 explosion at the Danish Tax Agency "was committed by criminals that had crossed the border from Sweden." Two Swedish citizens are in custody.