Social distancing proving to be a problem in Pakistan.
By Paul Joseph Watson – April 3, 2020
A video out of

Karachi

,

Pakistan

shows a violent mob chasing away a police car after authorities tried to shut down a local mosque as part of social distancing rules.
The clip shows a mob of hundreds of men pursuing the police cruiser while screaming and hurling rocks at the car.
"Today when police reportedly tried to stop a Friday prayer congregation at a mosque forcibly in #Karachi's Liaquatabad, residents reacted violently," tweeted journalist Zia Ur Rehman.
Another clip shows one of the officers wearing a mask being manhandled by the crowd.
According to the Business Recorder, "An Imam of a mosque in Liaquatabad area was holding Friday congregation prayers despite a ban imposed by the government from 12 noon to 3 pm. A large number of people also gathered in the mosque to offer Friday prayers."
The Imam then incited the mob to attack the police, causing them to flee "in a bid to save their lives."
A larger contingent of officers later reached the site and arrested the Imam along with three other people.
As we previously highlighted, Muslim migrants living in Europe's "sensitive" ghettos have also largely ignored the lockdown measures.
The situation is so dire that a top government official in France suggested not enforcing the law in migrant-heavy areas and keeping shops open in order to prevent riots.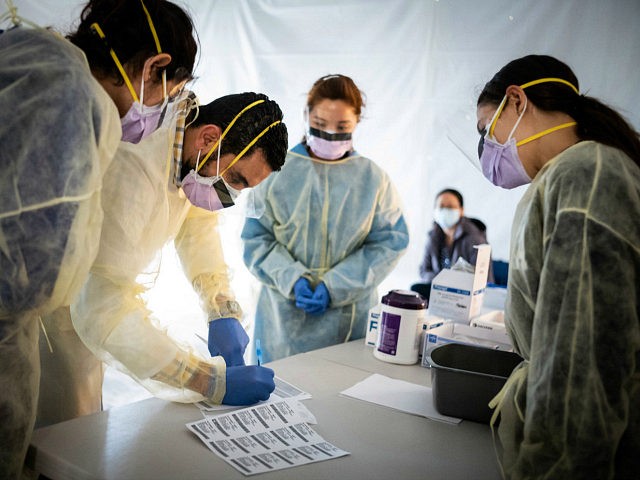 By John Binder
The Chinese coronavirus "is emphatically a disease of globalization," a pandemic historian at

Yale University

says.
In an interview published in the Wall Street Journal, Yale University's Frank Snowden — a historian who most recently in 2006 published a book about Italy's eradication of malaria — details how the coronavirus pandemic is threatening the globalist worldview of free movement of people and free trade.
The interview finds the Journal's Jason Willick seemingly admits the coronavirus is tainting globalism and pushing Americans and the peoples of Europe toward nationhood:
Yet while the [bubonic] plague saw power move up from villages and city-states to national capitals, the coronavirus is encouraging a devolution of authority from supranational units to the nation-state.  This is most obvious in the European Union, where member states are setting their own responses. Open borders within the EU have been closed, and some countries have restricted export of medical supplies. The virus has heightened tensions between the U.S. and China, as Beijing tries to protect its image and Americans worry about access to medical supply chains. [Emphasis added]
Snowden told the Journal the coronavirus is a direct result of the globalization of the American economy after nearly four decades of free trade policy initiatives:
The coronavirus is threatening "the economic and political sinews of globalization, and causing them to unravel to a certain degree," Mr. Snowden says. He notes that "coronavirus is emphatically a disease of globalization." The virus is striking hardest in cities that are "densely populated and linked by rapid air travel, by movements of tourists, of refugees, all kinds of business people, all kinds of interlocking networks." [Emphasis added]
Globalization, Snowden notes, has driven the coronavirus to majorly impact the wealthiest of Americans.
"Respiratory viruses, Mr. Snowden says, tend to be socially indiscriminate in whom they infect. Yet because of its origins in the vectors of globalization, the coronavirus appears to have affected the elite in a high-profile way," the Journal piece states. "From Tom Hanks to Boris Johnson, people who travel frequently or are in touch with travelers have been among the first to get infected."
The infection of thousands of the nation's rich and upper-middle-class has driven class warfare in regions like the Hamptons in New York where some of the wealthiest, most liberal celebrities own property.
A report by Maureen Callahan for the New York Post chronicles how the working class staff of the Hamptons' elite are turning on them as those infected disregard rules and Center for Disease Control (CDC) guidelines:
"There's not a vegetable to be found in this town right now," says one resident of Springs, a working-class pocket of East Hampton. "It's these elitist people who think they don't have to follow the rules." [Emphasis added]

It's not just the drastic food shortage out here. Every aspect of life, most crucially medical care, is under strain from the sudden influx of rich Manhattanites panic-fleeing … — and in some cases, knowingly bringing coronavirus. [Emphasis added]

…

"We're at the end of Long Island, the tip, and waves of people are bringing this s–t," says lifelong Montauker James Katsipis. "We should blow up the bridges. Don't let them in." [Emphasis added]
While globalization has delivered soaring profits for corporate executives, working- and middle-class American communities have been left behind to grapple with fewer jobs, less industry, stagnant wages, and increase competition in the labor market due to decades-long mass legal immigration.
Since 2001, free trade with China has cost millions of Americans their jobs. For example, the Economic Policy Institute has found that from 2001 to 2015, about 3.4 million U.S. jobs were lost due to the nation's trade deficit with China.
Of the 3.4 million U.S. jobs lost in that time period, about 2.6 million were lost in the manufacturing industry, making up about three-fourths of the loss of jobs from the U.S.-Chinese trade deficit.
The

UK government

is facing allegations they are manipulating coronavirus death numbers, after revealing they are changing the way the figures are released, claiming family consent is now required.
On Wednesday night, the Department for Health and Social Care published the latest Covid-19 figures showing an increase of 43 deaths – less than half the fatalities from the previous day (87).
A positive sign that the number had decreased? At first glance, yes, until it's revealed those figures"do not cover a full 24 hour period" as usual.
The UK government is facing allegations they are manipulating coronavirus death numbers, after revealing they are changing the way the figures are released, claiming family consent is now required.
On Wednesday night, the Department for Health and Social Care published the latest Covid-19 figures showing an increase of 43 deaths – less than half the fatalities from the previous day (87).
A positive sign that the number had decreased? At first glance, yes, until it's revealed those figures "do not cover a full 24 hour period" as usual.
So why? BBC Newsnight's Nick Watt explained that the government was changing the way it releases Covid-19 death figures, which "may not actually be the deaths that have taken place over the last 24 hrs," as family consent is now required.
The government's sudden shift in the criteria of reporting coronavirus numbers has provoked accusations that they are manipulating data without a valid reason. Luke Cooper, an associate researcher at LSE Conflict and Civil society research claimed that it "sounds an awful lot like government is fiddling the figures," insisting that it is "not true" that consent is required "if data is anonymized."
Echoing that sentiment, Dr. Nisreen Alwan – an associate professor in public health at Southampton University – says that as is the case for information from the Office for National Statistics (ONS), "consent is not needed" for anonymized mortality data.
Sam Fowles, a barrister that advised Another Europe – a pro-EU campaign group – on its GDPR compliance concurred, adding that "even if it were personal data, the government could arguably publish on the basis of overwhelming public interest. But in any case, it isn't."
PM Johnson ordered a temporary national lockdown on Monday and advised British people to "stay at home" outside of emergencies, buying essential supplies or getting exercise, otherwise they face the possibility of fines and even arrest.
The number of confirmed UK cases of Covid-19 currently stands at 9,529 – a rise of 1,452 in 24 hours.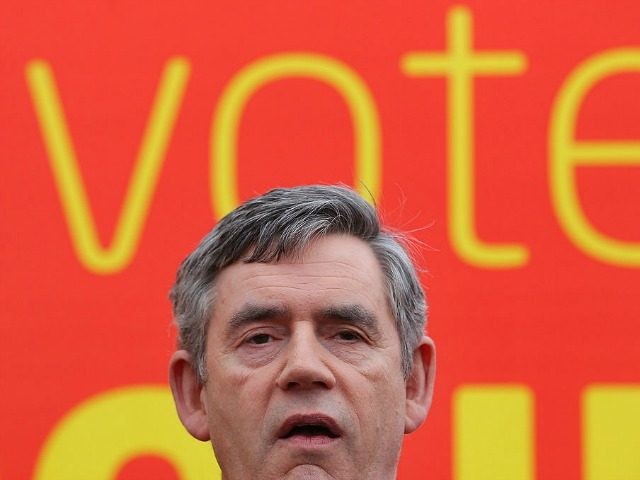 By Simon Kent – 26 Mar 2020
Now is the time for global leaders to create

one world government

to tackle the twin medical and economic crises caused by the

Chinese coronavirus

pandemic, former

UK Prime Minister Gordon Brown

urged on Thursday.
The left-wing former Labour leader said there was a need for a taskforce involving world leaders, health experts and the heads of international organisations that would have supreme and unfettered executive powers to coordinate the response.
He gave no indication of who would appoint the "leaders," how long they would serve for or just what their powers would involve, the Guardian reports.
Brown simply wants a new layer of global supra-government to force a solution to a crisis that began in Wuhan, China.
"This is not something that can be dealt with in one country," he said. "There has to be a coordinated global response."
Brown said the current crisis was different to the one he was involved in 2008 during the global financial crash. "That was an economic problem that had economic causes and had an economic solution.
"This is first and foremost a medical emergency and there has to be joint action to deal with that. But the more you intervene to deal with the medical emergency, the more you put economies at risk."
Brown said his proposed global taskforce would fight the crisis on two fronts. There would need to be a coordinated effort to find a vaccine, and to organise production, purchasing and prevent profiteering.
"We need some sort of working executive," Brown said. "If I were doing it again, I would make the G20 a broader organisation because in the current circumstances you need to listen to the countries that are most affected, the countries that are making a difference and countries where there is the potential for a massive number of people to be affected – such as those in Africa."
The World Bank and the International Monetary Fund needed an increase in their financial firepower to cope with the impact of the crisis on low- and middle-income countries, he said.
by Cassandra Fairbanks March 24, 2020
Los Angeles County

Sheriff Alex Villanueva

has announced that they will be closing all gun retailers as they are "not an essential function."
Sheriff Villanueva also added 1,300 more deputies to patrol the county and released 1,700 "nonviolent" inmates from county jails since Governor Gavin Newson issued a stay-at-home order in the state.
Speaking to Fox 11, Villanueva claimed to support the Second Amendment, but spewed anti-gun talking points while announcing the gun store shut down.
"We will be closing them, they are not an essential function," Villanueva said. "I'm a supporter of the 2nd amendment, I'm a gun owner myself, but now you have the mixture of people that are not formerly gun owners and you have a lot more people at home and anytime you introduce a firearm in a home, from what I understand from CDC studies, it increases fourfold the chance that someone is gonna get shot."
The station reports that he also freed 10% of the inmate population from county jails — nonviolent offenders with misdemeanor sentences that were up within 30 days.
"We're gonna keep violent felony suspects who are a threat to the community in the jail no matter what," Villanueva said. "Anybody who has an idea that somehow we're not going to be hard on crooks out there on the streets, they're tragically mistaken, there's twice as many deputies on the street now so the odds of you getting caught are a lot higher."
Though he has doubled the police patrol, he claims that the National Guard is not active in the county, despite photos posted to social media that show large amounts of military vehicles.
"If we start losing major portions of our sworn personnel, that impacts our ability to man jails or our patrol obligations, and were running out of people to do that, if were in that position typically our counterparts in LAPD they'll be in the same boat, then we can use the National Guard to start assigning them to security operations," Villanueva said.
On Monday, the Pennsylvania Supreme Court denied an emergency request that would have blocked the governor's order to close all gun retailers in the state in response to the coronavirus pandemic.
The court ruled on Sunday evening that the gun shops could be closed down, letting the order go into effect on Monday.
The gun shop shut down was part of an order by Democrat Governor Tom Wolf that closed all businesses that are not considered to be "life sustaining." Gun rights groups argued before the Supreme Court that this should include weapons retailers, but they were denied.
The order shut down the stores on Monday without any timeline for when they can reopen.
Democratic legislation "uses the words diverse or diversity more than 60 times"
Steve Watson  – MARCH 24, 2020
Fox News anchor

Tucker Carlson

slammed

Democrats

for holding up the

coronavirus relief legislation

, urging that they are "indulging their creepy ideological obsessions" by inserting stuff that has absolutely "nothing to do with fighting the pandemic."
Carlson highlighted several parts of the 1,400 page House Democratic bill, which is stuffed with pork, and noted that most of it is about being 'woke' rather than fighting the killer virus.
"The bill would require every corporation that receives coronavirus aid to have officers and a budget dedicated to diversity and inclusion initiatives for a minimum of five years after they get the money," Carlson noted.
"Because that is going to keep America healthy and prosperous, just like it has," Carlson sarcastically emphasised.
"Companies would also have to produce elaborate racial reports for the government listing the skin color and the sex of their officers and boards of directors. They have to prove they give enough money to firms owned by women and nonwhites, and of course how much they spend on diversity initiatives," he continued, pointing to the relevant sections of the bill.
Carlson noted that the bill "uses the words diverse or diversity more than 60 times."
"What does that have to do with the pandemic that might kill you?" he asserted, adding "Not one thing. Just more ugly race politics, the kind they specialize in."
"This is insanity, it's dangerous insanity," he proclaimed, adding "Who cares what color your scientists are?"
Ignored police warnings not to congregate.