While it bans page critical of 'Drag Queen Story Hour'.
By
Children being bombarded with identity politics brainwashing at increasingly younger ages.
By Paul Joseph Watson – May 19, 2020
A

Cartoon Network

show is teaching kids about "intersex, non-binary" gender identities.
A clip from the Steven Universe show made in partnership with the Dove Self-Esteem Project was uploaded to Twitter in which one of the characters says, "Let's talk about social media, this is my page."
The profile page belonging to the character reads "Intersex, non-binary, they-them."
As the character is scrolling through the social media timeline, the words "Intersex rights are human rights!" and "Intersex Awareness Day October 28th" are displayed.
Steven Universe, which was also made into a movie last year, was created by animator Rebecca Sugar, a self-described "bisexual non-binary woman," an identity which, according to her Wikipedia page, "has encouraged her to stress the importance of LGBT representation in art, especially in children's entertainment."
As we previously highlighted, bombarding children of increasingly younger ages with information about sexuality and gender fluidity has become a goal of progressivism.
The World Health Organization's 'Standards for Sexuality Education in Europe: A framework for policymakers, educational and health authorities and specialists', advises children be taught about sexually pleasuring themselves and transgenderism before they've even fully learned to talk.
Drag Queen Story Time, during which drag queens read to and sometimes perform sexually suggestive routines to toddlers, has also been celebrated by the media, as have 'drag kids' like Desmond is Amazing.
You can't stop progress!
Disgusting.
Paul Joseph Watson  – FEBRUARY 28, 2020
A video posted to

Tik Tok

shows a drag queen dancing suggestively in front of a girl no older than 6 as adults in the room applaud and cheer.
The clip shows the young girl seated as a drag queen crawls on her hands and knees towards her.
The drag queen then dances suggestively before approaching the girl and squatting down beside her in what some viewers said was comparable to the beginning of a lap dance.
The drag queen then shakes her backside before stroking the girl's hair and kissing her.
Parents are seen clapping, dancing and cheering throughout the clip.
The text on the video claims "This sweet little girl asked her mom to get a better view."
The look on her face suggests otherwise, with many respondents asserting her mannerisms suggested she was incredibly uncomfortable with the whole display.
Despite drag queens being an inherently sexual form of performance, leftists still insist there is nothing odd about exposing children to them.
This video clearly suggests otherwise.
As we previously highlighted, a Scottish MP invited a drag queen called 'Flowjob' who had previously uploaded sexually explicit content to Twitter to a primary school and then called parents who complained "homophobic."
Even some drag queens have questioned why parents are allowing them to perform to children.
Last month we highlighted the words of an actual drag queen, Kitty Demure, who posted a viral video in which he expressed his amazement at why 'woke' parents are allowing their kids to be around drag queens, asking, "Would you want a stripper or a porn star to influence your child?"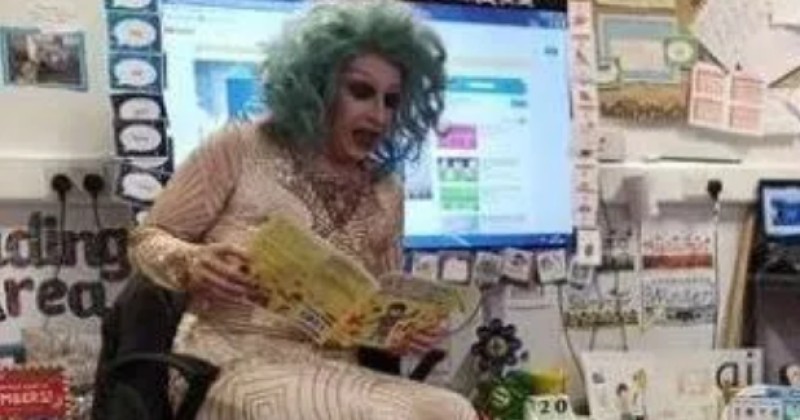 Drag queen had previously uploaded sexually explicit content to Twitter.
Paul Joseph Watson  – FEBRUARY 24, 2020
A Scottish MP invited a drag queen called 'Flowjob' who had previously uploaded sexually explicit content to Twitter to a primary school and then called parents who complained "homophobic."
MP Mhairi Black invited 'Flowjob' to Glencoates Primary School, Paisley where the drag queen read a story to kids as young as four.
The Sun reports, "The drag queen has regularly uploaded graphic pictures to Twitter, including of simulating a sex act with a dildo and simulating oral sex."
Parents subsequently complained that they were not informed of the drag queen's visit and said the visit was "outrageous" and "disgusting."
"While I don't agree with the abuse being given, my kids go to this school, there was no information fed to parents about this happening. Surely that's a parents choice?" one parent told the Daily Star, accusing the 'woke' headteacher at the school of trying to further her own career.
"Their username is 'flowjobqueen' and their timeline is full of explicit images of them simulating sexual acts. Of course they've just just done a drag queen story reading to primary school children," another parent wrote on social media.
MP Mhari Black reacted to the criticism by declaring the parents "homophobic."
"You just know that the people pretending to be livid that a drag queen read a book in a school are also the people who run out to buy their kids the latest Grand Theft Auto on release day," she said. "Your homophobia is transparent."
However, children's rights group forwomen.scot sided with the parents, saying that 'Flowjob' was an adult entertainer.
"Questions about this are legitimate," the group said in a statement. "A male who dresses as a sexualised parody of a women, goes by the name "flowjob" is hardly a role model for primary aged children. Did no one check this?"
A Renfrewshire Council spokesman said the visit should not have occurred due to the sexually explicit nature of the content posted by 'Flowjob', but that it was arranged as part of LGBT History Month.
As we previously highlighted, there have been numerous 'Drag Queen Story Time' events at UK libraries, schools and museums in the past few weeks, including an event for under-5's at a library in Newham, London.
Last month we highlighted the words of an actual drag queen, Kitty Demure, who posted a viral video in which he expressed his amazement at why 'woke' parents are allowing their kids to be around drag queens, asking, "Would you want a stripper or a porn star to influence your child?"
There is no escaping this Satanic agenda.
By Shane Trejo – 2/21/2020
Activists in Rye, New York have successfully averted a showing of "drag queen story hour" in their community library, but the library is pushing back with an LGBT re-education program meant to indoctrinate young minds into the perverted lifestyle.
The activists, including citizen journalists Robin Janovich and Tom McDermott of The Rye Record, questioned a showing of drag queen story hour scheduled for the library on Feb. 8.
"Are families likely to bring their young children to a program that uses drag queens to focus on inclusivity? Why are we foisting conversations on inclusivity on children that young? Are we replacing bedtime stories, which take children out of themselves and out into other, far more interesting worlds, with discussions of sexual differences when they are innocent sponges?" the reporters asked.
The proposed story hour event was geared toward children aged 3-8 years old and was billed as a teaching experience to "celebrate difference, learn empathy, and create crafts" and "celebrate diversity while building confidence in self-expression."
Citizens in Rye started asking questions and began to cause a stir among the community as people began to question why these perverts were being allowed intimate access to children.
"What happened to bringing joy and delight to our children and grandchildren, rather than assaulting them with political correctness?" one concerned citizen asked.
"If the #MeToo Movement has taught us one thing, isn't it that men dressing up as women for entertainment isn't progress?" asked another individual.
The activism resulted in the event being postponed, but Rye Free Reeding Room Director Chris Shoemaker announced that they would instead bring in "educators" to push LGBT propaganda instead of drag queens.
"But nearly all of those emails were anonymous, so I couldn't respond to them individually," Shoemaker said. "They were form letters asking that the library be neutral in its viewpoints and not create an unwelcome environment."
"After looking at all the feedback and considering whether we should be using an adult performer to spread this message," Shoemaker continued, "I decided the library should pause and refocus on engaging different educators."
Meanwhile, pro-degeneracy advocates such as Rye resident Joie Cooney and the City of Rye's Human Rights Commission are pushing to get story hour reinstated. They want children to be groomed by this vile group of predators out to corrupt the souls of the children.
In other states, drag queens have been completely unvetted before being allowed to read creepy stories about gender and sexuality to children. This has resulted in pedophiles being allowed to administer story hour events to kids. The organizers have done absolutely nothing to assure that drag queens receive criminal background checks beforehand, and there could be dozens if not hundreds of more predators using story hour as a means to find unsuspecting prey.
The people of Rye, as well as the rest of the country, will require nothing short of eternal vigilance to protect the innocence of children from LGBT predators.
By Mark Dice – 2/11/2020
Pitt sure says stupid things when he's not reading from a script.
By Mark Dice – 2/3/2020
Go ahead Hollywood make TV shows no one will watch lmao. I'm ready for you to be bankrupt.