Published on Aug 23, 2019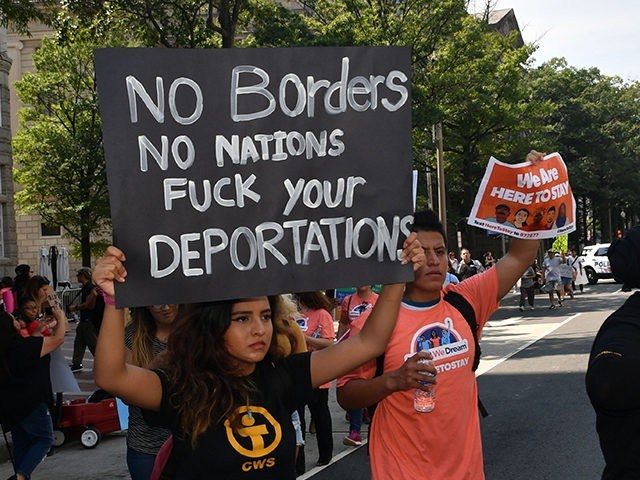 By TOM CICCOTTA
A local news report revealed that the state of

New Jersey

awarded $3.8 million in

financial aid

to

illegal immigrants

during the 2018-2019 school year.
According to a report from NJ.com, the state of New Jersey gave $3.8 million in financial aid to 749 illegal immigrant students in the last academic year. More than a quarter of the funding went to 328 illegal immigrants that attend Rutgers University.
New Jersey Governor Phil Murphy signed a law last year that allowed illegal immigrants to apply for financial aid. Prior to the signing, illegal immigrants were permitted to apply to pay in-state tuition at public universities but they were not eligible for financial aid.
Murphy, who supports the spending, hit back at Republican critics by arguing that giving financial aid to illegal immigrants is compatible with American values.
"I'd even invite any of those folks who have that attitude, beginning with our president, to come on into this room and allow me or any of us to say, 'This is the United States of America,'" Murphy said at the time.
David J. Socolow, executive director of the state's Higher Education Student Assistance Authority, defended the state's decision to offer financial aid to illegal immigrants.
"This financial assistance offers these New Jersey students a life-changing opportunity," Socolow said in a brief comment."The successes of these first 513 students, who are now attending county colleges, state colleges and universities, and independent institutions around the state, will have a positive impact on countless additional lives."
According to the report, there is currently no limit on the amount of illegal immigrant students that are permitted to receive financial aid from the state of New Jersey. State lawmakers forecast that they will spend approximately $5 million on financial aid for illegal immigrants each year.
Another liberal promoting political violence
By Kaitlin Bennett
YIKES! This deranged leftist told Kaitlin Bennett that she'd celebrate if Trump dropped dead, revealing how Democrats really feel about 45.
Published on Aug 23, 2019
FACEBOOK IS ALREADY INTERFERING WITH THE 2020 ELECTION!
By Cristina Laila – August 21, 2019
FBI Director Christopher Wray

's FBI is fighting like hell to keep the thousands of outstanding text messages between FBI lovers

Peter Strzok

and

Lisa Page

under wraps until after the 2020 election.
Conservative watchdog group Judicial Watch has been in court this summer fighting to get their hands on 13,000 pages of Strzok-Page documents.
The FBI wants over 2 years to "process" the Strzok-Page docs.
The Court in late July ordered parties to negotiate a solution to getting key docs more quickly, Judicial Watch said. The FBI is protecting itself on illegal abuses.
"Wray FBI wants to stall until well after next presidential election before completing release of emails/texts between corrupt FBI officials Peter Strzok and Lisa Page," Tom Fitton said.
"26 months for 13,000 pages!? President Donald Trump should order the FBI to comply with law and stop the stonewalling," he added.
Recall, former FBI counterintelligence chief Peter Strzok and his paramour FBI lawyer Lisa Page were removed from the special counsel investigation after DOJ Inspector General Michael Horowitz discovered they were having an affair and exchanging anti-Trump text messages.
Peter Strzok migrated from the Hillary Clinton email probe to the 'get Trump' Russian collusion investigation. Strzok protected Hillary Clinton from Espionage Act charges, then in July of 2016 opened up a bogus CI investigation (Crossfire Hurricane) into 'Trump Russia' with no valid reason other than to 'stop Trump.'
The two FBI lovebirds text each other about an "insurance policy" to stop Donald Trump just in case he were to win the 2016 election.
The FBI was forced to hand over text messages between Strzok and Page, however, they claimed that they were unable to retrieve several months worth of texts because they were 'missing.'
Mueller also scrubbed other text messages between Strzok and Page. Their phones were set to 'factory settings' when the two FBI officials turned in their phones to the FBI resulting in 'lost' data.
Judicial Watch has been fighting in court to obtain the outstanding Strzok-Page texts and FBI Director Wray is working to keep the documents hidden from public scrutiny.
Facebook

will hire a "small team" of journalists to select featured content for its much-hyped

'News Tab'

section, which the platform will begin testing across its US user base later this year.
What could go awry with human editors in charge? Facebook should know, since the company was forced to fire its last team of human content-pickers over revelations of bias against conservative viewpoints.
READ MORE: Facebook tells Trump ads can't appeal to 'strong women LIKE YOU,' caving in to ex-Clinton staffer
The platform said Tuesday that the new team — which will likely be fewer than 10 employees at the beginning — will choose the content for the 'Top News' section of the News Tab. Stories found in the other sections will be chosen by algorithms and determined by specific user interests, the New York Times reported.
'Trending' no more: Facebook removing controversial news feature
Facebook said it made the decision to go after human curators after discussions with publishers convinced them that algorithms would not be capable of "news judgement" the way real journalists would and that it would take too long to train an algorithm to that level.
But there are pitfalls to consider with human editors, too. Facebook ditched its 'Trending Topics' section last year after being plagued by accusations that it was politically biased and amplified "fake news." 
An explosive Gizmodo story put the spotlight on Trending Topics in 2016, revealing that human editors, independently contracted by Facebook, were asked to suppress conservative news and even stories about Facebook itself.
The contractors were also told to artificially "inject" preferred stories into the trending module, even if they were not trending organically. Rather than relying on algorithms (as it claimed), Facebook was acting like a traditional news organization and reflecting the personal biases of its employees.
The Wall Street Journal reported earlier this month that Facebook is planning to pay publishers "millions of dollars" to include their content in its News Tab.
A source told Digiday that the new batch of curators will be given the option to include that content in the Top News section, but they will not be obliged to. The new hires will be full-time employees, unlike the contractors used for the doomed Trending Topics section.
As Facebook rolls out the News Tab, users will no doubt be waiting to see if it has learned its lesson after the last debacle.
READ MORE: Google is censoring political content? *Gasp!* Who knew?
Triggered by the word 'hijacking'
Steve Watson  – AUGUST 21, 2019
CNN

Analyst

Angela Rye

told a Republican strategist on air this week that 'the greatest terrorist threat' in the US are white men who think like he does.
GOP campaign strategist Patrick Griffin argued that the so called "Squad" of Democrats, including Reps. Rashida Tlaib, D-Mich., and Ilhan Omar, D-Minn., has "hijacked" the Democratic Party.
"It's so interesting that you use the term — the only two Muslim women in Congress, the term you chose to use, sir, is 'hijacking,'" Rye, the former Congressional Black Caucus executive director, ridiculously responded.
"It has nothing to do with whether they're Muslim or not," Griffin hit back, "Nothing to do with that… They've hijacked from their own principles."
"That's a real interesting word choice, and you understand why," Rye continued, insisting that Griffin used the term to connect the Democrats to terrorists.
"You can talk over me all you want to but the bottom line is the greatest terrorist threat in this country is white men, white men who think like you. That is the greatest terrorist threat in this country." Rye blurted.
Griffin described Rye's remarks as "silly rhetoric."
"No, it's not!" Rye responded.
"You know what's silly? The fact that you're on here knowing how dangerous times are right now defending this nonsense." she added.
CNN, bringing the nuanced debate as usual.
Published on Aug 21, 2019
THE SICK THING IS; THEY WANT A RECESSION.  THEY'RE ROOTING FOR IT.  JUST SO THEY CAN BLAME TRUMP.  THESE ARE SICK PEOPLE WE'RE DEALING WITH.