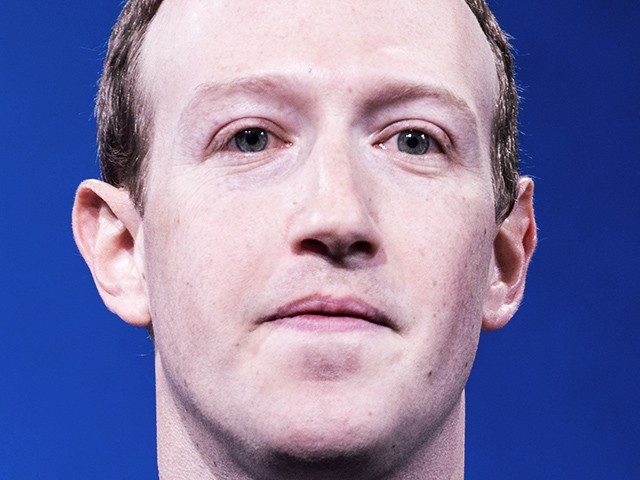 By Allum Bokhari
Facebook

monitors the offline behavior of its users to determine if they should be categorized as a "Hate Agent," according to a document provided exclusively to

Breitbart News

by a source within the social media giant.
The document, titled "Hate Agent Policy Review" outlines a series of "signals" that Facebook uses to determine if someone ought to be categorized as a "hate agent" and banned from the platform.
Those signals include a wide range of on- and off-platform behavior. If you praise the wrong individual, interview them, or appear at events alongside them, Facebook may categorize you as a "hate agent."
Facebook may also categorize you as a hate agent if you self-identify with or advocate for a "Designated Hateful Ideology," if you associate with a "Designated Hate Entity" (one of the examples cited by Facebook as a "hate entity" includes Islam critic Tommy Robinson), or if you have "tattoos of hate symbols or hate slogans." (The document cites no examples of these, but the media and "anti-racism" advocacy groups increasingly label innocuous items as "hate symbols," including a cartoon frog and the "OK" hand sign.)
Facebook will also categorize you as a hate agent for possession of "hate paraphernalia," although the document provides no examples of what falls into this category.
The document also says Facebook will categorize you as a hate agent for "statements made in private but later made public." Of course, Facebook holds vast amounts of information on what you say in public and in private — and as we saw with the Daily Beast doxing story, the platform will publicize private information on their users to assist the media in hitjobs on regular American citizens.
Breitbart News has already covered some of the individuals that Facebook placed on its list of potential "hate agents." Paul Joseph Watson eventually was categorized as "hateful" and banned from the platform, in part, according to the document, because he praised Tommy Robinson and interviewed him on his YouTube channel. Star conservative pundit Candace Owens and conservative author and terrorism expert Brigitte Gabriel were also on the list, as were British politicians Carl Benjamin and Anne Marie Waters.
The Benjamin addition reveals that Facebook may categorize you as a hate agent merely for speaking neutrally about individuals and organizations that the social network considers hateful. In the document, Facebook tags Benjamin with a "hate agent" signal for "neutral representation of John Kinsman, member of Proud Boys" on October 21 last year.
Facebook also accuses Benjamin, a classical liberal and critic of identity politics, as "representing the ideology of an ethnostate" for a post in which he calls out an actual advocate of an ethnostate.
In addition to the more unorthodox signals that Facebook uses to determine if its users are "hate agents," there is also, predictably, "hate speech." Facebook divides hate speech into three tiers depending on severity and considers attacks on a person's "immigration status" to be hate speech.
Here's how "hate speech" — both on and off Facebook — will be categorized by the platform, according to the document:
Individual has made public statements, or statements made in private and later made public, using Tier 1, 2, or 3 hate speech or slurs:

3 instances in one statement or appearance = signal
5 instances in multiple statements or appearances over one month = signal
If you've done this within the past two years, Facebook will consider it a hate signal.
Other signals used by Facebook to determine if its users should be designated as hate agents include carrying out violence against people based on their "protected or quasi-protected characteristics," attacks on places of worship, and conviction of genocide.
Are you a source at Facebook or any other corporation who wants to confidentially blow the whistle on wrongdoing or political bias at your company? Reach out to Allum Bokhari securely at allumbokhari@protonmail.com.
Children encouraged to hand cash to adult men at 'All Ages Drag Show'
By Adan Salazar
Photos and video taken at a public library in

Iowa

show children giving

money to drag queens

as they perform on stage.
The disturbing images come from an All Ages Drag Show event held at the Ames Public Library on April 6.
"Come to a free, family-friendly evening of music and dance by local professional and amateur drag performers," a flyer for the event sponsored by the library reads. "All ages are welcome to sign up and show off their talent…"
Photos show several children offering money to a man dressed as a woman wearing a skirt, high heels and a crop top.
An activist with the SafeLibraries watchdog group highlighted the images on Twitter earlier this week, asking if it was appropriate for the American Library Association to be sponsoring events like these across the country.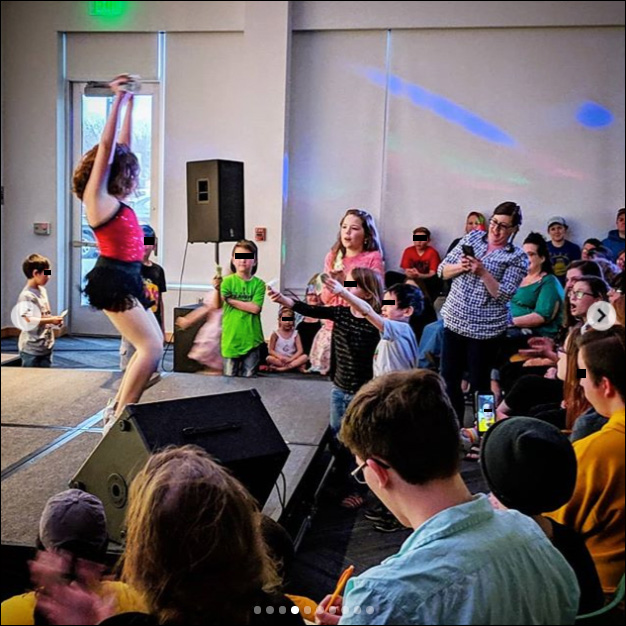 Video footage taken at the event also shows children handing money to full-grown men performing erotic dances fit for a strip club.
Responses on Twitter skewered the event, with one librarian calling it "absolutely appalling."
One Twitter user pointed out a Facebook picture from last month showing library staff wearing a "Pride" shirt which says "Card-carrying member of the queerest library in the universe."
Stay tuned for coverage of the upcoming Drag Queen Story Hour to be held in Leander, Texas on June 15. Read more here:
ANTIFA VOWS TO DEFEND DRAG QUEEN STORY TIME AT TEXAS LIBRARY – 
Muslim radicals vow to destroy Canada and Israel.
By
A group of

Iranian Muslims

living in

Canada

took to the streets of Toronto to call for the destruction of the North American democracy, as well as the destruction of

Israel

.
"Canada is a white supremacist, racist, colonial project, as is Israel – as is the state of Israel," one woman said.
"So I don't even consider myself to be a Canadian, because this is indigenous land, and this land is occupied," she continued, with shocking contempt for the nation in which she was born. "Um, the people who are here, whether they are settlers, um, we also, we firstly need to educate ourselves about what has happened on this land, and what is continuously happening in order to be able to understand what our government – or what this government – is doing abroad and overseas."
The protestor did not say what she would do if Canada ceased to exist.
"This is the resistance that we are going to continue to see," said a male protestor. "And as a result, neighboring countries and those who are fighting in solidarity all around the world will also rise with the Palestinians, and we will see within the next 20 to 25 years the decline and the ultimate destruction of the illegal Zionist state. That is for certain."
WATCH: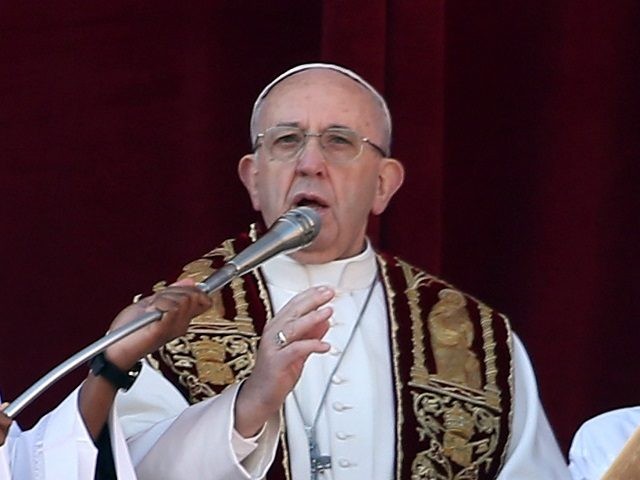 By Thomas D. Williams, PHD.D.
ROME —

Pope Francis

warned of disastrous consequences if humanity does not immediately react to the threat of climate change, since the world has reached a "critical moment" and there is no time to waste.
"Dear friends, time is running out!" the pope told a group of participants in a Vatican-sponsored conference on energy transition Friday. "We cannot afford the luxury of waiting for others to come forward or of prioritizing short-term economic benefits. The climate crisis requires decisive action from us, here and now."
Despite the pontiff's frequent denunciation of a "politics of fear," he seemed determined to paint as frightening a picture as possible of an impending climate apocalypse in order to incite people to action.
This conference "takes place at a critical moment," Francis said. "Today's ecological crisis, especially climate change, threatens the very future of the human family, and this is not an exaggeration. For too long we have collectively ignored the fruits of scientific analysis, and catastrophic predictions can no longer be viewed with contempt and irony."
The pope's words Friday went beyond sounding a general alarm and scorning climate-change skeptics. They also urged specific political action, most notably regarding penalties for carbon usage such as a carbon tax.
"A carbon pricing policy is essential if humanity wants to use the resources of creation wisely," he said. "The failure to manage carbon emissions has produced a huge debt that will now have to be repaid with interest from those who come after us."
The cost of carbon usage must be paid here and now by those who use it, and not deferred for future generations to cover, he proposed.
"Our use of common environmental resources can be considered ethical only when the social and economic costs of their use are recognized in a transparent manner and are fully sustained by those who use them, rather than by other populations or future generations," he said.
The pope reiterated the popular belief that "the effects on the climate will be catastrophic if we exceed the 1.5ºC threshold outlined in the Paris Agreement goals," for which we have "only a little over a decade."
"In the face of a climatic emergency, we must take appropriate measures, in order to avoid committing a grave injustice towards the poor and future generations. We must act responsibly well considering the impact of our actions in the short and long term," he said.
"Future generations are soon to inherit a very ruined world," the pontiff stressed. "Our children and grandchildren should not have to pay the cost of the irresponsibility of our generation."
Appearing to take a page from AOC's Green New Deal, Francis expressed his conviction that an energy transition from fossil fuels to a low-carbon society "can generate new employment opportunities, reduce inequality, and increase the quality of life for those affected by climate change."
Today "a radical energy transition is needed to save our common home," he warned. "There is still hope and the time remains to avoid the worst impacts of climate change, provided that there is prompt and resolute action."
The future of social media
JUNE 14, 2019
Hard-working taxpayers rejecting globalist agenda
By Victor Davis Hanson
What is going on with the unending

Brexit

drama, the aftershocks of

Donald Trump

's election and the "yellow vests" protests in France?
What drives the growing estrangement of southern and eastern Europe from the European Union establishment? What fuels the anti-EU themes of recent European elections and the stunning recent Australian re-election of conservatives?
Put simply, the middle classes are revolting against Western managerial elites. The latter group includes professional politicians, entrenched bureaucrats, condescending academics, corporate phonies and propagandistic journalists.
What are the popular gripes against them?
One, illegal immigration and open borders have led to chaos. Lax immigration policies have taxed social services and fueled multicultural identity politics, often to the benefit of boutique leftist political agendas.
Two, globalization enriched the cosmopolitan elites who found worldwide markets for their various services. New global markets and commerce meant Western nations outsourced, offshored and ignored their own industries and manufacturing (or anything dependent on muscular labor that could be replaced by cheaper workers abroad).
Three, unelected bureaucrats multiplied and vastly increased their power over private citizens. The targeted middle classes lacked the resources to fight back against the royal armies of tenured regulators, planners, auditors, inspectors and adjusters who could not be fired and were never accountable.
Four, the new global media reached billions and indoctrinated rather than reported.
Five, academia, rather than focusing on education, became politicized as a shrill agent of cultural transformation — while charging more for less learning.
Six, utopian social planning increased housing, energy, and transportation costs.
One common gripe framed all these diverse issues: The wealthy had the means and influence not to be bothered by higher taxes and fees, or to avoid them altogether. Not so much the middle classes, who lacked the clout of the virtue-signaling rich and the romance of the distant poor.
In other words, elites never suffered the firsthand consequences of their own ideological fiats.
Green policies were aimed at raising fees on, and restricting the use of, carbon-based fuels. But proposed green belt-tightening among the hoi polloi was not matched by cutbacks in their second and third homes, overseas vacations, luxury cars, private jets and high-tech appurtenances.
In education, government directives and academic hectoring about admissions quotas and ideological indoctrination likewise targeted the middle classes but not the elite. The micromanagers of Western public schools and universities often preferred private academies and rigorous traditional training for their own children.
Elites relied on old-boy networks to get their own kids into colleges. Diversity administrators multiplied at universities while indebted students borrowed more money to pay for them.
In matters of immigration, the story was much the same. Western elites encouraged the migration of indigent, unskilled and often poorly educated foreign nationals who would ensure that government social programs — and the power of the elites themselves — grew.
The champions of open borders made sure that such influxes did not materially affect their own neighborhoods, schools and privileged way of life.
Elites masked their hypocrisy by virtue-signaling their disdain for the supposedly xenophobic, racist or nativist middle classes. Yet the non-elite have experienced firsthand the impact on social programs, schools and safety from sudden, massive and often illegal immigration from Latin America, the Middle East, Africa and Asia into their communities.
As for trade, few still believe in "free" trade when it remains so unfair. Why didn't elites extend to China their same tough-love lectures about global warming or about breaking the rules of trade, copyrights and patents?
The middle classes became nauseated by elites' constant trashing of their culture, history and traditions, including the tearing down of statues, the Trotskyizing of past heroes, the renaming of public buildings and streets and, for some, the tired and empty whining about "white privilege."
If Western nations were really so bad, and so flawed at their founding, why were millions of non-Westerners risking their lives to reach Western soil?
How was it that elites themselves had made so much money, had gained so much influence and had enjoyed such material bounty and leisure from such a supposedly toxic system — benefits that they were unwilling to give up despite their tired moralizing about selfishness and privilege?
In the next few years, expect more grass-roots demands for the restoration of the value of citizenship. There will be fewer middle-class apologies for patriotism and nationalism. The non-elite will become angrier about illegal immigration, demanding a return to the idea of measured, meritocratic, diverse and legal immigration.
Because elites have no answers to popular furor, the anger directed at them will only increase until they give up — or finally succeed in their grand agenda of a nondemocratic, all-powerful Orwellian state.
The International Monetary Fund and European Central Bank do not want Trump to make America great again.
by Shane Trejo
Two of the most powerful international bankers in the world are teaming up in a joint effort to halt

President Donald Trump

's

'America First'

trade policies.
Mario Draghi, president of the European Central Bank (ECB) and Christine Lagarde, managing director of the International Monetary Fund (IMF), are urging Trump to abandon his trade war and return to the status quo preferred by globalist financiers.
"We meet at a moment when support for global cooperation and multilateral solutions is waning," Lagarde said at the 8th ECB conference for the central, eastern and south-eastern European (CESEE) nations on Wednesday.
"Global growth has been subdued for more than six years and the largest economies in the world are putting up, or threatening to put up, new trade barriers. And this might be the beginning of something else, which might affect us all in a more broad way," she added.
Lagarde also warned: "These troubling developments will create headwinds for all, but certainly for the CESEE growth model, a model that has relied on openness and integration."
Draghi also forecast doom unless Trump submitted to China, abandoned his nationalistic policies, and let he and his fellow bankster cronies go back to running the global economy.
"Global trade has faced headwinds in recent years as trade-restrictive measures have outpaced liberalising measures," Draghi said.
"The central and eastern European business model has become vulnerable to shocks to international trade and financial conditions," he added, warning of potential ill effects of Trump threatening to hike tariffs on European autos.
"The effect of tariffs could be amplified, as a large share of goods cross borders multiple times during the production process," Draghi said.
"The main long-term challenge is moving towards a more balanced growth and financing model, which is more reliant on domestic innovation and on higher investment spending than it has been so far," he added.
Regardless of the fear-mongering of the international bankers, President Trump remains undaunted in his resolve to cut China down to size and approve the standing of the U.S. in the world.
Trump is intent upon making America great again, whether the central banking elites approve of it or not.
Published on Jun 13, 2019