Commentators refusing to give

China

credit for containing the

Covid-19

outbreak in Wuhan and citing

'Asian democracies'

as better examples simply envy Beijing's efficiency, the Chinese embassy in France has said.
China, from which the coronavirus spread throughout the world, has largely succeeded in containing the disease, according to official updates. Wuhan, the epicenter of the outbreak, has recorded no new cases in a week and has been lifting the restrictions that helped quash the pandemic.
Beijing sees the outcome as a success story and finds it irritating when commentators in countries currently overwhelmed by the virus insist they have nothing to learn from the Chinese experience. At least that's what's suggested in an article published this week by the Chinese embassy in France, where the Covid-19 death toll may soon exceed China's.
Negative commenters "envy the efficiency of our political system and hate the inability of their own nations to perform as well. So they try to stick the 'dictatorship' label on China," the embassy said.
Instead, detractors praise 'Asian democracies' like South Korea, Japan and Singapore, which have been more successful than Western nations in containing the pandemic. However, China, which resorted to more drastic quarantine measures than those countries, has a much bigger population. So its task in fighting the disease was far more difficult, the article argued. Ultimately, the virus doesn't care whether it is ravaging a 'democracy' or an 'autocracy.'
With the threat of coronavirus diminishing at home, Beijing has been busy building goodwill and sharing expertise with other nations affected by the pandemic, sending doctors and aid supplies to those in need.
Serbian PM: 'Fake news' that we don't appreciate EU help, but Covid-19 aid came from China
This 'mask diplomacy,' as some commentators call it, has drawn quite a lot of negative feedback on both sides of the Atlantic Ocean. Critics say the help comes with political strings attached, undermines European solidarity, and damages targeted nations' relations with the United States.
There is also a popular narrative claiming that China has massively misreported the human cost of containing the pandemic. The latest item to fuel it is the reported delivery of about 2,500 urns to a funeral home in Wuhan.
Links to the urns story inevitably popped up in comments to the Chinese embassy's Twitter feed, after it published excerpts from the article.
By Jose Nino – Mar 30, 2020
According to Reuters, 

Abbott Laboratories

recently unveiled a

Wuhan virus

test that can detect if someone is infected in as few as five minutes.
Additionally, it is small and portable enough to be used in practically all health-care settings.
The medical device manufacturer plans to bring 50,000 test kits to the market starting on April 1, 2020 according to a statement from John Frels, vice president of research and development at Abbott Diagnostics.
The U.S. Food and Drug Administration gave Abbott emergency use authorization "for use by authorized laboratories and patient care settings," according to a company announcement on March 27, 2020.
The U.S. has had problems to supply sufficient amounts of tests to detect the virus, even as the outbreak is straining hospital resources in California, New York, Washington, and other regions.
"This is really going to provide a tremendous opportunity for front-line caregivers, those having to diagnose a lot of infections, to close the gap with our testing," Frels stated. "A clinic will be able to turn that result around quickly, while the patient is waiting."
The technology expands upon Illinois-based Abbott's ID Now platform, the most common point-of-care test currently available in America. The platform has more than 18,000 units spread across the country. It is generally used to detect influenza, strep throat, and respiratory syncytial virus, a common ailment that generally causes cold-like symptoms.
The equipment can generally be used anywhere, but the company is working with its customers and the Trump administration to guarantee that the first cartridges used to carry out the tests are sent to locations where they are most needed. The prime spots include hospital emergency rooms, urgent-care clinics, and doctors' offices.
Yet blamed Trump's early "denial" for spread of coronavirus.
By Paul Joseph Watson -30 March, 2020
A video clip from late February shows

Nancy Pelosi

encouraging large groups of people to congregate in San Francisco's Chinatown before she would later go on to blame President Trump's early "denial" for the spread of

coronavirus

.
The footage, which was taken on February 24th, is introduced by a reporter noting how Pelosi wanted residents to understand how it's "perfectly safe to be here" in Chinatown.
"We do want to say to people, come to Chinatown, here we are…come join us," said Pelosi.
The reporter then explains how the stunt was a response to San Francisco's Chinatown experiencing a drop in business since the outbreak of coronavirus in Wuhan, China.
San Francisco has since recorded 340 confirmed cases of coronavirus and 5 people have died.
The video is particularly eye opening since yesterday on CNN, Pelosi blamed President Trump's "denial at the beginning" for the spread of coronavirus throughout the United States.
The video underscores how many officials flouted the very social distancing measures they now amplify because at the time stopping bigotry towards Chinese people was seen as being of greater importance than preventing the spread of coronavirus.
As we previously highlighted, health officials in New York gave identical advice, urging residents to gather in crowds to celebrate the Chinese Lunar New Year.
"Today our city is celebrating the #LunarNewYear parade in Chinatown, a beautiful cultural tradition with a rich history in our city," wrote New York City Health Commissioner Oxiris Barbot. "I want to remind everyone to enjoy the parade and not change any plans due to misinformation spreading about #coronavirus."
Her message was echoed by Mark D. Levine, Chair of New York City Council health committee, who lauded how "huge crowds gathering in NYC's Chinatown" was a "powerful show of defiance of #coronavirus scare," tweeting four images of large groups of people gathered to celebrate the occasion.
Mayor Bill de Blasio also urged New Yorkers to "get out on the town despite coronavirus" and visit the cinema as late as March 2nd.
As we highlight in the video below, back in February, leftist officials in Italy were also urging citizens to go outside and hug Chinese people in order to fight racism.
"If you needed anymore evidence these people hate America."
By Steve Watson
A leftist columnist seemingly took pleasure in the fact that the US has become the country with the most confirmed cases of coronavirus by mocking President Trump and proclaiming "Who's the shithole country now?"
Julia Ioffe, who writes for GQ, tweeted out the inane comment along with a link to a New York Times story on the development.
Of course, Ioffe provided no salient facts or useful information, such as President Trump's assertion that the spike in confirmed cases is down to more robust testing being rolled out.
Nor did Ioffe indicate that in comparison with other hard hit countries, the mortality rate in the US stands at 1.5%, which equates to much fewer deaths per confirmed cases than Italy (10%), Spain (8%), Iran (7.6%) and France (6%).
No, Ioffe simply wanted to vent her pent up Trump derangement syndrome.
Americans are not amused: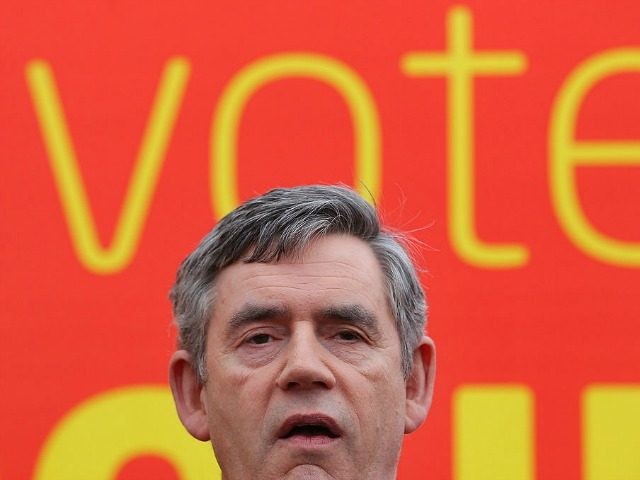 By Simon Kent – 26 Mar 2020
Now is the time for global leaders to create

one world government

to tackle the twin medical and economic crises caused by the

Chinese coronavirus

pandemic, former

UK Prime Minister Gordon Brown

urged on Thursday.
The left-wing former Labour leader said there was a need for a taskforce involving world leaders, health experts and the heads of international organisations that would have supreme and unfettered executive powers to coordinate the response.
He gave no indication of who would appoint the "leaders," how long they would serve for or just what their powers would involve, the Guardian reports.
Brown simply wants a new layer of global supra-government to force a solution to a crisis that began in Wuhan, China.
"This is not something that can be dealt with in one country," he said. "There has to be a coordinated global response."
Brown said the current crisis was different to the one he was involved in 2008 during the global financial crash. "That was an economic problem that had economic causes and had an economic solution.
"This is first and foremost a medical emergency and there has to be joint action to deal with that. But the more you intervene to deal with the medical emergency, the more you put economies at risk."
Brown said his proposed global taskforce would fight the crisis on two fronts. There would need to be a coordinated effort to find a vaccine, and to organise production, purchasing and prevent profiteering.
"We need some sort of working executive," Brown said. "If I were doing it again, I would make the G20 a broader organisation because in the current circumstances you need to listen to the countries that are most affected, the countries that are making a difference and countries where there is the potential for a massive number of people to be affected – such as those in Africa."
The World Bank and the International Monetary Fund needed an increase in their financial firepower to cope with the impact of the crisis on low- and middle-income countries, he said.
The EU's initial response to the massive outbreak of coronavirus in Italy was largely "inadequate," and a lack of European solidarity opened the doors for

Russia

and

China

, former Italian

Foreign Minister Franco Frattini

told RT.
The new epicenter of the dreaded pandemic, Italy, has been struggling to stop the spread of Covid-19 for weeks now. The disease has already killed more than six thousand people in the country, with over 60 thousand people infected.
EU tried to pin the blame on Italy
The EU clearly underestimated the virus, blaming the outbreak in Italy on its national healthcare system flaws, according to the two-time foreign minister and OSCE representative. As a result, Brussels, which preaches pan-European solidarity, failed to act when this solidarity was needed in the face of a crisis that eventually affected the entire bloc.
Frankly speaking, Brussels is not doing enough. At the very first moment, Italy was practically alone against the virus. Many said it was all because of the Italian habits, because Italians do not respect the rules. Suddenly, they realized all the other countries were equally affected.
The situation in other major EU states like Germany and France deteriorated rapidly, forcing them to deal with thousands of infected on their own soil.
"Everyone just focused on the situation at home before even thinking about helping others," Andrea Giannotti, the executive director of the Italian Institute of Eurasian Studies, told RT.
European solidarity doesn't exist, only China can help us: Serbia goes full emergency over coronavirus
The lack of solidarity was recently noted from outside of the bloc – Serbian President Aleksandar Vucic decried European solidarity as a myth, while praising Beijing for its assistance. His remarks came after Serbia received five million masks from China, which it could not get in Europe.
The EU is now trying "to do more" and somehow "make up" for its initial poor execution of a coordinated response, former Italian MP Dario Rivolta said.
Brussels has indeed ramped up its efforts, suspending the bloc's strict Stability and Growth Pact regulating budgetary policy among others. Frattini particularly hailed this decision, which allows Rome to act freely in terms of budgetary spending, as "very important." But this came only after Europe "realized its [measures] were inadequate to give a united response."
Still, it is not enough, Rivolta told RT, adding that "for the moment," there are no major changes. And while financial relief is necessary, there are other things to be considered, such as medical assistance.
"As for the medical aspects, the only thing that the EU did up to now was to put barriers between Italy and other countries."
Huge support in terms of expertise
At one point, requests for help were sent out all over the world, according to Giannotti.
"Some Italian embassies were tasked with negotiating with local governments in order to find any opportunities to receive assistance from abroad, including help with equipment, which Italy lacks." Russia and China were among those who responded.
In total, Moscow prepared nine cargo planes with emergency aid, delivering vital medical equipment and supplies, as well as bringing experienced specialists in infectious diseases and military doctors to Italy. Now they will be deployed to the most affected regions in the country's north.
Frattini said the help was of the utmost importance: "What Russia has done is not comparable to what other countries have done, including China because China also sent something but not comparable with the support provided by Russia."
The specialists have provided "very huge support in terms of expertise… in terms of virology." 
With united Europe MIA in its Covid-19 response, worst-hit nations turn to 'evil' Russia & China for help
The assistance serves as a gesture of solidarity in times of European sanctions on Moscow and the counter-measures, Giannotti said. Sending help "despite [the fact] the situation in Russia itself may also worsen" means it is a clear message that Moscow is ready to talk and settle issues with Europe when there is a greater need for cooperation.
Speaking to RT, the Italian ambassador to Russia, Pasquale Terracciano, agreed that a joint approach is the best way to put an end to the pandemic.
Thanking Moscow for the contribution, he said: "It will be crucial to recover from this tragic situation, hopefully soon."