Video showed starving Venezuelans picking food out of trash
Infowars.com – FEBRUARY 27, 2019
Univision

reporter

Jorge Ramos

was detained Monday at the Venezuelan presidential palace after reportedly showing dictator

Nicolas Maduro

a video of his people eating from a garbage truck.
The footage was released by one of Ramos' associates Monday, and shows three Venezuelan men picking food out of the back of the truck before it drives off.
"These are the images that Jorge Ramos showed to Nicolás Maduro and provoked him to get up from the interview," Ramos' peer Enrique Acevedo tweeted in Spanish. "This is what Maduro doesn't want the world to see."
Ramos says he had been questioning Maduro for roughly 17 minutes about the current state of affairs in the country where hyperinflation and failed socialist policies have driven its people to starvation.
"He didn't like the things we were asking him about the lack of democracy in Venezuela, about torture, political prisoners, the humanitarian crisis that they were living," Ramos later told Univision after being released.
Ramos says he next presented Maduro the startling footage, at which point a man walked in and stopped the interview.
"Immediately after, one of his ministers, Jorge Rodríguez, came to tell us that the interview was not authorized," Ramos said.
Ramos' equipment was allegedly confiscated and his team detained and questioned for over two hours.
A Mexican government official called on Venezuela to release the journalists and return their equipment, saying, "Our country calls for respect for freedom of expression."
White House Assistant Secretary Kimberly Breier also condemned Maduro's actions and called for the Univision team to be released.
Ramos and his associates were released later Monday, according to a tweet from Univision.
Maduro has struggled to maintain power in the wake of the United States' and other countries' declaration they recognize Juan Guaido as the nation's true president.
Meanwhile, Guaido says he plans to return to Caracas this week from Colombia, where he traveled to provide humanitarian aid, in defiance of a Venezuelan Supreme Court orderprohibiting him from leaving Venezuela.
Maduro told ABC News this week he will leave it to the justice system to hold Guaido accountable.
By HUNGARY JOURNAL 31 January 2019
Migration

is the biggest threat to the safety of Europeans, the Hungarian defence minister Tibor Benko said ahead of a two-day meeting with his European Union counterparts in Bucharest.
Europe, and Hungary specifically, have entered a new phase in terms of security policy, Tibor Benko told MTI. Europe's security has deteriorated considerably, he said, adding that routine solutions were not adequate for dealing with new types of security challenges.
The ministerial meeting will focus on European defence initiatives, coherence between the various defence training projects and military operations, Benko said. He urged European leaders to take the security threats facing the continent and its citizens seriously and start pursuing a new direction on migration. Benko added new global security challenges like terrorism, migration or cyberwarfare required a joint European response.
House Speaker

Nancy Pelosi

declared a pre-emptive victory in her first post-shutdown press conference, sticking to her 'not a dime' position on border security funding despite the looming deadline.
"Winning is good," Pelosi quipped to a packed House, in a boast more characteristic of her Republican rival. Her victory might be short lived, however, as the leading House Democrat expressed hopes rather than guarantees that a second shutdown would be kept off the table.
By Chuck Ross
Nellie Ohr

, the wife of Justice Department official

Bruce Ohr

, told Congress in October that she investigated

President Donald Trump

's children on behalf of

Fusion GPS

, the opposition research firm behind the

Steele dossier

.

Ohr also testified that during a meeting in July 2016,

Christopher Steele

passed her husband materials from his infamous dossier.

Nellie Ohr, who worked as a contractor for Fusion GPS, looking into

Donald Trump Jr.

and

Ivanka Trump

's business dealings and their travel.
The wife of a Justice Department official who worked for Fusion GPS during the 2016 campaign told Congress in 2018 that one of her tasks at the opposition research firm was to research President Donald Trump's children, including their business activities and travel.
Nellie Ohr, a former contractor for Fusion GPS, also told lawmakers during an Oct. 19 deposition that she recalls that Christopher Steele gave her husband, Justice Department official Bruce Ohr, materials from the infamous anti-Trump dossier funded by Democrats.
Ohr said during the testimony that Steele, who like her was a contractor for Fusion GPS, hoped that her husband would pass the materials to the FBI.
"My understanding was that Chris Steele was hoping that Bruce could put in a word with the FBI to follow up in some way," Ohr testified to members of the House Oversight and House Judiciary Committees, according to transcripts confirmed by The Daily Caller News Foundation.
The Ohrs met with Steele and an unidentified British associate on July 30, 2016 at the Mayflower Hotel in Washington, D.C.
Bruce Ohr testified to Congress on Aug. 28 that the meeting covered three main topics. He said Steele claimed that a former official with Russia's SVR claimed that the Kremlin had Trump "over a barrel."
Steele also relayed information about Carter Page, the former Trump campaign adviser who Steele claims in his dossier met with two Kremlin insiders during a trip to Moscow in early July 2016. Page has denied Steele's allegations, saying he did not meet with the two Kremlin officials.
Steele, a former MI6 officer who operates out of London, also told Ohr that a lawyer for Russian oligarch Oleg Deripaska was investigating Trump campaign chairman Paul Manafort over a business deal gone south. Steele reportedly worked at one point for one of Deripaska's companies. The link is ironic given that Deripaska is considered a close ally of Vladimir Putin's.
Nellie Ohr testified that the materials that were handed over were from the dossier but that she did not learn the information was contained in the dossier until much later. She testified that she did not see the complete dossier until it was published by BuzzFeed on Jan. 10, 2017.
"And you hadn't seen it or its portions during the time that you were employed, correct?" one lawmaker asked.
"If I recall correctly, I may have seen…maybe a page or something of it at the breakfast," Ohr replied.
Ohr, a trained Russian linguist, also detailed some of the topics she worked on for Fusion GPS, which was hired by the law firm that represented the Clinton campaign and DNC to investigate Trump.
One area of focus was Donald Trump Jr. and Ivanka Trump, President Trump's two oldest children.
"But in terms of actually performing research, did you begin to break out President Trump's family in terms of Melania Trump, all of his children? Were you doing independent research based off of each family member?" one lawmaker asked Ohr.
"I did some," Ohr said. "As I recall, I did some research on all of them, but not into much depth."
"How about Donald Trump Jr.? Did you do more in-depth research on Donald Trump Jr. than some of the others?" she was asked.
"I'm afraid it was relatively superficial. It was," adding that, "I looked into some of his travels and you know not sure how much detail I remember, at this point."
"Ivanka Trump?"
"I looked into some of her travels," said Ohr.
The goal was "to see whether they were involved in dealings and transactions with people who had had suspicious pasts."
Nellie Ohr also testified that she investigated any links between Russian oligarchs and the Trump real estate empire.
It is unclear whether Ohr shared any information that she gathered working for Fusion GPS with her husband, who served as associate deputy attorney general until he was reassigned in December 2017. There is also no indication that Ohr's research of the Trump children wound up in the dossier, which the FBI used to obtain surveillance warrants against Carter Page.
Bruce Ohr met with Steele and Fusion GPS founder Glenn Simpson prior to the 2016 election. That conflicts with testimony given by Simpson as well as a memo released by Democrats on the House Permanent Select Committee on Intelligence. (RELATED: Bruce Ohr Testimony Undercuts Adam Schiff's Defense Of FBI)
Simpson testified to the Intelligence committee on Nov. 14, 2017 that he did not meet with anyone from the Justice Department or FBI until after the election. But Ohr testified that he met Simpson on Aug. 22, 2016.
Democrats on House Intelligence also claimed in a memo released last year that Ohr did not pass information he gleaned from Fusion GPS or Steele until after the election. But Ohr testified that he contacted top FBI officials almost immediately after his July 30, 2016 meeting with Steele.
Ohr met with then-Deputy FBI Director Andrew McCabe and his general counsel, Lisa Page. Ohr said that he debriefed the pair on his meeting with Steele.
Ohr met with FBI and Justice Department officials the following month. Involved in one of those meetings was Peter Strzok, the FBI's lead investigator on the Trump-Russia probe. Strzok was fired in August 2018 over anti-Trump text messages that he exchanged with Page during the same period that he was working on the investigation.
Ohr also met with Justice Department lawyers Andrew Weissmann and Zainab Ahmad, both of whom currently work on the special counsel's team.
Ohr served as the FBI's back channel to Steele even after the bureau severed ties with the former spy in early November 2016. The FBI ended its relationship with Steele because he had talked to the press about his investigation of Trump. After Trump's election win, Strzok and other FBI officials asked Ohr to maintain contact with Steele and report back to investigators.
They met or spoke at least 12 times through May 2017.
"You have to get used to fighting white people"
Paul Joseph Watson | Infowars.com – JANUARY 17, 2019
A philosophy lecturer at the

University of Georgia

was accused of advocating racial violence after he tweeted "fighting white people is a skill".
"Fighting White people is a skill. Really, it's one reason I'm in support of integrated schools. You have to get used to fighting White people. It takes practice," tweeted Irami Osei-Frimpong, who is listed on the official University of Georgia website under the Department of Philosophy.
Osei-Frimpong, who goes by the name 'The Funky Academic', also quoted Bobby E. Wright, a political activist who once said, "Blacks kill Blacks because they have never been trained to kill Whites."
One respondent on Twitter accused of "advocating racial violence against whites".
"It is interesting that you believe this. Black people in white neighborhoods tend assimilate with white people, and despise people who think like you," commented another user.
It is unclear why Osei-Frimpong advocates "fighting white people," but a review of his teaching style on the RateMyProfessors website reveals one student's opinion that, "If you are sensitive to criticism of white people, you will not enjoy his lectures."
Osei-Frimpong's blog features writing in support of the Black Lives Matter movement, while one entry also discusses how he was suspended by Facebook for 30 days for a post in which he called for a "political revolution" and said he was a fan of "white people writing checks out of guilt."
Osei-Frimpong's Facebook page also reveals his support for Democrats like Alexandria Ocasio-Cortez and Bernie Sanders.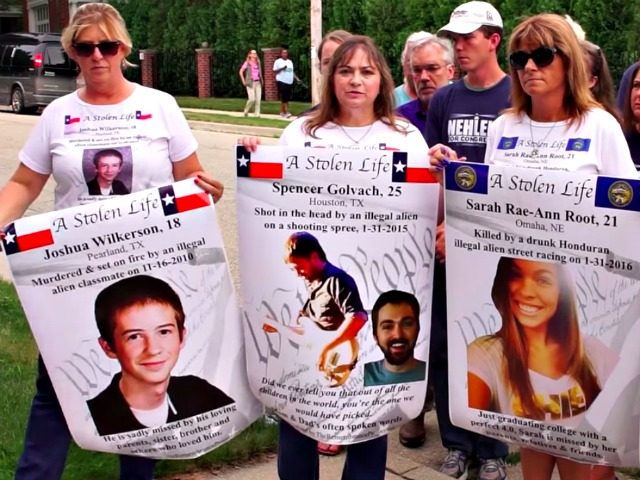 By John Binder
Angel Mom Julie Golvach

— whose 25-year-old son Spencer was shot in the head four years ago by an illegal alien — says she is "tired of the talk" from President Trump and wants immediate action on the border and illegal immigration.
During an exclusive interview with SiriusXM Patriot's Breitbart News Daily, Golvach told Breitbart News Editor-in-Chief Alex Marlow that she wants less talk and more action from the Trump administration on illegal immigration.
Golvach said:
I'm tired of the tweets myself. I'm tired of saying what might happen, what's going to happen. I want some action done. I sat in his office and announced I want action. The congressmen haven't done anything, I want him to do action. I'm tired of the talk. Action should have been done a long time ago. [Emphasis added]

If you're going to make it a national emergency, just make it a national emergency. Don't step it up, step it up, step it up, and do nothing about it. Make it a national emergency. [Emphasis added]
Listen to Golvach's full interview here:
Golvach, whose son was murdered by a four-time deported illegal alien, said she wants Trump to "Stop listening and getting caught up in the swamp, yourself, and do your job" when it comes to stopping illegal immigration.
"He's listened to Paul Ryan too long," Golvach said.
"When we were saying 'build the wall' we weren't saying 'and free them all,' we didn't say that," Golvach said of a deal being floated that would give amnesty to illegal aliens in exchange for some border wall funding.
"We said 'Build the wall.' And that's what we elected Donald Trump to do," Golvach said. "That needs to be the done."
"I'm tired of Americans' money going to help everybody else and not taking care of Americans," she continued.
The federal government has been partially shut down for more than 15 days now as Republicans, Democrats, and the Trump administration have yet to reach a deal to fund a wall along the U.S.-Mexico border to stop illegal immigration.
In the meantime, there have been two high-profile murders of Americans allegedly killed by illegal aliens.
Days before New Year's Eve, 22-year-old Pierce Corcoran of Knoxville, Tennessee was killed in a car crash allegedly caused by 44-year-old illegal alien Franco Cambrany Francisco-Eduardo. Likewise, the day after Christmas, 33-year-old Newman, California police officer Ronil Singh was allegedly gunned down during a traffic stop and killed by 32-year-old illegal alien Gustavo Perez Arriaga.
At the southern border, there were close to 52,000 border crossings in November 2018, alone, marking the highest level of illegal immigration in the month of November since 2006. Projections indicate that illegal immigration for next year will reach 600,000 border crossings, the highest level of illegal immigration in more than a decade.
by Cassandra Fairbanks December 28, 2018
The mother of the eight-year-old Guatemalan boy who died after crossing the border this week says that she sent her young son on the treacherous voyage to help her husband's chances of being able to stay in the US illegally.
The boy's mother Catarina Alonzo told Reuters that bringing children is the easiest way for migrants to be accepted into the US.  According to the Washington Post, the smugglers also charge less than half the price if a child is accompanying the adult "knowing that migrants can turn themselves in to border agents and will soon be released."
"Lots of them have gone with children and managed to cross, even if they're held for a month or two. But they always manage to get across easily," Alonzo told Reuters.
Guatemala's foreign ministry is warning that coyotes and human traffickers are using President Trump's plan to build a wall along the border to urge migrants to take their chances now.
"According to interviews (with migrants), the coyotes are saying 'it's now or never' because the wall is going to be built, and it won't be possible to cross," the spokeswoman told Reuters.
The boy is the second child to die this month after being dragged along on the dangerous trip. An official cause of death has not yet been made public.
Now, the family is asking that they let the boy's father stay and work in the US so that his "death won't be in vain."