Kate Hoey is a strong Brexit supporter and is highly regarded for her local service
Unity News – MARCH 18, 2019
Popular Labour MP for Vauxhall has slammed the

mainstream media

over their lack of coverage of

Christians slaughtered

by Islamic Militants in Nigeria.
Hoey tweeted:
Kate Hoey is a strong Brexit supporter and is highly regarded for her local service. She is highly critical of Jeremy Corbyn's about turn on the EU as he is a lifelong euro-sceptic from a left wing point of view.
Whilst all decent people are in agreement that Christchurch Mosque Terror attack was an atrocity many have agreed with Kate Hoey in exposing what they feel is a double standard of the mainstream media in the UK and the world.
One Twitter user commented: "Totally agree Kate. The MSM is somehow swayed towards certain atrocities but not others"
Another also opined: "It seems a weekly event that our media doesn't highlight what we all see happening. By default they're increasing tensions by acting like these events are trivialities. Like the media coverage over ISIS members, ignoring yazidi victims. Our news is often morally corrupt."
Kate Hoey also took part in the march to leave at the weekend and it is looking likely she will vote against Theresa May's much despised Brexit deal once more increasing her popularity even further.
Published on Mar 15, 2019
Repeat after me; content creators, are not, responsible, for the actions, of their fans. Candace Owens and pewdiepie don't cause violence you twits.
By Chris Menahan
There are some strange anomalies which are causing many people on social media to question the official narrative on the mass shooting in Christchurch, New Zealand. 
As I reported earlier today, alleged shooter Brenton Tarrant claimed in his "manifesto" that he was radicalized between April 2017 until the end of May 2017 after learning of the murder of 11-year-old Ebba Akerland in Stockholm, Sweden at the hands of asylum seeker Rakhmat Akilov who killed four others including her in a truck attack.
Tarrant said in his manifesto that he was "travelling as a tourist in Western Europe at the time, France, Spain Portugal and others."
Though his manifesto was filled with white nationalist rhetoric, it came out this afternoon he made a trip to Pakistan of all places in October 2018.
This image highlighting the strangeness of the decision has gone viral on social media:
The Osho Thang hotel which he stayed at shared this message he wrote on their Facebook page on Oct 23, 2018:
Hello everyone my name is Brenton Tarrant and I am visitong pakistan for the first time. Pakistan is an incredible place filled with the most earnest, kind hearted and hospitable people in the world, and the beauty of hunza and nagar valley in autumn cannot be beat.

Unfortunately many tourists are choosing other countries due to the stress, difficulty and steep requirements of obtainung a Pakistani visa.

Hopefully in the near future the Pakistani government and Mr Imran Khan will make the necessary changes to the visa program so to encourage tourism and make it viable once more for the world to come and experience the beauty of Pakistan.
The owner of the hotel where he stayed said the trip was all hunky dory.
From The New York Times:
Asghar Khan, the manager of operations at the Serena Hotel there, said the man seemed like a "nature-loving" traveler. Syed Israr Hussain, owner of the nearby Osho Thang hotel, said he stayed there for two or three days with a group of backpackers.

"He was normal and polite during his stay," Mr. Hussain said. "There was nothing out of the ordinary."
Something about this story does seem out of the ordinary.
Evidently, there was a "Mossad spy ring unearthed" because of an earthquake in Christchurch back in 2011, as The Telegraph reported at the time:
From The Telegraph:
The operation was interrupted when a van used by a spy cell was crushed by masonry falling from a damaged building, killing one man, it is claimed.

Benyamin Mizrahi, 23, the Israeli man who died in the damaged van, was found to have five passports on his person, the Southland Times newspaper reported.

Three surviving Israelis who were in the van with Mr Mizrahi fled New Zealand within 12 hours, making their way back to Israel.

They reportedly paused only to take photographs of the crushed van and return the dead man's Israeli passport to officials from their embassy.

The Southland Times also said the police national computer was being audited because of concerns it had been hacked into.

There were fears that other Israeli operatives, in the city after the February 22 quake which killed 181 people, could have embedded malicious software to access intelligence information.
To be clear: I'm not saying these two events are related. All I'm saying is there may be more to this story than we're being told.
Regardless of the specifics of the attack, we have seen the media and political class respond by blaming the attack on PewDiePie, Candace Owens, Donald Trump, the NRA, the Chans, Free Speech and white people as a whole with endless calls for normal people to have their rights and freedoms taken away as a form of collective punishment.
We also know many of the same elites exploiting this attack for political gain and being extra vocal about how outraged they are supported all the US-led wars in the Middle East based on lies over the past two decades which led to the death of hundreds of thousands or even millions of Muslims (and they sure as hell didn't shed a tear for them).
The shooter was captured alive, so it's possible all will be made clear in the coming days — or years.
That said, I don't know how the justice system works in New Zealand. In America, such shooters are usually drugged out of their minds in our prison system and are pretty much never heard from again.
By Joel B. Pollak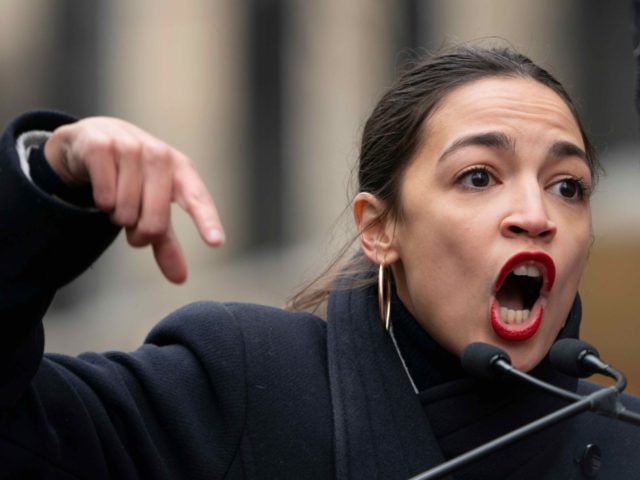 Rep. Alexandria Ocasio-Cortez (D-NY)

used the news of the terror attack at two mosques in Christchurch, New Zealand, on Friday by attacking the

National Rifle Association (NRA)

.
The attack, which occurred during Friday prayers, has killed 49 people as of this writing, and wounded dozens of others.
In two tweets, Ocasio-Cortez mocked the idea of sending "thoughts and prayers" to the victims of the shootings. After significant pushback, clarified that the target of her criticism was the NRA.
"At 1st I thought of saying, 'Imagine being told your house of faith isn't safe anymore.'," she tweeted.
"But I couldn't say 'imagine.' Because of Charleston. Pittsburgh. Sutherland Springs.
"What good are your thoughts & prayers when they don't even keep the pews safe?" she concluded.
Advocates of gun control on the left have begun to mass shooting events by disdaining the expression "thoughts and prayers," treating it as an excuse for legislative inaction rather than as a genuine expression of sympathy and anguish.
Left-wing critics have also taken to using the phrase "thoughts and prayers" as a way to mock the NRA even outside the context of a shooting event. Last year, for example, liberal celebrities wished "thoughts and prayers" to the NRA after reports that it was having financial trouble.
In that vein, Ocasio-Cortez added a subsequent tweet to clarify her meaning in the original one:
The NRA had not (and, as of the writing, still has not) reacted to the Christchurch attacks. There is also no evidence that it invented the phrase "thoughts and prayers."
Moreover, New Zealand already has gun control measures similar to those Democrats want to pass into law in the United States, including the universal background check bill that the Democrat-controlled U.S. House of Representatives passed last month.
The NRA has argued that a better way to stop mass shootings would be to encourage responsible gun ownership and make armed guards available to vulnerable targets like schools.
Early reports from Christchurch indicated that an armed Muslim man helped chase away assailants from the second mosque that was attacked.
Ocasio-Cortez also retweeted an attack blaming President Donald Trump for inspiring the New Zealand terrorists.