Published on May 31, 2019
By Jim Hoft
According to sources in

Texas US Border Patrol Agents

have apprehended illegal aliens crossing into the US from

Congo

.
There currently is a deadly Ebola outbreak in Congo.
According to the US Centers for Disease Control and Prevention:
** Travelers to this area could be infected with Ebola if they come into contact with an infected person's blood or other body fluids.
** Travelers should seek medical care immediately if they develop fever, headache, body aches, sore throat, diarrhea, weakness, vomiting, stomach pain, rash, or red eyes during or after travel.
The UN was urged earlier this week to ramp up Ebola prevention work in the Democratic Republic of the Congo to the highest level of emergency response.
Brian Kolfage told The Gateway Pundit that the "We Build the Wall" organization was told of these developments earlier this week during their construction project near El Paso.
** You can donate to "We Build the Wall" and help secure our southern border here.
Shot fired as three individuals attempted to pull Marine from vehicle, take sidearm
By Kelen McBreen
Three individuals allegedly attacked a U.S. Marine on Wednesday while he patrolled California's El Centro Sector of the southern border.
An official document detailing the incident was given to the Breitbart Border Team who say government officials will soon make a public announcement.
Sources say three unknown individuals opened the door of a Mobile Surveillance Camera (MSC) vehicle and attempted to pull the Marine out.
One man tried to grab the Marine's firearm during the struggle, causing a shot to be fired which hit an infrared display unit on the dash of the vehicle.
Upon hearing the gunshot, the three individuals fled, but Border Patrol believes nobody was injured by the gunfire.
The Marine who was attacked was left to watch over the vehicle as another Marine and a Border Patrol agent worked on fixing an issue with the vehicle's surveillance display.
Border Patrol agents arrived at the scene within minutes of the attack and found at least one of the individuals involved two miles away after a brief search.
CBP is leading an ongoing investigation into the event and the Pentagon is preparing a public statement.
This comes on the heels of another report claiming 15 armed cartel members approached a section of border wall being built near El Paso, Texas and threatened construction crews working on the project.
Below is a special report highlighting the increasingly out of control situation at America's southern border.
Published on May 31, 2019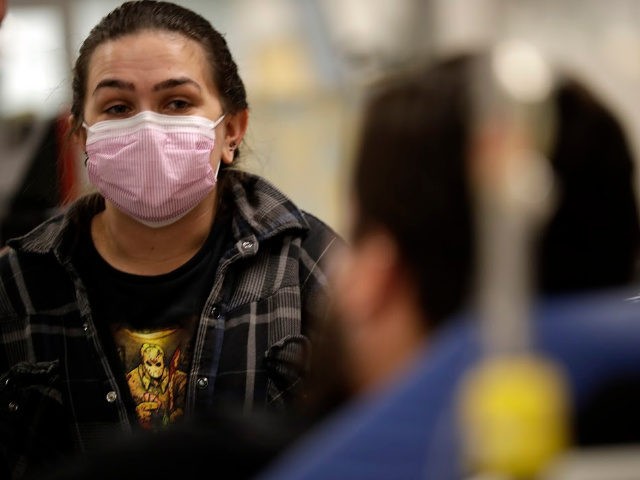 By Penny Starr
U.S. Customs and Border Protection

reports that an average of 4,500 people are detained at the

United States border with Mexico

each day, and according to a Wednesday report from county health officials, many of them are bringing diseases with them.
Hundreds of the detained migrants are being relocated to San Diego, California, and the County of San Diego Communications Office has confirmed that, as of Wednesday, there have been 59 cases of flu among these migrants since May 19, 2019; and 82 people (33 families) have been quarantined at local hotels.
The sick migrants came from a federal facility in McAllen, Texas, where some 8,000 are being held — "two times the agency's maximum capacity in the area," according to Fox 5.
Fox 5 reported:
Federal officials shut down the Texas facility for cleaning after the outbreak and began moving the detainees to San Diego.

The first of those transfers arrived in San Diego on May 19. To date, nearly 300 people at a migrant shelter in Bankers Hill operated by Jewish Family Service of San Diego have received a health screening.

DHS [Department of Homeland Security] officials and U.S. Customs and Border Protection announced the plan to begin flying detained asylum seekers from Texas to San Diego on May 17. Federal immigration authorities are operating 10 jets between San Diego and Texas, with roughly 130 people aboard each flight. DHS officials said they aim to charter three flights a week to San Diego International Airport, from which the asylum seekers will be moved to local CBP processing stations like Brown Field.
San Diego is not the only American city that is receiving migrants.
An Associated Press (AP) report revealed that, aside from DHS releasing nearly 200,000 border crossers and illegal aliens into American communities since December 2018, the agency is flying border crossers and illegal aliens into U.S. cities and then releasing them:
U.S. Immigration and Customs Enforcement (ICE) has historically ensured that families had travel plans before releasing them, but last year it shortened custody stays in response to the growing numbers of arrivals from Mexico. They began dropping migrants off in cities along the border at burgeoning shelters and bus stations.

At the same time, U.S. Customs and Border Protection, which turns over border crossers to ICE after arresting them, has begun flying migrants to other cities for processing and is releasing them directly into communities without going through ICE, saying their own facilities are at capacity. As numbers have swelled in border cities, authorities have begun looking farther inland.
The Centers for Disease Control and Prevention (CDC) estimates that from October 1, 2018, to May 4, 2019, there were between 36,400 and 61,200 flu-related deaths.
Another preventable crime.
According to reports from Thursday evening, an

illegal alien from Kenya

living in Texas has been charged with 11 killings, after previously being charged with the murder of an 81-year-old woman.
"Kim Leach, a spokeswoman for the Dallas County district attorney's office, said 46-year-old Billy Chemirmir was indicted Tuesday on six more counts of capital murder in the deaths of women ranging in age from 76 to 94," according to Associated Press. 
Chemirmir is accused of killing the elderly women and stealing their jewelry and other valuables.
A Collin County grand jury brought five more capital murder charges against Chemirmir, as well as two counts of attempted capital murder for similar attacks which the victims survived.
"Chemirmir has been in custody since March 2018 in the death of the 81-year-old Dallas woman, Lu Thi Harris," the report said. "Police in Plano were investigating Chemirmir in connection with suspicious death and suspicious person calls at a senior apartment complex in that Dallas suburb and found evidence linking him to Harris' death in Dallas, authorities said. Plano is in Collin County."
He was caught after attempting to smother a 91-year-old woman in March. While unconscious, her robbed her. But paramedics revived her, and she described him to police. They began to recognize the pattern, identified Chemirmir as the suspect, and eventually took him into custody.
News of the brutal killing spree comes as leaders in Washington, D.C. remain gridlocked over border security.
Big League Politics reported:
President Donald J. Trump has declared a national state of emergency, for which several heavily-blue states immediately sued his administration. Democrats refuse to budge on the issue, unwilling to secure America's borders. As illegal border crossings surge, they blocked a meaningful amount of wall funding in the 2019 federal budget.

In what many conservatives see as a colossal failure, the Republican Congress, led by former Speaker Paul Ryan, current Minority Leader Kevin McCarthy and Senate Majority Leader Mitch McConnell, failed to deliver wall funding to the president's desk during all of 2017 and 2018, when Republicans held the House, the Senate, and the White House.
The Trump administration revealed a plan for a merit-based system of immigration Thursday.
By Jose Nino
The International Rescue Committee

has plans to start giving gifts to migrants crossing the Southern border according to certain reports.
The IRC receives millions of taxpayer funds through the Department of Health and Human Services' Office of Refugee Resettlement. Now the organization is asking for money to pay for gifts for migrants at the Southern Border.
The committee's website says "When families flee their homes, they often leave with nothing but the clothes on their backs."
The IRC also notes that at "the U.S.-Mexico border and in crisis areas around the world, we provide families with emergency support and the basic necessities they need to survive and recover."
The website adds that "Emergency kits can include food, water, diapers, hygiene items, clothing, and other critical supplies."
The Trump administration has threatened to close the Southern border which has worried the IRC.
"As the White House continues to pursue its policy to close the U.S. southern border and push asylum-seeking families into Mexico, the IRC is urging the Administration to uphold asylum protections for desperate asylum-seeking families," the IRC saidon its website.
The IRC is urging the Trump administration to take action on the recent migrant wave.
The IRC also is calling on the Administration to support Central American countries in their efforts to reduce the violence that is driving people from their homes.
The committee CEO David Miliband asserts that Trump is "manufacturing a crisis at the US-Mexico border to justify his hardline immigration plans."
Miliband, who is a British citizen, said in an interview "The US government is failing in its most basic responsibilities, never mind as a global leader but as a local example of how a civilized country should behave."
The IRC CEO blames the Trump administration for the migrant surge and its failure to provide aid to Central American countries. Breitbart News, however, noted that under Trump's watch, the U.S. pledged to give out $10 billion in economic aid to Southern Mexico and Central America.
BLP reported on the financial costs of bringing in migrants, which has raised fiscal concerns among policymakers. Not only that, there are legitimate social concerns as well, given the nature of mass migrant waves congregating in enclaves that impede assimilation.
As reported by BLP, immigration continues to be the number #1 issue going into the 2020 election season.