By Tom Pappert
Shaun King

, the controversial former

Black Lives Matter

figurehead who has been accused of lying about his ancestry and disavowed by the left wing, anti-police organization, posted a video to

Facebook

celebrating a man vandalizing and stealing a confederate flag off a vehicle in the middle of traffic.
King posted the video with the caption "Sometimes you have to just step out there and take matters into your own hands" and a fist emoji, heaping praise on the vandalism and theft of the confederate flag.
The video shows a man running in traffic after a semi truck, and repeatedly trying to pry the confederate flag off the vehicle as it started and stopped moving, as a man in the vehicle behind the truck filmed the vandalism.
At press time, the video has over 800,000 views, and nearly 18,000 shares, revealing that RA.
King, who admits he is 75 per cent white and says he does not know the identity of his father, ostensibly meaning he could be 100 per cent white, was disowned by Black Lives Matter in 2016 for his management of funds.
"Senior justice writer" Shaun King, who recently sent this correspondent perhaps the most remarkable email in the history of right of reply after he was caught mysteriously deleting 70,000 tweets, was just thrown under the bus by Deray Mckesson and other prominent BLM activists in a series of tweets drawing attention to alleged mismanagement of funds.

This is just the latest in a series of scandals for race-baiter King, who charges $7,500 for speeches about race and gender. Breitbart was the first media organisation to raise questions about Shaun King's race that have still not been answered. Although King claimed for years to be biracial, after our report he was forced to admit he had no idea who his father was and that both of the people on his birth certificate are white.
It appears King has fallen far from grace, and is now reduced to praising criminality on Facebook to remain relevant.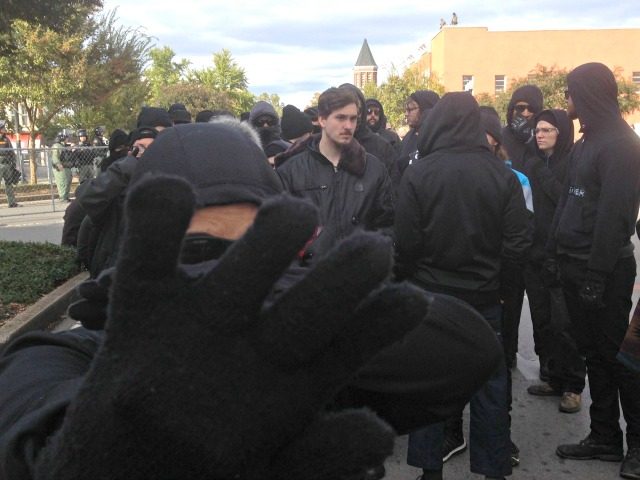 By Allum Bokhari
Twitter

has suspended the account of

Eoin Lenihan

, a researcher who mapped out connections between mainstream journalists and the violent far-left

Antifa

movement on Twitter, following a mass-reporting campaign by left-wing activists.
Lenihan published the results of his research at Quillette, where he explained the twofold objective of his project — first, to discover the journalists who were most closely linked to Antifa via social media. Second, to discover if those journalists covered the extremist movement favorably or negatively.
via Quillette:
In October 2018, my research partner and I decided to investigate the truth of this impression by using a mix of network mapping and linguistic analysis to see which prominent journalists who covered Antifa also were closely connected to leading Antifa figures on social media. We then inspected the Antifa-related stories these journalists had written.

We created a data set of 58,254 Antifa or Antifa-associated Twitter accounts based on the follows of 16 verified Antifa seed accounts. Using a software tool that analyzed the number and nature of connections associated with each individual account, we winnowed the 58,254 Antifa or Antifa-associated Twitter accounts down to 962 accounts. This represents a core group of Twitter users who are connected in overlapping ways to the most influential and widely followed Antifa figures. Of these 962 accounts, 22 were found to be verified—of which 15 were journalists who work regularly with national-level news outlets.
The journalists included contributors to The Guardian, The New Republic, Al Jazeera, and the Huffington Post.
Unsurprisingly, Lenihan's analysis of the journalists who mingle with Antifa on Twitter found that none of them covered the movement critically:
That correlation turned out to be quite pronounced: Of all 15 verified national-level journalists in our subset, we couldn't find a single article, by any of them, that was markedly critical of Antifa in any way. In all cases, their work in this area consisted primarily of downplaying Antifa violence while advancing Antifa talking points, and in some cases quoting Antifa extremists as if they were impartial experts.
Since he published his findings, Lenihan has had his account mass-reported on Twitter. Mass-reporting is when an account is swarmed by trolls who abuse the "report" button with the hopes of tricking a tech platform's algorithms into automatically suspending them. Of course, with much of Silicon Valley now categorizing ordinary conservative speech as violations of their terms of service, this is an increasingly easy task. Lenihan's account has now been suspended by Twitter for more than two days.
Breitbart News has previously covered the mainstream media's sympathy for Antifa (see CNN: Antifa's Violence Against 'Bigots' is 'Right' and New York Times Glorifies Antifa With Style Guide, Tactical Advice) as well as the violent movement's allies in Silicon Valley (see Wikipedia Editors Seek To Downplay Antifa Violence and Far-left Ideology and Damore Lawsuit Highlights Google's Links to 'Antifa' Domestic Terrorists).
Breitbart News has reached out to Twitter for comment.
"I wonder what their employers would think"
By Paul Joseph Watson
A verified

Twitter

journalist is threatening to contact people's employers because they did the 'OK' hand sign.
Yes, seriously.
Finnish Twitter user Iisak Selin responded to a tweet by journalist David MacDougall with a photo of himself using the hand gesture.
MacDougall responded by tweeting, "Hi Iisak – Do you have a job? I wonder what your employers think of you making a sign that has been co-opted by white supremacists and racists? Would be interesting to find out. Or maybe a future employer is interested…"
But MacDougall wasn't finished.
He then responded to another individual who posted a photo of himself doing the OK hand sign with the same threat.
"I don't know if these people have jobs, but I wonder what their employers would think about them making signs that are closely associated with & used by white supremacists and racists?" asked MacDougall.
That's funny, because I wonder when MacDougall and his ilk will stop abusing their platforms to threaten to doxx people simply because they don't like their politics and do some actual journalism.
Respondents on Twitter soon put MacDougall in his place.
As we document in the video below, the media was tricked into believing the OK hand sign was secret code for white supremacy as a result of a 4chan troll and has been whipping up hysteria about it ever since.
By Danielle Ryan
There is nothing inherently wrong with the new 'Christchurch Call' to curb violent and terrorist content online. No one in their right mind wants mass shootings live-streamed online — but it's what comes next that should worry us.
Drawn up in the aftermath of the Christchurch mosque massacre, which was streamed live online, New Zealand Prime Minister Jacinda Ardern's 'Christchurch Call' is billed as a "roadmap for action" and calls for the "immediate and permanent" removal of "terrorist and violent extremist content" from social media platforms. It has been signed by 18 governments and eight tech companies.
On the face of it, that sounds fine. It's difficult to argue against removing terrorist content from the platforms so many of us use on a daily basis. The trouble is, Ardern has already admitted that the pledge is simply a "starting point" — and if you were expecting this to be the moment at which social media companies finally began to push back a little bit, sorry to disappoint you, but they're all in on it together.
ALSO ON RT.COMFacebook ban on Alex Jones and others is a form of modern-day book burning
Endorsing censorship
Lord of social media, Facebook CEO Mark Zuckerberg, who is afflicted with an obvious and ever-worsening God complex, offered a full-throated endorsement of online censorship a few days ago, saying "…the question of what speech should be acceptable and what is harmful needs to be defined by regulation, by thoughtful governments."
That's right, Zuck thinks "thoughtful governments" should be deciding what is "acceptable" for us to say online. There's no ambiguity there. It's a simple, straight-forward endorsement of the idea that governments should be allowed to regulate our speech. If that doesn't worry you, then maybe you're the kind of person who reads dystopian novels and cheers for the wrong side.
Zuckerberg's comment isn't exactly out of the blue. Facebook is already under fire for censoring political speech from both the right and left ends of the political spectrum. The company has banned a slew of right-wing commentators and conservative agitators from its platform and taken worrying steps against leftist and anti-war activists around the world.
Just the beginning
So, if social media companies aren't going to fight back on our behalf (and they clearly are not), who will? The obvious answer is "journalists" — but they don't appear to be in too much of a rush to halt this creeping censorship either. Some of them appear to be advocating more censorship, rather than less.
ALSO ON RT.COMNo kissing gays or conservative hunters: Overcautious Facebook blocks political ads in SwedenIn an interview with Le Monde on Monday, Ardern was asked why she decided to focus "uniquely on violent terrorist content, and not more broadly on hate speech, which also contributes to the drift in social media?"
Ardern replied that focusing on terrorist content was just the "point of departure" on which everyone could agree. So this is a journey we are on. We've departed at 'terrorism is bad' — but where will we end? Ardern said she was wary that going any further right now would "open the way for debate" on potential risks to freedom of expression. But in a joint press conference on Wednesday with French President Emmanuel Macron, she said her hope was that working together, governments and tech companies could "eliminate ideologies of hate."
That would be lovely — and if only the word were so simple, we could just eliminate all the meanies from the internet and live in an online utopia. Unfortunately, this is completely unrealistic, and when you start talking about eliminating certain ideologies, that's where things get sketchy. Particularly if we're going to delegate the task of deciding what is and is not "harmful" (as Zuckerberg said) to "thoughtful governments."
'Hate speech' or 'free speech'?
Florida's Republican governor Ron DeSantis is set to sign a bill that would make it a "hate crime" to "demonize" or"delegitimize" Israel. The bill purports to be about "anti-Semitism" but it's really just a vehicle to censor and even criminalize political speech. You see, that's the kind of thing that "thoughtful" politicians get up to if left to their own devices. Then again, the Florida bill probably isn't something that would ring alarm bells at Facebook HQ, either. Zuckerberg already happily complies with orders from the Israeli government to delete Palestinian activist accounts.
As for the US government, it has refused to sign Ardern's 'Christchurch Call' citing first amendment rights — but declining to sign a vague and non-binding agreement doesn't mean much. Capitol Hill is still swarming with politicians just dying to enforce more restrictions on free speech.
ALSO ON RT.COMFrance wants more govt regulation of Facebook and Zuckerberg calls it 'model' approachDemocratic Senator Chris Murphy tweeted in the aftermath of last year's Infowars ban that the very "survival of [US] democracy" depends on Facebook's willingness to "take down" more websites that "tear our country apart." Sure, why don't they just get rid of any content that could conceivably be categorized as divisive? Sounds like a foolproof plan.
A US government intelligence report last year highlighted a former RT show hosted by Abby Martin as an example of content that sowed "radical discontent" in society for critically covering controversial issues like US regime change wars, fracking, capitalism and police brutality. Be careful out there, you never know what could be defined as "radical" content next.
As journalist Igor Ogorodnev wrote in a recent oped, the aftermath of an atrocity "is a honeypot for short-sighted do-gooders buzzing about looking to do something, but also opportunist politicians to realize their long-harbored ambitions."
Trying to distract us
Social media is what the public uses to organize en masse in the 21st century.
Is it any wonder that Macron, facing months of Yellow Vest protests against his government, is helping lead the charge toward more online censorship?
A French government report recently called for the eradication of content that damages "social cohesion" and warned that"false information,""unfounded rumors" and "individuals pursuing political or financial objectives" can have an impact on "the social order." But who decides what constitutes "false information" and "unfounded rumors"? Is Macron's government "thoughtful" enough for Zuckerberg?
ALSO ON RT.COMWhite House posts call for social media censorship stories, triggering hope & cynicismOf course, it's much easier for governments to pass the blame for social discontent onto companies like Facebook, while arguing that censorship is the only solution. If they didn't do that, they'd have to admit that what really drives mass discontent are the neoliberal policies that have had a detrimental effect on basic standards of living, wiped out people's life savings and ravaged the planet.
But maybe that's all something Ardern and Macron can work on some other day — that is, if we're allowed to talk about it.
The statements, views and opinions expressed in this column are solely those of the author and do not necessarily represent those of RT.
By ARTHUR LYONS  
The social media giant

Facebook

has banned 23 noteworthy Italian populist pages with 2.5 million followers just two weeks ahead of the highly anticipated European elections.
The vast majority of the 23 pages that were banned supported Italy's currently governing coalition made up right and left wing populist parties La Lega (The League) and the 5-Star Movement (MS5), Italy's La Stampa reports.
Facebooks cited 'hate speech' and 'divisive content' regarding vaccines, immigrants, and Jewish people as justification for the drastic move.
Apparently, the tech giant's decision to ban these pages was informed by a report which was created by a leftist NGO by the name of Avaaz, which claims to focus on environmental campaigns and what they regard as 'human rights'.
A spokesperson from Facebook commented, saying, "We thank Avaaz for sharing its research so we could investigate…We are committed to protecting the integrity of the EU elections and around the world. We have removed a series of false and duplicate accounts that violated our policies on the subject of authenticity, as well as several pages for violation of the policy on changing the name."
"We have also taken action against some pages that have repeatedly spread misinformation. We will take further measures if we find other violations," the spokesperson added.
In Avaaz's report, which was presented to Facebook earlier this month, the NGO claimed that it had discovered 14 Italian networks operating on social media platform which included 104 pages, 6 groups, with a reach of more than 18.2 million individual users.
Of these networks, actions taken by Facebook this week targeted 23 of its pages – totaling nearly 2.45 million individual users and 2.44 million interactions over the past three months.
On top of this, Facebook has also apparently 'weakened' pages that it has arbitrarily deemed to be spreading content containing 'fake news' – presumably limiting their visibility to Facebook users.
Facebook asserts that its primary motivation for banning these pages was that the page creators had initially chosen page themes which didn't cite any involvement with political parties or movements, but which had later switched the themes.
Included among the banned pages are 'Lega Salvini Premier Santa Teresa of Riva', 'We want the 5-Star Movement in government', which had 129,000 followers and nearly 700,000 interactions in just three months, 'Lega Salvini Sulmona' — which had 307,000 followers – 'We Are 5 Stars', as well as 'Beppe Grillo for President'.
Facebook's most recent efforts in Italy to influence this May's European elections are only the tip of the iceberg, according to Italian media.
Earlier this month, Facebook opened up a 'war room' in Dublin, Ireland with 40 teams of full-time engineers, researchers, threat specialists, scientists, and experts for each country who devote their efforts to the European electoral campaign, according to the Italian La Repubblica.
Apparently, there are 500 individuals working on the elections, with the help of 21 so-called 'fact checkers', working in 14 different languages.