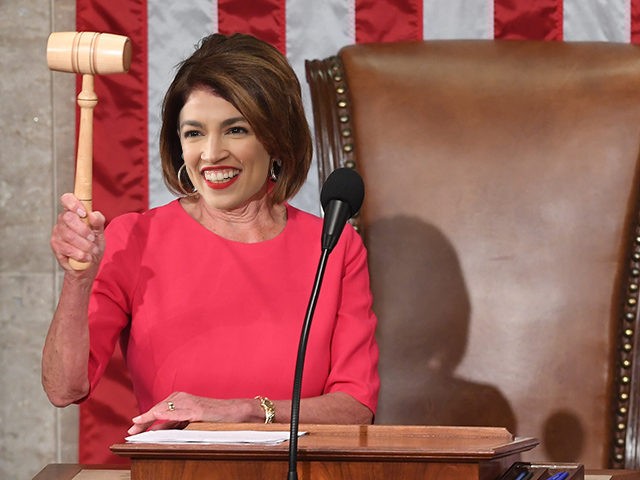 By John Nolte
HSINO… That is

Rep. Nancy Pelosi (D-CA)

— our "House Speaker In Name Only," an aging figurehead limping towards extinction.
Late last month, Rep. Alexandria Ocasio-Cortez declared herself "the boss" — and Thursday's disgraceful House vote condemning All the Hates proved that sentiment 100 percent true.
Don't be fooled by Rep. Ilhan Omar (D-MD); she is not "stepping on rakes" or "accidentally" revealing her antisemitism. This is a coordinated strategy on the part of her and her allies to legitimize antisemitism, to normalize bigoted stereotypes about money-grubbing and dual loyalties that go above and beyond honest criticism of Israel.
That's the play here, that is what is at stake, and because she's lost control of the House and her caucus to the Ocasio-Crazies, Pelosi is helpless to stop it.
In fact, Pelosi has become Ocasio-Crazy's puppet, her mouthpiece… "I do not believe she understood the full weight of the words," Pelosi told reporters Thursday to explain why she does not believe Omar should apologize or lose her consequential seat on the House Foreign Affairs Committee.
"I feel confident that her words were not based on any antisemitic attitude. But that she didn't have a full appreciation of how they landed on other people where these words have a history and a cultural impact that might have been unknown to her," the ventriloquist dummy added without blinking.
This week marked the third time in two months Omar went there, went to a place we have not seen a mainstream figure go since Father Coughlin in the 1930s. And with Ocasio-Crazy out there launching a ridiculous (and condescending) defense of Omar (it's a learning process) and refusing to back a House resolution that condemns antisemitism alone (think about that), Pelosi had no choice but to back down, to come up with this utterly meaningless All the Hates resolution that Omar was perfectly comfortable voting for.
And why wouldn't she vote yea? The resolution was not only a triumph for Omar and her wild-eyed ilk over Pelosi, it proved her strategy is working — that you can now hurl these bigoted smears without fear of condemnation.
This is how much of a shell Pelosi is now: she no longer has the influence to convince her caucus to support a standalone resolution against antisemitism; she no longer has the authority to stop Omar from her antisemitic quest to move the Overton window, she is powerless against Omar's launching of one rhetorical fire bomb after another directly into the middle of Pelosi's agenda for the 116th Congress.
And let's be honest, going back to its Ku Klux Klan and Jim Crow days, the Democrat Party has always been a hotbed of antisemitism — a party that has tolerated and even feted Louis Farrakhan for decades, that embraces Rev. Al Sharpton, a Party that seems to have grown tired of having to hide its antisemitism and just wants to be free.
By
All Democrats have to do is not be insane. And they can't do it.
In an effort to pander to black voters,

Sens. Kamala Harris (D-Calif.)

and

Elizabeth Warren (D-Mass.)

, both presidential candidates, said they will back

reparations

for black Americans as part of their campaign platforms.
"We have to be honest that people in this country do not start from the same place or have access to the same opportunities," Harris reportedly said. "I'm serious about taking an approach that would change policies and structures and make real investments in black communities."
That statement followed a radio interview in which she explicitly agreed with the host when that "government reparations for black Americans were necessary to address the legacies of slavery and discrimination."
Warren echoed a similar sentiment.
"Ms. Warren also said she supported reparations for black Americans impacted by slavery — a policy that experts say could cost several trillion dollars, and one that Barack Obama, Hillary Clinton, Bernie Sanders and many top Democrats have not supported," The New York Times said.
The report said that Warren "declined to giver further details" about her reparations plan.
These are the same candidates that also support a "Green New Deal," which will also cost trillions of dollars at the expense of the American taxpayer.
But there are more questions surrounding reparations than exactly how much they would cost.
Mainly, who would pay them?
Would reparations be paid only by white people who have slave-owning lineages, like Democratic Gov. Ralph Northam of Virginia? Would I, as an Arab American whose family immigrated to the United States through Ellis Island, be required to pay for something in which my ancestors had no part?
Likewise, who exactly would receive them?
Would all blacks receive some form of reparations, regardless of whether their ancestors were slaves? What if someone is half black? Or a quarter? Is that person owed a fraction of the reparations of a fully black American?
And what about poor white people? There are millions of whites who "do not start from the same place or have access to the same opportunities," as Harris argued. Will they be buried more deeply – will they have to become poorer –  simply to atone for the color of their skin? Is that justice?
Most importantly, would reparations help repair the cultural strife in this country, which is mostly promulgated by the mainstream press for ratings and Democrat politicians for votes? Wouldn't the Harris/Warren plan cause more strife and racial tension?
Do these loons really believe that – in a perfect world – reparations would be paid and everyone would simply shake hands, walk away, and that the country will be more united than it has ever been?
These are practical questions that remained unanswered by politicians who are race-baiting for votes.
By Alan Suderman & Nicholas Riccardi
RICHMOND, Va. (AP) — Prominent Democrats came down hard on

Virginia Gov. Ralph Northam

after he apologized for a racist photo. But they were quieter as two more scandals — one involving race, another a sexual assault allegation — rocked Virginia's statehouse.
The subdued response from national Democrats shows how their zero-tolerance approach has put them in a bind. The party has prided itself on policing its own and hoped to contrast that record with the GOP's tolerance of misbehavior by President Donald Trump. Now the party will have to decide whether to stick with its principles or retain its political power.
"The party's put in an odd position," said Liam Donovan, a Republican strategist who, like much of the political world, watched Virginia's developments with astonishment Wednesday. "Let's say they live by their standards and clean house. The stakes are very real now because the line of succession goes through the other side."
Last Friday, a picture of a man in blackface on Northam's medical school yearbook page surfaced. During a press conference Saturday, Northam insisted he was not in the yearbook photo but admitted he had once worn blackface. Virginia's Attorney General, Mark Herring, said, "It is no longer possible for Gov. Northam to lead our Commonwealth."
On Wednesday, the Democrat who would succeed Northam, Lt. Gov. Justin Fairfax, reeled from a detailed statement released by a woman who accused him of sexually assaulting her 15 years ago.
Later Wednesday, Herring, the Democrat who would succeed Fairfax, admitted he had worn blackface while in college.
If all three Democrats stepped down, Republicans would take over the state's top offices. The GOP speaker of the House of Delegates, Kirk Cox, is in line to become governor, and the Republican-controlled House would select a new attorney general. That's a different dynamic from recent efforts by Democrats to clean house.
In 2017, the party pushed Sen. Al Franken, a Minnesota Democrat, to resign after several women accused him of sexual harassment, but he was replaced by a Democrat. When interparty fury rained down on Northam after the photo came to light last Friday, it seemed likely he'd be replaced by Fairfax.
"The cost for Democrats of getting rid of the office holder are really low," Seth Masket, a University of Denver political scientist, said of the Northam and Franken scandals earlier this week. "The real test," he added, would be a scenario in which Republicans could gain a key political office.
Democrats did not seem to pass that test Wednesday. No Democratic presidential contender candidate issued any statement calling for the resignations of Herring or Fairfax, whose accuser, Vanessa Tyson, is represented by the same law firm that represented future Supreme Court Justice Brett Kavanaugh's first accuser, Christine Blasey Ford.
South Bend Mayor Pete Buttigieg, who is exploring a Democratic presidential bid, told NBC, "I don't know that this is a set of decisions we can automate because each of these cases brings different elements to it."
New Jersey Sen. Cory Booker told reporters at the Capitol that "it takes tremendous courage for someone to come forward in the way that she did. This is a deeply disturbing allegation that should be thoroughly investigated."
Former HUD Secretary Julian Castro, who was the first presidential candidate to call for Northam's resignation, told MSNBC it was important for the party to confront the issue. "This can be painful," Castro said. "But I'm confident that at the end of that day, what we're going to have is not only a stronger Democratic Party, more importantly we're going to have a stronger country that lives by these values of respect for everybody."
Jennifer Wexton, a newly elected Democratic congresswoman representing Northern Virginia, tweeted, "I believe Dr. Vanessa Tyson." And Al Sharpton, the prominent black activist and television personality, told BuzzFeed News that Herring and Northam should resign and that he'd lead protests against the two politicians. The National Organization of Women called for Fairfax's resignation.
Part of the reticence to talk was clearly the speed at which the allegations surfaced. Northam's inner circle was taken aback by how quickly national figures piled on him. The stampede became so pronounced that Herring himself called for Northam's departure on Saturday after the governor, at a press conference, admitted he'd worn blackface before but denied he was the person in the yearbook photo.
State Sen. Barbara Favola, a Democrat, showed signs of weariness when asked about the new allegations Wednesday. "I have to think about this, I really do," she said. "I have to take a breath and think about this. This is moving way too quickly. My goal is to be fair to everyone concerned."
Democrats were also visibly frustrated that Republicans were capitalizing on the scandals. Cox, for example, said Herring "should adhere to the standards he's set for others or lose credibility" and called the allegations against Fairfax "shocking."
Guy Cecil, head of the major Democratic super PAC Priorities USA, was one of the earlier national Democrats to demand Northam's resignation. On Wednesday afternoon, he tweeted: "The past actions of Virginia's leaders are abhorrent, but many Republicans around the country are engaged in modern-day Jim Crow voter suppression. They need to sweep their own porch before sitting in judgment of another."
Sen. Tim Kaine, a Virginia Democrat who is close to Northam but has called for his resignation, acknowledged the frustrations of other members of his party. He told reporters in the Capitol that he couldn't judge yet what should happen to Fairfax or Herring but that Democrats shouldn't worry about the political consequences.
"When the politics are bad — and they're bad — and everything else sucks, as it does now, just follow the principles," Kaine said. "Just ask, 'What is the right way to treat people?' And that actually makes it clearer."
By Patrick Howley
Democrat congressman

Hakeem Jeffries

is predictably resorting to racial divisiveness in his attempt to stop the winning streak of

President Donald Trump

, who is singlehandedly changing the economic demographics in this country with policies targeted toward African-American and minority employment and advancement.
"These are challenging times in the United States of America — we have a hater in the White House, a birther in chief, the grand wizard of 1600 Pennsylvania Avenue," Jeffries said. "One of the things that we've learned is that while Jim Crow may be dead, he still got some nieces and nephews that are alive and well," Jeffries reportedly said at a National Action Network event attended by Chuck Schumer and Kirsten Gillibrand.
President Donald Trump has fulfilled another populist promise by creating new Opportunity Zones in urban and rural areas, where developers will receive tax cuts and incentives to build up some of our most run-down neighborhoods.
Trending: Native Activist Who Harassed Catholic Teens Identified As Actor From 2012 Skrillex Video About Attacking Police
President Trump credited Senator Tim Scott for his cooperation in Congress, and BET head Bob Johnson also spoke at the White House event with Dr. Ben Carson and pastor Darrell Scott where the president announced the executive order. There are now 9,000 neighborhoods designated as Opportunity Zones. NBC News — apparently mad that Trump is helping poor people — ran a hit piece saying the Trump Organization might enjoy some of the tax breaks. What a sad mainstream media narrative! Populist Republican Jack Kemp, deceased, whom Paul Ryan pretends to idolize, wanted to create so-called "economic freedom zones" for many years, and Rand Paul has also pushed the idea.
Trump railed against "geographic disparity" in our country's economic opportunities in his signing ceremony at the White House.