Deep State's revolving door relationship with mainstream media continues
By Kelen McBreen
A report released Monday exposed the fact that

former FBI Director James Comey

conducted a "covert operation" against President Trump by placing a spy in the White House in 2017.
Initially, the identity of the spy was unknown, but now, testimony from an anonymous National Security Council official claims Buzzfeed employee and CNN contributor Anthony Ferrante is the FBI agent Comey planted.
Sources familiar with the DOJ Inspector General's report into FBI misconduct said, "In addition to adding notes of his meetings and phone calls with Trump to the official FBI case file, Comey had an agent inside the White House who reported back to FBI headquarters about Trump and his aides, according to other officials familiar with the matter."
Ferrante didn't work at the White House long, as Paul Sperry reports: "The agent, Anthony Ferrante, who specialized in cybercrime, left the White House around the same time Comey was fired and soon joined a security consulting firm, where he contracted with BuzzFeed to lead the news site's efforts to verify the Steele dossier, in connection with a defamation lawsuit."
FBI counterintelligence agent and lawyer Mark Wauck said Comey had no precedent to spy on the Trump administration.
"They had no probable cause against Trump himself for 'collusion' or espionage," Wauck stated. "They were scrambling to come up with anything to hang a hat on, but had found nothing."
Ferrante is far from the first Deep State operative to be employed by mainstream media outlets, as Infowars has pointed out in the past.
In fact, following Trump's election, a mass exodus of intelligence operatives took place and many of them went on to work with left-wing media outlets.
Josh Campbell, James Clapper, John Brennan, Michael Hayden, Phillip Mudd and Clint Wattsare just SOME of the former members of the CIA, NSA, FBI, and other agencies to join MSM.
Operation Mockingbird is alive and operating, which is why President Trump is right when he says Fake News is the enemy of the people.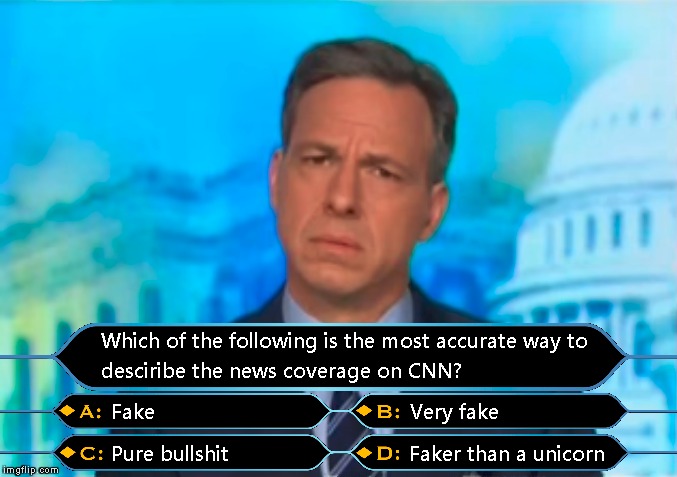 Deep State goon terrified of Barr's candor and transparency
By Newswars.com
A former

FBI

agent expressed his dismay on

MSNBC

over

Attorney General William Barr

's string of televised interviews explaining the Department of Justice's actions in investigating the origins of the Deep State Russia witch hunt.
Speaking on "AM Joy" on Saturday, expert Clint Watts lamented Barr's network appearances, claiming he's "advancing" Trump's "conspiracy" that the Deep State tried to overthrow him with the FBI's Russia probe.
"Why is the Attorney General doing interviews?" Watts asked. "The Attorney General answers questions, he doesn't raise them. So every time he goes out and does one of these interviews, he is advancing the conspiracy without evidence."
"The attorney general's job is to present evidence on the basis of cases. A year ago, when he's out in the private sector and he's hanging out and he wants to write a 19-page memo, he has the right to do that."
"He doesn't need to be asking questions and sowing a conspiracy," Watts added.
Interesting take, considering the media and Democrats, in a massive propaganda effort, have been pushing the conspiracy theory for over two years without evidence that President Trump colluded with Russia to win the 2016 presidential election.
By Tim Hains
Former CIA Director

John Brennan

warned Republicans who support President Trump that they are on a sinking ship, in an appearance Wednesday morning on MSNBC's "Morning Joe." 
"I'm waiting for the Republicans to realize that the Trump ship is a sinking one," he said.
"There are still rats on that ship, and there are individuals who are not going to separate themselves from Trump. They do so at their own peril. They need to fulfill their obligations, irrespective of their political affiliations. This is now the presidency and institutions of government we rely on to keep us safe and secure."
MIKE BARNICLE: Last week, there was another continued swipe ordered by the president of the United States, who whatever he says is a megaphone and resonates throughout the country because of the way it is carried, in which he basically said that people like you and several other people in the intelligence community were responsible for trying to participate in a coup, to undermine the presidency of the United States and to remove the president of the United States. What does it do — nevermind to you personally — what does it do to institutions like the NSA, the CIA, the FBI.

JOHN BRENNAN: It continues to show Mr. Trump's disdain for the intelligence and law enforcement communities, who are trying to do their jobs irrespective of political winds that might be blowing in Washington. It really is demoralizing for Mr. Trump to continue to say there is this "deep state" that tried to launch a coup, and that he is trying to "clean the swamp," while in fact, it is those professionals within the intelligence community, law enforcement community, who are trying to carry out their duties and responsibilities to the American people. Mr. Trump just continues to go down this road. I think it is having a very damaging impact.

WILLIE GEIST: What do you think, Director Brennan, happens from here? I think people watching want to know. They say, okay, Mueller didn't like how the report was characterized by the attorney general. Fine, on the issue of obstruction of justice. Now, what? Is it Mueller sitting before the Senate and answering specific questions about what is inside the report? What is the outcome of this?

JOHN BRENNAN: Barr has to be interrogated.

WILLIE GEIST: That starts this morning at 10:00.

JOHN BRENNAN: And then Bob Mueller has to get in front of Congress, then Congress has to do its job.

And I'm still waiting for the Republicans to realize that the Trump ship is a sinking one. There are still rats on that ship, and there are individuals who are not going to separate themselves from Trump. But they do so at their own peril. And they need to fulfill their obligations, irrespective of their political affiliations. And to do it now rather than to allow this continued sinking of not just the presidency, but of these institutions of government that we rely on to keep us safe and secure.
Judicial Watch President

Tom Fitton

reacts to

Robert Mueller

's comments on the Russia probe.
By Joshua Caplan
The Department of Justice announced special counsel

Robert Mueller

will issue a statement on Wednesday morning regarding the "investigation into Russian interference in the 2016 Presidential election."
Mueller will speak at the Justice Department at 11 a.m. EST and will not take any questions.
It was not clear what he intended to say, but the statement comes amid demands for Mueller to testify on Capitol Hill about his findings and tension with Attorney General William Barr over the handling of his report.
Mueller's report into Russia meddling in the 2016 election did not find that Russia and the Trump campaign coordinated to sway the presidential election. It did not reach a conclusion on whether the president had obstructed justice. Barr has said he was surprised that Mueller did not reach a conclusion, and decided with Deputy Attorney General Rod Rosenstein that the evidence did not support an obstruction of justice allegation.
The attorney general is currently in Alaska for work.
According to CNBC's Eamon Javers, the White House was told Tuesday evening that Mueller was planning on issuing a statement Wednesday.
The development comes after negotiations about Mueller's tentative testimony before the House Judiciary Committee on May 15th fell through.
The House panel's chairman Jerrold Nadler (D-NY) said earlier this month that talks will continue with Mueller and the Justice Department about the testimony. The New York Democrat wouldn't characterize those talks, though he said he expects Mueller to eventually appear, and if he won't agree the committee will attempt to compel him.
"If necessary we'll subpoena him and he'll come," Nadler said.
The negotiations over Mueller's appearance come as Democrats are clashing with the Justice Department over access to Mueller's full report on the Trump-Russia investigation. The Judiciary panel on recently voted to hold Barr in contempt of Congress after he defied the committee's subpoena for an unredacted version of the report.
The Associated Press contributed to this report. 
Former

FBI

director

James Comey

claims spying on the 2016 Trump campaign was normal.
Streamed live 38 minutes ago
NEW Smoking Gun

Bruce Ohr

Email on Targeting Trump,

Andrew Weissmann

's Key Role for Hiring Mueller Probe Staff, & More!