By
A woman is accusing

former Vice President Joe Biden

of touching her inappropriately at a 2009 fundraiser in Greenwich, Connecticut.
"It wasn't sexual, but he did grab me by the head. He put his hand around my neck and pulled me in to rub noses with me. When he was pulling me in, I thought he was going to kiss me on the mouth," Amy Lappos told the Hartford Courant after first posting the allegation on a Connecticut women's political Facebook group.
This marks the second accusation against Biden in recent days, following Lucy Flores' claim that Biden kissed the back of her head and sniffed her hair backstage at a political rally in Nevada with Eva Longoria.
Biden agreed to "listen respectfully" to Flores.
"In my many years on the campaign trail and in public life, I have offered countless handshakes, hugs, expressions of affection, support and comfort. And not once – never – did I believe I acted inappropriately. If it is suggested I did so, I will listen respectfully. But it was never my intention," Biden said.
Biden is under fire for working with his daughter-in-law Kathleen's DC Volunteer Lawyers Project, which covered up sexual misconduct in the DC Superior Court bathroom.
WASHINGTON — Former Vice President Joe Biden's daughter-in-law Kathleen Biden operates a group called the DC Volunteer Lawyers Project, which provides court-appointed legal counsel to children in divorce cases. Kathleen Biden is listed as a co-chair of the group in some materials and as director of strategic partnerships on the group's website. Kathleen Biden's lifelong friend founded the group, and Kathleen Biden has been involved with the group since its inception.
Kathleen Biden was married to Biden's son Hunter Biden until 2017, and was married to him at the time of this incident. Joe Biden raises money for the group.
A lawyer for The DC Volunteer Lawyers Project was caught propositioning a male teenager in the bathroom of DC Superior Court, and the founder of the group covered it up before acknowledging wrongdoing and quietly terminating the man when forced to by a Washington newspaper editor who never ran the story.
Big League Politics has exclusively obtained court documents and emails showing both the incident and the cover-up. A witness speaks on the record with Big League Politics: her six-year old daughter was being represented by the man who committed the act in the courthouse bathroom.
Multiple eyewitnesses including the boy's mother notified the DC Volunteer Lawyers Project. The group's officials expressed that "they didn't care" about it, according to the eyewitness account.
Time went by. After the local opinion editor for the Washington Examiner asked the group about it, a top official with the group stated that they were aware of the incident and they were dismissing the man for "inappropriate" conduct. The Washington Examiner never went to print on the story, but we have the never-before-seen emails.
The DC Volunteer Lawyers Project, the Biden Foundation, and the alleged perpetrator have all been sought for comment, and have had ample time to respond. The perpetrator now lives in Ohio, where he has been stripped of his law license for a separate incident.
The witness says she has faced retaliation for knowing that "this group had a bunch of perverts working in it."
Biden delivered his famous 2013 "rape" speech, in which he said that women fear getting "raped again by the system" and referenced the movie "Deliverance," at a fundraiser for the DC Volunteer Lawyers Project, which has also hosted presidential candidate Kirsten Gillibrand.
Here is Vice President Biden speaking alongside his daughter Kathleen at a DC Volunteer Lawyers Project event in 2015:
Here is the witness statement
"There is a group called the DC Volunteer Lawyers Project, which Kathleen Biden runs. They are supposedly volunteer attorneys but they hang out all over the courthouses.
They were appointed in my case — if you have a child in a custody battle, sometimes they appoint a "legal guardian," which is really just somebody who milks you for all the money you have. It's a big court scam and they do it for the elderly as well, so they can seize people's property and money.
In June 2011, my ex-husband wanted to take homeschooling away from me, so we were having a hearing at DC Superior Court and James Marion Broadstone was one of the appointees for my child in the divorce. These people from the Volunteer Lawyers Project were just unbelievable.
My friend Victoria's teenage son Jefferson was going to testify because he was homeschooled. While we were waiting outside of the court, James Marion Broadstone kept talking to Jefferson, who I think was 19 years old at the time, sort of flirting with him. The next thing we know, he followed Jefferson into the men's room.
Broadstone said Jefferson was very good-looking and he could help him make good money from his looks, and he liked the "cut of his jib."
He invited him to a party at his house in Annapolis and then uninvited him after he was fired. I think he was discussing being a prostitute.
Jefferson came out and told his mother Victoria what had happened. Then he went into the court to testify.
My friend Victoria was very upset. Jefferson was very upset. And we reported it to the company, the DC Volunteer Lawyers Project, who are not volunteers. They are hiding millions of dollars in their IRS 990 forms and pretending to be volunteers.
We told Jenny Brody, who kept coming in and out of the case, and then Olivia C. Baker who was the other GAL on the case, and she wasn't even a practicing attorney. They just didn't care, they're a sleazy group.
Here is a list of people who were notified of the incident:
Jenny Brody, founder of the DC Volunteer Lawyers Project and 2015 "Washingtonian of the Year"
Olivia C. Baker
Judge Jeanette Clark
Victoria Rose and Jefferson Rose
Dr. Harry Wachs and his wife Ruth
My former lawyer who is a real scumbag"
Witness statement ends
Here is the party invite that James Marion Broadstone gave to the teenage witness:
Here are the emails between the Washington Examiner and the DC Volunteer Lawyers Project
Several weeks later, a reporter for the Washington Examiner asked the DC Volunteer Lawyers Project about the boy's experience. The DC Lawyers Project acknowledged wrongdoing on the part of the perpetrator.
Here is the definitive email, from Jenny Ann Brody on June 17, 2011 to Washington Examiner local opinion editor Barbara Hollingsworth, who never ran a story on the matter:
Dear Ms. Hollingsworth,
"I'm writing to follow up on our conversation yesterday morning concerning James Broadstone, an attorney serving as a pro bono (volunteer) Guardian Ad Litem for a child who is the subject of a contested custody case in DC Superior Court.
I have spoken with Mr. Broadstone as well as with another attorney who is co-Guardian Ad Litem and was with Mr. Broadstone in court on the day in question. (It is the policy of the DCVLP to always assign two attorneys to every case.) It is my understanding that Mr. Broadstone had several conversations with Victoria Rose, a witness for, and employee of, the mother in the case, and with Ms. Rose's son, a recent high school graduate. My understanding is that Mr. Broadstone, Ms. Rose, and her son had discussions of a social nature, including about Ms. Rose's son's college plans. At the end of the hearing, Mr. Broadstone invited both Ms. Rose and her son to a social event he is planning.
It is the view of the DC Volunteer Lawyers Project (DCVLP) that, while Mr. Broadstone's conduct was not a violation of any ethical rule, he nonetheless showed poor judgment as a GAL for proposing social contacts with a witness. For this reason, we have accepted Mr. Broadstone's offer to resign as Guardian Ad Litem in this case, and will be filing appropriate documents to inform the court and parties of this fact. In addition, I note that Mr. Broadstone is not currently serving, and will not serve, as a volunteer on any other DCVLP cases. We are disappointed in this lapse in judgment, since, in the past, Mr. Broadstone has achieved excellent results on behalf of domestic violence survivors in other cases he has handled with our organization.
If you have any further questions about the incident concerning Mr. Broadstone, or about the DCVLP, please do not hesitate to contact me. You also may wish to review our website (www.dcvlp.org) to get a larger picture of our organization and its mission, which is to provide free legal services to low income clients in family law cases. The overwhelming majority of parties in family law cases in DC Superior Court lack legal representation, even though these cases affect important family relationships. The DCVLP recruits and trains volunteer attorneys to represent these clients. Our largest area of practice is representing domestic violence survivors in cases to obtain protection orders , and, in some cases, to obtain custody of their children. Our volunteers also serve as Guardians Ad Litem for children who are the subject of disputed custody cases. Our volunteer attorneys receive no payment for their services. Their work has helped to ensure the safety and stability of over three hundred women and children. In some cases, our volunteers have protected women and children who were in danger of serious injury or even death. We hold our attorneys to the highest standards of excellence, and I believe that the results of our work show that they achieve this standard.
One final point. We are very puzzled that Ms. Rose chose to contact a newspaper reporter to express her concerns in this case, rather than contacting the DCVLP directly. I note that Ms. Rose is employed by a party in this case. I also note that it is a violation of the Rules of Professional Responsibility for an attorney to make, or cause anyone else to make, statements to the media which may influence an ongoing case.
Thank you for bring this situation to our attention. Again, if you have any further questions, please call me, 301 379 1788.
Yours truly,
Jenny Brody,
Jenny Brody, Co-Executive Director
> DC Volunteer Lawyers Project
> 5335 Wisconsin Avenue, NW, Suite 440
> Washington, DC 20015…
>
> The DCVLP (CFC#34927, EIN #26-1089584) thanks Federal Government employees for giving generously during the 2010 campaign.
>
> DCVLP programs are made possible through the generous support of
> This message is from the DC Volunteer Lawyers Project and may contain information that is confidential or otherwise privileged. If you are not the intended recipient, please immediately advise the sender by reply e-mail that this message has been inadvertently transmitted to you, and then delete this e-mail from your system. Thank you for your cooperation."
A tortious negligence complaint was filed in Superior Court of the District of Columbia and a judge crossed four courts to dismiss it.
Here is Joe Biden's famous rape speech, which has been mostly scrubbed from the Internet, which he delivered at a May 2013 fundraiser for the DC Volunteer Lawyers Project.
"You'll often hear men say, why don't they just leave? I ask them, how many of them have seen the movie 'Deliverance'? And every man will raise his hand. And I'll say, what's one scene you remember in 'Deliverance'? And every man here knows exactly the scene I'm thinking of. After those guys tied that one guy to the tree and raped him, men raped him in the film, why didn't that guy go to the sheriff?"
"Why wouldn't you go the sheriff? The reason why is, they're ashamed, embarrassed. Why do you think who get raped, so many don't report it? They don't want to get raped again by the system."
By Joseph Curl
It's all cool, bro.
Former Vice President Joe Biden

is getting a lot of headlines lately, and not exactly the kind you want to get when you're thinking about running for president. He's also earning a new nickname — Handsy Joe — for all his touchy-feeliness with women over the years.
But House Speaker Nancy Pelosi, a woman, doesn't think the new allegations should prevent Biden from moving into the White House.
Asked on Monday if she thinks the claims from two women should prevent Biden from being president, Pelosi said: "No. No, I do not."
"I don't think that this disqualifies him from being president," the California Democrat said. "Not at all."
On Tuesday, though, she had some advice for Biden: No more touching.
"Join the straight-arm club," Pelosi told a breakfast hour Washington event on Tuesday, the Associated Press reported.
"Just pretend you have a cold and I have a cold," Pelosi said.

Pelosi, D-Calif., told the event, which was sponsored by Politico, that Biden "has to understand that in the world we are in now people's space is important to them and what's important is how they receive it, not necessarily how you intended it."
Democrats have a huge tolerance for misogynist men — as long as they're Democrats. Liberals fiercely defended then President Bill Clinton after he had an affair with a White House intern his daughter's age and lied under oath about it, saying the whole story was "just about sex." Clinton's alleged sexual promiscuity was long reported, including affairs with lounge singers and accusations that he raped or sexually accosted at least three women.
Meanwhile, Democrats became enraged over allegations that Brett Kavanaugh, then a nominee for a seat on the Supreme Court, had supposedly once pushed girl onto a bed at a drunken high school party 35 years ago.
Last week, Lucy Flores, a former Nevada Democratic assemblywoman who was running for higher office, came out with allegations that Biden inappropriately touched her during a campaign rally in 2014, saying she felt uncomfortable and demeaned by his touching.
Then on Monday, another woman came forward with new allegations. Amy Lappos told the Hartford Courant that "Biden touched her inappropriately and rubbed noses with her during a 2009 political fundraiser in Greenwich when he was vice president."
"It wasn't sexual, but he did grab me by the head," Amy Lappos told The Courant. "He put his hand around my neck and pulled me in to rub noses with me. When he was pulling me in, I thought he was going to kiss me on the mouth."
And she said Biden crossed the line. "There's absolutely a line of decency. There's a line of respect. Crossing that line is not grandfatherly. It's not cultural. It's not affection. It's sexism or misogyny."
Biden's fellow Democrats, especially the ones who are already running for president, have let him twist in the wind — or pounced on the allegations outright.
"I believe Lucy Flores," Sen. Elizabeth Warren of Massachusetts said in Iowa on Sunday. "And Joe Biden needs to give an answer."
When Sen. Bernie Sanders of Vermont was asked if Flores' allegation disqualifies Biden from running for president, he said: "That's a decision for the vice president to make."
Former Colorado Gov. John Hickenlooper, also a 2020 candidate, said Biden's actions were cause for concern. "Certainly, I think it's very disconcerting and I think that women have to be heard and we should start by believing them." And another candidate, Sen. Amy Klobuchar of Minnesota said she has "no reason not to believe" Flores.
"I think we know from campaigns and politics that people raise issues and they have to address them, and that's what he will have to do with the voters if he gets into the race," she said on Sunday.
Actress,

#MeToo

advocate, and all round woke feminist Alyssa MIlano has stepped in to defend her "friend"

Joe Biden

, after accusations of inappropriate touching and groping have mounted against the former vice president.
"I am proud to call Joe Biden a friend. He has been a leader and a champion on fighting violence against women,"Milano tweeted on Monday, adding "that's who Joe Biden is – a warm, generous individual who believes its on all of us to pay attention to women's stories and experiences."
As vice president, Biden spearheaded the 'It's On Us' campaign against sexual assault on college campuses. However, the 76-year-old has also built up quite the highlight reel of his own inappropriate moments; becoming far too familiar and handsy with women and children at Washington events.
Most recently, Biden was accused of unwanted kissing by former Nevada legislator Lucy Flores, who said the former VP planted a "big slow kiss" on the back of her head at a rally in Las Vegas; and Connecticut woman Amy Lappos, who alleges Biden "put his hand around my neck and pulled me in to rub noses with me."
Biden denies any wrongdoing, saying it was "never" his intention to make anyone feel uncomfortable. Milano, who reinvented herself in recent years as a vocal feminist and founder of the #MeToo movement, agrees.
"I respect Lucy Flores' decision to share her story and agree with Biden that we all must pay attention to it," she tweeted. "But, just as we must believe women that decide to come forward, we cannot assume all women's experiences are the same."
"Believe women, but…" is certainly a change of tune for Milano, who led the crusade against Supreme Court Justice Brett Kavanaugh, last year. Milano said that his confirmation in the face of uncorroborated sexual assault allegations served to "institutionalize sexual violence," and hashtagged her anti-Kavanaugh tweets"#BelieveWomen."
Biden has not yet announced a run for the presidency in 2020, but is considered a likely candidate and a frontrunner among a crowded field of Democrats. Although progressive godfather Bernie Sanders remains a favorite among young voters, Biden topped a recent Quinnipiac University poll, with 29 percent of Democrats rating him as their first choice.
With Sanders dangerously close in the polls, a certain few journalists in the mainstream media have stepped in to downplay the accusations against Biden.
"Is is okay to bring up this could be politically motivated?" MSNBC's Mika Brzezinski asked on Monday. "Are we allowed to bring up that Lucy Flores is a huge Bernie person? And she has political connections that might be counter to Biden's goals?"
Brzezinski then laughed off Biden's wandering hands, describing her "friend" as "extremely affectionate, extremely flirtatious in a completely safe way."
Still, others are more puzzled. Fox News host Tucker Carlson asked former Clinton Adviser Richard Goodstein "have you ever sniffed a stranger's hair? What is that?" Even liberal late-night comedian Stephen Colbert piled on Biden. "Generally, the only people who come up from behind, put their arms around you, smell your hair and kiss your head are dead husbands teaching you pottery," he jibed.
Democrats have a solid party line on the sexual harassment allegations being leveled at

former Vice President Joe Biden

: you get the first one free.
Both Illinois Sen. Dick Durbin and progressive presidential candidate Bernie Sanders (I-VT) rushed to Biden's defense over the weekend, claiming that a single sexual harassment allegation — even if credible — shouldn't immediately and irreparably derail a blossoming presidential campaign.
The Washington Free Beacon reports that Durbin told NBC that a single, unproven sexual harassment allegation — like the one leveled at Biden by a former Nevada gubernatorial candidate last week — shouldn't mean Biden should pack up his campaign offices before his bid for the presidency even gets off the ground.
"I can tell you that Joe Biden is a friend and a seasoned veteran when it comes to political campaigns. I know nothing about the allegations that I also read this morning, as well. I think all of us should take such allegations seriously and with respect," Durbin said. "I took Joe Biden's statement to say just that, exactly."
"Yes, I think he's ready if that's his decision to move forward in this presidential campaign," he added.
When asked whether the claim "disqualified" Biden, Durbin replied enthusiastically.
"Certainly one allegation is not disqualifying, but it should be taken seriously," he said.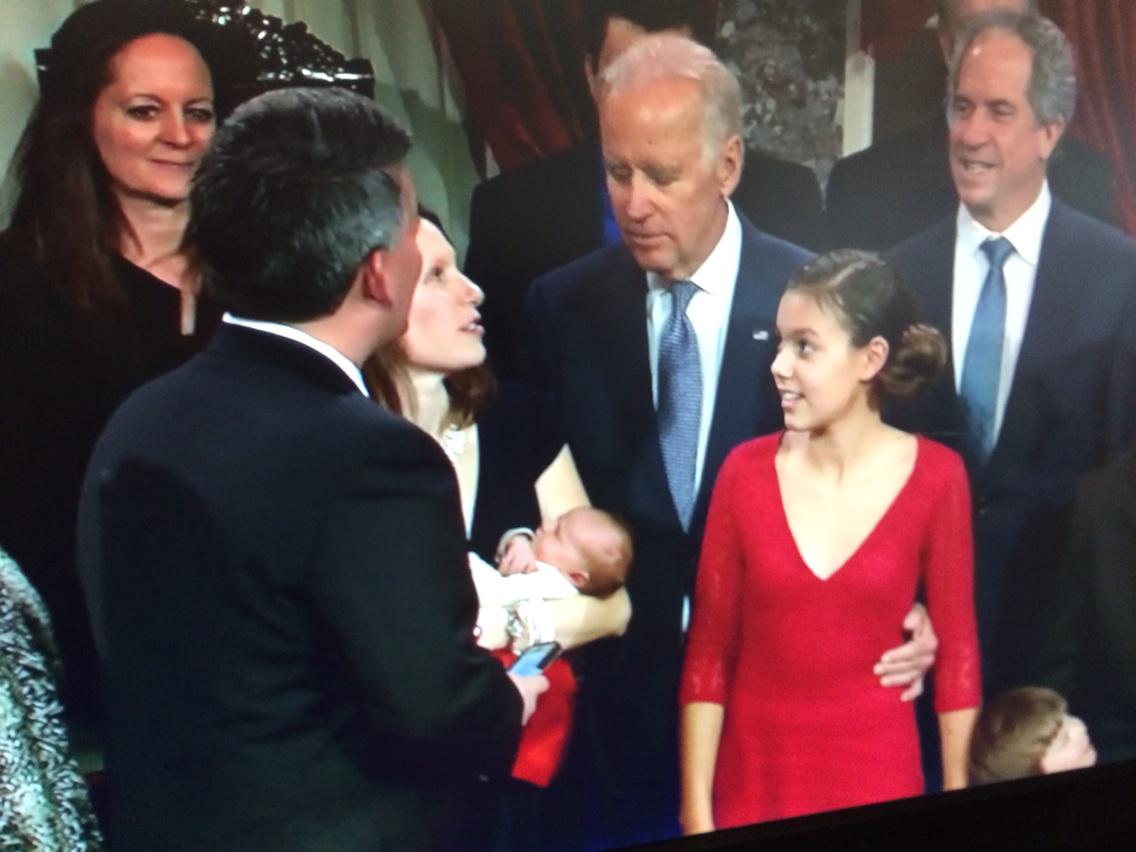 Bernie Sanders, who is Biden's major threat in the race for the 2020 Democratic presidential nomination, was also oddly deferential to Obama's former Vice President, telling CBS's Face the Nation that, while he believes Lucy Flores, the woman who accused Biden of touching her inappropriately at a campaign stop in 2014, he also believes Joe Biden should get a second chance.
"I think that's a decision for the vice president to make," said Sanders, when asked whether Biden should continue to seek the nation's highest office. "I'm not sure that one incident alone disqualifies anybody."
Instead Sanders, who has faced sexual harassment problems of his own recently when several female former staffers revealed that they were treated poorly on Sanders' campaign, and that Sanders and his top aides did nothing to address their concerns, said Biden's issues are simply the result of a world that continues to embrace patriarchy and oppress women.
"I think what this speaks to is the need to fundamentally change the culture of this country and to create environments where women feel comfortable and feel safe," Sanders said.
Of course neither lawmaker was as deferential during, say, now-Supreme Court Justice Brett Kavanaugh's confirmation hearings when the judge was accused of a single incident of sexual assault which took place several decades before when he and his alleged victim were both in high school, even though no evidence was presented to verify Kavanaugh's accuser's claim.
Biden, for his part, says he does not view his encounter with Ms. Flores as problematic.
"In my many years on the campaign trail and in public life, I have offered countless handshakes, hugs, expressions of affection, support and comfort," Biden said in a statement over the weekend. "And not once – never – did I believe I acted inappropriately. If it is suggested I did so, I will listen respectfully. But it was never my intention."
Unfortunately, it appears more women may come forward with stories. A breaking news alert late Monday indicates that at least one other woman, a female campaign staffer, believes she was treated inappropriately by the former vice president. There may also be others; the sudden wave of concern over Biden's past behavior — which went ignored while Biden and President Barack Obama were in office — seems to be conveniently timed to derail an early April announcement, and could be the work of another campaign.
'He is extremely affectionate, extremely flirtatious in a completely safe way,' claims Mika Brzezinski
Jamie White | Infowars.com – APRIL 1, 2019
The Left is defending

former Vice President Joe Biden

's habit of touching and groping women, claiming it's just a harmless personality trait rather than inappropriate behavior.
The View's Whoopi Goldberg and Joy Behar, MSNBC's Mika Brzezinski, and the wife of Obama's former Secretary of Defense Ash Carter defended Biden's intent behind his groping, and even the groping itself.
"We all know Joe Biden…He's so friendly. He's a close talker…He touches you. That's what he's like," Behar gushed on Monday.
https://www.mrctv.org/embed/538453
Co-host Sunny Hostin added, "I don't know if we'll see anymore smelling of hair," which triggered Goldberg.
"That pisses me off. I don't want Joe to stop doing that!" Goldberg exclaimed.
Brzezinski told her audience that Biden is "extremely flirtatious" but in a "completely safe way."
"There's a lot of things I know about Joe Biden — I've known him for a long time — he is extremely affectionate, extremely flirtatious in a completely safe way," she said on Monday.
"I am sure that somebody can misconstrue something he's done. But as much as I can know what's in anyone's heart, I don't think there is bad intent on his part at all."
Carter's wife didn't deny Biden's behavior, but said in her case, a "misleadingly extracted" photograph mischaracterized her as appearing uncomfortable.
Biden's well-known proclivities gained attention on Friday after former Democratic nominee for Nevada's lieutenant governor Lucy Flores wrote a scathing op-ed detailing how during a 2014 campaign event Biden had approached her from behind, smelled her hair, and planted a slow kiss on the back of her head.
In early March, Biden even referred to himself as a "tactile politician" during a speech in Delaware.
"I always have been, and that gets me in trouble as well, because I think I can feel and taste what is going on," he told the crowd.
Biden in a statement acknowledged his tendency to touch women, but insisted he didn't think he was "acting inappropriately."
"In my many years on the campaign trail and in public life, I have offered countless handshakes, hugs, expressions of affection, support and comfort. And not once — never — did I believe I acted inappropriately. If it is suggested I did so, I will listen respectfully. But it was never my intention," he said in a statement.
---
Published on Mar 31, 2019
Joe Biden

has been accused of inappropriately touching Lucy Flores on the campaign trail. Will this affect a possible decision to run in 2020?
By
Former vice president and possible Democrat presidential candidate

Joe Biden

stands accused of physical misconduct against a female Latina Democrat politician.
The accusation against Biden marks one of the first major direct accusations against Biden during this campaign cycle, but insiders believe many more are coming. Big League Politics learned about the impending accusation Wednesday night and monitored the situation as Lucy Flores came forward with her bold first-person essay in New York magazine. BLP has not spoken to Flores directly but now we have her own words describing the disturbing encounter at a campaign event with Eva Longoria, via New York mag's "The Cut":
"In 2014, I was the 35-year-old Democratic nominee for lieutenant governor in Nevada…As I was taking deep breaths and preparing myself to make my case to the crowd, I felt two hands on my shoulders. I froze. "Why is the vice-president of the United States touching me?"
I felt him get closer to me from behind. He leaned further in and inhaled my hair. I was mortified. I thought to myself, "I didn't wash my hair today and the vice-president of the United States is smelling it. And also, what in the actual fuck? Why is the vice-president of the United States smelling my hair?" He proceeded to plant a big slow kiss on the back of my head. My brain couldn't process what was happening. I was embarrassed. I was shocked. I was confused. There is a Spanish saying, "tragame tierra," it means, "earth, swallow me whole." I couldn't move and I couldn't say anything. I wanted nothing more than to get Biden away from me. My name was called and I was never happier to get on stage in front of an audience.
By then, as a young Latina in politics, I had gotten used to feeling like an outsider in rooms dominated by white men. But I had never experienced anything so blatantly inappropriate and unnerving before. Biden was the second-most powerful man in the country and, arguably, one of the most powerful men in the world. He was there to promote me as the right person for the lieutenant governor job. Instead, he made me feel uneasy, gross, and confused. The vice-president of the United States of America had just touched me in an intimate way reserved for close friends, family, or romantic partners — and I felt powerless to do anything about it."
Flores passage ends
Vox follows up on Flores' story with the headline "Lucy Flores Isn't Alone. Joe Biden's Got a Long History of Touching."
Flores's experience isn't unique. It is no secret in Washington that Biden has touched numerous women inappropriately in public. It's just never been treated as a serious issue by the mainstream press.
Biden's been caught on camera embracing a female reporter from behind and gripping her above her waist, just below her bust. At a swearing-in ceremony for Defense Secretary Ash Carter, Biden put his hands on the shoulders of Stephanie Carter, Carter's wife, and then leaned in and whispered into her ear. (He's whispered into many women's ears.) He's also touched women's faces and necks during other photo ops. Once at a swearing-in ceremony for a US senator, he held the upper arm of the senator's preteen daughter, leaned down and whispered into her ear, as she became visibly uncomfortable. Then he kissed the side of her forehead, a gesture that made the girl flinch.
It's all out in the open. News outlets wrote about these incidents. But the stories ran under light-hearted headlines like, "Photo of famously friendly Joe Biden goes viral" or "Here's Joe Biden being Joe Biden with Ash Carter's wife" or "Joe Biden: Sex symbol?," a piece that I edited and now regret."