May 26, 2020
American media CNN, MSNBC and others not even mention this at all
By Mark Dice – Apr 4, 2020
It's funny how every one of these people get a pass! Yet trump is getting bashed as usual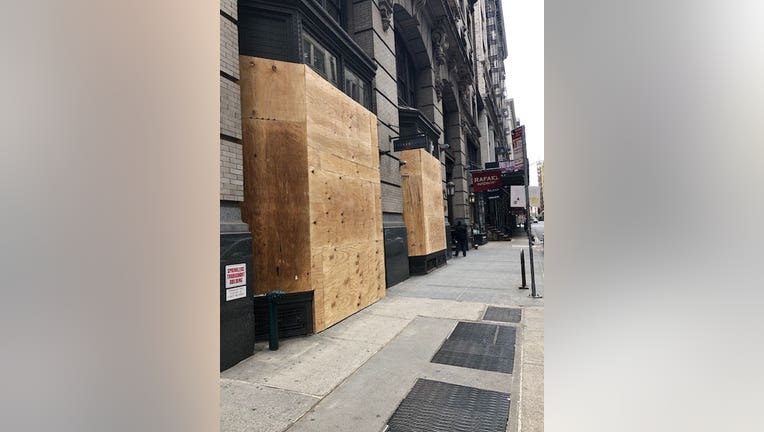 by Luke Funk – 4/4/2020
NEW YORK – A growing scene for those who venture out into the streets of Manhattan these days is boarded up storefronts.  From luxury retailers to small bars, establishments that have no idea when they are going to be allowed to reopen are putting up protection over their glass doors and windows.
The businesses have taken the unsightly measure in an effort to defend against the potential for civil unrest caused by the coronavirus and a lack of officers on the streets.
Mayor Bill de Blasio ordered bars and restaurants closed except for takeout service in mid-March.  Most stores were also ordered to shut down.
Now, from Lower Manhattan to the Upper East Side, outlets are boarded up.  At least a few have offered makeshift messages of hope.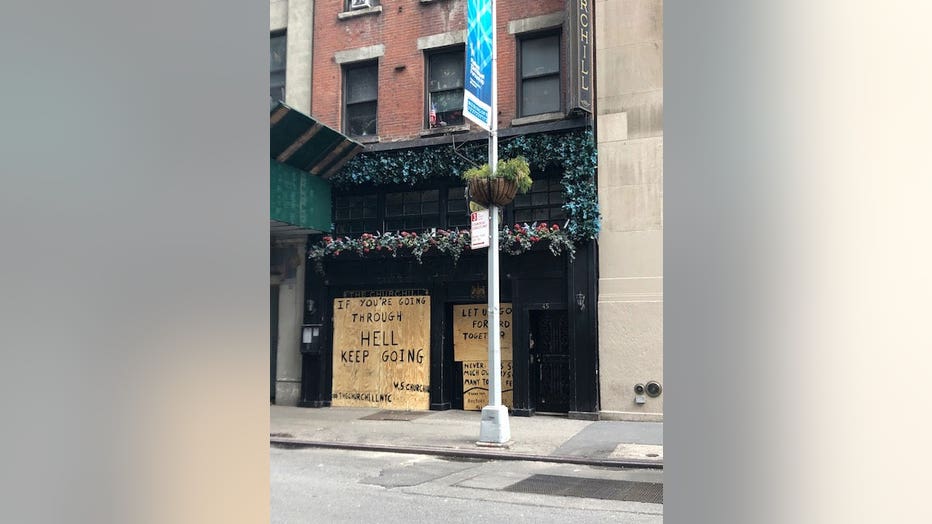 Posted on a pub at 28th and Park the message "let us go forward together" is painted on some of the plywood.  Another message is painted next to it saying, "if you're going through hell keep going."
Typically bustling Soho sidewalks are marred by boarded-up windows at designer brand stores, including Louis Vuitton, Dior, Coach, and Dolce & Gabbana.
The NYPD has reported that crime in the city has actually dropped since the coronavirus outbreak has limited people on the streets.
As the number of NYPD officers are added to the sick list or test positive to coronavirus, there are questions on the ability to effectively fight crime.
On Thursday, 6,498 uniformed members of the NYPD were on the sick report which accounts for 18% of the Department's uniformed workforce.  1,354 uniformed members and 169 civilian members have tested positive for the coronavirus.
In New York, Gov. Andrew Cuomo said the Empire State will do "whatever we have to do" in response to a growing number of city police officers who have called out sick.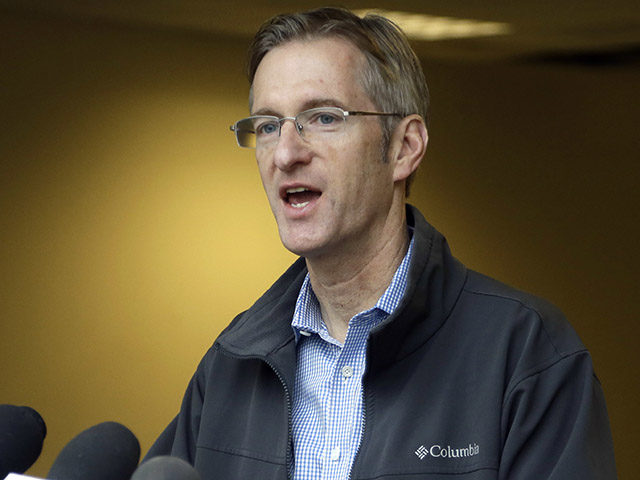 By Nate Church
Texas Senator Ted Cruz

has called on both the

FBI

and the Department of Justice to investigate

Portland Mayor Ted Wheeler

.
"To law enforcement: find & prosecute these violent felons," Cruz tweeted after the violent left-wing Antifa attacks on Saturday. "To federal law enforcement," he wrote. "Investigate & bring legal action against a Mayor who has, for political reasons, ordered his police officers to let citizens be attacked by domestic terrorists."
Wheeler is under fire for his response — or lack thereof — to the violent Antifa protesters in the city under his care. During the demonstrations, journalist Andy Ngo was beaten in the head and hit with a milkshake allegedly filled with quick-dry cement. Cruz also wentafter Vox writer Carlos Maza for encouraging the actions.
"Troubling, if true," Cruz said of a screenshot of a Maza tweet posted on Sunday. "Should 'journalists' be inciting physical violence against those with whom they disagree?" Maza had encouraged his 132,000 folowers to "milkshake them all," and "humiliate them at every turn" so they would "dread public organizing."
Journalists and law enforcement were harassed and assaulted at the scene of the Antifa protests. The demonstrators threw furniture and trash cans, allegedly used pepper spray, and threw various items at officers.
Other have, like Cruz, called Wheeler to account for his non-intervention. UFC athlete Tim Kennedy went so far as to publicly call for Wheeler's resignation.
"What happened to [Ngo] is horrible and inexcusable," he said. "[Wheeler] should be resign for what he has done to #portland." Kennedy also sympathized with the Portland police officers. "The socialists with #antifa are dangerous and un-American."
By John Nolte
We will have to wait and see how and if the debates move the needle within the

Democrat primary

. But what these last two nights have done is clarify a

Democrat Party

that is bound and determined to confiscate our guns, our money and our health insurance. Oh, and then Democrats are going to decriminalize illegal immigration and give our health insurance to illegal aliens.
That is my long way of saying President Trump was the winner of the Democrat debates, because he is the only person standing between us and this:
Tax increases.

Gun confiscations.

Slave reparations

Decriminalize illegal immigration.

No more deporting of illegal immigrants.

Abolish the private health insurance currently held by over 150 million Americans.

Give free health insurance to illegal immigrants.
Three of the four Democrat front-runners, Kamala Harris, Elizabeth Warren, and Bernie Sanders have committed to abolishing our private health insurance plans.
Almost all of the candidates, including those listed above, support forcing law-abiding taxpayers to pay slave reparations.
Every single candidate raised their hand Thursday night, including Joe Biden, when asked if they would offer free health care to illegal aliens.
And all of them, every one of them, promised to stop deportations, this includes Biden — who is supposed to be the sanest of the bunch.
"Should someone who is here without documents, and that is his only offense, should that person be deported?" Diaz-Balart asked Biden.
Biden's answer was clear, "That person should not be the focus of deportation. We should fundamentally change the way we deal with things."
Harris was even more strident: "Absolutely not, they should not be deported."
Buttigieg: "That criminalization, that is the basis for family separation. You do away with that, it's no longer possible. Of course it wouldn't be possible anyway in my presidency, because it is dead wrong."
Man alive.
Oh, and then there is legalizing abortion right up until birth at taxpayer's expense — which the sane one, Biden, also supports.
This kind of "take" is now something of a cliché, but how did President Trump not win last night's debate, when he will almost certainly be up against a Democrat who has promised to raise taxes, open the border, give illegal aliens he will not deport free welfare benefits for life, and decriminalize entering the country illegally while criminalizing gun ownership?
Not to belabor this point, but Biden is supposed to be the sane one, correct? And yet, he went on the record Thursday night promising to outlaw every gun that is not a smart gun, meaning every gun that only operates when it reads the owner's handprints, meaning every single gun being sold today.
"No gun should be able to be sold unless your biometric measure could pull that trigger. It's within our right to do that. We can do that. Our enemy is the gun manufacturers, not the NRA, the gun manufacturers," Biden said.
So much for that housewife being able to fire off a couple of shotgun blasts to scare away an intruder. If her husband or son owns that gun, she will have to use it as a club.
The Democrat Party's vision for America, and I say this without exaggeration, is one where floods of illegal aliens can legally enter our country to enjoy free health and welfare benefits for life while American citizens are stripped of their health insurance, not allowed to defend themselves, forced to pay slave reparations, and hit with massive tax increases to pay for other people's student loans.
How will our hospitals, doctors, and schools handle this influx of millions of illegals?
Only Trump stands between us and this madness.
While it is true that not many people are paying attention right now, what is also true is that these video clips, quotes, and positions will live on forever, are now cemented in the 2020 election.
Secret Service took a cocktail bar employee into custody after he spat at Eric Trump.
By Richard Moorhead
Eric Trump

, the President's oldest son, was spat on by a bar worker during a visit to the

city of Chicago

on Tuesday night.
Trump was patronizing an establishment called 'The Aviary' where he was attacked by an employee of the business.
Sources describe the event as a young woman approaching Trump, expressing anti-Trump political sentiment, and spitting at him. Secret Service took action and detained the woman, and it's said that she was later released without being charged with a crime.
Chicago Police were seen on the scene shortly after the incident.
In a statement to Breitbart News, Eric Trump described the incident as an example of the left's political intolerance and blatant hostility to those who disagree with their vision for society.
"It was purely a disgusting act by somebody who clearly has emotional problems. For a party that preaches tolerance, this once again demonstrates they have very little civility. When somebody is sick enough to resort to spitting on someone, it just emphasizes a sickness and desperation and the fact that we're winning."
The perpetrator of the lowball and profane attack is yet to be named, and will perhaps remain anonymous, since criminal charges don't appear to being pending. Eric Trump was described as declining to press charges against the woman who spat in his face.
The left will settle at nothing to create a potent environment of hostility for those who stand in the way of their dream of total societal and cultural control.
By Joshua Caplan
The

House Permanent Select Committee on Intelligence

on Thursday subpoenaed retired

Lt. Gen. Michael Flynn

and former Trump Deputy Campaign Manager Rick Gates for documents and testimony.
Rep. Adam Schiff (D-CA), the panel's chairman, claims the pair have been uncooperative in Congress's "oversight" investigation into Russian interference in the 2016 presidential election.
"As part of our oversight work, the House Intelligence Committee is continuing to examine the deep counterintelligence concerns raised in Special Counsel Mueller's report, and that requires speaking directly with the fact witnesses," Schiff said in a statement. "Both Michael Flynn and Rick Gates were critical witnesses for Special Counsel Mueller's investigation, but so far have refused to cooperate fully with Congress."
The California Democrat continued: "That's simply unacceptable. The American people, and the Congress, deserve to hear directly from these two critical witnesses. We hope these witnesses come to recognize their cooperation as being with the United States, not merely the Department of Justice."
Flynn and Gates are to turn over documents to the committee by June 26th and sit for an interview, under oath, on July 10th, the subpoena states.
Flynn admitted to making false statements to the FBI regarding conversations he shared with then-Russian Ambassador Sergey Kislyak in 2017, while Gates pleaded guilty to false statements and conspiracy charges related to political consulting efforts he and onetime Trump campaign chairman Paul Manafort undertook for Ukraine. The trio was charged as part of special counsel Robert Mueller's investigation into now-debunked collusion between the 2016 Trump campaign and Russia.
The development comes a day after Flynn, who served as President Donald Trump's first national security advisor, hired seasoned lawyer Sidney Powell as his new counsel as he awaits sentencing.
The former Assistant U.S. Attorney is an outspoken critic of the Mueller probe and has called Andrew Weissmann, often referred to as the special counsel's "pit bull," the "poster boy for prosecutorial misconduct."
The move came after court filings revealed last week that Flynn terminated his lawyers Stephen Anthony and Robert Kelner of Covington & Burling LLP, as his counsel.
President Trump praised Powell's hiring on social media Thursday morning, calling her a "great lawyer."
"General Michael Flynn, the 33 year war hero who has served with distinction, has not retained a good lawyer, he has retained a GREAT LAWYER, Sidney Powell. Best Wishes and Good Luck to them both!" the president tweeted.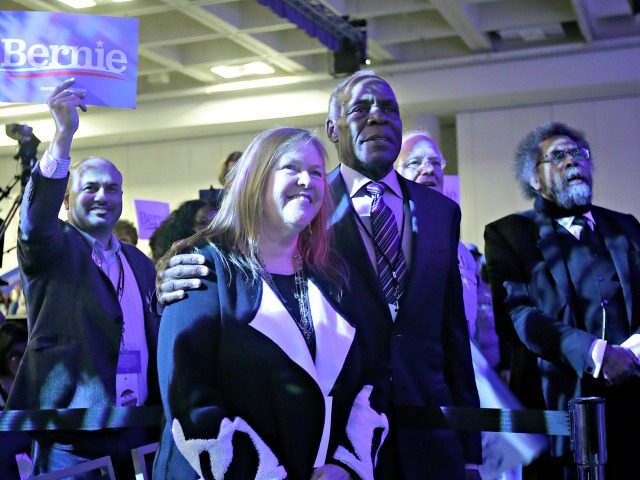 By Haris Alic
A major donor who introduced 2020 Democrat presidential candidate

Sen. Bernie Sanders (I-VT)

at his first 2020 "grassroots fund-raiser" previously advocated for the South to secede so it could stop "dumbing down national politics."
On Saturday, Sanders's presidential campaign hosted a star-studded event in San Francisco, which it billed as "grassroots fundraiser and friendraiser." Tickets for attendance started at $27 and went up to $2,800, the maximum contribution allowed by the Federal Election Commission.
Although the event drew attention with its high-profile speakers, including actor Danny Glover and activist Cornel West, the man who introduced Sanders, Guy Saperstein, received little notice. In its coverage of the fundraiser, The New York Times described Saperstein as a "retired civil rights lawyer" and wealthy "political contributor," who was out of place given Sanders' broadsides against big money in politics.
What the Times failed to mention is that Saperstein, a former president of the Sierra Club, has a long and somewhat controversial history in Democratic politics.
As previously reported by the Washington Free Beacon, Saperstein in 2014 was a member of a private Google group consisting of "progressive organizers, reporters, and campaign apparatchiks." As a member of that group, Saperstein openly discussed his support for Southern secession.
"For more than 100 years, the South has been dumbing down national politics, tilting the country in a conservative direction, supporting militarism, all while demanding huge financial subsidies from blue states," Guy Saperstein wrote in emails to other members. "It would be 100% fine with me if the South was a separate nation, pursuing its own priorities and destiny."
When the emails were leaked to Media Trackers, a now defunct Wisconsin conservative news outlet, Saperstein doubled down on his stance.
"Secession would be a gradual process, giving any blacks who felt threatened time to relocate," he told Media Trackers at the time.
It is unclear if Sanders knew about Saperstein's prior remarks. The senator's campaign did not return requests for comment.
The issue, however, underscores a potential vulnerability for the self-described Democratic socialist from Vermont. During his 2016 presidential campaign, Sanders failed to gain traction in the South. Sanders lost every single state in the region to former Secretary of State Hillary Clinton, the eventual nominee. In some states like South Carolina, where African-American voters make up a large portion of the Democratic electorate, Sanders was defeated by landslide margins.
Saperstein is also a former member of the Democracy Alliance, the secretive group of liberal billionaires—which also includes Tom Steyer and George Soros—that funds Democratic campaigns and causes across the country.
By Greg Reese
A look at the history of

U.S. Antitrust Law

and how it applies to Big Tech.
Infowars reporter Greg Reese explains how Trump can stop the tech giants from destroying free speech.