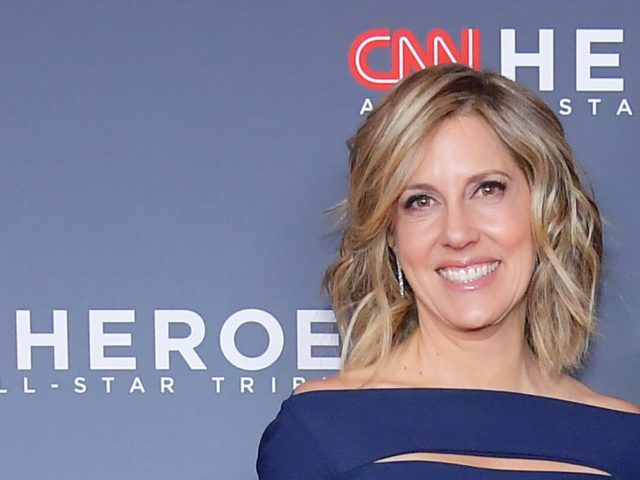 By Joel B. Pollak
CNN

's New Day co-anchor Alisyn Camerota attempted Thursday morning to encourage

Rep. Rashida Tlaib (D-MN

) to undo her apology to

Rep. Mark Meadows (R-NC)

the day before, when she suggested he was a racist.
Meadows had brought Lynne Patton, a senior Trump campaign aide and now an administration official, to submit a statement into the record at the House Oversight Committee defending President Donald Trump from claims by his former lawyer, Michael Cohen, that Trump is a racist. Patton happens to be black and has defended Trump before.
Tlaib — who has faced accusations of antisemitism after making insensitive remarks about Israel — shocked the hearing by calling Patton a "prop" and suggesting it had been racist for Meadows to bring her to the hearing. She cited her own feelings as a "woman of color." (Tlaib is a Palestinian-American.) Meadows, visibly hurt, noted he has relatives who are "people of color." Tlaib apologized to Meadows (though not to Patton herself).
The left then tried to target Meadows, circulating a video from 2012 in which he told a Tea Party gathering that they would "send Mr. Obama home to Kenya or wherever it is." CNN's Anderson Cooper picked up the video and aired it Wednesday night, noting that Meadows had later regretted his remark and asserted his belief that Obama is an American citizen, but suggesting that Meadows might indeed be a racist for reasons other than Tlaib's attack.
On Thursday morning, Camerota hosted Tlaib on New Day. Unlike Cooper, Camerota actually mentioned Patton, playing a clip from a radio show Thursday morning in which Patton had objected to being called a "prop." Cameron described Patton as "the woman who was held up by Mark Meadows without speaking." Tlaib did not apologize to Patton but asserted that she meant "no disrespect to her at all" to Patton, a remark Camerota did not challenge.
Camerota went on to argue to Tlaib that Meadows was, indeed, a racist, and asked her if she regretted her apology.
First, she asserted to Tlaib that "[t]here were people at home that felt that that was tone deaf and insensitive of congressman mark meadows," i.e. bringing Patton to the meeting. "You certainly were not alone in that feeling and so why did you apologize to him?" Camerota cited no evidence of how "people at home" felt. When Tlaib offered an evasive answer, Camerota pressed her: "So do you regret apologizing to Congressman Meadows?"
Tlaib said that she "apologized if I made him feel like a racist," saying that she saw the exchange as a "teachable moment" and did not want to label Meadows as a racist. She added that she was offended by Patton being brought to the hearing and "saying nothing," evidently ignoring the fact that Patton had a statement entered into the record.
That did not satisfy Camerota, who then brought up the 2012 video: "I'm interested in whether or not you can separate a racist statement or a racist act from the person. And case in point, in 2012, you know, Congressman Mark Meadows engaged in the Birtherism talk where he doubted that President Obama was born here. let me just remind our viewers of what he said back then." She played the clip, then asked: "Does seeing that change how you feel about him?"
Tlaib declined to take the bait, ignoring the 2012 video: "Congressman Meadows understood where i was coming from, he knew what my intention was at the end, and that's why he decided to take …  his objections back."
And still Camerota pressed Tlaib: "But just to be clear, you still today feel that he is not racist?"
Tlaib responded: "Look, I feel like the act was. and that's up to the American people to decide whether or not he is."
It was not enough for CNN, Cooper, or Camerota that Tlaib and Meadows had reconciled amongst themselves, with the mediation of committee chair Rep. Elijah Cummings (D-MD). Using a 2012 video that had no relevance to the exchange Wednesday, CNN tried to attack Meadows and to insert racial division where it had been partly healed.
By Molly Prince
The Council on American-Islamic Relations

(CAIR)

announced Monday that Democratic Michigan Rep.

Rashida Tlaib

will be speaking at CAIR-Michigan's annual banquet only days after the

Hamas-linked organization

revealed that fellow Democratic Rep.

Ilhan Omar

of Minnesota will be speaking at CAIR-LA's annual banquet.
CAIR is a notable pro-Palestinian organization with ties to Islamic terror groups. The U.S. Department of Justice listed CAIR as an unindicted co-conspirator in funding millions of dollars to the terrorist organization Hamas. Additionally, the United Arab Emirates (UAE) named CAIR a terrorist organization along with al-Qaeda and the Islamic State in 2014.
Tlaib will be the guest speaker at CAIR-Michigan's 19th annual "Faith-Led, Justice Driven" banquet on March 17, according to the organization's invitation. Single tickets start at $50 per person and a table can cost upwards of $500. Tickets for Omar's March 23 event start at a similar price point. (RELATED: Ilhan Omar To Fundraise For Hamas-Linked Muslim Organization)
Omar and Tlaib became America's first Muslim congresswomen when sworn into office in January. Their time in office has been embroiled in allegations of anti-Semitism.
Tlaib invited a pro-Hezbollah, anti-Israel activist to her swearing-in ceremony and the following private dinner in January. Days later, an op-ed column she wrote in 2006 for Final Call, a Nation of Islam publication founded by Louis Farrakhan, surfaced. She also has come under scrutiny for having ties to other anti-Israel individuals and for questioning the loyalty of Republican lawmakers who support the Jewish nation-state.
Omar has defended anti-Israeli statements, such as ones invoking Allah to expose Israel's "evil doings," and she is on record implying Israel is not a democracy. She gave an interview to a host that referred to Israel as the "Jewish ISIS" and mocked how Americans speak about al-Qaeda and Hezbollah. (RELATED: Rashida Tlaib's Ties To Anti-Semitism Run Deeper Than Previously Known)
Both congresswomen waited until after they won their congressional elections to reveal their support for the Boycott, Divestment and Sanctions (BDS) movement, which seeks to punish Israel by economically depriving the country for its alleged mistreatment of Palestinians living in the Gaza Strip and West Bank. The Anti-Defamation League describes the movement as "the most prominent effort to undermine Israel's existence."
BDS has been metastasizing through college campuses, initially promulgated by Students for Justice in Palestine (SJP), the movement's most visible arm. SJP has been linked to the Islamic terror group Hamas, according to The Washington Free Beacon. Moreover, the U.S. Campaign for Palestinian Rights, the American umbrella group of the BDS movement, has reportedly given money to terrorist organizations like Hamas, Islamic Jihad and the Popular Front for the Liberation of Palestine.
By Laura Loomer
People are finally starting to wake up to the fact that

Ilhan Omar

is an anti-Semitic homophobic jihadi. It took them long enough. But, Ilhan Omar is still lying to the world about who she truly is.
Along with receiving bi-partisan condemnation this week for anti-Jewish comments on Twitter which implied that Jews were paying for political influence, Ilhan Omar took to Twitter with some first class Taqiyya to pander to the transgender community after many began asking questions about how her Islamic ideology is going to impact her decision making as a Congresswoman.
Taqiyya is the Islamic practice of lying about and concealing one's true belief in order to advance the cause of Islam. It is a common practice held by jihadis when they are exposed in the public eye for their pro-terror views. Omar is practicing Taqiyya in the way that she is trying to portray herself as an LGBTQ advocate in light of facing criticism for her anti-Jewish statements, and pro-Islamic terror associations, which have been well documented by Laura Loomer.
Ilhan posted a picture of a letter she wrote in which she called for newly elected Minnesota Attorney General Keith Ellison, to investigate USA Powerlifting after they announced that transgender "women" would not be allowed to compete in Power lifting competitions with real biological women. Omar sent a letter to USA Powerlifting on January  31, 2019 behalf of JayCee Cooper, a male athlete who happens to be one of Omar's constituents and identifies as a transgender woman. In the letter, Omar accused  USA powerlifting of violating Minnesota state laws against discrimination.
"Under the Minnesota Human Rights Act, discrimination against anyone based on their gender identity is illegal. This includes in public accommodations, and in Minnesota, organizations such as USA Powerlifting. In fact, just last month a Minnesota jury awarded Ms. Christina Ginther $20,000 after the Independent Women's Football League refused to allow her to participate because she is transgender," Omar wrote.
"I urge you to reconsider this discriminatory, unscientific policy and follow the example of the International Olympic Committee. The myth that trans women have a 'direct competitive advantage' is not supported by medical science, and it continues to stoke fear and violence against one of the most at-risk communities in the world," she said.
During the 2018 elections in Minnesota, both Omar and Ellison endorsed each other and participated in multiple joint campaign events. Before becoming Minnesota's Attorney General, Ellison served as the representative for Minnesota's 5th Congressional District, a seat that is now occupied by Omar.
In her letter, Omar claims to care about discrimination against the LGBTQ community, which includes transgenders, but her associations, friendships, and history prove that she has a history of homophobia. One of Omar's closest political allies is Linda Sarsour. During Omar's campaign for Congress, Sarsour was often seen campaigning for her, and was even invited as one of her special guests for the Congressional swearing in ceremony. `
Omar, who is a Muslim immigrant from Somalia, has a history of making anti-Jewish remarks and has been endorsed and supported by some of the nation's most notorious Jew haters.
Along with being pro-Hamas, Omar is also close friends with Linda Sarsour. In November, Omar traveled to Dearborn, Michigan where she participated in political events with Sarsour, a rabid anti-Semite and pro-Hamas mouthpiece. Besides being an ardent supporter of Hamas and CAIR, both of which are Islamic terrorist organizations, Sarsour herself often tweets about her hatred for Israel, Zionism, and her desires to implement Sharia Law in the United States. Sarsour endorsed Omar's campaign and was invited as one of the guests to Omar and Rashida Tlaib's Congressional swearing in ceremony on January 3, 2019. 
Linda Sarsour is a radical left wing Muslim Brotherhood activist. On July 1, 2017, Linda Sarsour gave a speech at the 54th Annual Islamic Society of North America (ISNA) Convention in Chicago. During that speech, Sarsour not only infamously called for Muslims to carry out Jihad against President Trump, but she also used her speech as an opportunity to praise Imam Siraj Wahhaj, who has called for the killing of homosexuals.
"And to my favorite person in this room, that's mutual, is Imam Siraj Wahhaj, who has been a mentor, motivator, and encourager of mine. Someone who has taught me to speak truth to power, and not worry about the consequences. Someone who has taught me that we are on this Earth to please Allah and only Allah, and that we are not here to please any man or woman on this earth." Sarsour said. "So I am grateful to you Imam Siraj, and you might think this is weird, but every once in a while, when I get into that deep dark place, Imam Siraj comes and talks to me. And he helps me to emerge out of those places, so I'm grateful to you Imam Siraj, and may Allah bless you and protect you for a long time for our community, because we need you now more than ever."
Siraj was not only named in court documents as an alleged "co-conspirator" in the 1993 bombing of the World Trade Center, but he often calls for the killing of innocents in the name of Islam. Siraj once said,
"If Allah says 100 strikes, 100 strikes it is. If Allah says cut off their hand, you cut off their hand. If Allah says stone them to death, through the Prophet Muhammad, then you stone them to death, because it's the obedience of Allah and his messenger—nothing personal."
"Nothing personal." That is what Siraj, Sarsour's "mentor" and "favorite person" had to say about Islamic terrorism. According to Siraj, it's ok to stone people to death and chop people's hands off, if Allah commands it.
Even more concerning, Siraj is also known for saying, "It is my duty and our duty as Muslims to replace the U.S. Constitution with the Quran."
Wahhaj is also the father of one of two men who authorities arrested on August 8 in New Mexico and described as armed "extremist Muslims" after it was discovered that they had kidnapped 11 children who they were training to become "school shooters".
While fully aware that Siraj is a terrorist co-conspirator, a proponent of Islamic terror, and a supporter of destroying and replacing the U.S. Constitution with Sharia Law, Sarsour still proclaimed Siraj as her mentor. Wahhaj and Sarsour have participated in numerous events together, including events for the Islamic Council of North America (ICNA), which along with CAIR was identified as a Muslim Brotherhood organization in the Holy Land Foundation terrorism trial.
Sarsour, who has a lengthy resume of Jew hatred, is also an ally of CAIR, the Council on American Islamic Relations, which has been found to have direct ties to HAMAS. 
Hamas has also been classified as a designated terrorist organization by the U.S. State Department and is listed as a co-conspirator in the Holy Land Foundation HAMAS terror funding trial in 2008, which is the largest terrorism financing case in U.S. history. In the Covenant of Hamas, which outlines the goals and motive of Hamas and its members, it states that one of its main goals in the destruction of Israel.
"Israel will exist and will continue to exist until Islam will obliterate it, just as it obliterated others before it."
Despite the fact that CAIR has been linked to terror financing and is recognized as a terrorist organization in the majority Muslim United Arab Emirates, Omar has been endorsed by CAIR and has not distanced herself from the group with often works with Wahhaj, who has helped CAIR raise millions of dollars.
Following an FBI raid on a New Mexico compound in which Wahhaj's son was arrested for training children to be jihadi school shooters and orchestrating a terrorist attack on an Atlanta hospital, as confirmed by authorities, CAIR refused to condemn his family's plan to commit terrorism in the name of Islam. Instead, CAIR offered "condolences" to Wahhaj and his family and tweeted about how much they love and support Wahhaj and his family.
"The father of a missing Georgia boy was training children at a New Mexico compound to commit school shootings, prosecutors said in court documents obtained," according to Associated Press. "The documents say Siraj Ibn Wahhaj was conducting weapons training with assault rifles at the compound near the Colorado border where 11 hungry children were found in filthy conditions." Police say Ibn Wahhaj is the father of Abdul-ghani Wahhaj, who went missing from Jonesboro, GA in December 2017. His remains were found on the Jihadi compound.
Yes. This really did happen.
Despite being a jihadist, a co-conspirator in the 1993 World Trade Center bombing, the father of an actual Islamic terrorist, and a raging anti-America Jew hater and homophobe, Wahhaj was the first Muslim to give an invocation in the House of Representatives in 1991.
CAIR Minnesota, which works with Omar in her District where she is now a Congressional representative in Minnesota, describes Wahhaj on their website, "Siraj Wahhaj is one of the most admired Muslim leaders and speakers in America."
On an audio recording found and released by investigative journalist Laura Loomer in August 2018, Wahhaj is heard calling for the killing of homosexuals and referring to homosexuals as "diseased". It is worth noting that many members of the Transgender community are homosexual.
"Brothers and sisters, I don't believe any of you are homosexuals. Some 10% of the America people are homosexuals…."
He goes on to say, "And you know, brothers and sisters, you know what the punishment is, if a man is found with another man? The Prophet Mohammed said the one who does it band the one to whom it is done, kill them both."
Wahhaj is citing a direct phrase from the Prophet Mohammed, who Ilhan, as a devout Muslim, worships and praises everyday. Omar has emphasized to the world how much she loves being a Muslim, but will she condemn the prophet Mohammed and Islam for the way in which it calls for the killing of gays and transgenders? To condemn the prophet Mohammed in Islam is a form of apostasy, which in Islam, is a punishable offense…by death.
Will Omar choose Islam or human rights and life for homosexuals? This is a question she must answer.
It is worth noting that on December 9, 2017, Omar spoke alongside Wahhaj and Sarsour at the Council on American-Islamic Relations San Francisco chapter's (CAIR-SFBA) 23rd Annual Banquet where Omar was happily interacting with Wahhaj, many years after he made these comments in which he called for the killing of homosexuals.
It is time for Ilhan Omar to resign from Congress. How much more anti-American, anti-Jewish, homophobic, and pro-Islamic terror rhetoric will be accepted from this jihadi infiltaror in our Congress before she is finally removed from office and deported back to her country of Somalia for treason and immigration fraud (she married her brother).
If you recall, I was permanently banned by Twitter on November 21, 2018 for exposing Omar. I was banned for posting facts about Ilhan Omar, her Jew hatred, homophobia, and ties to Islamic terrorist organizations.
That day is long overdue, but maybe it will come soon now that the mainstream media is finally playing catch up to my reports about Ilhan Omar which I sent to all of the major news outlets last year.
By Patrick Howley
Democrat Michigan congresswoman Rashida Tlaib wrote a 2006 article for anti-SemiteNation of Islam leader

Louis Farrakhan

's publication The Final Call. (RELATED: Tlaib Lied About Her Residence To Run For Office).
Farrakhan founded The Final Call, which is the Nation of Islam's official newspaper, as an effective continuation of the publications Final Call To Islam and Muhammad Speaks.
READ "Guest Columnist" Rashida Tlaib's piece, "Bills must stop deportations for minor offenses":
"Concern for "national security" has introduced unprecedented insecurity to living in the United States as a legal permanent resident. When a legal immigrant can be deported for the most minor offenses, like omitting information on a form that at the time seemed irrelevant, or forgetting to change one's address, can all be used as a basis to be uprooted from your home and taken away from your family and children," Tlaib wrote.
Writer Jeryl Bier found the story:
Tlaib's office acknowledged the story, stating: "The piece was from 2006 and was not an endorsement of Farrakhan or anyone for that matter. The Congresswoman has not had any direct contact with Farrakhan and condemns his anti-Semitic and anti-LGBTQ views."
I reported for Big League Politics:
Michigan Democrat congresswoman Rashida Tlaib registered to vote from a false address, and represented a state House district that she did not actually live in, according to credit score and property records obtained by Big League Politics.
Tlaib's own father even said that Tlaib "lied" about her address in order to run for office.
Here is what the evidence, presented below, proves:
Rashida Tlaib registered to vote at a false address as she embarked on her first political campaign. "Registering to vote using a false address" is one of a number of crimes that fall into the voter fraud category.
Tlaib ran for and represented the 12th district in the Michigan House of Representatives even though she was not a resident of that district.
Records show that Tlaib was an "Absentee Owner" at the Detroit house she claimed to live in.
Tlaib moved to her official Detroit apartment address, which she reported to the FEC after the election, at the start of her 2018 campaign. Her new address was recorded for the first time one day before she announced her campaign for Congress.
Congressman Jon Bumstead of Michigan told Big League Politics through an intermediary that Michigan state representatives are required by law to live in the district they represent.
Michigan Election Law requires candidates to submit an Affidavit of Identity, where they must provide truthful residence information.
The Tlaib scandal is only getting worse for the Michigan Democrat.
A Change.org petition entitled "IMPEACH RASHIDA TLAIB" is now closing in on 300,000 signatures amid national controversy for Tlaib's profane comments about President Trump.
The petition states: "She lied about living in Detroit using her fathers house address .. she never lived there .. she lived in Dearborn ., her father has verified this .. you must live in the district you are running in to represent .. We demand a full investigation and recount of every vote that she supposedly received.."
It turns out, the petition, started by a Change.org user named Mrs. American Citizen, is correct.
Tlaib's father made a series of comments to Charlie LeDuff of The Detroit News on March 13, 2010, in an article that no longer has an active ink but exists in the The Detroit News archives:
"Now Tlaib's father is piping in. He said his daughter misrepresented her residency when she signed an election affidavit in 2008 with the Wayne County Clerk claiming she was a citizen of Detroit.
According to that affidavit, Tlaib claimed she lived at (redacted) in Detroit. That house is owned in part by her father, Harbi Elabed, and he now says she did not live there and he was only recently made aware that she had claimed so. "She lied," said Elabed, 61, an immigrant from Jerusalem and father of 14 who prides himself on Old World values of parental fealty. "She lied big-time to get elected. I never teach her that way. I teach her the right way. It's my house. She didn't live there. She lived in Dearborn in her house with her husband and boy."
Dearborn is not a part of the 12th House District that Tlaib was elected to represent…
Asked why he was tattling on his daughter, Harbi Elabed said it was a growing litany of transgressions that his daughter committed upon him — culminating in a dispute about care of his aged mother, who suffers from dementia. According to Harbi, his daughter sided against him and in favor of his nephew in a battle of custody, a complete breach of family values, he said."
Detroit News passage from 2010 ends
Wow!
Now let's take a look at each of Rashida Tlaib's real or stated residences over the years (all addresses are redacted from this report).
Rashida Tlaib Moved Into Detroit Apartment To Announce Her Congressional Campaign As A 'Longtime Resident of Detroit"
Rashida Tlaib's swanky downtown Detroit apartment was first reported on February 5, 2018, one day before she announced her candidacy for Congress, according to Verizon Wireless records.
Tlaib announced her campaign on Tuesday February 6, 2018. Her announcement was carried by the Arab Daily News. In that article, Rashida's bio hilariously switches from writing about Tlaib in the third person to declaring "I" at the beginning of the final sentence, revealing that Rashida Tlaib was writing the bio herself. The article identifies Tlaib as "a longtime resident of Detroit."
The Arab News reported: "Former Michigan Legislator Rashida Tlaib announced this week that she is running for Congress in Michigan's 13th Congressional District. Michigan's Democratic Primary election is on August 7, 2018. Rashida Tlaib is a longtime resident of Detroit and the child of Palestinian immigrants. Rashida is a former Michigan State Representative where she served three terms and was appointed as the democratic vice chairwoman of the Appropriation Committee. Rashida made history by becoming the first female Muslim elected to the Michigan Legislature, and only second in the country…
"Rashida has been the recipient of numerous awards, including the Role Model Award from Alternatives for Girls, After School Champion national award, CAIR Michigan's Empowering Muslims Award, Clean Water Action's Clean Water Hero award, recognized as one of Crain's Detroit Business Women to Watch and featured in PBS' Makers Documentary on Women in Politics. I am included in Family Circle magazine's 20 Most Influential Moms of 2016, and was included in New York Magazine's list of Democratic leaders as the "next Obama."
She bought a house in Detroit in 2016 for less than six figures
Rashida Tlaib bought a house in Detroit on May 10, 2016 for $90,600.
This address begins appearing in records in October 2016. The address was deemed to have a "Determined Absentee Owner" during this time period.
She Actually Lived In A House In Suburban Dearborn from 2004 to 2016
Fayez Tlaib and Rashida Tlaib, husband and wife, bought the house on February 26, 2004.
In 2004, Rashida interned for state rep. Steve Tobocman, and joined his staff in 2007.
Rashida Tlaib was elected in the 12th district — southwest Detroit — in 2008, replacing Tobocman.
She got 14,176 votes (more than 90 percent) of the vote in the district.
But Rashida Tlaib, resident of the nearby suburbs of Detroit, actually lived in the 15th district ("Dearborn, excluding northeast tip") where Gino Polidori got more than 77 percent of the vote, winning his third term.
Tlaib fraudulently won the primary in the district in August 2008.
In 2013 she tried to run for state senate in district that includes part of Dearborn, where she actually lived, but she lost the race and her state legislative career ended.
Rashida and Fayez sold the house as a couple to Fayez, now unmarried, on December 20, 2016.
They as a couple sold the house to him on December 20, 2016, he was listed as an unmarried man
"Owner Occupied" was the official credit rating on that address in Dearborn.
She Fraudulently Claimed Her Father's House As Her Own Residence To Register To Vote And Get Her Driver's License in Detroit Instead of Dearborn, where she lived
An official in the University of Michigan-Dearborn's "Office of Metropolitian Impact" purchased this house, built in 1923, from Rashida Tlaib on July 7, 2017 for $59,000.
This is the address that Rashida Tlaib used when she registered to vote on March 5, 2008.
She used that address on July 24, 2013 for an official issuance.
Kaminske Living Trust sold it to her and Fayez on April 27, 2009 in separate purchases of $31,000 each.
On May 2, 2016, Rashida Tlaib sold it to Fayez Tlaib for an undetermined amount.
Guess what a 2016 report labelled this property at the time Rashida sold it: "Determined Absentee Owner."
Meaning, Rashida Tlaib was not living there.
By Peter Hasson
Democratic Rep. Rashida Tlaib

wrote a column for Nation of Islam publication Final Call in 2006.

Final Call was founded by

Louis Farrakhan

and is "the official communications organ of the Nation of Islam."

Farrakhan is a notorious anti-Semite who has described Jews as "satanic" and praised

Hitler

as a "very great man."

Tlaib has already faced scrutiny over other ties to anti-Semitism.
Democratic Michigan Rep. Rashida Tlaib in 2006 wrote an op-ed column for Final Call, a Nation of Islam publication founded by Louis Farrakhan, in the latest tie to emerge between the congresswoman and anti-Semitic figures.
Tlaib authored the column in 2006, while working as the advocacy coordinator for the Arab Community Center for Economic and Social Services (ACCESS), two years before she first won election to the state legislature. Tlaib was described as a "guest columnist" in the article, which argued against deporting immigrants found guilty of "minor offenses."
Final Call describes itself as "the official communications organ of the Nation of Islam" and was founded by the group's leader, Farrakhan, according to Final Call's website.
Farrakhan's history of unapologetic anti-Semitism including describing Jews as "satanic" and praising Hitler as a "very great man," was well established by 2006.
Final Call has published a steady stream of articles defending Farrakhan from charges of anti-Semitism.
An October 2018 Final Call article quoted Farrakhan's social media director, Jesse Muhammad, saying the backlash was proof that Farrakhan "must have sprayed some form of termite repellant that stirred up those that have practiced and continue to practice Talmudic ways by eating at the foundation and the carcass of a dead people chosen by God."
Tlaib's office did not immediately return a request for comment. Conservative writer Jeryl Bier on Monday first noted Tlaib's Final Call oped.
Tlaib has already come under fire for her ties to other anti-Israel radicals, as well as her support for the anti-Israel Boycott Divest Sanction (BDS) movement, which has often overlapped with anti-Semitic causes.
A key fundraiser for Tlaib's 2018 congressional campaign, Abdel-qader Maher, repeatedly promoted anti-Semitic conspiracy theories on Facebook, both on his own page and within a Facebook group that includes Tlaib.
Abdel-qader took credit on Facebook for organizing fundraisers for Tlaib among Arab-Americans, pulling in hundreds of thousands of dollars for her campaign. Photos he's posted on social media show him speaking at Tlaib campaign events.
Tlaib also came under fire after posing for a picture with Palestinian activist Abbas Hamideh, a supporter of Hezbollah who believes Israel shouldn't exist, at her swearing-in ceremony.
Tlaib claimed she didn't know him, though she had previously posted a picture with him on Facebook.  (RELATED: Maxine Waters Attended Nation of Islam Convention Where Farrakhan Defended Suicide Bombers)
Women's March co-chair Linda Sarsour was an early supporter of Tlaib, who has continued to support Sarsour's organization, despite its own anti-Semitism issues. Sarsour and another co-chair, Tamika Mallory, have faced scrutiny over their support of Farrakhan and the Nation of Islam.
Sarsour was unapologetic about the Farrakhan controversy less than two weeks ago, in a taped podcast with left-wing media outlet Democracy Now.
Sarsour lashed out at critics of her support for Farrakhan, and called for "accountability" within "our communities" because "we made Tamika Mallory and Linda Sarsour and Minister Farrakhan literally the whole story instead of focusing on the real threats to our communities, which is white nationalism."
Sarsour then suggested that Jewish people had mishandled the controversy, and urged them to have "hard conversations" in order to avoid "imposing [their] trauma" on others:
So, what I'm, we have been asked and demanded of many things. And we have came out and said we understand and we hear the pain. And I understand. I've been working with Jews for over 20 years. I understand historical trauma. And a lot of this comes from historical, the reasons why people backlash is because they respond from a place of trauma. Black people have historical trauma. Lots of people have historical trauma. But we have to sometimes go back to our communities and say, "Let's heal. Let's find ways to deal with this trauma so that we're not imposing our trauma on others who are also traumatized, and focusing on the people that are causing the trauma to our communities."
By Kristine Marsh
The networks along with cable news Wednesday morning continued reporting on the alleged hate crime against black, gay Empire actor

Jussie Smollett

by Trump supporters, that he said happened at 2 AM Tuesday morning. Despite Chicago P.D. statingthat they have scoured through hundreds of hours of security camera footage and haven't come up with any evidence supporting Smollett's claims,

Hollywood

rushed to blame President Trump and the right for the attack.
Smollett, who also happens to be a liberal, anti-Trump activist, claimed that two white guys in ski masks beat him up, put a noose around his neck and scoured bleach on him, all the while shouting racial, homophobic slurs and saying "This is MAGA country." In downtown Chicago, at frigid temperatures, at 2 AM in the morning. The only proof of this encounter thus far is the actor's word, yet Hollywood came out to blast Trump and his followers on social media:
Activist and director Rob Reiner tweeted that Trump was to blame because he "injected hatred into the American bloodstream:"
Actor Billy Eichner tweeted that even if there was no proof, he still doesn't doubt Trump supporters were capable of doing such a heinous act:
Grey's Anatomy star Ellen Pompeo directly blamed Trump followers for the attack, on her Instagram account, which has 5.9 million followers:
"These punks …these haters …who are filled with fear and insecurity who continue to spread hate and violence in the name of this administration must be called out at every turn," she seethed.
Cher, with her ever-coherent ramblings tweeted blame at "NPR, VILLAINY, RACISM, HOMOPHOBIA, PROMOTED BY MOST INFAMOUS CLOWN IN WORLD IS THE POISON THAT KILLS AMERICANS WHITE ONLY IS NOT RIGHT…GOP GOES DOWN WITH SHIP."
Fellow Empire actor Taraji P. Henson seemed to refer to Trump as "the devil" and his supporters, "his minions" in an Instagram post. She wrote, "I tell you one thing HATE WILL NOT WIN!!!! My baby is resilient and love still lives in him. The devil and his minions are very busy right now…."
Actress Regina King tweeted that hateful bigots were being "emboldened" right now:
Dozens more celebrities came out blasting America's "hatred" towards gays and black people, while not name-dropping Trump or conservatives, specifically.
Democrats all came out with similar expressions of horror and disgust as well, some directly pointing fingers at Trump, such as anti-Semitic Democrat Rashida Tlaib, who blamed "the right wing:"
You would think the left would learn by now to let the facts come in before passing judgement, after how the media hyped the fake Covington narrative and the Buzzfeed "bombshell," but that doesn't seem to be the case.