Published on Apr 16, 2019
The YouTube and Twitch star added that he wants conservatives "excised" from the United States.
By Tom Pappert
The popular Twitch and YouTube streamer

Destiny

, real name

Steven Donnell

, recently called for "real violence" against conservatives while streaming with a guest.
Donnell, who has grown a reputation for using crass language to describe his views, told his guest that he "hates" conservatives, and has moved on to the "real violence level" when it comes to how to deal with them.
"You really do hate conservatives, don't you?" Asked his guest during the Twitch live stream, to which Donnell responded in the affirmative.
"Very much so," he said. "I've moved full on to the political violence level, or the real violence level, when it comes to conservative people."
This striking call for violence is far less vague than the alleged threat used by Big Tech platforms to ban Alex Jones, who was banned from Twitter after he simply encouraged his viewers to sleep "with their battle rifles ready" to prepare for defense.
Donnell, however, continued by saying he believes conservatives should be physically removed from the United States.
"Yeah, I think they need to be excised from my f*cking country. I think they are demonstrably f*cking evil people by any moral system that most people would use," said Donnell, adding, "I just hate them because they tend to destroy the outcomes related to this country, which is what I'm concerned about, yeah, absolutely."
This type of behavior would seem to directly contradict Twitch's community guidelines, which state that "Hateful conduct is any content or activity that promotes, encourages, or facilitates discrimination, denigration, objectification, harassment, or violence based on race, ethnicity, national origin, religion, sex, gender, gender identity, sexual orientation, age, disability, medical condition, physical characteristics, or veteran status, and is prohibited."
Big League Politics and others have attempted to contact Twitch to understand why Destiny is allowed to advocate violence on its platform. We have not received a response.
Donnell grew an audience streaming popular video games including Call of Duty, League of Legends, and Starcraft. He was previously banned from Twitch for using homophobic slurs and derogatory remarks about the disabled, including use of the words "faggot" and "retard." He was eventually allowed to rejoin the platform.
He was also banned from Twitter after threatening to bomb a Cox Communications Internet node, though he maintained it was a joke.
By Tyler Durden
The

UK

has

denied asylum

to an Iranian man because he said on his application that he converted from Islam to the "peaceful" religion of Christianity, according to The Independent.
The Home Office quoted excerpts from the bible in the man's rejection letter – saying the book of Revelations is "filled with imagery of revenge, destruction, death and violence," and concluded that "These examples are inconsistent with your claim that you converted to Christianity after discovering it is a 'peaceful' religion, as opposed to Islam which contains violence, rage and revenge."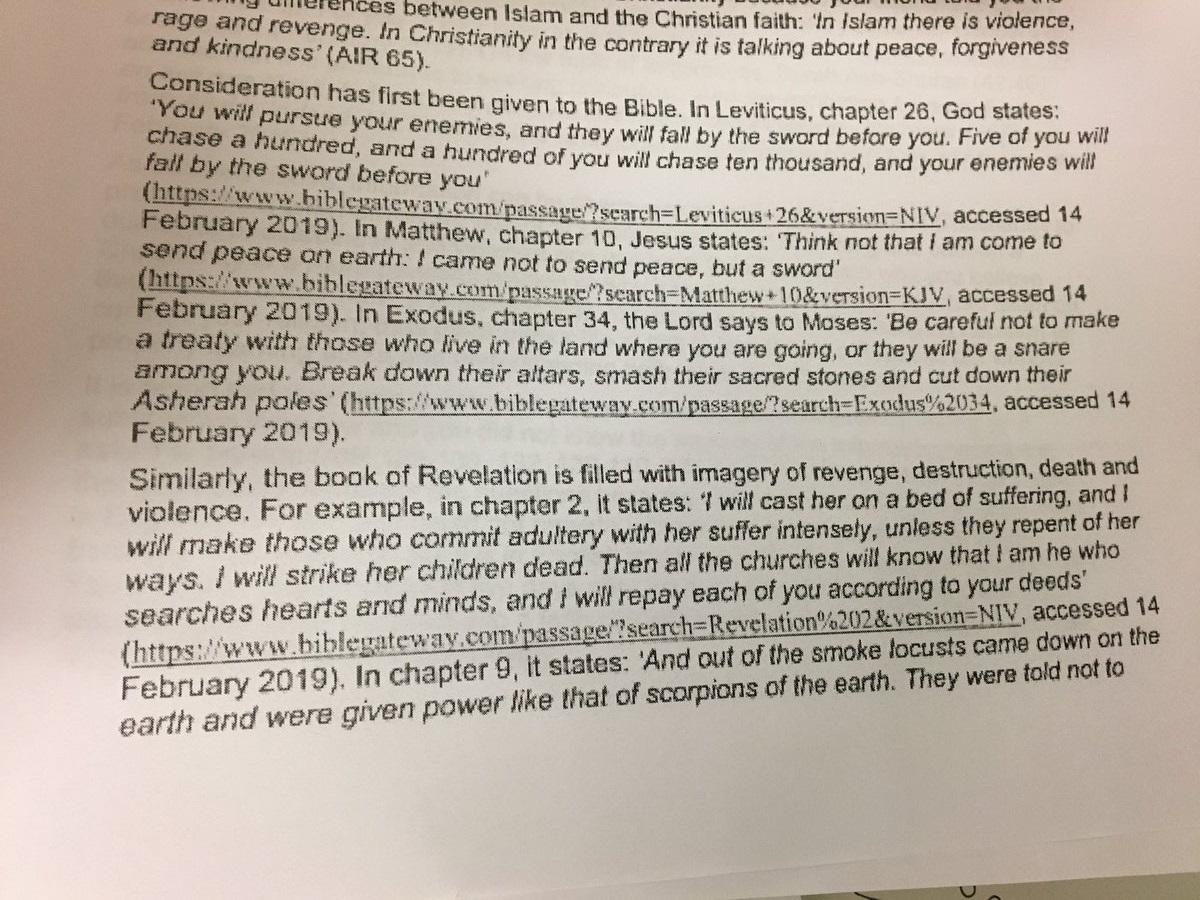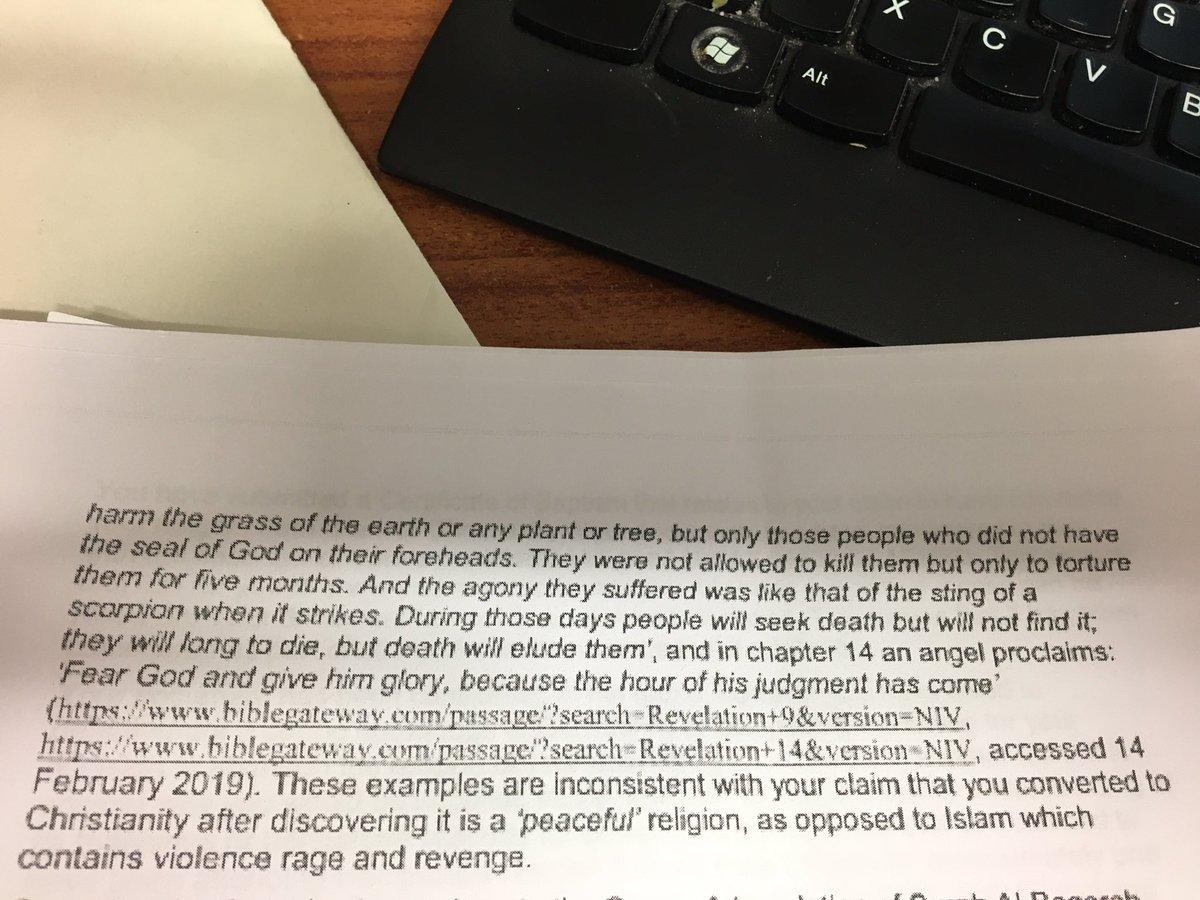 When contacted by The Independent, the Home Office essentially said "our bad" – claiming that the letter was "not in accordance" with proper policies for claims based on religious persecution, and that it was working to improve employee training.
Lawyers and campaigners said the case demonstrated a "distortion of logic" and a "reckless" approach to asylum seekers' lives, stemming from a tendency by the department to "come up with any reason they can to refuse" cases. –The Independent
The asylum seeker's caseworker, Nathan Stevens, tweeted "I've seen a lot over the years, but even I was genuinely shocked to read this unbelievably offensive diatribe being used to justify a refusal of asylum."
According to the latest immigration statistics, there has been a marked increase in incorrect asylum refusals – with successful appeals up 5% since 2015-2016.
"You can see from the text of the letter that the writer is trying to pick holes in the asylum seeker's account of their conversion to Christianity and using the Bible verses as a tool to do that," said legal expert Conor James McKinney – deputy editor of the website Free Movement. McKinney said the case was a symptom of the Home Office's reputation to "come up with any reason they can to refuse asylum."
"The Home Office is notorious for coming up with any reason they can to refuse asylum and this looks like a particularly creative example, but not necessarily a systemic outbreak of anti-Christian sentiment in the department." -Conor James McKinney
The case is a "particularly outrageous example of the reckless and facetious approach of the Home Office to determining life and death asylum cases," said Sarah Teather, director of the Jesuit Refugee Service (JRS) in the UK. Teather added that JRS frequently encounters cases where asylum has been refused on "spurious grounds," adding "Some of these cases require more legal knowledge to recognise than this bizarre misquoting of the Bible, but as this instance gains public attention, we need to remember it reflects a systematic problem and a deeper mindset of disbelief, and is not just an anomaly that can be explained away."
Today's episode of "not a national emergency" has a tragic ending.
An

illegal alien

whom Immigration and Customs Enforcement

(ICE)

tried to deport nine times has been arrested for murder in California.
"Suspect Carlos Eduardo Arevalo Carranza, a Salvadorian national, was arrested Monday and booked into jail for murder," according to NBC Bay Area. "U.S. Immigration and Customs Enforcement said agents tried to deport Carranza nine times before, but their detainers were not honored in both Los Angeles and Santa Clara counties."
The report said that ICE was not notified any of the times that Carranza was released from custody, which is typical of sanctuary city policies. Carranza already has several felony convictions on his criminal record.
"In Santa Clara County alone, Carranza has prior convictions for kidnapping, drug possession, battery on a police officer, trespassing and burglary. Carranza was diagnosed with psychosis back in 2016, according to a source," the report said.
Trending: Fox News Producer's Anti-MAGA Tweets EXPOSED After Fox Condemns Judge Jeanine
He allegedly murdered 59-year-old Bambi Larson, who police found stabbed multiple times in her South San Jose home.
ICE was displeased with the way the state handled Carranza's previous convictions, and it's lack of willingness to work with the federal law enforcement agency?
"How many more people have to be killed or injured before California lawmakers will open discussions to revise the state policy prohibiting local law enforcement agencies from working with ICE to apprehend dangerous criminal aliens?" said Erik Bonnar, an acting field office director for ICE.
"It's unfortunate that our communities face dangerous consequences because of inflexible state laws that protect criminal aliens. These sanctuary policies have unintended, but very real, and often tragic consequences to public safety."
"We will never bow to the mob. Ever. No matter what."
By
A Soros-linked media group sought to launch a character assassination smear against Fox News host

Tucker Carlson

over the weekend, seeking to get the ratings kingpin fired from the cable news channel and ostracized from "polite" society over recordings of a few backroom jokes with some radio show hosts around a decade ago.
The old audio from a decade ago surfaced from a Media Matters operative, a progressive group funded by George Soros.
Operatives from the organization had hoped that Carlson would profusely apologize, back down, and retire from public life, thus silencing a leading critic of the progressive left's push for total political, social and cultural control over American life.
Media Matters had been hoping for a "apology," potentially creating a window for the progressive hate mob to flood Fox with calls for Tucker's firing.
Instead, the Tuck fired back with a scathing takedown of the progressive mob that will leave the Soros-funded operatives with a rhetorical smackdown they won't soon forget.
Watch here:
Tucker's takedown of classic and time-tested leftist character assassination tactics could represent the first chink in neutralizing them as one of the most effective political tools of the progressive left.
Liberals are compelled to try and oust individuals like Tucker because he represents a threat to their political power- not because they're genuinely morally outraged over a few jokes Tucker told a radio host ten years ago.
Tucker brought up the Covington Catholic hate hoax earlier this year- highlighting it as an example of another incident when conservative leaders were all-but prepared to let a few innocent boys be defamed by progressives.
Yet, a few fearless truth-seekers stood up, standing up to the mob and exposing a dastardly hate hoax.
The sooner conservatives, patriots and right wingers learn to simply shrug off the "deceit and enforced silence" demanded of them by progressives, the sooner the left becomes utterly powerless and doomed in the American political arena.