Commentators refusing to give

China

credit for containing the

Covid-19

outbreak in Wuhan and citing

'Asian democracies'

as better examples simply envy Beijing's efficiency, the Chinese embassy in France has said.
China, from which the coronavirus spread throughout the world, has largely succeeded in containing the disease, according to official updates. Wuhan, the epicenter of the outbreak, has recorded no new cases in a week and has been lifting the restrictions that helped quash the pandemic.
Beijing sees the outcome as a success story and finds it irritating when commentators in countries currently overwhelmed by the virus insist they have nothing to learn from the Chinese experience. At least that's what's suggested in an article published this week by the Chinese embassy in France, where the Covid-19 death toll may soon exceed China's.
Negative commenters "envy the efficiency of our political system and hate the inability of their own nations to perform as well. So they try to stick the 'dictatorship' label on China," the embassy said.
Instead, detractors praise 'Asian democracies' like South Korea, Japan and Singapore, which have been more successful than Western nations in containing the pandemic. However, China, which resorted to more drastic quarantine measures than those countries, has a much bigger population. So its task in fighting the disease was far more difficult, the article argued. Ultimately, the virus doesn't care whether it is ravaging a 'democracy' or an 'autocracy.'
With the threat of coronavirus diminishing at home, Beijing has been busy building goodwill and sharing expertise with other nations affected by the pandemic, sending doctors and aid supplies to those in need.
Serbian PM: 'Fake news' that we don't appreciate EU help, but Covid-19 aid came from China
This 'mask diplomacy,' as some commentators call it, has drawn quite a lot of negative feedback on both sides of the Atlantic Ocean. Critics say the help comes with political strings attached, undermines European solidarity, and damages targeted nations' relations with the United States.
There is also a popular narrative claiming that China has massively misreported the human cost of containing the pandemic. The latest item to fuel it is the reported delivery of about 2,500 urns to a funeral home in Wuhan.
Links to the urns story inevitably popped up in comments to the Chinese embassy's Twitter feed, after it published excerpts from the article.
By Jose Nino – Mar 30, 2020
According to Reuters, 

Abbott Laboratories

recently unveiled a

Wuhan virus

test that can detect if someone is infected in as few as five minutes.
Additionally, it is small and portable enough to be used in practically all health-care settings.
The medical device manufacturer plans to bring 50,000 test kits to the market starting on April 1, 2020 according to a statement from John Frels, vice president of research and development at Abbott Diagnostics.
The U.S. Food and Drug Administration gave Abbott emergency use authorization "for use by authorized laboratories and patient care settings," according to a company announcement on March 27, 2020.
The U.S. has had problems to supply sufficient amounts of tests to detect the virus, even as the outbreak is straining hospital resources in California, New York, Washington, and other regions.
"This is really going to provide a tremendous opportunity for front-line caregivers, those having to diagnose a lot of infections, to close the gap with our testing," Frels stated. "A clinic will be able to turn that result around quickly, while the patient is waiting."
The technology expands upon Illinois-based Abbott's ID Now platform, the most common point-of-care test currently available in America. The platform has more than 18,000 units spread across the country. It is generally used to detect influenza, strep throat, and respiratory syncytial virus, a common ailment that generally causes cold-like symptoms.
The equipment can generally be used anywhere, but the company is working with its customers and the Trump administration to guarantee that the first cartridges used to carry out the tests are sent to locations where they are most needed. The prime spots include hospital emergency rooms, urgent-care clinics, and doctors' offices.
Yet blamed Trump's early "denial" for spread of coronavirus.
By Paul Joseph Watson -30 March, 2020
A video clip from late February shows

Nancy Pelosi

encouraging large groups of people to congregate in San Francisco's Chinatown before she would later go on to blame President Trump's early "denial" for the spread of

coronavirus

.
The footage, which was taken on February 24th, is introduced by a reporter noting how Pelosi wanted residents to understand how it's "perfectly safe to be here" in Chinatown.
"We do want to say to people, come to Chinatown, here we are…come join us," said Pelosi.
The reporter then explains how the stunt was a response to San Francisco's Chinatown experiencing a drop in business since the outbreak of coronavirus in Wuhan, China.
San Francisco has since recorded 340 confirmed cases of coronavirus and 5 people have died.
The video is particularly eye opening since yesterday on CNN, Pelosi blamed President Trump's "denial at the beginning" for the spread of coronavirus throughout the United States.
The video underscores how many officials flouted the very social distancing measures they now amplify because at the time stopping bigotry towards Chinese people was seen as being of greater importance than preventing the spread of coronavirus.
As we previously highlighted, health officials in New York gave identical advice, urging residents to gather in crowds to celebrate the Chinese Lunar New Year.
"Today our city is celebrating the #LunarNewYear parade in Chinatown, a beautiful cultural tradition with a rich history in our city," wrote New York City Health Commissioner Oxiris Barbot. "I want to remind everyone to enjoy the parade and not change any plans due to misinformation spreading about #coronavirus."
Her message was echoed by Mark D. Levine, Chair of New York City Council health committee, who lauded how "huge crowds gathering in NYC's Chinatown" was a "powerful show of defiance of #coronavirus scare," tweeting four images of large groups of people gathered to celebrate the occasion.
Mayor Bill de Blasio also urged New Yorkers to "get out on the town despite coronavirus" and visit the cinema as late as March 2nd.
As we highlight in the video below, back in February, leftist officials in Italy were also urging citizens to go outside and hug Chinese people in order to fight racism.
Some continue to ignore social distancing rules.
By Paul Joseph Watson – 26 March, 2020
An

Italian mayor

has threatened to send police armed with flamethrowers to break up graduation parties as some people continue to ignore social distancing rules despite a nationwide lockdown.
"I'm getting news that some [people] would like to throw graduation parties," said Vincenzo De Luca, mayor of the Italian town of Campania. "We will send police. With flamethrowers."
Meanwhile, Massimiliano Presciutti, the mayor of Reggio Calabria, accused some Italians of behaving as if they were in the dystopian sci-fi movie I Am Legend by walking their dogs too much.
"Where the f*** are you all going? You and your dogs… which must have an inflamed prostate?" asked Presciutti.
The mayor said he had personally confronted one such individual.
"I stopped him and said, 'Look, this isn't a movie. You are not Will Smith in I Am Legend. Go home."
Antonio Tutolo, the mayor of Lucera, also slammed people for arranging for mobile hairdressers to visit their homes.
"Getting in mobile hairdressers? What the f*** is that for? Who the f*** is supposed to even see you with your hair all done in a casket? Do you understand the casket will be closed?" he said.
At least 40,000 people were fined for being outside without good reason during the first week of the lockdown in Italy, with some facing 21 years in prison.
"Even gatherings like funerals have also been banned," reports Zero Hedge. "At least 50 people in Sicily are facing serious criminal charges after breaking the quarantine order after having a funeral for a loved one."
Meanwhile, across Europe, one particular demographic appears to be paying no attention to lockdown laws whatsoever – migrants.
Not the brightest idea.
By Paul Joseph Watson – March 26, 2020
A video clip out of India shows

Muslim women

defying social distancing rules by gathering in groups in the street while claiming they are immune to

coronavirus

.
Yes, really.
The women were gathered to protest against the India's Citizenship Amendment Act (CAA), which they claim discriminates against Muslims, and were not about to let a deadly global pandemic stop them.
One woman claimed that coronavirus was predicted in the Koran and that "death will come anyway, don't frighten us by using this virus."
"Allah is great, Allah sent this coronavirus," claimed another woman, adding, "Allah makes decisions about who needs to live and who needs to die."
"Here we are standing in groups. Nothing will happen to us. No disease can infect us," she added.
Another woman claimed the only people afraid of coronavirus were those who lived in fear.
Well, I suppose at least some of them were covering their faces.
This week the Indian government announced that 80 cities would go under complete lockdown with trains and buses suspended and markets, malls, cinemas, schools, colleges and gyms all closed.
As we highlighted yesterday, there was also a large protest march against coronavirus in Egypt, with footage showing crowds of men walking down the street shouting "Allahu Akbar" in 'defiance' of COVID-19.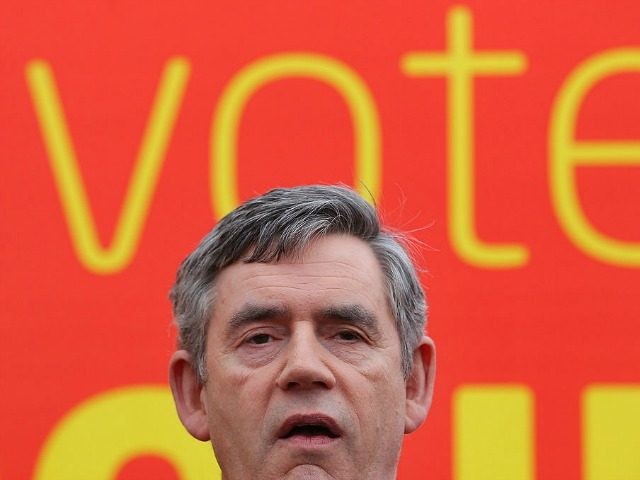 By Simon Kent – 26 Mar 2020
Now is the time for global leaders to create

one world government

to tackle the twin medical and economic crises caused by the

Chinese coronavirus

pandemic, former

UK Prime Minister Gordon Brown

urged on Thursday.
The left-wing former Labour leader said there was a need for a taskforce involving world leaders, health experts and the heads of international organisations that would have supreme and unfettered executive powers to coordinate the response.
He gave no indication of who would appoint the "leaders," how long they would serve for or just what their powers would involve, the Guardian reports.
Brown simply wants a new layer of global supra-government to force a solution to a crisis that began in Wuhan, China.
"This is not something that can be dealt with in one country," he said. "There has to be a coordinated global response."
Brown said the current crisis was different to the one he was involved in 2008 during the global financial crash. "That was an economic problem that had economic causes and had an economic solution.
"This is first and foremost a medical emergency and there has to be joint action to deal with that. But the more you intervene to deal with the medical emergency, the more you put economies at risk."
Brown said his proposed global taskforce would fight the crisis on two fronts. There would need to be a coordinated effort to find a vaccine, and to organise production, purchasing and prevent profiteering.
"We need some sort of working executive," Brown said. "If I were doing it again, I would make the G20 a broader organisation because in the current circumstances you need to listen to the countries that are most affected, the countries that are making a difference and countries where there is the potential for a massive number of people to be affected – such as those in Africa."
The World Bank and the International Monetary Fund needed an increase in their financial firepower to cope with the impact of the crisis on low- and middle-income countries, he said.
By Cristina Laila – March 26, 2020
Los Angeles

Mayor Eric Garcetti

already announced that the city will be shutting off water and power to any non-essential businesses that defied orders and stayed open during the

Coronavirus

crisis.
During his Tuesday press briefing Garcetti announced that the Department of Water and Power will be shutting off services for the businesses that don't comply with the "safer at home" ordinance.
The Los Angeles Mayor also warned of mass deaths, condemned Trump's "false hope" of the country reopening soon and said his city will be on lockdown until at least May, maybe even longer.
Garcetti made these remarks to Business Insider after 12 deaths were confirmed in Los Angeles due to Coronavirus. TWELVE.
Via Business Insider:
Los Angeles residents will be confined to their homes until May at the earliest, Mayor Eric Garcetti told Insider on Wednesday.

"I think this is at least two months," he said. "And be prepared for longer."

In an interview with Insider, Garcetti pushed back against "premature optimism" in the face of the COVID-19 pandemic, saying leaders who suggest we are on the verge of business as usual are putting lives at risk.

"I can't say that strongly enough," the mayor said. Optimism, he said, has to be grounded in data. And right now the data is not good.

"Giving people false hope will crush their spirits and will kill more people," Garcetti said, adding it would change their actions by instilling a sense of normality at the most abnormal time in a generation.

"This will not kill most of us," he said. "It will kill a lot more people than we're used to dying around us."
President Trump said during a Fox News town hall that he would like to have the country back open for business by Easter.
"I would love to have [the country] open by Easter," Trump said on Tuesday. "It's such an important day for other reasons."