"It's almost like they're trying to destroy our country."
JUNE 25, 2019
Tucker Carlson

slammed warmongers lobbying for an attack on Iran by pointing out they're the same people pushing to open America's borders to migrants from the Middle East.
The Fox News host went on the offensive once again over criticism of President Trump's decision to call off an attack on Iran at the last minute.
Indeed, Carlson has reportedly been privately advising Trump on the lunacy of getting the United States entangled in yet another Middle Eastern quagmire.
Tucker mocked mocked neo-con Washington Post columnist Hugh Hewitt for "accusing the president of being a weakling for not launching a trillion dollar war over a broken robot."
"Isn't it the same people who are pushing us to war in the Middle East, who are also telling us we have to accept the populations of the country in the Middle East coming to our country – how's that work?" asked Carlson.
His guest agreed that this was "a very strange concept" before Tucker ended by saying, "It's almost like they're trying to destroy our country."
CNN

White House correspondent and professional Donald Trump antagonist

Jim Acosta

warned his "friends" in the conservative media that they could face the same treatment the liberal press now gets if the other side takes power.
"To our friends in conservative media, I say this: It is no guarantee that you get to stay in power forever," Acosta said during an interview with CNN's Anderson Cooper on Monday.
Acosta suggested that while conservative news groups have been favored by the current administration, they might not be so lucky the next time a Democrat takes the White House, given the dangerous precedent.
CNN's Jim Acosta tweets vital news that Trump 'put on 4 pounds'… and gets savaged in replies
His comments came alongside the release of his new book 'The Enemy of the People', which covers Trump's troubled relationship with the press. Purporting to take a "big picture" look at the "dangers of telling the truth in America," the book hopefully approaches issues of a slightly higher-caliber than the correspondent's report on Trump's slight weight gain earlier in the year.
Bordering on catty, the CNN correspondent and Trump's history has been long and rocky, complete with a number of verbal spars at press conferences. In the most infamous occasion, Acosta even had his press pass revoked after he appeared to tussle with a White House intern over the microphone. He was eventually able to get his credentials restored after a legal challenge.
While Acosta is one of the few individuals to have been personally labeled as "fake news" by the president, Trump has certainly not been stingy in giving the moniker to liberal leaning news sources. Alongside the "failing" New York Times and the Washington Post, CNN has taken the brunt of the president's ire toward the media, having once even earned the unprecedented designation of "VERY fake news."
By Cristina Laila
Congressman Elijah Cummings

' wife is breaking the law by refusing to hand over documents on her nonprofit, a lawyer said.
Cummings' wife Maya Rockeymoore is breaking the law by not handing over requested records on her nonprofit, a legal expert told the Daily Caller News Foundation. 
Last week it was first reported by the Washington Examiner that a charity run by Maya Rockeymoore, the wife of Rep. Elijah Cummings, received millions from special interest groups and corporations that had business before her husband's committee.
Democrat Maryland Rep. Elijah Cummings, Chairman of the House Oversight Committee was in very poor financial condition and heavily in debt due to unpaid child support to three women he had children with — until the last 10 years or so after he married his young, politically connected wife, Maya Rockeymoore.
At least three different groups have requested records from Maya Rockeymoore and she is refusing to hand over the documents, even though the law requires it, via the Daily Caller:
"Wow. That's illegal," Sally Wagenmaker, a Chicago attorney who specializes in nonprofit tax law, told TheDCNF. "It's interesting and sad. You have the right to get them. The organization absolutely is required to provide the information, so to not do so would appear to be flaunting the law."

"As a family member of an elected official, we'd expect high-road, integrity and compliance. If anyone should be responding promptly, it should be her. He should be above approach."

"One of the policy reasons for disclosure is to be able to to illuminate conflict of interest, and the media's role is to help illuminate that: is she trying to hide information, is she being secretive, does she think she's above the law? And one of the ways that happens is through the required disclosure of 990s," Wagenmaker said.
Tom Anderson, an investigator with the conservative leaning NPLC told the Daily Caller that his group called Maya Rockeymoore and she refused to engage, repeatedly asking, "And how can I help you?"
"We called the phone number for the nonprofit and she answered it like her personal cell. Then every time we asked a question, she just kept repeating 'And how can I help you?' And then finally hung up. It was so creepy.

"We pointed out that it was required by law, and her response was 'And how can I help you?' It was so weird."

"It's against the law. You have to hand those over. We're a 501(c)(3) and if George Soros or a 10-year old kid requested our 990, we'd have to hand it over on the spot. The idea that she thinks she doesn't have to is outrageous."
The backstory, via The Washington Examiner:
Rockeymoore runs two entities, a nonprofit group called the Center for Global Policy Solutions and a for-profit consulting firm called Global Policy Solutions, LLC, whose operations appear to have overlapped, according to the IRS complaint filed by watchdog group the National Legal and Policy Center on Monday. The complaint states that the arrangement may have been used to derive "illegal private benefit."

Global Policy Solutions received more than $6.2 million in grants between 2013 and 2016, according to tax records. Several of the nonprofit group's financial backers — which included Google, J.P Morgan and Prudential — have business interests before the House Committee on Oversight and Government Reform. Cummings has served as Democratic chairman of the committee since January and previously served as ranking member.
Cummings blasted a complaint to the IRS against his wife as "baseless," and a "political hit job" in a statement to Fox News.
"These baseless claims come from a group funded by right-wing mega-donors known for their political hit jobs," Cummings said in a statement to Fox News. "I am confident that they will be exposed for what they really are – a fabricated distraction from the important work being done on behalf of Americans, such as lowering the skyrocketing prices of prescription drugs."
Last week, Rep. Cummings' wife also blasted the Washington Examiner's complaint to the IRS as a "hit piece."
"It appears a conservative front group and a news outlet . . . are pushing a hit piece filled with faulty research, lies and innuendo in an attempt to tarnish my personal reputation, professional work and public service as well as that of my spouse," Rockeymoore Cummings said in a statement to The Washington Post, calling the effort a "distasteful attempt to intimidate my family into silence at such a pivotal moment in our nation's history."
Speaking of a "political hit job," Congressman Cummings' committee has launched multiple baseless investigations into President Trump's finances and security clearance process.
Published on May 28, 2019
Published on May 16, 2019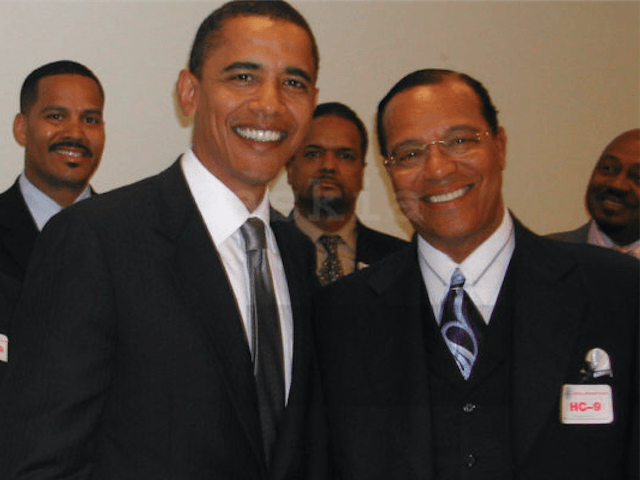 By Justin Caruso
UPDATE 5:23 PM EST: 

The Washington Post

has added a correction to the post in question — after this article was published. The paper held off on a correction on its site for nearly two hours after acknowledging the error on Twitter. The headline on Breitbart's story has been updated to reflect this change.
The Washington Post described Nation of Islam leader Louis Farrakhan as "far-right" Thursday, then scrubbed the error from the article's headline and text without acknowledging the edit.
The far-left newspaper's coverage of Facebook's latest move to ban controversial and anti-establishment figures linked Farrakhan with conservative activists, originally posting the headline "Facebook bans far-right leaders including Louis Farrakhan, Alex Jones, Milo Yiannopoulos for being 'dangerous.'"
The false label was also included in the first line of author Elizabeth Dwoskin's article.
The publication's official Twitter account posted the same headline with this false information. In a followup tweet, the Post said, "We have deleted this tweet because it incorrectly included Louis Farrakhan, who has espoused anti-Semitic views, in a list of far-right leaders. Facebook banned extremist figures including Farrakhan, Alex Jones, Milo Yiannopoulos for being 'dangerous.'"
However, the paper has not acknowledged any error on the article page itself — or told readers that its editors altered the headline, lead paragraph, and URL after publication.
Despite the stealth correction, the article has received the endorsement of NewsGuard, a Microsoft partner that marks news sources as reliable or not in a web browser extension — even on a cached version of the article with the false "far-right" label still included in the URL.
"This website adheres to all nine of NewsGuard's standards of credibility and transparency," a pop-up reads when users mouse over the green checkmark next to the Post's name. Among those criteria: "Regularly corrects or clarifies errors."
NewsGuard similarly defended a stealth edit from corporate media in February, saying that the New York Times did not run afoul of its policy by altering a headline without acknowledging the update.
Another article published in The Atlantic about the Facebook bans used the headline "Instagram and Facebook Ban Far-Right Extremists," with a photo of Farrakhan in the featured image. As of this writing, it has not been corrected.
Farrakhan, who has praised Adolf Hitler and promotes an anti-Semitic and black nationalist worldview, has a number of well-documented relationships with Democratic lawmakers.
Former president Barack Obama posed for a photo with Farrakhan, and Minnesota Attorney General Keith Ellison (D) and Rep. Maxine Waters (D-CA) have long associatedwith the hateful preacher.
Last October, Farrakhan said during an address that he was not an "antisemite" but an "anti-Termite."
"So when they talk about Farrakhan, call me a hater, you know they do, call me an antisemite–stop it! I'm anti-termite! I don't know nothing about hating somebody because of their religious preference," he said
The

Washington Post

is under fire for printing a story with a contentious headline, implying that anger over the recent spate of bombings in

Sri Lanka

is unique to the "far right."
Titled "Christianity under attack? Sri Lanka church bombings stoke far-right anger in the West," the piece drew outrage online far and wide for its recklessly phrased headline.
In its story, the Post cites right-wing leaders and activists across the US and Europe – such as Marine Le Pen, leader of France's National Rally party – who view the bombings in Sri Lanka as part of a greater attack on Christianity.
While the Post does acknowledge that "Christian minorities are targeted around the world," some took the piece itself to be a religious slight.
"If you [need] any further proof that the Washington Post is anti-Christian, check out this asinine headline," one user said on Twitter.