The long-delayed reckoning for

Martin Luther King Jr

is a chance for America to step back from immature social justice radicalism, and once again separate people's personal lives from their public achievements.
Accounts of the civil rights hero's infidelity and voracious sexual appetite date back to his lifetime, but the latest accusations, presented by his esteemed biographer David Garrow on the basis of FBI surveillance tapes, won't disappear neatly under the carpet.
They are too graphic, including orgies and boasts about founding the "International Association for the Advancement of Pussy-Eaters." They are too criminal, cheering a fellow pastor as he allegedly raped a woman in a hotel room. And most importantly, they are the first ones to surface since #MeToo.
'Time for some statue removals?' Twitter reacts to MLK sex life claims, rape comments
Some on the right have called for vengeance, just as for historic figures, some of them dead for centuries like Robert E Lee, who have been punished for failing to adhere to present day liberal views. And celebrities, who have been branded as anything from sex pests to rapists to pedophiles on much thinner evidence.
So, it's only fair that we cancel Martin Luther King Jr Day, rename all the streets and schools named after him, take down the statues, and rewrite the textbooks. No more biopics.
But what if instead, we break the cycle of cultural violence?
Surely this is the moment when even the most passionate cancel-happy #TimesUp activists can admit that King's contribution to the civil rights movement, both as a person and a symbol, is such that no amount of private misdeeds will detract from it.
Indians 'infinitely superior' to blacks: Gandhi statue removed for racist remarks against Africans
And perhaps as well as learning not to judge too harshly, Americans will be wary of erecting more idols. After all, we have been here before with Mahatma Gandhi's naked sleeping with teen relatives, Mother Teresa's refusal to apply modern medicine that could have saved lives, Nelson Mandela's role in violent resistance, Aung San Suu Kyi's rule, and even MLK's own undeniable plagiarism in academic texts and speeches.
This is an opportunity not only to step back from the Manichean hysteria, but perhaps even a chance to reach across the political divide tearing America apart daily. By treating MLK with humanity and a sense of proportion, the same generosity could then be extended to other "sinners," even those who do not share the same values.
MLK was flawed, Ronald Reagan was flawed, as were John F. Kennedy, Bill Clinton, Henry Kissinger, Malcolm X, and George W. Bush. Donald Trump, Nancy Pelosi, Brett Kavanaugh and Barack Obama and other recent media punching bags are not personifications of evil, but merely public servants trying to do what they believe is best for the country.
But this reads like a naive fantasy.
This is what will more likely happen: excuses will be made for King – the subconsciously racist lower standards of sexual propriety will be applied to a black man. Or perhaps doubt will be cast on the veracity and provenance of the information; focus shifted to the villainy of the FBI that traced MLK's every step, but did not protect him or his alleged victims.
At worst, MLK's reputation will take a battering but retain its overall shape. But most likely of all, the impolitic truths will be double-thought out of existence, both acknowledged and forgotten at the same time. Congress will again keep official full FBI records that should have been long opened – and that could confirm or disprove Garrow's claims – sealed until 2027 and beyond, prolonging the timer on the bomb.
And the same unyielding standards will continue to be applied from the vanguard of the left to the usual targets on the right. The political imperatives are too strong. Because when the big social confrontations are at stake, the heroes must always be saints, and the enemies devils.
By Igor Ogorodnev
Dem Rep. Blames Trump for synagogue shootings
Paul Joseph Watson | Infowars.com – MAY 1, 2019
Rep. Ilhan Omar

asserted "This is not going to be the country of white people" during a rally in DC yesterday.
"At this moment, the occupant of the White House and his allies are doing everything that they can to distance themselves and misinform the public from the monsters that they created that is [sic] terrorizing the Jewish community and the Muslim community," the Congresswoman told the crowd, suggesting that the recent synagogue shootings were Trump's fault despite both shooters explicitly expressing their opposition to Trump.
Omar went on to emphasize that she was a "refugee" and an "immigrant" from Somalia, which she said Trump would call a 'shithole country'.
And who could argue with her? With its rampant violence, corruption and oppression of women, Somalia is an ideal destination, which is presumably why its tourist industry is thriving.
Asserting that America "was founded on the history of Native American genocide, on the backs of black slaves," she went on to brazenly state, "This is not going to be the country of white people."
Imagine if a white Republican had made a speech in which he or she asserted, "This is not going to be the country of black people."
Their political career would be finished and their reputation would tainted for the rest of their life.
But since the last acceptable form of racism is racism against white people, Omar's statement is a mere footnote.
Omar is still whining about Trump drawing attention to her absurd statement that 9/11 was "some people (who) did something" as if she is the victim.
For weeks, the media has helped Omar push the narrative that criticism of her is tantamount to inciting violence and far worse than her original ludicrous statement.
During the rally, her supporters chanted "hands off Ilhan," attempting to further the idea that she should be immune from criticism just because she wears and Islamic headscarf and claims victimhood.
MSM only highlights stories that fit their anti-American narrative
Jon Bowne | Infowars.com – APRIL 28, 2019
19 year old San Diego, California Nursing student

John T. Earnest

, wearing a tactical vest shot up the Poway Synagogue near San Diego killing one and injuring multiple worshipers including the Rabbi and children. It was an off-duty Border Patrol agent, viewed by the left as nothing short of a Nazi that returned fire and stopped the carnage.
Immediately the left blamed Trump on Twitter. One tweet read "Another real donald trump supporter" and then wrote "Stand corrected. But trumps rhetoric makes more of these people to be allowed to do things like this….this country is rotting from the inside…and trump is the result of that!"
To these naysayers, it wouldn't be those representing their own anti-Israel rhetoric like Democrats Ilhan Omar and Rashida Tlaib or anti-Semitic cartoons from the New York Times. The left can't handle the blame, just like they can't handle logic or sanity.
And just when you thought the handful of leftist media corporations controlling the narrative had done enough to deceive the public into looking the other way by wielding the frantic disinfo weapon of Islamophobia and the growing white nationalism fantasy. What should have every American actually concerned has been hidden from public view.
It may be too late until unsuspecting Americans completely realize that they have been systematically defined as a primary adversary by a malevolent propaganda behemoth. A media tyranny that regards white Christian Americans, which is actually just code for all Americans black, white, etc who simply disagree with the left as the enemy to everything the globalist construct is building.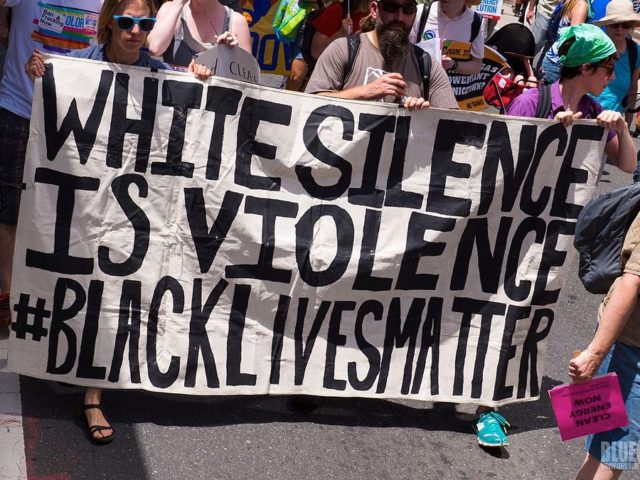 By Tom Ciccotta
Controversial

Trinity College

Professor

Johnny Eric Williams

wrote that "whiteness is terrorism" in a recent social media post. Underscoring the extremism present on many college campuses, Williams claimed his comments are "not controversial in the academy."
According to a report from Newsweek, Trinity College Professor Johnny Eric Williams is making waves again. Breitbart News reported in June 2017 that Williams had argued that first responders should have let Representative Steve Scalise die after he was shot during a practice for the congressional baseball game. Williams also shared a blog post by an anonymous author that asked black people to withhold life-saving help from white people in need.
"If you see them drowning. If you see them in a burning building. If they are bleeding out in an emergency room. If the ground is crumbling beneath them. If they are in a park and they turn their weapons on each other: do nothing," the post read.
More recently, Williams tweeted that "whiteness is terrorism." Now, he's defending those comments. In a conversation with Newsweek, Williams said that his tweets are only controversial to white people.
"They're not controversial in the academy. They're not controversial within the black community. I don't think they're controversial at all," Williams said, defending his tweet. "I think they're controversial with people who see themselves as white, because it reveals in a telegraph that they're immersed in that whiteness to a point where it's hard for them to see anything else."
"I'm referring to whiteness as an ideology, which everyone in the United States is immersed in because we live in a white supremacy society," Williams added. "Because there are people walking around believing that they're white and acting as if they're white, when there's just the human race."
16 students from the class of 2021 withdrew their acceptance over the controversies surrounding Williams. In addition, alumni have withheld $200,000 in donations from the university over the administration's refusal to sanction Williams for his comments about Representative Scalise.
Stay tuned to Breitbart News for more updates on this story.
Published on Apr 27, 2019
Never Trust The Liberal Media
'Why do you think white, male candidates are doing better than any of the women candidates?'
Infowars.com – APRIL 26, 2019
This compilation video highlights mainstream media's outrage over the Democratic Party's overwhelming masculine whiteness, as four of the top seven 2020 Democrat presidential candidates are white males.
"Women have become somewhat overshadowed by white, male candidates," said one MSNBC anchor.
Another MSNBC host added, "It bothers me a little bit that those are three white males, we need to talk about more diversity."
https://www.infowars.com/watch-self-loathing-democrats-triggered-top-candidates-are-white-males/
By Chris Menahan
The media is threatening to dox a female

Microsoft

employee after she revealed in an internal message board that "senior leadership is awarded more money if they discriminate against Asians and white men."
The leftist rag Quartz said the comments amounted to an attack on "diversity" and threatened to dox her in response.
From Quartz, author Dave Gershgorn, "Microsoft staff are openly questioning the value of diversity":
Some Microsoft employees are openly questioning whether diversity is important, in a lengthy discussion on an internal online messaging board meant for communicating with CEO Satya Nadella.

Two posts on the board criticizing Microsoft diversity initiatives as "discriminatory hiring" and suggesting that women are less suited for engineering roles have elicited more than 800 comments, both affirming and criticizing the viewpoints, multiple Microsoft employees have told Quartz. The posts were written by a female Microsoft program manager. Quartz reached out to her directly for comment, and isn't making her name public at this point, pending her response.

"Does Microsoft have any plans to end the current policy that financially incentivizes discriminatory hiring practices? To be clear, I am referring to the fact that senior leadership is awarded more money if they discriminate against Asians and white men," read the original post by the Microsoft program manager on Yammer, a corporate messaging platform owned by Microsoft. The employee commented consistently throughout the thread, making similar arguments. Quartz reviewed lengthy sections of the internal discussion provided by Microsoft employees.

"I have an ever-increasing file of white male Microsoft employees who have faced outright and overt discrimination because they had the misfortune of being born both white and male. This is unacceptable," the program manager wrote in a comment later. The Microsoft employees who spoke to Quartz said they weren't aware of any action by the company in response, despite the comments being reported to Microsoft's human resources department.

When contacted by Quartz, Microsoft pointed to comments by three company officials in the message-board threads. A member of Microsoft's employee investigations team responded to the initial post in January, writing that the company does not tolerate discrimination of any kind. Another Microsoft staff member, who leads the team that helps the board of directors determine executive pay, explained the diversity-based compensation initiative. "Our board and executive leadership team believe diverse and inclusive teams are good for business and consistent with our mission and inspire-to culture," she wrote. "Linking compensation to these aspirations is an important demonstration of executive commitment to something we believe strongly in."
Here's her actual post:
"Because women used to be actively prohibited from full-time employment many decades ago, there is now the misguided belief that women SHOULD work, and if women AREN'T working, there's something wrong…. Many women simply aren't cut out for the corporate rat race, so to speak, and that's not because of 'the patriarchy,' it's because men and women aren't identical, and women are much more inclined to gain fulfillment elsewhere."

"We still lack any empirical evidence that the demographic distribution in tech is rationally and logically detrimental to the success of the business in this industry….We have a plethora of data available that demonstrate women are less likely to be interested in engineering AT ALL than men, and it's not because of any *ism or *phobia or 'unconscious bias'- it's because men and women think very differently from each other, and the specific types of thought process and problem solving required for engineering of all kinds (software or otherwise) are simply less prevalent among women. This is an established fact. However, this established fact makes people very uncomfortable, because it suggests that the gender distribution in engineering might not actually be a problem (and thus women can no longer bleat about being victims of sexism in the workplace), these facts are ignored in favor of meaningless platitudes our SLT [senior leadership team] continues to shove down our throats — e.g. 'We're not doing enough' and 'we clearly have a long way to go.'"

"We MUST immediately cease the practice of attaching financial incentives and performance metrics to 'diversity hiring' — as long as we give more money and higher annual reviews explicitly for NOT hiring/promoting white men and Asians, this will continue to be a serious problem at the company."
Pointing out discrimination against white men amounts to heresy in the New America™.
"Pending her response," Gershgorn and Quartz are going to dox her so the lynch mob can burn her at the stake for "questioning the value of diversity."
Protecting "diversity" requires total uniformity.