May 18, 2020
I just opened my dictionary to look up the word "pettiness". You'll never guess what I found! "CNN" and "MSNBC".
MAY 15, 2020
The nine most scary words you'll ever hear: "I'm from the government , and I'm here to help"! President Ronald Reagan.
By Jim Hoft – May 14, 2020
DEEP STATE ERUPTS!
Judge Sullivan appoints Retired Judge to Fight Back Against Trump DOJ and

Attorney General William Barr

!
As we reported last night–
Obama's Deep State henchmen who set up General Flynn and the crooked politicians and media hacks who supported them are terrified.
TRENDING: BREAKING: DEEP STATE FIGHTS BACK! Judge Sullivan Appoints Retired Judge to Argue Against Government's Motion to Dismiss Case Against Flynn – Wants to Hold Flynn in Contempt!
More information on Obamagate is expected to drop in the coming days.
An audio of former President Barack Obama, whose Administration spied on the Trump team and Administration, was released by deep state reporter Michael Isikoff at Yahoo News on Friday night.
In the "call" which appears totally set up, Obama says he is concerned about "the rule of law."
Obama also accused Flynn of committing "perjury"!
Apparently, Judge Emmet G. Sullivan took this call to heart.
On Tuesday the Clinton-appointed judge made a dirty, political move to delay justice for General Mike Flynn.
The Justice Department dropped its case against General Mike Flynn last Thursday after bombshell documents released proved he was framed by Comey's FBI.
But Judge Sullivan extended the case by soliciting amicus briefs to allow for public comment on Flynn's criminal case.
And now this…
Judge Sullivan today appointed retired Clinton appointee judge John Gleeson to argue against the government's motion to dismiss the charge against Flynn!
This is unheard of!
On May 11, 2020, John Gleeson penned this Washington post article "The Flynn case isn't over until the judge says it's over".
First the attorneys for the Mueller team withheld Brady evidence from General Flynn for over a year and now this crooked judge won't acquit!
Also Sullivan asked the retired judge to look at whether Flynn could be held in criminal contempt for perjury.
**** This is exactly what Obama said — even though Flynn DID NOT commit perjury!
THE DEEP STATE IS FIGHTING BACK!
Via Kyle Cheney from far left Politico.
Here is Judge Sullivan with James Boasberg & Rosemary Collyer who both signed the FISA warrant. Judge Contreras Flynn's first Judge had to be removed from the case because of his personal relationship with Strzok. And the corrupt Amy Berman Jackson.
By Jim Hoft – 4/30/2020
Illinois Governer J. B. Pritzker

has the state in lockdown and businesses shut down until the end of May.
An Illinois legislator on Wednesday filed a second legal challenge to Pritzker saying the Democrat governor's emergency powers are limited to 30 days and that Pritzker therefore had no right to extend his March 21 order through the end of May.
But not all Illinois residents are equal.
Governor Pritzker recently sent his wife and kids to Florida during the state stay-at-home orders.
Pritzker is the latest Democrat leader to get caught breaking the very rules he set for the people of his state.
When confronted on his family's Florida trip Pritzker told the reporter, "In politics it used to be we kept our families out of it. Yeah, my official duties have nothing to do with my family. So, I'm just not going to answer that question."
By Matt Travis – 4/30/2020
Yesterday,

Mayor Bill de Blasio

tweeted out a warning to the "Jewish community" just days after celebrating

Muslims

by offering Halal meals.
De Blasio's tweet read,
Interesting imagery of a certain infamous leader pops into mind when reading this tweet. (And Twitter followers were quick to point out that imagery, mocking him with memes and such.)
More importantly, this isn't the first time he's openly targeted a particular group of religious people during this pandemic.
De Blasio was on camera just a couple weeks ago saying that he would shut down churches permanently, if they didn't comply with his draconian orders.
He said,
A small number of religious communities, specific churches, specific synagogues are unfortunately not paying attention to this guidance [to close] even though it's been so widespread…. If you go to your synagogue, if you go to your church and attempt to hold services after having been told so often not to, our enforcement agents will have no choice but to shut down those services….

The NYPD, Fire Department, Buildings Department, and everyone has been instructed that if they see worship services going on…they'll inform them they need to stop the services and disperse. If that does not happen, they will take additional action up to the point of fines and potentially closing the building permanently.
It's clear there is a bias here.
De Blasio celebrates those Muslims who are being good little boys and obeying daddy government. The focus is on how they are doing great and are just a wonderful group of people.
Out of the same mouth, De Blasio deals with Christians and Jews by threatening them for not doing exactly what he demands.
Maybe Muslims are just that much better at following the rules. That is possible, I guess.
But considering the regularity with which Democrats have shown bias in favor of Muslims over the years, that's not likely the case. It's far more probable that this is just more of the same intentional bullying of the "religious right" for political purposes.
Bill de Blasio is doing exactly what the Left constantly claims to be a mortal sin. He is discriminating against certain groups and giving a pass or privileges to others.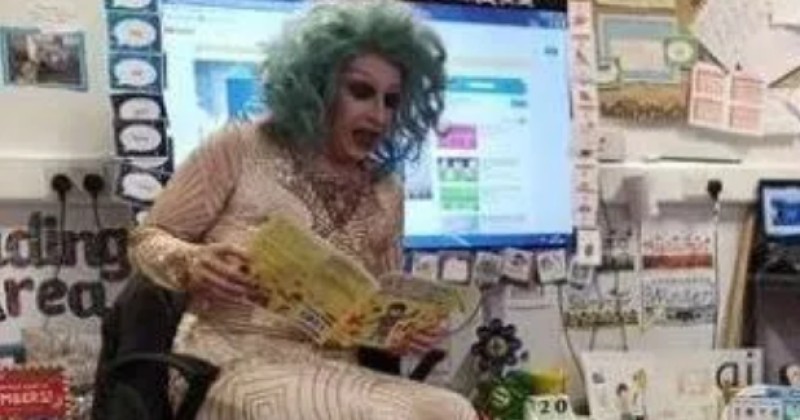 Drag queen had previously uploaded sexually explicit content to Twitter.
Paul Joseph Watson  – FEBRUARY 24, 2020
A Scottish MP invited a drag queen called 'Flowjob' who had previously uploaded sexually explicit content to Twitter to a primary school and then called parents who complained "homophobic."
MP Mhairi Black invited 'Flowjob' to Glencoates Primary School, Paisley where the drag queen read a story to kids as young as four.
The Sun reports, "The drag queen has regularly uploaded graphic pictures to Twitter, including of simulating a sex act with a dildo and simulating oral sex."
Parents subsequently complained that they were not informed of the drag queen's visit and said the visit was "outrageous" and "disgusting."
"While I don't agree with the abuse being given, my kids go to this school, there was no information fed to parents about this happening. Surely that's a parents choice?" one parent told the Daily Star, accusing the 'woke' headteacher at the school of trying to further her own career.
"Their username is 'flowjobqueen' and their timeline is full of explicit images of them simulating sexual acts. Of course they've just just done a drag queen story reading to primary school children," another parent wrote on social media.
MP Mhari Black reacted to the criticism by declaring the parents "homophobic."
"You just know that the people pretending to be livid that a drag queen read a book in a school are also the people who run out to buy their kids the latest Grand Theft Auto on release day," she said. "Your homophobia is transparent."
However, children's rights group forwomen.scot sided with the parents, saying that 'Flowjob' was an adult entertainer.
"Questions about this are legitimate," the group said in a statement. "A male who dresses as a sexualised parody of a women, goes by the name "flowjob" is hardly a role model for primary aged children. Did no one check this?"
A Renfrewshire Council spokesman said the visit should not have occurred due to the sexually explicit nature of the content posted by 'Flowjob', but that it was arranged as part of LGBT History Month.
As we previously highlighted, there have been numerous 'Drag Queen Story Time' events at UK libraries, schools and museums in the past few weeks, including an event for under-5's at a library in Newham, London.
Last month we highlighted the words of an actual drag queen, Kitty Demure, who posted a viral video in which he expressed his amazement at why 'woke' parents are allowing their kids to be around drag queens, asking, "Would you want a stripper or a porn star to influence your child?"
There is no escaping this Satanic agenda.
By Shane Trejo – 2/21/2020
Activists in Rye, New York have successfully averted a showing of "drag queen story hour" in their community library, but the library is pushing back with an LGBT re-education program meant to indoctrinate young minds into the perverted lifestyle.
The activists, including citizen journalists Robin Janovich and Tom McDermott of The Rye Record, questioned a showing of drag queen story hour scheduled for the library on Feb. 8.
"Are families likely to bring their young children to a program that uses drag queens to focus on inclusivity? Why are we foisting conversations on inclusivity on children that young? Are we replacing bedtime stories, which take children out of themselves and out into other, far more interesting worlds, with discussions of sexual differences when they are innocent sponges?" the reporters asked.
The proposed story hour event was geared toward children aged 3-8 years old and was billed as a teaching experience to "celebrate difference, learn empathy, and create crafts" and "celebrate diversity while building confidence in self-expression."
Citizens in Rye started asking questions and began to cause a stir among the community as people began to question why these perverts were being allowed intimate access to children.
"What happened to bringing joy and delight to our children and grandchildren, rather than assaulting them with political correctness?" one concerned citizen asked.
"If the #MeToo Movement has taught us one thing, isn't it that men dressing up as women for entertainment isn't progress?" asked another individual.
The activism resulted in the event being postponed, but Rye Free Reeding Room Director Chris Shoemaker announced that they would instead bring in "educators" to push LGBT propaganda instead of drag queens.
"But nearly all of those emails were anonymous, so I couldn't respond to them individually," Shoemaker said. "They were form letters asking that the library be neutral in its viewpoints and not create an unwelcome environment."
"After looking at all the feedback and considering whether we should be using an adult performer to spread this message," Shoemaker continued, "I decided the library should pause and refocus on engaging different educators."
Meanwhile, pro-degeneracy advocates such as Rye resident Joie Cooney and the City of Rye's Human Rights Commission are pushing to get story hour reinstated. They want children to be groomed by this vile group of predators out to corrupt the souls of the children.
In other states, drag queens have been completely unvetted before being allowed to read creepy stories about gender and sexuality to children. This has resulted in pedophiles being allowed to administer story hour events to kids. The organizers have done absolutely nothing to assure that drag queens receive criminal background checks beforehand, and there could be dozens if not hundreds of more predators using story hour as a means to find unsuspecting prey.
The people of Rye, as well as the rest of the country, will require nothing short of eternal vigilance to protect the innocence of children from LGBT predators.
We have entered a time of great chaos for the entire planet, and this virus certainly has the potential to greatly accelerate that chaos
Michael Snyder | Economic Collapse – FEBRUARY 6, 2020
The outbreak of this mysterious new

coronavirus

is getting more frightening with each passing day. 
As you will see below, even the mainstream media is admitting that the number of cases shows "no signs of slowing" even though the Chinese government has implemented draconian measures in a desperate attempt to contain the virus.
Many in the western world continue to insist that this disease is not any more dangerous than the common flu, but the Chinese never locked down entire cities for the flu before.
In recent days, the images that have been coming out of China have been absolutely horrifying.
If these images are accurate, people are literally dropping dead in restaurants, in shopping malls and in public transportation hubs.
Dr. Francis Boyle, who drafted the Biological Weapons Act, joins Owen Shroyer on The Alex Jones Show to expose the 2019 Wuhan coronavirus as an offensive biological warfare weapon that the World Health Organization (WHO) already knows about.
At the epicenter of this outbreak, crematoriums in Wuhan are burning bodies 24 hours a day as they try to keep up with the flood of dead bodies coming in, and the workers at those facilities are completely and totally overwhelmed.
When I last posted an article about this pandemic on The Economic Collapse Blogthree days ago, there were 14,637 confirmed cases and the death toll had risen to 305.
Since that time, both numbers have nearly doubled…
The death toll and number of people infected by the Wuhan coronavirus continues to grow, with no signs of slowing despite severe quarantine and population control methods put in place in central China.

The number of confirmed cases globally stood at 28,256 as of Thursday morning, with more than 28,000 of those in China. The number of cases in China grew by 3,694, or 15%, on the previous day. There have been 563 deaths so far, all but two of which were in China, with one in the Philippines and one in Hong Kong.
Can you imagine how bad things are going to get if the numbers keep roughly doubling every three days?
Of course many are extremely skeptical that the official numbers that the Chinese government is giving us are accurate.  Anecdotal reports seem to indicate that the situation is far worse than we are being told, and that includes firsthand testimony from a funeral home worker in Wuhan…
One worker at the Caidan Funeral Home, in suburban Wuhan, has claimed employees are working "24/7" to deal with the bodies, reports Epoch Times.

The worker said staff are exhausted and are working without proper equipment.

Identified only as Mr Yun, he said: "90 percent of our employees are working 24/7 … we couldn't go back home."

Chillingly, he claimed: "All Wuhan cremation chambers are working 24 hours."
According to Mr. Yun, his facility needs "at least 100 body bags" every single day.  If every other cremation center in the city is handling a similar workload, that would strongly indicate that the true death toll is far, far larger than the official numbers we are being given.
Video footage that has been circulating on social media also seems to back up Mr. Yun's claims…
Meanwhile, videos from workers dealing with the crisis have been circulating on social media, including one from a worker at a Wuhan funeral home who shared footage of more than 10 bodies lying on gurneys, lined up for cremation.

Some netizens also shared videos they shot within different hospitals in Wuhan, showing bodies waiting to be transferred from the hospitals to funeral homes.
Here in the western world, a lot of people are not taking this crisis very seriously yet.
But over in China things are happening that are absolutely crazy.
If you can believe it, Chinese authorities have actually started locking some victims inside their own homes…
The clip shows two officers padlocking the door while asking the resident inside, "Do you have enough rice and vegetables at home?"

"I think so," responds the person inside.

"OK, so don't come out," responds the officer, adding, "We are locking your door from outside. Don't come out. It's good for everyone."
Eventually the police will go back and check on those victims.
If they are no longer living, they will be put in body bags and shipped off to a crematorium.
Could we soon see similar things happen in western countries?
Let us hope not, but it has become quite clear that this is a very serious outbreak.
Out of all the stories I have come across, perhaps the most heartbreaking of all is the story of a woman that passed the virus on to her newborn baby…
A Chinese baby has been diagnosed with coronavirus just 30 hours after a woman who had tested positive for the deadly disease gave birth in the epicenter city of Wuhan, according to state media.

Doctors at the Wuhan Children's Hospital on Wednesday cited the case as evidence that pregnant women infected with the virus may be able to pass it to their unborn children, according to state broadcaster CCTV.
Can you imagine how heartbroken that mother must be right now?
Unfortunately, it looks like it won't be too long before this is a true global pandemic.  At this point, Singapore and South Korea both have more than 20 confirmed cases…
Singapore announced a new confirmed case of the coronavirus today, bringing its total to 25.

South Korea also confirmed four more cases today, bringing the national total to 23.
And here in the United States we now have our 12th confirmed case…
Wisconsin has confirmed its first case of coronavirus, state officials said on Wednesday.

The new patient, of undisclosed age and gender, is the twelfth confirmed case in the US after testing positive for the virus at University of Wisconsin Hospital in Madison.
As I keep stressing, we still don't really know how bad this outbreak will eventually become in the western world.
We have entered a time of great chaos for the entire planet, and this virus certainly has the potential to greatly accelerate that chaos.
But this outbreak could also fizzle out soon, and then it would be regarded by most people in western countries as a "false alarm".
For now, we will continue to carefully watch the latest developments each day.  The World Health Organization says that there are "no effective remedies" for this virus, and the number of cases continues to escalate.  China has already been completely gripped by panic, and if this outbreak continues to spread it is only a matter of time before more nations are paralyzed by fear as well.