2/11/2020
The WORLD is suffering from ISLAMIC SUPREMACY and their illegal occupation of ALL NATIONS.
America supports the Saudis but the relationship does not seem reciprocal.
A Saudi college student who was set to graduate from the

University of New Mexico (UNM)

was charged with possessing an illegal firearm, and law enforcement found a

"list of people he planned to kill"

that was allegedly made by the foreigner.
Hassan Alqahtani, a 27-year-old mechanical engineering student, reportedly had a kill list that included UNM professors. He is being charged with being a non-immigrant student visa holder in possession of a firearm in federal court, and additional charges may be levied because of the kill list.
According to an FBI affidavit, Alqahtani was in possession of a .380-caliber Cobra handgun that they found while searching his home last week. He is set to have his preliminary hearing today at the U.S. District Court in Albuquerque.
Alqahtani was supposed to receive his bachelor degree from UNM on Saturday, but instead spent the weekend behind bars. His family was set to take him to Disneyworld to celebrate, but his plans were upended due to the charges. Now he may be looking at years in prison.
The authorities believe that Alqahtani wanted to obtain more guns. The individual who tipped the FBI off to his illegal weapon also told them that he had a "list of people who he wants to kill before he leaves the U.S." This suggests that he may have been recruiting others into his plot, and the FBI believes his girlfriend, Sierra Shafer, may be an accomplice.
"Shafer is possibly conspiring with Alqahtani to conceal his possession of the firearm," an FBI agent wrote in the affidavit. "Shafer made additional statements that the two kept it out in the open in the bedroom and also used the firearm for protection when they traveled in Alqahtani's vehicle."
This comes just one week after Saudi National Mohammed Saeed Alshamrania opened fire at the Naval Air Station in Pensacola, FL, murdering three people and wounding seven others:
The murderer responsible for gunning down 3 people and wounding seven others at Naval Air Station Pensacola was identified as Mohammed Saeed Alshamrani.

He is a Saudi national and a member of the Saudi Arabian military who was residing in the U.S. for aviation training.

The shooting is currently being investigated as a possible terror attack.

The assailant fired upon a classroom building where he killed at least three and wounded seven other people.

Two deputies responded to the murderer and took out the shooter, while sustaining gunshot wounds, according to a report from David Morgan, the Escambia County Sheriff. One of the officers was shot in the knee and the other in the shoulder. They are both expected to recover.

The Escambia County Sheriff's Office held a press conference once the dust cleared from the shooting.

Congressman Matt Gaetz immediately responded to this shooting by offering up an alternative to the current screening process that involves the entry of foreigners into the United States and who train at bases throughout the country.
While the U.S. may give aid and weapons to Saudi Arabia, it does not appear that the relationship is reciprocal. The Saudi government's alleged role in the 9/11 terror attacks is more evidence that this foreign entanglement should be reconsidered.
They don't want the Saudi national's Islamist manifesto to get out.
By
A Fox News host has been banned from

Twitter

after sharing the manifesto of a Saudi military trainee-turned

Islamist terrorist

who carried out a mass shooting at a Pensacola, Florida Naval installation.
Pete Hegseth shared screenshots of postings on Saturday made by Saudi national Mohammed Alshamrani shortly before the attack. Alshamrani espoused on his motivations for the terrorist actions, in which he killed three U.S Navy sailors and wounded eight more.
Alshamrani created a manifesto in which he referred to the United States as a "nation of evil," attacked Israel, and praised Osama bin Laden.
Hegseth shared elements of his manifesto, only to go dark on Twitter sometime shortly after. He posted on Instagram on Sunday revealing that he had been banned from the platform for exposing Alshamrani's manifesto, slamming the platform's censorship tactics that leave the public in the dark after terrorist attacks.
Hegseth is appealing his permanent ban from Twitter, but he expressed doubt the platform would let him back on
Twitter has banned individuals who have posted writings made by terrorists before, such as the El Paso Walmart mass shooter and the New Zealand anti-Muslim terrorist. But it seems as if the platform is merely keeping the motivations of violent individuals in the dark and creating confusion by its broad policy.
In another concerning development, Secretary of Defense Mark Esper has confirmed that other Saudi nationals present at the Pensacola Naval Air Station filmed Alshamrani's attack.
Alshamrani's terrorist attack against U.S military personnel, and the apparent involvement of other Saudi military trainees, raises serious questions about ongoing programs that facilitate the training of Saudi military personnel in the United States.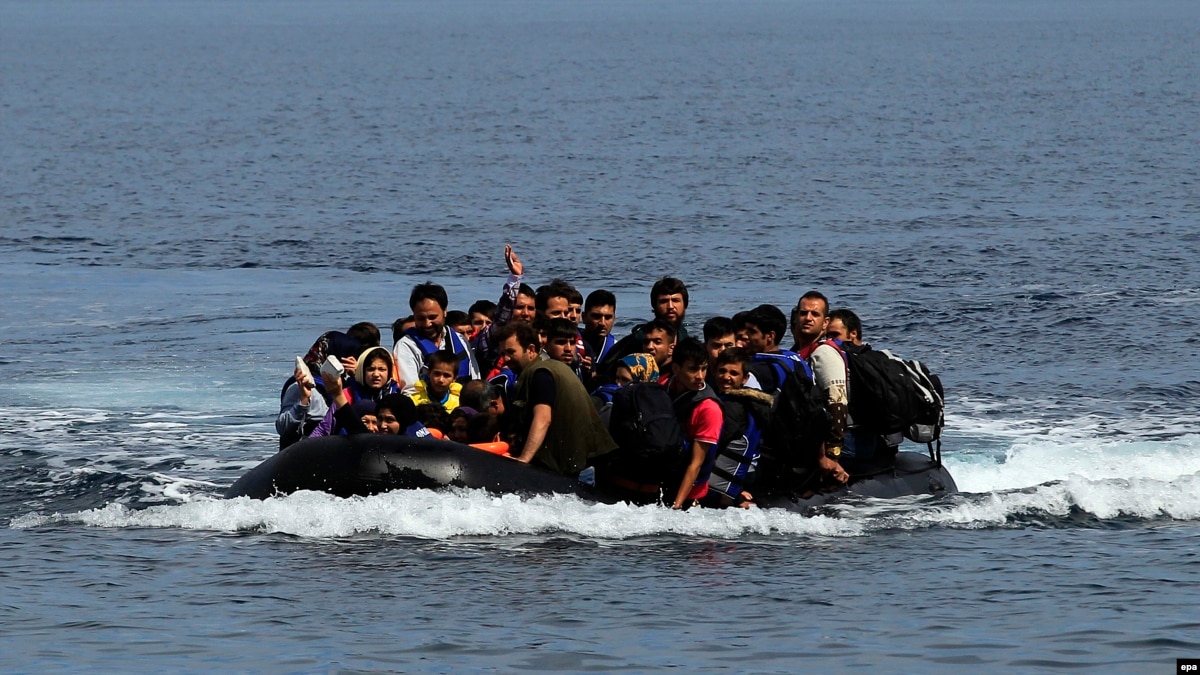 By Dan Lyman
Four boats bearing dozens of migrants were intercepted crossing the

English Channel

on Sunday, according to reports.
A total of 39 migrants, all identifying themselves as Iranian nationals, were apprehended by authorities with U.K. Border Force and Kent Police.
"The first boat, which was stopped by the Border Force at 4.40am, contained nine people with the second incident happening at 6am – with five more people being detained in a rigid hulled inflatable boat (Rhib)," the Evening Standard reports.
Another two vessels carrying 11 and 14 migrants, respectively, were located and stopped at 7 am and 7:30 am.
"Border Force dealt with four incidents on November 17 after being alerted to small boats travelling across the Channel towards the U.K.," a government spokeswoman said in a statement.
"The people from all boats were taken to Dover where they were medically assessed before being interviewed by immigration officials."
The number of migrants crossing the English Channel has been steadily rising, with over 1,500 successfully completing the journey so far in 2019, a 500% increase from 2018.
In September, U.K. authorities intercepted 86 migrants illegally crossing the English Channel during a record-setting day.
British authorities revealed that migrants have become so emboldened by the lack of disciplinary action being taken against illegal crossers, some are simply calling police from their boats to arrange pick-up.
"Illegal migrants are ringing police to collect them from boats in the Channel because they are so sure of avoiding being returned to their countries, MPs have been told," the London Times reported in February.
Latest gang killing highlights crisis in Minnesota capital
By Dan Lyman – 10/29/2019
A deadly shooting between rival gang members in

Minneapolis

highlights the growing crisis of East African clan warfare in Minnesota's capital region.
An operative of the 1627 Boys gang was charged with second degree murder after allegedly shooting a high-ranking member of the Somali Outlaws during a drug deal in Minneapolis.
Mustafa Ali, 25, was shot three times in the chest by 18-year-old Mahad Ali (no known relation), police say. Mahad Ali was also shot during the altercation and suffered non-life threatening injuries.
Mahad Ali's mother told detectives the two men had a long-running "beef" leading up to the shooting.
"The slaying was the latest in a bitter feud between Cedar-Riverside neighborhood gangs and their rivals, who claim the area around Karmel Mall," the Star Tribune reports. "But police and community leaders say that some of the bloodshed has shifted to the city's North Side in recent months."
According to charges filed against Mahad Ali, "both gangs are known for retaliatory and escalating violence that often manifests itself in drive-by shootings, attempted murder and murder. They are known by law enforcement to attack each other over using the same drug dealers."
In September, the father of another high-ranking Somali gang member was killed during an ambush that was reportedly "staged to look like a home invasion," according to police.
During a single night in March, five men of Somali descent were shot in different incidents across Minneapolis.
Somali gang violence has plagued Minneapolis for well over a decade.
A 2009 CBS report titled "Rise of Somali Gangs Plagues Minneapolis" noted that seven Somali men had been killed in the span of 10 months, all by fellow Somalis.
"It was all gang activity, totally, 100 percent," Shukri Adan, a former Somali community organizer told CBS at the time. "The police don't want to say that but everybody else knows that."
Victims of Somali violence are not confined to the local East African community.
In May, a group of Somali teens armed with hammers and bars reportedly attacked commuters at a rail station in Minneapolis.
In 2016, Dahir Adan, a 20-year-old Somali Muslim, stabbed 10 victims at the St. Cloud Crossroads Center mall.
Also in 2016, a mob of up to 30 Somali men traveled to the upscale Lake Calhoun neighborhood and prowled the streets while yelling threats of violence and rape at residents, according to reports.
"They were screaming at the house that they were going to kidnap you and they were going to rape you," one resident told local media. "It was a very traumatizing experience."
The International Institute of Minnesota estimates that as many as 150,000 Somalis reside in Minnesota, and that 80 percent are concentrated in the Minneapolis area.
By Mark Dice – 10/29/2019