By Mark Dice – 4/22/2020
MSNBC has Lyin' Brian Williams, CNN has Cryin' Brian Stelter.
By Cristina Laila – March 24, 2020
House Speaker

Nancy Pelosi

snapped at

CNN

's Dana Bash Tuesday afternoon when the host brought up Trump's recent remarks suggesting bringing Americans out of quarantine and back to work.
"I don't have time to follow people's twits…tweets, Twitters, whatever, tweets — so don't expect me to comment on that," Pelosi said.
"Well, even beyond Twitter, the President of the United States is signaling that he could open it up," Bash said.
"What is your opinion on that?" Bash said pressing Pelosi.
"I don't care! I don't care! I don't care!" Pelosi said as CNN's Dana Bash brought up Trump's plans to open America back up for business soon.
"It is not scientific based — he's notion mongering," Pelosi slurred.
Of course Pelosi doesn't care about Americans going back to work. She wants America shut down while she holds the country hostage and tries to shove her Socialist wish list through Congress.
President Trump on Tuesday appeared on Fox News for a town hall to discuss his administration's ongoing efforts to combat the Coronavirus.
Trump said he would likely open the country back up by Easter (April 12).
"I would love to have [the country] open by Easter," Trump said. "It's such an important day for other reasons."
When the governor of Virginia threatened to strip his people of their constitutional right, over 22 thousand showed up to protest
Greg Reese  – JANUARY 23, 2020
The protest in Richmond this Monday, attended by over 22,000 gun rights advocates, not only celebrated the Second Amendment as a God-given right, but also as one of the bedrocks of liberty in America.
"Make no mistake. She wants it," he added."She's planning on it. She'll do everything she can to achieve it."
Steve Watson  – OCTOBER 29, 2019
Rumors that

Hillary Clinton

will once again run for President continue to abound. The latest comes in the form of long time Clinton advisor

Dick Morris

insisting that Hillary will become the Democratic nominee because she believes 'she was put on Earth to be President'.
Morris served as an advisor to Bill Clinton while he was in the White House, and has ties to both Clintons going back decades.
"She feels entitled to do it. She feels compelled to do it. She feels that God put her on the Earth to do it." Morris said during a recent interview.
"She's hesitant because she realizes the timing is bad. In the old issue of sexual harassment, the focus has shifted from the perpetrator to the victims…when your focus is on the predator, that's Bill Clinton's problem, but when you look at the victim's…that's her." Morris added, arguing that Hillary's efforts to ignore her husband's sexual indiscretions are taking a toll.
Morris claimed that Hillary is waiting for Joe Biden to inevitably drop out.
"She's got to wait until Biden drops out because he's obviously next in line for it, and if he goes away, there's an opening for her," Morris said.
"Make no mistake. She wants it," he added."She's planning on it. She'll do everything she can to achieve it." he added.
In the past few weeks, Hillary has made several comments indicating she is at least considering another run.
During an appearance on PBS Newshour, Clinton teased a 2020 run against Donald Trump by bizarrely asserting, "Obviously I can beat him again."
Clinton then fanned the flames of speculation about a third run for president again when she tweeted at Trump, "Don't tempt me."
By Mark Dice – Oct 17, 2019
3 genders: Male, female, crazy wackos.
By Jeff Wagner
MINNEAPOLIS (WCCO) — Twenty people arrested, 18 of them now charged — all connected to brutal robberies in downtown Minneapolis.
The attacks were caught on surveillance video, taking place in August. Police say groups of people would target one person, assault them, and often to take their cellphone and wallet. The 18 suspects range in age from 15 to 27.
Walking alone is all part of Sneh Bhakta's commute in downtown Minneapolis.
"It does make me feel singled out because all the time I am alone," Bhakta said. "And like when I commute at 6 in the morning, I am by myself, at the train station I'm alone."
His concerns grew upon seeing the disturbing robberies caught on tape, occurring near the places he walks. At about 4 a.m. on August 17, at the intersection of 5th Street and Hennepin Avenue, a man stands by himself while looking down at his phone. Slowly but surely, people approach him to talk. Eventually he is surrounded, beaten and left unconscious — all so the thieves could take his phone and wallet.
A few weeks earlier outside Target Field, another group targets a man who is alone in broad daylight. They attack him, and even ride a bike over his body — all to steal his belongings.
Police said during a three-week stretch in August, 48 robberies were reported in downtown with 23 happening in one week.
From January 1 to August 26 in 2018, police said there were 156 robberies downtown. During that same span in 2019 there were 240 — an increase of 53.8%.
Most of the robberies are taking place along between 3rd and 6th Street, as well as Hennepin and 2nd Avenue. The key time is from 10 p.m. to 3 a.m.
Police said the criminals in the recent cases "finesse" the victim. They search for easy targets, typically someone who is intoxicated, alone, and looking at their phone.
"Many of these juveniles that are affected by this are part of just coming out of incarceration and they don't have any hope at home, there's nothing there, and so they come downtown where there's a little bit of everything and they're waiting on somebody to prey on," said V.J. Smith, founder of MAD DADS Minneapolis.
The organization is an outreach group that fills downtown every weekend. They will do everything from break up fights to feed people, but most importantly be the adult figure at-risk youth might be missing in their lives. Many of those arrested for the robberies are juveniles who MAD DADS workers have interacted with.
"These people in the community that are doing this, we have to have some consequences for this, but we also have to get to the heart of it. What's wrong? What's your problem? Is it education? Is it mental health? What is it and let's treat it and let's fix it," he said.
After the recent arrests, police said robberies dropped to just three in one week earlier this month. Regardless, Bhakta plans to keep his guard up.
"It's still challenging to feel, like, safe, because I'm always kind of vigilant about my surroundings, and if something doesn't happen to me, it might happen to someone else and just being aware of that," Bhakta said.
NGO claims hormone treatments completely reversible
A transgender advocacy

NGO

has told teachers that

puberty blockers

are harmless and should be given to children as young as 12 in a "model" training session for UK schools.
Scholars and medics warn such advice is "disturbing."
Administering puberty blockers to children questioning their gender identity as early as the age of 12 is beneficial for them as such treatment is "completely reversible" and gives them "immense relief," a trainer with the transgender lobby group Mermaids told a gathering of some 20 teachers and pastoral support workers at the Newman University in Birmingham last December.
The content of the meeting, which has arguably become a blueprint for further training sessions held by the group in schools across the UK, was revealed by the Times on Sunday.
"Puberty blocker medication doesn't make any changes," the trainer argued, explaining that it simply puts "a pause button on the pituitary gland and freezes puberty where it is" and the biological processes "will recommence" as soon as the treatment is stopped.
The Mermaids' line of argument did not sit well with one of the meeting's attendees, Michael Conroy, a pastoral support worker, who taped the footage. He told the Times that he was concerned about the group literally encouraging young children to believe that they were "born in the wrong body."
"It's putting children at risk."
His concerns were shared by Michael Biggs, an associate professor in sociology at St Cross College, Oxford, who told the Times that such a strategy pushes children toward further medical intervention up to sex affirmation surgery.
"Mermaids [are] not giving pupils a choice that they may just be gay or lesbian. Instead, it is diverted down a drastic path that ultimately ends in surgery. To be propagating such information to schools is disturbing," he said.
The group stated on its website that its advice was based on an "international scientific study and 25 years of experience in this field." It also boasted about receiving funding from the UK Department for Education ever since the December 2018 session, under a program "overseen by the Government Equalities Office."
While Professor Biggs has been accused of "transphobia" in the past, according to some reports, he is far from being the only one who sounds an alarm over practices that many find quite controversial. Earlier this year, groups of medical specialists both in the UK and across the pond – in the US – warned about the long-term effects of puberty-blockers and hormonal drugs, calling it a "grave public health concern."
The doctors warned that treatment starting with puberty blockers and often ending up with gender-reassignment surgeries has horrifying side effects, including "surgical complications, thromboembolic and cardiovascular disease, osteoporosis, malignancy, and persistently elevated rates of suicide."
The American College of Pediatricians (ACP) – a conservative children's advocacy group – also noted that healthcare professionals are "increasingly prohibited from investigating psychosocial factors" forcing children and adolescents to question their gender identity.
Meanwhile, links between gender identity issues and autism have been repeatedly invoked in the past. In 2017, a London clinic for transgender children reported that a third of their patients had "moderate or severe autistic traits." Yet, instead of paying more attention to the psychological side of the issue, many schools still apparently opt for going ahead with gender affirming actions.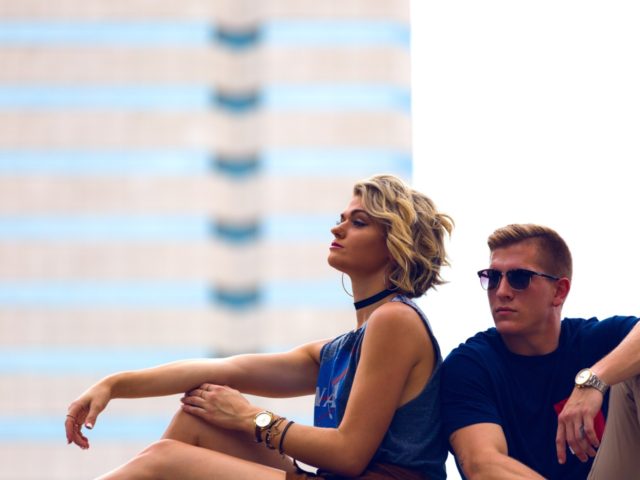 By Thomas D. Williams, PH.D – August 23, 2019
Women are increasingly opting out of

heterosexuality

because it is "the bedrock of their global oppression,"

NBC News

asserted in a bizarre opinion piece this week.
"Men need heterosexuality to maintain their societal dominance over women," writesMarcie Bianco for the NBC News website. "Women, on the other hand, are increasingly realizing not only that they don't need heterosexuality, but that it also is often the bedrock of their global oppression."
Ms. Bianco lumps together a series of recent news stories, "from Jeffrey Epstein to the Dayton and El Paso mass shooters, to Miley Cyrus's separation and Julianne Hough's declaration that she's 'not straight,'" which, she says, "together have laid bare the strictures of an American patriarchy on the edge of a nervous breakdown."
"As the status quo, heterosexuality is just not working," she concludes, before explaining just how evil men are and how women are learning to live without them.
"As a snapshot of 2019 America, these stories present a startling picture: Men continue to coerce, harass, rape and kill girls and women — and go to extreme lengths to avoid responsibility for their actions," she states. "On the other side of the issue, girls and women are challenging heterosexuality, and even absconding from it altogether."
"Patriarchy is at its most potent when oppression doesn't feel like oppression, or when it is packaged in terms of biology, religion, or basic social needs like security comfort, acceptance and success," Ms. Bianco declares.
"Heterosexuality offers women all these things as selling points to their consensual subjection," she concludes, in a painful piece of contorted logic that reveals far more about the writer than it does about society and its institutions.
"Historically, women have been conditioned to believe that heterosexuality is natural or innate, just as they have been conditioned to believe that their main purpose is to make babies — and if they fail to do so, they are condemned as not 'real,' or as bad, women," she pronounces.
A series of new role models are emerging, she suggests, whose lives and choices — as dysfunctional as they may appear to the general public — are teaching women how to take back power from men.
"Celebrities are not always at the vanguard of feminist thought, but both Julianne Hough and Miley Cyrus have recently spoken out about sexuality in ways that puts the power — and responsibility — back into their own hands," she declares.
Men, on the other hand, particularly heterosexual men, are a blight on the earth and a source of unending woes, one infers.
"Where men seem to never to have to take responsibility for their actions, women always must take responsibility for not only their own actions but the actions of men," she states. "Absconding from responsibility is the quintessential strategy of the patriarchy; it's how men stay in control and never lose their power."
"While men stew in their mess, women are rising," she continues. "They are taking back control of their lives and their bodies and they are questioning the foundation of the patriarchy — heterosexuality — that has kept them blindly subordinate for centuries."
While Ms. Bianco is certainly entitled to her opinions, as outrageous as they may be, one cannot help but wonder why NBC News would want to abet such overt and venomous misandry.
A similar tirade proposing that women are the source of all the world's ills would garner well-deserved condemnation and no self-respecting news site would publish it.
Why, then, prop up such irrational hatred when the target is men?
Coming soon to a neighborhood near you.
By Jim Hoft
Republican lawmakers led by

Sen. Lindsey Graham

and his cohorts are discussing new

"red flag"

laws to take guns from "unstable" individuals.
Last November a 61-year-old Maryland man was shot dead while police were trying to serve him a "red flag" order.
The local officials said it was a sign the law is needed.
There's more…
The police arrived at his house at 5 AM.
The old man had a gun in his hand and was shot dead!
The Anne Arundel County police chief defended Maryland's new "red flag" protective law Monday, just hours after a 61-year-old man was shot and killed while officers were trying to serve a court order requiring him to surrender his guns.
Chief Timothy Altomare said the fatal shooting in Ferndale was a sign that the law, which went into effect Oct. 1, is needed. There have been 19 protective orders sought in the county since then, tying Harford County for the most in Maryland, according to a report on the first month. Statewide, about half of the 114 orders sought have been granted.
"If you look at this morning's outcome, it's tough for us to say 'Well, what did we prevent?' " he said. "Because we don't know what we prevented or could've prevented. What would've happened if we didn't go there at 5 a.m.?"