By Dan Lyman – 3/4/2020
Hungary

has sealed its southern border, warning that many of the migrants currently attempting to break into

Greece

have traveled through

Iran

, which is in the midst of an explosive

coronavirus outbreak

.
Budapest announced that 'transit zones' along the border with Serbia, where migrants can apply for asylum and await decisions, will be closed indefinitely amid an effective invasion of Europe intiated by Turkey.
"We are suspending indefinitely new admissions of people into the transit zones," said Chief Security Advisor György Bakondi. "We are seeing a certain link between the coronavirus and illegal immigrants."
"For the safety of the 321 refugees in the transit zone, we are suspending the reception of additional refugees."
Bakondi said there are currently around 10,000 migrants preparing to sail from Turkey to Greek islands and another 13,000 attempting to storm Greece's land border – numbers which are reportedly increasing rapidly.
Many of the migrants hoping to reach Europe are from Afghanistan, Pakistan, and Iran, and a large number of them could be carrying coronavirus contracted at home or during their journeys, Bakondi asserted.
"To the Hungarian people: We will protect our borders and our internal security," he declared. "And a message to the migrants: No matter what their 'organizers' say, there is no way to Europe [through Hungary]."
"Hungary will not open up or let through anyone," he continued. "The road does not lead here, it's not worth trying this way."
Hungary has no reported cases of coronavirus at the time of this writing.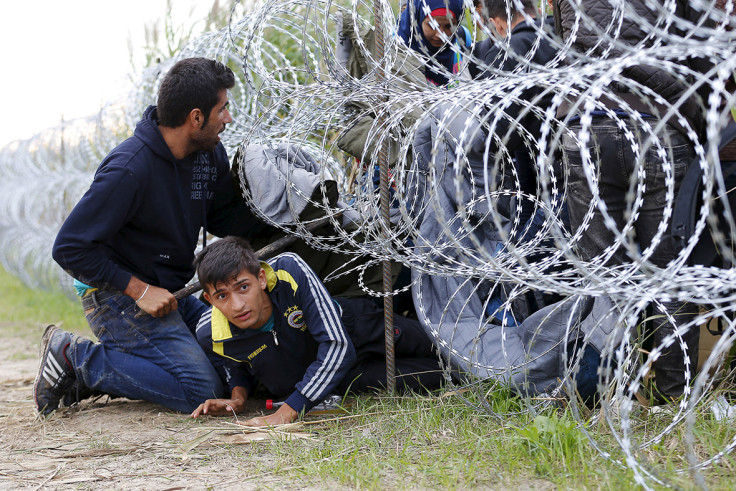 ---
By Peter Andrews – 3/4/2020
You've heard of animal-to-human

coronavirus

transmission, but how about the other way around? In a world first, a case has been reported of a dog possibly infected with coronavirus – who seems to have contracted it from its owner.
Initial reports of a possible canine case of coronavirus began to emerge from Hong Kong last week, and at that point it was announced that the dog in question would be quarantined for a fortnight. Swab tests from the pet's oral and nasal cavities were tested and turned up a "weak positive" for coronavirus. Thankfully, almost a week after first testing positive, the dog is reported as not yet having any symptoms.
Why the pooch was tested in the first place was not clear, although it was doubtful part of a routine medical check-up. It could be that some clinics are making sure to test all household pets of infected people so as to ensure the virus has as little mechanism to move about as possible. Alternatively, it could be that this dog is the first pet to be tested, and were others to be subjected to the same scrutiny it could transpire that more pets of infected people are also carriers of the disease.
Animal madness
Much of the early reportage on the outbreak focused on the seafood and wildlife market in Wuhan, which Chinese officials had declared was the likeliest source of the outbreak. That seemed to imply that the virus had an animal origin, as live poultry, fish and other critters were reportedly present at the market.
As such, the initial panicked response to the outbreak was to obsess over the potential source of the virus. Exactly what kind of animals were at this market, and were they alive and kicking, or dead to be sold as meat?
Animals as a source seemed, and still seems, a plausible view. Sars is one other virus, and closely related to 2019-nCoV, to have previously resided in beasts before making the leap to humans, and it was eventually traced back to a horseshoe bat colony in China.
And bats, of course, became the most inculpated source for the new disease. Who could forget those now-viral images and videos from Wuhan of people tucking into soup that looked like something from an HP Lovecraft novel? While it later emerged that the images were a few years old, it set people's minds to feverishly imagining what lethal zoological combo could have spawned the plague that has now infected tens of thousands of people worldwide.
Quite early on, Chinese scientists published a genetic study claiming that snakes were the most likely animal 'reservoir' for Covid-19. Pangolins were also mentioned, although traditional Chinese medicine's unique relationship with wildlife meant that, for some, practically everything was on the table.
An innocent victim
It is important to remember that the dog in the case mentioned received the virus from its owner, and not the other way around. Commenting on the case, Hong Kong's Agriculture, Fisheries and Conservation Department (AFCD) pointed out that it does not currently have conclusive evidence that pets can be infected "or can be a source of infection to people."
'Didn't know it's virus reservoir': Chinese travel blogger forced to apologize for eating BAT on camera (VIDEO)
Therefore, animal health experts say that there is absolutely no reason to hide from your pet, or to keep it indoors. You're probably much more likely to contract the virus from another person – no matter where in the world you are.
While the dog remains under investigation, and it is not definite whether or not it has the coronavirus, it – like its owner – has been quarantined. Hopefully the dog, and its owner, make a full recovery, and the virus does not spread to more animals. But the prospect of the virus crossing the species barrier does not bode well for anyone.
"If these are confirmed to be from Corona as videos claim, death toll is higher than the government claims (officially at 77)."
Zero Hedge – MARCH 4, 2020
More shocking leaked footage published by the

BBC

shows bodies piling up at a local morgue in Qom, said to be victims of the country's spiraling

coronavirus

outbreak. Located 140km to the south of

Tehran

, Qom is believed ground zero for Iran's epidemic, and crucially is a popular place of Shia religious pilgrimage.
Mideast-based correspondent Joyce Karam comments of the newly published video: "If these are confirmed to be from Corona as videos claim, death toll is higher than the government claims (officially at 77)."
As of Tuesday Iranian health officials announced 2,336 coronavirus cases and 77 dead, including 23 parliament members confirmed for the virus, which is roughly 10% of Iran's legislature.
All of this strongly suggests much bigger numbers of infected nationwide, after multiple reports alleged the Islamic Republic is hiding its true numbers, or at least refusing to test.
Chuck Todd and the rest of the propaganda goon machine are gas lighting America by claiming that they didn't push a manufactured narrative claiming that the Trump Administration is calling the Coronavirus outbreak a hoax. Chuck Todd, in a fit of hypocritical outrage went as far as to confront Vice President Mike Pence who is leading the effort to respond to the Coronavirus outbreak in the United States. Todd insists that no one in the mainstream media created anything resembling what the Trump Administration claims. Of course, as usual, Chuck Todd neglected to check the facts.
Further leaked video published in the series Tuesday by BBC Persian shows health workers in full Hazmat gear burying victims believed infected by Covid-19.
The country is bracing itself for the possibility of "tens of thousands" getting tested and possibly being confirmed for the virus after the latest spike in cases, an official said previously.
Among the new series of leaked videos includes footage that appears to show preparations for mass graves as the crisis rapidly worsens in the Islamic Republic.
Ayatollah Khamenei and others among Tehran's top leadership have claimed Iran's handling of the epidemic has been timely and transparent.
But on Tuesday the supreme leader ordered the armed forces to assist Health Ministry in combating the spread.
As the footage went viral after first appearing on Iranian social, later picked up by BBC, the video maker's commentary has been translated and captioned in the below, which noted the number of bodies being processed "seems like it's never ending":
It's as yet unclear what role national troops could play, but hundreds of thousands could be mobilized: "After downplaying the coronavirus as recently as last week, Iranian authorities now say they have plans to potentially mobilize 300,000 soldiers and volunteers to confront the virus," Fox News reported citing state sources.
The series of clips published by BBC Persian Tuesday is not the first such to come out of Iran, but underscores the widespread allegation that authorities are greatly downplaying the true death toll and infected count.
By Dr. John Campbell – 3/4/2020
As a Respiratory Therapy Tech and a RN who has worked all over the US as a traveling nurse……. our healthcare system will be overloaded and unable to support all those who may need ventilator or ICU support. Take responsibility for your and your family's health! Be proactive and vigilant with your hygiene and social contact!
By Peak Prosperity – 3/4/2020
WHO's PC, "Nothing to see here, move on" attitude clearly points to an agenda that is NOT human friendly!
By Steve Watson – 3/4/2020
"Hitler Never Took A Salary"
President Trump donated his fourth quarter salary to the

Department of Health and Human Services

this week in an effort to help fight the

Coronavirus

, but leftists are angry about it because…  Orange man bad.
The donation of $100,000 is part of Trump's promise to never take any salary while he is President. He has previously given away his salary to the Surgeon General's office, border enforcement, and Veterans' Affairs, to name but a few.
The move was no where near good enough for leftists though, who immediately compared the move to Hitler (an obvious starting point):
This one was furious that the Orange man's salary would only pay for 50 coronavirus tests:
Presumably she has donated more money?
This one called it a 'drop in the bucket' and got angry about Trump owning property:
In an important counterpoint, these leftists want to know how "we" get back money Trump has spent on golfing:
This one flat out denied that Trump is donating anything. The proof? The check is dated January 29th:
Who'd have thought Trump could do something before announcing it?
And this one repeated a fake narrative spread by Democrats that Trump defunded pandemic response:
by Brock Simmons March 4, 2020
A couple of

10 year old boys

were doing what 10 year old boys do, playing battle with some toy guns. Then someone called the police on them, and next thing the boys knew, they were being tossed into the back of police cars in handcuffs.
The two boys were charged with felony menacing, and forced to do community service, among other things.
Fox 21 in Colorado Springs reports:
A Fort Carson family wants to share their story with others after their 10-year-old son was arrested and charged with Felony Menacing, a Class 5 felony, which has since been expunged.

"They came back over, told me my rights, and told me what was going to happen. They put handcuffs on me, and I got into the car," 10-year-old Gavin Carpenter said.

The incident happened in July of 2019.

FOX21 exclusively interviewed the 10-year-old. Gavin said he and a friend were playing outside with toys near N. Powers Blvd and Constitution Ave. He said they were playing a version of the video game Fortnite.

"The toy bow was an orange Nerf bow. It didn't work. Nothing could shoot out of it. Nothing would come out of it. The weapon, well toy I had, had an orange tip. It was also broken and couldn't shoot anything out of it," Gavin said.

Gavin stated they pretended to shoot at about 5 to 10 cars until one man stopped. He said he and his friend ran to his friend's grandparents' house.

"He slammed his breaks and started reversing as fast as he could," Gavin said. "He came up and started getting very heated and was very mad. I was at the time, very scared."

The man called the police. According to the Carpenter family, El Paso County Sheriff's deputies arrived and arrested both Gavin and his friend. He was handcuffed and taken to the Colorado Springs Police Department for mugshots and fingerprinting.

Gavin's parents, Chris and Stephanie, followed the cars to the police station. They said that night Gavin wasn't released until 10:30 p.m.

They immediately hired an attorney to help get the charge expunged from Gavin's record. They were set a court date, and when they arrived, they were taken to a separate room instead of seeing a judge.

"It was just a hard no, that the District Attorney wasn't going to throw this out," Gavin's father Chris said. "That is when we moved into the diversion program."

The diversion program required Gavin to do community service, submit an essay, and other tasks before the expunge could happen. After 216 days of fighting it, the felony was finally expunged.

EPSO released this statement when we asked about the arrest:

"If anyone is dissatisfied with the actions of any employee of the El Paso County Sheriff's Office, they have administrative avenues available to them. We encourage citizens to take advantage of those avenues."
As Gavin, now aged 11, tells it in an interview with Fox21, he was armed with a Nerf gun equipped with an orange tip, while his friend had a Nerf crossbow; he said both toys were broken and incapable of shooting foam projectiles.

The boy said they pointed their orange-tipped gun and crossbow at five or 10 cars before they encountered an oncoming truck, whose driver slammed on the breaks and went in reverse.

Gavin and his friend ran inside a grandparent's home, where a Ring doorbell camera captured the furious truck driver's confrontation with the family.

'He came up and started getting very heated and was very mad,' Gavin told the station. 'I was at the time, very scared.'

The video shared with Fox 21 shows the man, dressed in a plaid shirt and a baseball hat, yelling, 'I don't know what kind of gun it is. It was some kind of gun.'

An adult inside the house asks the stranger to 'watch your mouth, please,' to which the driver responds, 'How about I call the f***ing cops?'

The driver made good on his threat and summoned deputies from the El Paso County Sheriff's Office, who proceeded to arrest Gavin and his friend.

Both boys, then aged 10, were handcuffed, placed inside patrol cars and taken to the Colorado Springs Police, where they were photographed for mugshots and had their fingerprints taken.

According to his parents, Gavin is now 'terrified' of law enforcement and suffers from 'flashbacks' of his arrest.

Stephanie Carpenter explained in her post that she has decided to talk publicly about her family's plight to educate other parents that this 'could happen to anyone with children.'

She went on to say that the family had plans to settle in Colorado for good after her husband's eventual retirement from the military, but all that has now changed.

'I can't live in a state where my kids can't be kids and play outside without being scared of being arrested,' she wrote. 'I fully believe schools need to be educating children that this is a possibility. Had Gavin known….none of this would have happened.'

Chris Carpenter is scheduled to be relocated to another posting in less than three months, and his wife says the move could not come soon enough 'as we are all ready to leave.'

She has expressed concern that her son, now aged 11, will spend the rest of his life dealing with 'the mental repercussions' stemming from his brush with the law.
Gavin's mother took to facebook to make this post:
by Jim Hoft March 4, 2020
Former New York City Mayor

Mike Bloomberg

dropped from the presidential race on Wednesday after his horrid night on Super Tuesday.
Bloomberg finished the night with only 18 delegates far behind the the leaders Joe Biden and Bernie Sanders.
Mini Mike endorsed Joe Biden.