Robert Mueller

is special counsel no more, but he fired a parting shot during his televised statement that has sent Democrats into a frenzy of calls for impeaching

President Donald Trump

, whether by accident or by design.
At a remarkable press conference on Wednesday – at which he refused to take questions – Mueller sank the theory that Attorney General William Barr somehow misinterpreted his report, and sent a clear message to House Democrats eager to have him testify about the probe that "the report is my testimony."
'Case closed!' Trump tweets nothing's changed as resigned Mueller says charging him wasn't an option
Despite years of work, millions of dollars and near-unlimited powers, Mueller's special prosecutors found zero evidence of collusion or conspiracy – and absent that underlying crime, no grounds to charge the US president with obstruction of justice, even as they wrote up 240 pages of tortured reasoning as to why they wanted to. Case closed, conspiracies put to bed, lots of people with egg on their face, time for the republic to move on, right?
Wrong!
Did you honestly expect people who have gone all in on a conspiracy theory about Russia somehow "stealing" the election from Hillary Clinton – investing not just the past three years, but their entire political and media capital into it – to give up just because there isn't a grain of truth in it? Instead, they latched onto Mueller's carefully weasel-worded declaration:
That was no mere misstep, either. Mueller followed that line up with a passage about how his office did not make a determination whether Trump committed a crime because the standing policy of the Office of Legal Counsel (OLC) is that a sitting president cannot be indicted. Not their fault, you see, they had no choice.
Except they did, and they had the avenue to make their claim – but chose not to, knowing that Barr would shoot it down, because he disagreed with their interpretation of obstruction laws long before he became AG. But those are details known to lawyers and honest legal analysts, not the propagandists and conspiracy-peddlers who have spent years whipping the American public into a hysteria not seen since the 1950s.
Mueller's was a weasel statement, worthy of former FBI boss and his personal friend James Comey – who actually admitted to Congress that he hoped to force the appointment of a special counsel by leaking the memos of his meetings with Trump to the press.
It also seems to have been a dog-whistle to Democrats, who have been arguing ever since the Mueller report was published that it totally proved obstruction of justice and gave them the pretext for impeachment. A variety of party luminaries, such as House Judiciary Committee Chair Jerry Nadler (D-New York), presidential candidate Senator Cory Booker (D-New Jersey) and firebrand Alexandria Ocasio-Cortez (D-New York), now doubled down on the claim.
What happens next is anybody's guess: Democrats may hope enough Republicans will break ranks to successfully impeach and convict Trump, though that's no more likely to succeed than any of the schemes to overturn the 2016 election result so far. Or they might hope that impeachment proceedings will mobilize their voters for 2020. Either way, the opposition party and the media aligned with it are determined to keep flogging the dead horse of Russiagate, hoping it will deliver them victory.
Those who believe Mueller's mission was to "get Trump" will no doubt be happy with the former special counsel's last move. But Americans who hoped he would clear the air clogged by endless conspiracy theories have every right to feel disappointed.
"I wonder what their employers would think"
By Paul Joseph Watson
A verified

Twitter

journalist is threatening to contact people's employers because they did the 'OK' hand sign.
Yes, seriously.
Finnish Twitter user Iisak Selin responded to a tweet by journalist David MacDougall with a photo of himself using the hand gesture.
MacDougall responded by tweeting, "Hi Iisak – Do you have a job? I wonder what your employers think of you making a sign that has been co-opted by white supremacists and racists? Would be interesting to find out. Or maybe a future employer is interested…"
But MacDougall wasn't finished.
He then responded to another individual who posted a photo of himself doing the OK hand sign with the same threat.
"I don't know if these people have jobs, but I wonder what their employers would think about them making signs that are closely associated with & used by white supremacists and racists?" asked MacDougall.
That's funny, because I wonder when MacDougall and his ilk will stop abusing their platforms to threaten to doxx people simply because they don't like their politics and do some actual journalism.
Respondents on Twitter soon put MacDougall in his place.
As we document in the video below, the media was tricked into believing the OK hand sign was secret code for white supremacy as a result of a 4chan troll and has been whipping up hysteria about it ever since.
Published on May 16, 2019
The New York City entered the race, and came out swinging against President Donald J. Trump.
The never-ending list of Democratic Party candidates for president got a little bit longer Thursday, when New York City

Mayor Bill de Blasio

announced his candidacy.
"Even before his announcement, de Blasio already qualified to participate in the Democratic primary debates, according to a poll from Reuters and Ipsos," Axios said. "The mayor intends to leverage his record of New York achievements such as universal pre-kindergarten and raising the minimum hourly wage. Following the announcement, he will go on a 4-day campaign tour to Iowa and South Carolina, per NBC."
President Donald J. Trump weighed in on de Blasio's candidacy on Twitter.
"The Dems are getting another beauty to join their group. Bill de Blasio of NYC, considered the worst mayor in the U.S., will supposedly be making an announcement for president today. He is a JOKE, but if you like high taxes & crime, he's your man. NYC HATES HIM!" he said.
"There's plenty of money in this world. There's plenty of money in this country. It's just in the wrong hands," de Blasio said in a campaign announcement video.
He spent the first half of his announcement video describing his far-left platform, which includes universal healthcare, a $15 minimum wage, and "free" Pre-Kindergarten education for all. He spent the second half of the announcement video attacking Trump, calling him a "bully."
De Blasio is squarely in the progressive corner. He was widely ridiculed for last month for proposing a skyscraper ban in New York City to fight climate change.
Big League Politics reported:
The mayor of America's most populous city has a new plan to fight "global warming," and it involves doing away with the landscape of the city over which he presides.

"We're going to introduce legislation to ban the glass and steel skyscrapers that have contributed so much to global warming," said New York City Mayor Bill de Blasio said. "They have no place in our city or our Earth anymore."

The mayor did not offer much in the way of specifics regarding his plan. Will existing skyscrapers be demolished, or will the city ban new ones from being erected? Many such buildings are apartments and condos. Will the people who live in them be forced to move? Also, what happened to "climate change?" This reporter was under the impression that "global warming" was an outdated term.

According to Spectrum News 1 in New York City, de Blasio's proposal would prevent developers from "using all glass facades unless they meet strict new energy guidelines," which he called "the city's version of the Green new Deal."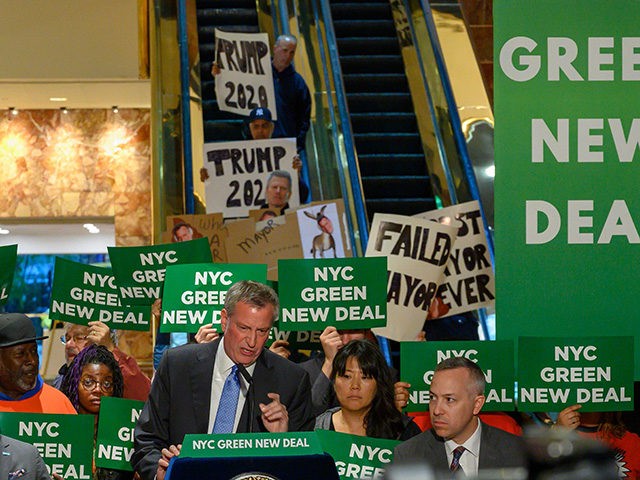 By Joshua Caplan
Supporters of

President Donald Trump

crashed New York

Mayor Bill de Blasio

's press conference touting the city's "Green New Deal" inside the lobby of Trump Tower on Monday morning, holding signs with insults directed at the far-left Democrat.
Speaking at a podium steps from the spot where President Donald Trump announced his own presidential run in 2015, the Democrat said he had come to Trump Tower to promote a new city air pollution law requiring skyscraper owners to cut greenhouse gas emissions or face fines.
De Blasio said Trump's buildings in the city could face a combined $2.1 million in annual fines if they don't reduce emissions by 2030.
"President Trump, you're on notice. Your polluting buildings are part of the problem," he claimed.
However, de Blasio's speech was all-but drowned out by a throng of Trump supporters who demonstrated behind him on the building's escalators, booing, whistling, chanting and holding up signs with messages including "Failed mayor" and "Worst mayor ever." Footage of the heckling was shared to social media.
Loud music also played over the building's sound system for part of the event. De Blasio had to shout to be heard.
"It's so nice of them to serenade us at Trump Tower. Clearly, they are uncomfortable with the truth," he said.
Under a deal that President Trump struck with the city decades ago, Trump Tower's lobby is considered a public space for much of each day.
New York City's $14 billion "Green New Deal" aims to reduce emissions by roughly 30 percent. The plan will ban new glass buildings deemed "inefficient" and strive for carbon neutrality by 2050.
The Associated Press contributed to this report. 
An account documenting anti-Trump violence was banned from Twitter last night.
By Tom Pappert
Last night Twitter banned a new account,

@MAGAPhobia

, created to chronicle instances of violence used against conservative supporters of

President Donald J. Trump

.
In the midst of a late night purge of conservative accounts, Twitter banned the conservative user who used the platform to log all instances of violence used against supporters of President Trump. As Big League Politics has detailed over the last several months, vocal supporters of the president are routinely attacked in public, have their property vandalized or destroyed, and face intimidation for simple acts, such as wearing a 'Make America Great Again' hat or having it displayed in a vehicle.
Also last night, a parody account mocking Rep. Alexandria Ocasio-Cortez was banned last night, with Twitter sending the user an email suggesting he did not properly identify it as a parody, even though the word "parody" was used both in the account's name and bio.
Anti-Trump violence appears to be on the rise around the country.
Just this year, prominent Trump supporters Brandon Straka, Michael Knowles, and Owen Shroyer were all attacked in one day, an immigrant man was attacked in his neighborhood for wearing a 'MAGA' hat, a man was attacked for wearing his 'MAGA' hat during a Christchurch mosque vigil, a Massachusetts woman attacked a man for wearing his 'MAGA' hat then claimed to be the victim of the altercation, and Canadian conservative Faith Goldy and another man were attacked in nearby Toronto, Canada for wearing pro-Trump accessories and holding signs with anti-racism slogans.
The situation is exacerbated when considering crimes against private property.
Since March, at least three individuals have had their property vandalized for supporting President Trump. A recreational vehicle used to sell pro-Trump merchandise outside rallies was battered overnight, a man had his tires slashed by a woman who later admitted to being provoked by the 'MAGA' hat on his dashboard, and just this week tires were slashed outside a pro-Trump event.