Now, he wants the taxpayer to pay for the riots.
By
Minneapolis Democratic Mayor Jacob Frey

is ordering city officials to begin a wide-ranging query of the damage done to the city's infrastructure from the race riots that began last week after the death of

George Floyd

, planning on requesting a federal bailout for the city to repair the damages done by "protestors."
Early preliminary estimates gauge the price tag of property damage from the riots at more than $55 million dollars. Frey is already working with U.S. Senator Amy Klobuchar and representatives Ilhan Omar and Betty McCollum on a potential bailout package for the city.
However, McCollum described a more realistic picture on the prospect of the Twin Cities being granted a federal bailout, which would require approval from the Republican Senate and the signature of President Trump. In an email to the Minneapolis Star Tribune, she said the chances of a bailout were slim. "To be realistic, the odds of that happening are, at best, very difficult."
Curiously, Frey seemed a lot less concerned about the economic and property damage impacts of the race riots when they were actually happening. Even the Democratic Governor of Minnesota, who proved almost equally inept at preventing mass destruction and controlling the volatile situation, slammed Frey for his refusal to deter the large crowds of criminal rioters, calling the city's response to the riots an "abject failure." Frey rebuffed suggestions to deploy the Minnesota National Guard before caving and giving in.
Minnesota Republicans have called upon both Tim Walz and Frey to resign, citing their utter failure to prevent riots that have now caused damages in the tens of millions to everyday Minnesotans and the Twin Cities community.
In a remarkable display of irresponsibility, the liberal Democrats cheering on rioting and property damages aren't even willing to pay for the damages enacted in their own communities. As it turns out, the buck stops with the American taxpayer, many of whom they'd gladly point to as ones whom they're protesting.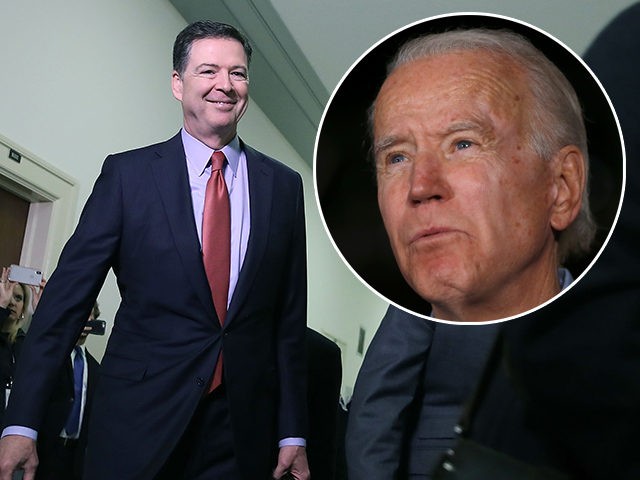 by Joshua Caplan – 3/3/2020
Fired FBI Director

James Comey

endorsed former Vice President

Joe Biden

and said he voted for him in Virginia's Democratic presidential primary on Super Tuesday.
"Voted in first Dem primary to support party dedicated to restoring values in WH. I agree with @amyklobuchar: We need candidate who cares about all Americans and will restore decency, dignity to the office," Comey wrote on Twitter. "There is a reason Trump fears @joebiden and roots for Bernie. #Biden2020." 
Andrew Bates, the Biden campaign's rapid response director, seemingly rejected Comey's endorsement, tweeting: "Yes, customer service? I just received a package that I very much did not order. How can I return it, free of charge?"
Comey, who quit the Republican Party in 2018, donated $2,700 to Sen. Amy Klobuchar's (D-MN) now-defunct campaign, while his wife made two contributions — $1,000 and $1,700 — to her last year. After dropping out of the Democrat presidential primary on Monday, Klobuchar endorsed Biden, saying the former vice president "can bring our country together and build that coalition of our fired-up Democratic base."
In addition to Klobuchar, former South Bend, Indiana, Mayor Pete Buttigieg threw his support behind Biden after dropping out of the race Sunday. Appearing together in Dallas, Buttigieg said Biden is the only candidate who can "bring back dignity to the White House."
"When I ran for president we made it clear that the whole idea was about rallying the country together to defeat Donald Trump and to win the era for the values that we share," the former mayor said. "And that was always a goal that was much bigger than me becoming president and it is in the name of that very same goal that I am delighted to endorse and support Joe Biden for President."
Former Rep. Robert Francis "Beto" O'Rourke (D-TX) also endorsed Biden on Monday.
"I, like a lot of people in Texas, really wanted to make sure I made a good decision. So I watched the debates, watched the town halls, listened to the candidates. And you know, by the end of last week, I knew that I wanted to vote for Biden. And it was a huge relief to finally figure out the candidate who I wanted to vote for," O'Rourke said of his decision to back Biden.
"And then this weekend I was talking to my oldest son, Ulysses, and told him I was going to vote for Biden," he added. "And he said, 'Well, you should endorse him.' And I said, 'OK, that makes sense.' He said, 'If you want this guy to win, you should do everything you can to help him.'"
by Jim Hoft March 3, 2020
Last night in Texas Senator

Amy Klobuchar

and former

Rep. Bobby O'Rourke

endorsed

Joe Biden

for president.
During his rally Joe Biden promised supporters that Bobby, fake Latino 'Beto', "will be the one who leads" on his gun control efforts.
It is widely known that Bobby O'Rourke wants the government to confiscate your guns.
Bobby knows about as much about guns as Joe knows what state he's in.
BY JULIA MANCHESTER AND AMIE PARNES – 03/02/20 02:20 PM EST
Former South Bend, Ind., Mayor Pete Buttigieg 
is set to endorse former Vice President
Joe Biden
in the Democratic presidential race one day after ending his own bid, according to a source close to the Biden campaign. 
Buttigieg's planned endorsement comes as fellow moderate Sen. Amy Klobuchar (D-Minn.) also throws her support behind Biden after dropping out of the race Monday.
The latest endorsements for Biden point to a consolidation of the moderate lane of the Democratic race in an effort to block progressive Sen. Bernie Sanders (I-Vt.) from getting the nomination.
Biden's campaign got a new push after Saturday's South Carolina primary, where the former vice president won every county in the state.
DEVELOPING
President Trump's favorite meme-maker is back with another epic video
2/25/2020
Pro-Trump meme king

Carpe Donktum

has released a new video mocking Democrat presidential candidates ahead of Tuesday night's South Carolina debate.
The video is a spoof commercial for the upcoming debate.
The mock advertisement features Joe Biden as "The Creeper," Elizabeth Warren as "The Fake Indian," Bernie Sanders as "The Communist," Amy Klobuchar as "The Loopy One," Michael Bloomberg as "Ye Tiny Oligarch," Pete Buttigieg as "The Android," and ends with a surprise visit from "The Defending Champ," President Donald J. Trump.
Watch Carpe Donktum join Infowars' War Room below:
blob:https://banned.video/09d3c4ad-caa2-4641-882e-987c1b08b62d
Instead of voicing their support for the most ludicrous proposal in socialist history, 43 Democrats decided to take the easy way out
By Tyler Durden
How embarrassing is the green new deal?
So embarrassing that when Senate majority leader McConnell tried to force the Democratic party's presidential contenders into an embarrassing vote over the berserk, MMT-inducing climate-change proposal (which Republicans are confident that even sober liberal will oppose), not a single Democrat voted for it. Instead, in the vote which was blocked late on Tuesday with a vote of 0-57, 43 Democrats voted merely "present", including the Senate's half-dozen presidential candidates, to sidestep the GOP maneuver and, as Bloomberg put it, "buy time to build their campaign positions."
The vote was the first of many attempts by Republicans to force (socialist, MMT) supporters of the Green New Deal to come into the spotlight and suffer the public scrutiny. The proposal – mostly a collection of goals for mitigating climate change rather than a fully formed plan of action – which according to some would cost north of $100 trillion and would require the launch of helicopter money, also known as "MMT", has been a favorite target for criticism by McConnell and Republicans ever since freshman Representative Alexandria Ocasio-Cortez of New York and Senator Ed Markey of Massachusetts rolled it out in February.
"I could not be more glad that the American people will have the opportunity to learn precisely where each one of their senators stand on this radical, top-down, socialist makeover of the entire U.S. economy," McConnell said before the vote.
Alas, that opportunity was denied because instead of voicing their support for the most ludicrous proposal in socialist history, 43 Democrats decided to take the easy way out.
Even the six Democratic presidential contenders, including Cory Booker of New Jersey, Elizabeth Warren of Massachusetts, Kamala Harris of California, Kirsten Gillibrand of New York, Bernie Sanders of Vermont and Amy Klobuchar of Minnesota, all voted present.
At this point, the candidates for the Democratic nomination generally haven't spelled out specific proposals. Senator Cory Booker of New Jersey has called the Green New Deal "bold," and Senator Kamala Harris of California has said it's "an investment" worth the cost. Senator Amy Klobuchar of Minnesota described it somewhat less enthusiastically, as an "aspiration" to act on climate change.
Fresh off what has been dubbed the best day in Trump's presidency, on Tuesday Trump, no longer the subject of Russia collusion conspiracy theories, met with Senate Republicans at the Capitol, and according to Lindsey Graham the president told them regarding the Green New Deal, "make sure you don't kill it too much because I want to run against it" in 2020.
Well, so far so good. In an attempt to save face with progressives, Adam Green, a co-founder of the grassroots Progressive Change Campaign Committee, said McConnell was trying to force some "no" votes at a time when Democrats are still reviewing the plan. Voting "present" shows that Democrats aren't going to hamper things with an early dissent, he said.
While the "present" votes were to be expected, what came as a surprise is that three Democrats voted with Republicans against the resolution including Kyrsten Sinema of Arizona, Joe Manchin of West Virginia, and Doug Jones of Alabama, who faces a tough re-election campaign next year in a deep-red state. Independent Angus King of Maine, a member of the Democratic caucus, also voted against the measure.
The challenge for Democrats looking ahead to next year's campaigns is to avoid having their support for a still-evolving climate proposal tarred by Republican efforts to portray it as an extremist agenda that would do away with hamburgers and airplane travel.
"It's one thing to be on the campaign trail and say here is what I believe in and fill in the details," said Democratic strategist Rodell Mollineau, who was a top aide to former Senate Democratic leader Harry Reid. "It's another thing to go on record and let other people fill in the details for you."
As Bloomberg notes, "the Green New Deal has more than 100 congressional Democrats as co-sponsors, including the six senators running for president. While Democrats are united on the need for significant action to stem climate change, they don't agree on specific proposals." As a result, McConnell introduced his own version, drawing on the language of the Democratic measure.
Top Senate Democrat Chuck Schumer tried to shield Democrats from having to expose splits between moderates and progressives on the issue. He dismissed the vote as "gotcha politics" intended by Republicans to distract from the fact that they don't have their own plan to curb greenhouse gas emissions.
"Republicans want to force this political stunt to distract from the fact that they neither have a plan nor a sense of urgency to deal with the threat of climate change," he said.
Following tonight's Senate vote, Democrats plan to introduce a resolution in the House this week that calls for the U.S. to remain part of the Paris Climate Accord and requires the Trump administration to create a plan to meet its emission reduction goal, according to a senior Democratic aide. As a reminder, in 2017 Trump announced that he intends to pull out of the Paris agreement, under which the U.S. pledged to reduce greenhouse gas emissions by at least 26 percent from 2005 levels by 2025.
While Senate Democrats weren't under any real pressure from outside progressive groups to vote for the Green New Deal at this point, they will be in due course.
Meanwhile, capitalizing on the ultra-liberal faction within the Democratic Party, the GOP's message focuses on the botched February rollout of the proposal, which included the release of documents from Ocasio-Cortez's office promising economic security even for those "unwilling to work," and suggesting the eventual elimination of air travel and "farting cows."
By Peter D'Abrosca
A U.S. Senator and 2020 presidential candidate vowed to avenge

Hillary R. Clinton

's shocking 2016 loss to

President Donald J. Trump

on MSNBC's "The Rachel Maddow Show" on Monday.
"We need to make sure the 2020 election is protected so that what happened to Hillary Clinton never happens again," Sen. Amy Klobuchar (D-Minn.) said.
Klobuchar was speaking in the context of "Russian interference" in the 2016 election, conspiracy theorizing that some sort of Russian-driven voter fraud cost Clinton the election. Maddow made no effort counter these wild claims, or to point out that Clinton lost because she was the least likable and most out-of-touch presidential candidate in recent American history who failed to campaign in Wisconsin. These are minor details to Democrats, who cannot accept the premise that they lost because ordinary Americans who live between New York and Los Angeles just aren't that into them.
Speaking of unlikeable candidates, Klobuchar announced her candidacy outside, in near-blizzard conditions, just days after reports that her Senate staffer hated her.
Big League Politics reported:
Klobuchar, known for her nasty questioning of Supreme Court Justice Brett Kavanaugh at his confirmation hearings last year, and particularly for her apparent disdain for his enjoyment of beer (ironically, she held a pre-announcement party with her staff at a local brewery Saturday night) has been embroiled in a bit of controversy for acting abusively towards her Senate staffers.

"At least three people have withdrawn from consideration to lead Sen. Amy Klobuchar's nascent 2020 presidential campaign — and done so in part because of the Minnesota Democrat's history of mistreating her staff," a Wednesday report said.

The report continued:

But some former Klobuchar staffers, all of whom spoke to HuffPost on condition of anonymity, describe Klobuchar as habitually demeaning and prone to bursts of cruelty that make it difficult to work in her office for long.

It is common for staff to wake up to multiple emails from Klobuchar characterizing one's work as "the worst" briefing or press release she'd seen in her decades of public service, according to two former aides and emails seen by HuffPost.

Although some staffers grew inured to her constant put-downs ("It's always 'the worst,'" one said sarcastically, "'It was 'the worst' one two weeks ago"), others found it grinding and demoralizing. Adding to the humiliation, Klobuchar often cc'd large groups of staffers who weren't working on the topic at hand, giving the emails the effect of a public flogging.
WATCH: