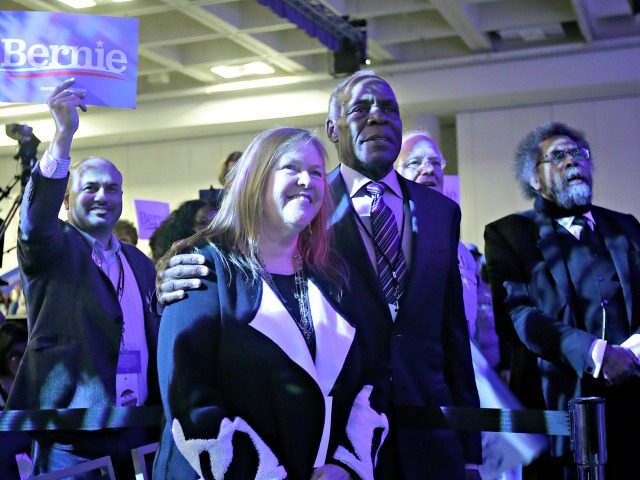 By Haris Alic
A major donor who introduced 2020 Democrat presidential candidate

Sen. Bernie Sanders (I-VT)

at his first 2020 "grassroots fund-raiser" previously advocated for the South to secede so it could stop "dumbing down national politics."
On Saturday, Sanders's presidential campaign hosted a star-studded event in San Francisco, which it billed as "grassroots fundraiser and friendraiser." Tickets for attendance started at $27 and went up to $2,800, the maximum contribution allowed by the Federal Election Commission.
Although the event drew attention with its high-profile speakers, including actor Danny Glover and activist Cornel West, the man who introduced Sanders, Guy Saperstein, received little notice. In its coverage of the fundraiser, The New York Times described Saperstein as a "retired civil rights lawyer" and wealthy "political contributor," who was out of place given Sanders' broadsides against big money in politics.
What the Times failed to mention is that Saperstein, a former president of the Sierra Club, has a long and somewhat controversial history in Democratic politics.
As previously reported by the Washington Free Beacon, Saperstein in 2014 was a member of a private Google group consisting of "progressive organizers, reporters, and campaign apparatchiks." As a member of that group, Saperstein openly discussed his support for Southern secession.
"For more than 100 years, the South has been dumbing down national politics, tilting the country in a conservative direction, supporting militarism, all while demanding huge financial subsidies from blue states," Guy Saperstein wrote in emails to other members. "It would be 100% fine with me if the South was a separate nation, pursuing its own priorities and destiny."
When the emails were leaked to Media Trackers, a now defunct Wisconsin conservative news outlet, Saperstein doubled down on his stance.
"Secession would be a gradual process, giving any blacks who felt threatened time to relocate," he told Media Trackers at the time.
It is unclear if Sanders knew about Saperstein's prior remarks. The senator's campaign did not return requests for comment.
The issue, however, underscores a potential vulnerability for the self-described Democratic socialist from Vermont. During his 2016 presidential campaign, Sanders failed to gain traction in the South. Sanders lost every single state in the region to former Secretary of State Hillary Clinton, the eventual nominee. In some states like South Carolina, where African-American voters make up a large portion of the Democratic electorate, Sanders was defeated by landslide margins.
Saperstein is also a former member of the Democracy Alliance, the secretive group of liberal billionaires—which also includes Tom Steyer and George Soros—that funds Democratic campaigns and causes across the country.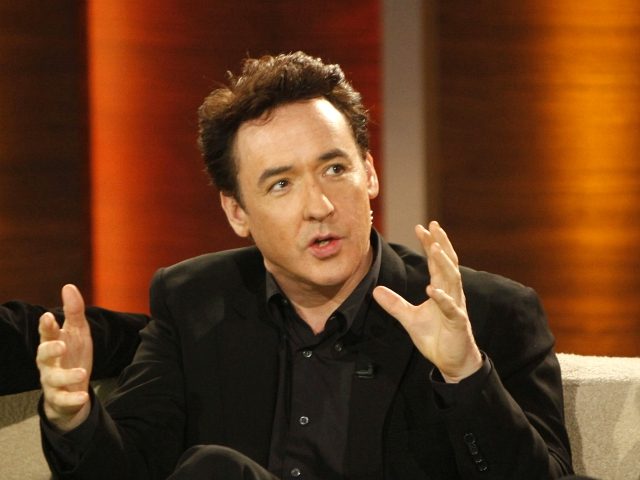 By Robert Kraychik
Far-left actor

John Cusack

met with Democrats in Washington, D.C. this week and call for

President Donald Trump

to be "removed from office."
The 2012 actor attended Thursday's "marathon public marathoning" of Special Counsel Robert Mueller's 448-page report in the House Rules Committee meeting room.
John Cusack responded to a headline from the Hill noting his calls for the impeachment of Donald Trump.
"I didn't "call for impeachment" actually as we've been doing that for years now – I came to discuss what they are doing to protect us from the assault on democracy from trump crime mob," the actor said.
Cusack aligned himself with Sen. Bernie Sanders (I-VT) and his neo-Marxist paradigm of politics as a power struggle between various arbitrarily defined demographic groups. The 52-year-old actor retweets messages invoking "white capitalist patriarchy," "progressive" politics, and characterizing those opposing abortion as "fascists."
During the day, Cusack derided Attorney General William Barr as a "criminal" for adhering to federal law by redacting restricted grand jury information pertaining to Mueller's aforementioned report.
Cusack was reported as wearing a jacket with the message "Good Night White Pride" during his visit to the Capitol.
"Trump needs to be removed from office," declared Cusack.
Rachel Bade of the Washington Post and CNN tweeted of an exchange of hers with Cusack:
So THIS Is fun: Actor @JohnCusack is on the Hill meeting w/members abt impeaching Trump, sounds like.

He's abt to huddle with Judiciary Chair @RepJerryNadler

Me to Cusack: Why are you here?
Him: Guess.
Me: Impeachment?
He smiles and adds: "And other things."
In March, Cusack echoed the Washington Post's Trump-era motto, "Democracy Dies in Darkness," claiming that American democracy can only survive if Trump "rots in prison." Days later, he predicted a violent transfer of power to a Democrat administration in the event that Trump is not reelected in 2020.
Published on May 17, 2019
Even NYC liberals know the communist mayor isn't fit to be president
Appearing on Good Morning America with his wife Chirlane McCray on Thursday morning,

NYC Mayor Bill de Blasio

was repeatedly called a "liar" by a large group of protesters gathered outside the ABC studio.
Conservative commentator Candace Owens reported Black Lives Matter was set to protest the television appearance, adding, "How bad of a mayor must you be to have united the NYPD and Black Lives Matter against your candidacy? Your city hates you, Bill."
Published on May 16, 2019
The New York City entered the race, and came out swinging against President Donald J. Trump.
The never-ending list of Democratic Party candidates for president got a little bit longer Thursday, when New York City

Mayor Bill de Blasio

announced his candidacy.
"Even before his announcement, de Blasio already qualified to participate in the Democratic primary debates, according to a poll from Reuters and Ipsos," Axios said. "The mayor intends to leverage his record of New York achievements such as universal pre-kindergarten and raising the minimum hourly wage. Following the announcement, he will go on a 4-day campaign tour to Iowa and South Carolina, per NBC."
President Donald J. Trump weighed in on de Blasio's candidacy on Twitter.
"The Dems are getting another beauty to join their group. Bill de Blasio of NYC, considered the worst mayor in the U.S., will supposedly be making an announcement for president today. He is a JOKE, but if you like high taxes & crime, he's your man. NYC HATES HIM!" he said.
"There's plenty of money in this world. There's plenty of money in this country. It's just in the wrong hands," de Blasio said in a campaign announcement video.
He spent the first half of his announcement video describing his far-left platform, which includes universal healthcare, a $15 minimum wage, and "free" Pre-Kindergarten education for all. He spent the second half of the announcement video attacking Trump, calling him a "bully."
De Blasio is squarely in the progressive corner. He was widely ridiculed for last month for proposing a skyscraper ban in New York City to fight climate change.
Big League Politics reported:
The mayor of America's most populous city has a new plan to fight "global warming," and it involves doing away with the landscape of the city over which he presides.

"We're going to introduce legislation to ban the glass and steel skyscrapers that have contributed so much to global warming," said New York City Mayor Bill de Blasio said. "They have no place in our city or our Earth anymore."

The mayor did not offer much in the way of specifics regarding his plan. Will existing skyscrapers be demolished, or will the city ban new ones from being erected? Many such buildings are apartments and condos. Will the people who live in them be forced to move? Also, what happened to "climate change?" This reporter was under the impression that "global warming" was an outdated term.

According to Spectrum News 1 in New York City, de Blasio's proposal would prevent developers from "using all glass facades unless they meet strict new energy guidelines," which he called "the city's version of the Green new Deal."