By Laura Strickler and Suzy Khimm
WASHINGTON

— The

Federal Emergency Management Agency

is planning for the possibility that

President Donald Trump

could make an emergency declaration to bring in extra funds and personnel to assist the administration's coronavirus response, according to internal documents obtained by NBC News.
FEMA officials are preparing for an "infectious disease emergency declaration" by the president that would allow the agency to provide disaster relief funding to state and local governments, as well as federal assistance to support the coronavirus response, according to agency planning documents reviewed by NBC News.
The Trump administration would have to use the 1988 Stafford Act to enable FEMA to provide such disaster assistance. Emergency declarations are most often used in the event of natural disasters but can be used to help manage disease outbreaks.
Full coverage of the coronavirus outbreak
"To me this is another indication that the president and the White House are finally aware of the gravity of the situation," said Michael Coen, who was FEMA chief of staff during the Obama administration. "They need to consider all tools available to them and have contingencies for action."
"I actually find this reassuring," said Tim Manning, who was a FEMA deputy administrator under President Barack Obama. "I hope this discussion has been happening continuously over the last couple of months."
An emergency declaration would allow FEMA to provide disaster medical assistance teams, mobile hospitals and military transport, among other kinds of federal support, Manning said.
FEMA's disaster relief fund has a current balance of $34 billion, according to the latest agency update. "It's money that's sitting there and ready," said another former FEMA official, who declined to be identified.
FEMA spokesperson Lizzie Litzow said the agency is currently focused on supporting the Department of Health and Human Services (HHS), which separately declared a "public health emergency" on Jan. 31, allowing HHS to access funds and other resources to aid the government's virus response. "At this time, there isn't anything additional to the HHS public health emergency," Litzow said.
It would not be the first time the federal government has used FEMA's resources to assist in a medical event.
In 2000, President Bill Clinton used a Stafford Act emergency declaration for outbreaks of the West Nile virus in New York and New Jersey, ordering up to $5 million in federal aid to supplement state efforts to combat the mosquito-borne virus.
Emergency declarations are distinct from "major disaster" declarations, which are more far-reaching and are typically used for hurricanes, floods and other natural disasters.
2/17/2020
Journalist

Christopher Sign

, author of the new book 'Secret on the Tarmac,' joins 'Fox & Friends.'
If this guy digs any deeper he will suicide himself like Epstein.
by Nebojsa Malic
Even before

President Donald Trump

was elected US president,

Democrats

began talking about

impeachment

. Now that it has failed, will they finally accept the result of the 2016 election? Don't get your hopes up.
Trump's acquittal in the Senate on Wednesday was a foregone conclusion, given as it takes two thirds of the senators present to convict. The only way for 20 Republicans to switch sides was for the House case to be open and shut – something that only Rep. Adam Schiff (D-California) and 'Russiagate' truthers in the media actually believed.
In the end, the sole Republican to break ranks was Mitt Romney, and only on one of the articles. Not guilty, exonerated, case closed, let's "move on" – as Democrats themselves advised in 1999, after the same thing happened to Bill Clinton.
Not so fast. Senate Minority Leader Chuck Schumer (D-New York) has rejected the verdict, calling it "meaningless" because what happened in the Senate "wasn't a trial." It's a retreat to last week's talking points, arguing that the Senate should have called additional witnesses and documents that the House didn't care to obtain before rushing to impeach back in December.
Never mind that doing this would have meant the House process was flawed, fatally undercut the second article – "obstruction of Congress" – or that the House managers themselves objected to any new evidence being introduced. If you're expecting logic rather than lawfare, you're in the wrong town.
Democrats began talking impeachment from the second Trump took office, having failed to prevent that from happening through a variety of long-shot schemes such as "Hamilton electors." Their initial strategy was to allege "emoluments" and harp on Trump's undisclosed tax returns, before settling on "Russiagate." Then the Mueller Report came out and proved to be a dud of epic proportions. Hopes to at least get obstruction of justice charges out of it were decisively crushed by Attorney General William Barr.
Report came out and proved to be a dud of epic proportions. Hopes to at least get obstruction of justice charges out of it were decisively crushed by Attorney General William Barr.
Under tremendous pressure to find something – anything – to impeach Trump over, Speaker of the House Nancy Pelosi turned to Intelligence Committee chair Adam Schiff, a fellow Californian. Schiff seized upon a phone call between Trump and Ukraine's President Volodymyr Zelensky, which he was told about by staffers in touch with their former colleagues inside the intelligence community.
Schiff seized on Trump's reference to Joe Biden's bragging about getting a corruption prosecutor in Ukraine fired, to claim that this amounted to "soliciting foreign interference" in the 2020 election, since Barack Obama's former VP was the front-runner for the Democrats' presidential nomination.
While Schiff and his crew did their best to conjure a crazy conspiracy involving Trump holding up military aid for political leverage – mind-reading and inventing fake transcripts along the way – their case was ultimately smoke and mirrors. Zelensky himself said he was not being extorted, and the parade of other witnesses from within the very bureaucracy Trump had sworn to purge (but obviously hadn't) had only their personal, anti-Trump opinions to offer.
Paradoxically, impeachment only made Trump stronger – and more popular, if the latest polls are anything to go by. By contrast, Democrats have gone from one defeat to the next this week, starting with Monday's fiasco at the Iowa caucuses and continuing with Pelosi's tantrum at Trump's State of the Union on Tuesday.
"This impeachment was a destructive debacle in every conceivable respect, but don't worry I'm sure [Democrats] will change their behavior moving forward, they have a well-established track record of taking responsibility for failure," quipped political journalist Michael Tracey after the Senate acquittal.
If Trump wins re-election in November – which increasingly looks like it might happen – expect the Democrats to try to impeach him again. What for? It doesn't matter, any excuse will do.
Simply put, they have to. In retrospect, impeachment seems to have always been a coping mechanism for 2016, the election that neither Hillary Clinton nor her party ever recovered from losing.
Clinton herself offered more proof of that on Wednesday, accusing 52 Senate Republicans of betraying their oath to the Constitution and saying the US was "entering dangerous territory for our democracy."
She's actually correct about that, though not in a sense she may have intended. Democracy works only so long as all participants agree to abide by electoral results. Refusing to accept defeat and attempting to rules-lawyer one's way out would be bothersome enough at a board game night, but is downright toxic when it infects national politics.
Kaiser Report co-host Stacy Herbert summed it up best, calling the last three years "one horrible remake of 'Goodbye, Lenin' in which the entire political and media classes have constructed an elaborate alternative reality so as to avoid having Hillary encounter any further distress which might compound her humiliation."
Unlike in the 2003 German film, nothing so far has been capable of bursting this particular delusion bubble – which means that America's long national nightmare is nowhere near over.
by Cassandra Fairbanks January 28, 2020
An

MSNBC

panel discussion led by anchor Chuck Todd and featuring disgraced CIA Director turned NBC News analyst

John Brennan

called for the annual State of the Union address to be cancelled over the impeachment.
Brennan claimed that President Donald Trump speaking would be "embarrassing" and "very destructive to the image of the United States worldwide."
President Bill Clinton also gave a State of the Union address during his impeachment, but that doesn't seem to matter to these partisan hacks.
"And you know, one of the things that I really worry about is that we're going to have a State of the Union very shortly, while all of this is going on," Brennan said during the panel.
Todd quickly jumped in, mockingly saying "State of our union is strong,' who the hell is going to say that?"
"I just cannot imagine. It's not just embarrassing, but also I think it's very destructive to the image of the United States worldwide to have this going on and have Mr. Trump up there," Brennan stated.
"And you can imagine he's going to use that State of the Union address not to address the state of the union, but to address the state of Donald Trump. And he is going to, I think, be on the offensive there. So I question whether or not it makes sense to hold that at this point," Brennan continued.
MSNBC is akin to allowing Pravda to operate on our shores at the height of the cold war.
"Should you do that, tear it down? I don't know, maybe the answer is yes"
Steve Watson | Infowars.com – JANUARY 22, 2020
As President Trump

 continues efforts to divert funding to build a new border wall, Democratic Presidential candidate

Bernie Sanders

said Monday that he would consider 'tearing down' the existing border barriers if he is elected.
Sanders reasoned that the current barrier on the US-Mexico border is 'symbolic'.
He claimed that tearing the wall down "may be" the correct thing to do, adding "but you know it's how much is it going to cost to tear it down?"
"Should you do that, tear it down? I don't know, maybe the answer is yes." Sanders said.
"That's something you're willing to consider? You're willing to consider tearing down existing fencing between the U.S. and Mexico?" David Noriega further asked Sanders.
"Yeah, I'll always look," Sanders replied, adding "but again if it's going to cost me billions of dollars to tear it down, I'd rather invest that maybe in the needs for child care in this country."
"But it's, you know, we can look at it." he concluded.
David Knight details the new Hulu series painting a favorable picture of Hillary Clinton and exposes the vitriolic hate she has for Bernie Sanders and any other Democrat Party dissidents that would dare defy the establishment and interfere with her ambition.
Sanders' comments came during a Vice News sponsored event (hence the whacked out questions).
Sanders also promised to put a stop to "99% of deportations", even including for violent criminals.
At the same event, Joe Biden, the 'moderate' Democratic candidate, vowed to end all illegal immigration detention "across the board":
Is it any wonder that the consensus among migrants is that Democrats are going to allow them to illegally flood into the US if they win the election?
Bernie and Biden's comments came on the same day that thousands of migrants stormed a bridge over the Suchiate River from Guatemala to Mexico, attempting to move further north with a view to entering the US.
The rabbit hole goes deep.
By Shane Trejo – 11/22/2019
Steven Robert Setzer

, a former U.S. Marine Corps pilot who once escorted former

President Bill Clinton

on the crew of the Marine One, is facing years in prison after being hit with child sex charges.
Setzer was put behind bars in May with sexual exploitation of a minor, sodomy, enticing a child for indecent purposes, statutory rape, and aggravated child molestation. He has been forced to shut down his aircraft charter company, Strategic Moves, due to loss of clients after his incarceration.
On Thursday, WBTV in Rowan County, NC broke the news of Setzer's arrest and associated charges. This report was only revealed due to the shuttering of Setzer's company, an entire six months after Setzer was accused of the heinous victimization of minors.
Strategic Moves made the announcement that they were shuttering on their website: "Thank you for your patronage and loyalty over the last 15 years as clients of Strategic Moves. Strategic Moves has discontinued operations as of 10/31/2019. Many of our clients have transitioned to Davinci Jets who are capable and excited to provide an excellent level of service."
According to Setzer's biography, he learned quite a bit while helping Clinton jetset throughout the world. Setzer claimed that he learned precise attention to detail, which assisted him in being able to achieve excellence for the VIPs who obtained his services. One can only wonder what details Slick Willy wanted Setzer to handle while they were aboard the Marine One.
Setzer is not the only cretin with whom Clinton has shared an aircraft. Clinton was among the most high-profile companions of deceased pedophile Jeffrey Epstein aboard his infamous "Lolita Express." Clinton is one of the powerful individuals who allegedly participated in Epstein's illicit child sex trafficking network.
Big League Politics reported earlier this year on how Clinton had flown on the "Lolita Express" during on least 26 separate occasions:
One man who might be particularly concerned is former President Bill Clinton, who reportedly traveled on Epstein's infamous 'Lolita Express' on a stunning 26 separate occasions.

Virginia Giuffre, one of Epstein's alleged child victims, claims she saw Clinton herself while traveling to St. Thomas in the U.S. Virgin Islands.

Travel logs reviewed by Fox News indicate that Clinton traveled aboard Epstein's jet to assorted locales such as Russia, Africa, Singapore, Japan, Hong Kong, the Azores, China, New York, Norway and Belgium.

Clinton also brought up to 10 secret service agents on board the plane with him while traveling on the Lolita Express, providing federal protection to Epstein's illicit operation.

Epstein received a slap on the wrist when he was last brought to trial in 2008, after the federal government refused to charge him, only having to serve 13 months of confinement in the Palm Beach County stockade with work release that is usually barred for sex offenders.
The list of sexual predators and abusers connected to Democratic Party politics is seemingly limitless. It turns out that the swamp runs deeper than anyone could have imagined.
By Tyler Durden – 11/5/2019
ABC News has responded to the

Veritas video

, saying "at the time, not all of our reporting met our standards to air, but we have never stopped investigating the story. Ever since we've had a team on this investigation and substantial resources dedicated to it. That work has led to a two-hour documentary and a 6-part podcast that will air in the new year."
Robach added in a statement "I was caught in a private moment of frustration," and was "upset that an important interview I had conducted with Virginia Roberts didn't air because we could not obtain sufficient corroborating evidence." (Somehow the Miami Herald got the job done, however.)
O'Keefe suggests this is a 'cover your ass, lawyer-speak response.'
A new undercover video from Project Veritas reveals that ABC News knew of Jeffrey Epstein's sex crimes, yet decided to ignore it according to undercover footage from Project Veritas.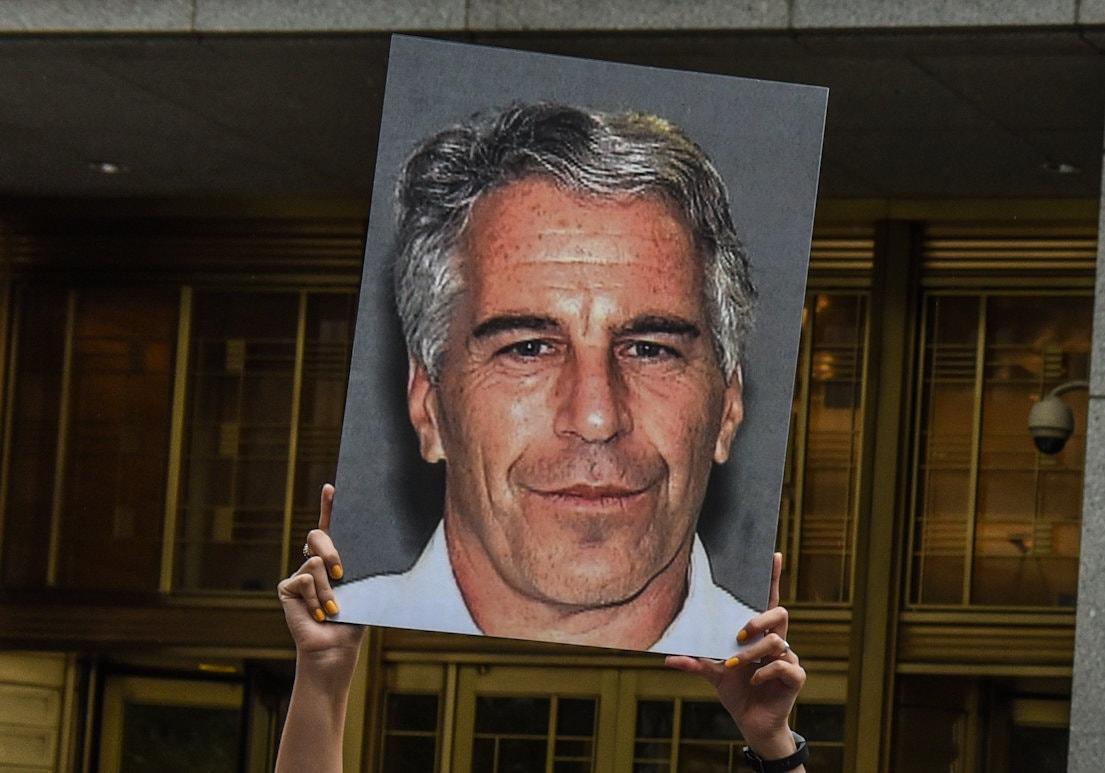 Amy Robach, 'Good Morning America' Co-Host and Breaking News Anchor at ABC, explains how a witness came forward years ago with information pertaining to Epstein, but Disney-owned ABC News refused to air the material for years. Robach vents her anger in a "hot mic" moment with an off-camera producer, explaining that ABC quashed the story in it's early stages.  "I've had this interview with Virginia Roberts (Now Virginia Guiffre) [alleged Epstein victim]. We would not put it on the air. Um, first of all, I was told "Who's Jeffrey Epstein.  No one knows who that is.  This is a stupid story."

She continues, "The Palace found out that we had her whole allegations about Prince Andrew and threatened us a million different ways." -Project Veritas
"…[T]here will come a day when we will realize Jeffrey Epstein was the most prolific pedophile this country has ever known," said Attorney Brad Edwards.
According to Robach, "I had it all three years ago."
Watch:
This is far from the first time Epstein's crimes have been covered up, minimized, or ignored.
Perhaps most famously, former US Secretary of Labor Alex Acosta negotiated a 'sweetheart deal' for Epstein in 2008 after he pleaded guilty to soliciting prostitution from a minor. The pedophile financier was able to 'work' outside of prison most days, during which time he reportedly continued to abuse girls.
Additionally, the Manhattan DA's office headed by Cyrus Vance Jr. had 'graphic and detailed evidence' of Epstein's crimes when a prosecutor argued for leniency during his 2011 sex offender registry hearing, according to an April report in the New York Post.
In advance of the hearing, then-deputy chief of Sex Crimes, Jennifer Gaffney, had been given a confidential state assessment that deemed Epstein to be highly dangerous and likely to keep preying on young girls, the DA's office admitted in its own appellate brief eight months after the hearing.

…

Manhattan prosecutors were aware the state board had assigned Epstein a risk assessment of 130, a number that is "solidly above the 110 qualifying number for level three," with "absolutely no basis for downward departure," the brief notes.

Nevertheless, Gaffney argued that he should be labeled a level one offender, the least restrictive, which would keep him off the online database. –New York Post
While Acosta lost his job in the Trump administration over his actions in 2008, will anyone be held truly accountable for enabling Epstein's decades-long pattern of abuse?