Technocrat preparing to pour $6 billion into next-gen 'pandemic prevention' program
May 18, 2020
The Bill & Melinda Gates Foundation

is eyeing a hefty $6 billion investment in

South Korean

telecommunications operator KT's research on infectious disease control and pandemic prevention over the next three years, Seoul-based Dong-a Ilbo reported, adding the tech mogul has recently applauded South Korea's headway in curbing the spread of the coronavirus.
As per the South Korean telecoms carrier, it has over the past month been conducting surveys into next-generation quarantine prevention methods to better contain the spread of global diseases, with the Bill & Melinda Gates Foundation aiming to join efforts with KT to develop an early diagnosis algorithm for contagious diseases and a spread path prediction model that would be based on top-notch AI technology and a variety of communications data.
A flu research program earlier launched by Bill Gates reportedly detected the first coronavirus case in the US back in February, but was recently suspended by the FDA for checks to be carried out into the algorithms used.
"The use of mobile technology and sensors paired with smart data analysis can help address some of the challenges countries face in timely and effective response to disease outbreaks", Andrew Trister, deputy director of the global health program at the Bill & Melinda Gates Foundation, praised the project.
The Foundation will reportedly pay half the cost of the research project in yearly installments.
https://banned.video/watch?id=5ebb3fd0244ac5001d21ee47
A data innovation working group that held discussions during the 2018 World Economic Forum reportedly served as the starting point in the ties between KT and the Bill & Melinda Gates Foundation.
Dong-a Ilbo specified that the first discussion took place in April of last year when the foundation first showed an interest in KT's presentation titled Global Epidemic Prevention Platform (GEPP) at the ICT Forum hosted by Right Fund, an investment group dealing with global healthcare research.
KT's research involves the efforts of a whole consortium, consisting of Professor Kim Woo-joo from the Korea University Medical Centre, the Korea Institute of Science and Technology Information (KISTI), block chain tech firm MediBloc, and digital healthcare business Mobile Doctor.
One of the first goals, reportedly set for October this year is to work out a mobile application that will be used to record suspicious symptoms pertaining to diseases such as the flu.
IoT-run sensors are to get body temperatures, with symptoms further reported to the app platform, to be used by AI-based algorithms for scrutinizing the chances of flu epidemics, and predicting virus-spreading patterns.
Bill Gates has more than once warned about the dangers of global pandemics, being an outspoken advocate for measures needed to prevent them.
Most recently, his non-profit launched an early coronavirus testing scheme called SCAN – or the Seattle Coronavirus Assessment Network, had been testing 300 people a day since early March, before it was ordered by the FDA to stop for more detailed checks.
According to Gates' blog post, the testing program is an extension of an early flu detection venture he helped found in 2018, the Seattle Flu Study.
The Seattle Flu Study, which previously tracked the spread of the flu during the 2018 season, detected the first COVID-19 case in the US as early as in February, Business Insider reported.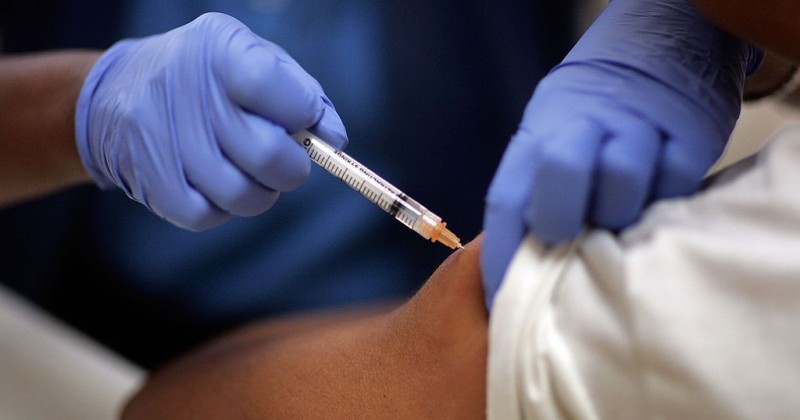 Advocates making it mandatory to take vaccine to fly.
By Paul Joseph Watson – May 14, 2020
The New York Times

has published an article by popular author

Kevin Roose

in which he expresses his concern that half of Americans would refuse to take a coronavirus vaccine.
The vaccine, if it ever gets produced since there has never been one for any coronavirus including SARS, is likely to take 12-24 months according to experts.
In his article entitled What if we get a Covid-19 vaccine and half the country refuses to take it?, Roose laments the popularity of an anti-vaxxer video called Plandemic, which despite being censored numerous times by every major social media network has still been seen by millions of people.
Roose says that the urgency with which a vaccine will need to be produced will allow anti-vaxxers to claim it's unsafe.
"Any promising Covid-19 vaccine is likely to be fast-tracked through the testing and approval process," he writes. "It may not go through years of clinical trials and careful studies of possible long-term side effects, the way other drugs do. That could create an opening for anti-vaccine activists to claim that it is untested and dangerous, and to spin reasonable concerns about the vaccine into widespread, unfounded fears about its safety."
The involvement of Bill Gates in the distribution of any vaccine will also fuel a backlash, according to Roose.
"If that's the case, anti-vaccine activists, who have been crusading against these groups for years, will have plenty of material stockpiled to try to discredit them. They are already taking aim at Mr. Gates with baseless conspiracy theories claiming that he created and is trying to profit from the virus. These theories will be amplified, and the attempts to discredit leading virus research efforts will intensify as the vaccine nears."
Finally, he asserts that it would be "a good idea" to make the vaccine mandatory if Americans want to fly or send their kids to certain schools, but that this "would play into some of the worst fears of the anti-vaccine movement" and create "a tangle of legal roadblocks and damaging publicity campaigns."
What do these investigators really want?
By Patrick Howley – May 13, 2020
Partners in Health was recently selected by

Massachusetts governor Charlie Baker

to conduct Coronavirus "contact tracing," a process that involves teams of investigators finding out who infected people have come into contact with.
The group is already "training and deploying hundreds of contact tracers." Some citizens fear the potential for mass surveillance posed by contact tracing, especially in light of a Democrat-introduced bill in Congress to authorize contact tracing "at individuals' residences." Partners In Health's involvement will not assuage many fears, considering the group has received funding from George Soros and Bill Gates organizations and counts Chelsea Clinton on its board of trustees.
Partners in Health lists George Soros' Open Society Foundations as an official partner, along with the Bill and Melinda Gates Foundation. Partners In Health lists Open Society Foundations on its 2015 annual report as a supporter to the tune of $1 million or above, along with the Gates Foundation. Chelsea Clinton serves on Partners in Health's Board of Trustees, according to its 2019 annual report. 
Partners in Health co-founder Paul Farmer's achievement.org bio notes: "Farmer's work attracted the support of philanthropists, including George Soros and Bill and Melinda Gates. In 2002, PIH received a $13 million grant from the Global Fund for improvements in the Cange complex. In 2005 the William J. Clinton Foundation funded a Partners in Health AIDS program in Rwanda." Farmer and Chelsea Clinton did a Clinton Foundation podcast together in 2019.
In response to a 2007 tuberculosis outbreak in Africa, NBC News reported: "Soros' Open Society Institute announced a $3 million grant to the non-profit organization Partners in Health and Brigham and Women's Hospital in Boston. The donation will be used to design a model project of community-based XDR-TB treatment in Lesotho. Once treatment guidelines are developed, experts hope the program will be adopted in other poor countries."
Soros personally announced the grant and said he hoped it would spark a larger project. For this initiative, Partners In Health was cited by name in the propaganda book The Philanthropy of George Soros: Building Open Societies.
In 2011, International Women's Health Coalition noted, "YP Foundation Founder to Join Paul Farmer, George Soros, at IWHC Gala." Farmer was honored at the gala, which Guest of a Guest noted had David Rockefeller in attendance.
In 2014, Partners In Health co-founder Paul Farmer secured multi-million dollar Soros financing for a coalition project in Africa. Farmer was featured in an October 2014 video interview on Soros' Open Society Foundations website, which stated, "In between trips to Liberia, Paul Farmer of Partners In Health visited Open Society's offices to discuss his work on Ebola. Paul talked about the need to ensure sustainable health systems for people in nations where the virus has spread." Farmer blasted "fear and conspiracy theories around fatal illnesses" in the video and talked about how to "attack" conspiracy theories with activism.
Forbes reported in September 2014: "There's never been a connection between Ebola and first-rate medical care," says Paul Farmer, the renowned co-founder of Partners in Health, before pointing out that none of the health care workers flown back to the U.S. for treatment have died. Could the answer to the outbreak lie in the care regiment for those afflicted?
We'll soon find out. Farmer landed in Liberia this morning, at the center of a coalition quietly formed to specifically – and quickly – test that thesis. In the next few weeks, the Farmer group will open a top-notch treatment facility in one of Liberia's most rural provinces, along with strategies designed to maximize its effectiveness.
"This has been coming together for years," Farmer tells Forbes, a few hours before departing on the trip. "The Ebola crisis pushed it over the edge."
The impetus for this coalition began with a meeting two weeks ago, convened by Farmer's co-founder at Partners in Health, Jim Kim, who is now president of the World Bank. Attendees included Director-General Margaret Chan of the World Health Organization, Tom Frieden, Director of the Centers for Disease Control and Francis Collins, Director of the National Institute for Health. Dismayed by the global response – Kim told the group that the outbreak already ranks among the worst health crises in world history — Kim tabbed Farmer as the World Bank's special Ebola advisor and also enlisted another attendee at the meeting, Raj Panjabi, who runs Last Mile Health in Liberia. (Full disclosure: Panjabi was mentored at last year's Forbes 400 Summit on Philanthropy and I now chair the advisory board for Last Mile Health, which hires, trains and manages front-line health care workers in remote villages.)
George Soros' Open Society Foundations quickly provided $4 million to fund this project. "The coalition got us a proposal the next day, they answered all our questions the day after, and we got them the funds they needed before the week was out," says Chris Stone, the organization's president. The project was appealing to Soros' team because it features a local group familiar with the turf, an entrepreneurial mentality and the ability to scale."
Forbes passage ends
Meanwhile…
Prospective Coronavirus contact tracers in New York City are required to understand "institutional and structural racism" and to support immigrants and the LGBTQ community. The government is employing contact tracers to investigate who infected persons come into contact with, leading to civilian concerns that privacy is being attacked.
A job posting on Columbia University School of General Studies states: "The Fund for Public Health in New York City (FPHNYC), in partnership with the New York City Department of Health and Mental Hygiene (DOHMH), is seeking contact tracers to perform case interviews and contact tracing to support the citywide COVID-19 response. using a trauma-informed, culturally respectful approach that builds trust and facilitates the free sharing of information." The job includes "Conducting in-person investigations into congregate settings and selected cases and contacts."
Listed requirements include: "Ability to understand the concepts of institutional and structural racism and bias and their impact on underserved and underrepresented communities" and "Have a demonstrated commitment to supporting communities who have experienced systemic oppression and bias (e.g. people of color, LGBTQ people, immigrants, justice involved persons, etc.)"
Democrat Rep. Bobby Rush has introduced a bill in Congress to authorize the federal government to grant approved entities the right to conduct contact tracing for Coronavirus at "individuals' residences." Contact tracing involves investigators tracing every interaction that infected people have.
Rep. Rush introduced HR 6666, "COVID-19 Testing, Reaching, and Contacting Everyone (TRACE) Act" on May 1, 2020 and it has been referred to the House Committee on Energy and Commerce. The bill has 45 co-sponsors. According to the text of the bill: "To authorize the Secretary of Health and Human Services to award grants to eligible entities to conduct diagnostic testing for COVID-19, and related activities such as contact tracing, through mobile health units and, as necessary, at individuals' residences, and for other purposes."
People are concerned that the government might be angling to use contact tracing to remove people from their homes and place them in quarantine, after a Ventura County, California health official suggested doing just that (and later walked it back, though it's unclear what his proposed policy actually is at this time).
Former Democrat president Bill Clinton extensively discussed contact tracing recently in video interviews with Democrat leaders including governors Andrew Cuomo and Gavin Newsom:
Claimed the coronavirus outbreak is "an elaborate hoax to scare Americans into vaccines that make people trackable through 5G towers."
By Steve Watson – 4/29/2020
A

California man

has been locked in a psychiatric hold after he said he would 'have to take things into my own hands' regarding a theory involving

Bill Gates

, vaccines and 5G.
The Independent reports that the man "was placed in psychiatric hold for three days while police seized unregistered shotguns from his home."
Citing a San Diego press release, the report notes that police "obtained a Gun Violence Restraining Order against the 52-year-old after he told family and friends about his plan to arm himself during the Covid-19 pandemic."
According to the report, the man claimed the coronavirus outbreak is "an elaborate hoax to scare Americans into vaccines that made people trackable through 5G towers."
Police got involved when the man allegedly became "enraged" after being denied a purchase of ammunition. The man is said to have expressed a belief that the incident was part of a government plot against him.
Officials said, however, that the purchase was denied owing to the man being on probation for a prior drink-driving conviction, which prohibits firearm sales until 2025.
Police said that the man began ranting about needing to arm himself against Bill Gates, saying that "people are going to try and get me and I need to defend myself".
City Attorney Mara W Elliott commuted that "Thanks to public vigilance, police were able to safely intervene and remove firearms from someone who presented a danger to himself and others before he resorted to violence."
Is this why Fauci has been so skeptical of hydroxychloroquine?
By Shane Trejo – Apr 7, 2020
Dr. Anthony Fauci

, who has become a beloved doom prophet fomenting mass hysteria among the American public amidst the coronavirus pandemic, once worked with technocratic oligarch

Bill Gates

on his "Global Vaccine Action Plan."
Activist reporter Mike Coudrey drew attention to this fact on his Twitter account in a post from Sunday:
The "Global Vaccine Action Plan" was announced in 2010 as a public-private partnership of the World Health Organization (WHO), the United Nations Children's Fund (UNICEF), the National Institute of Allergy and Infectious Diseases (NIAID), and the Bill & Melinda Gates Foundation.
"This plan will build on the successes of current work to achieve key milestones in the discovery, development and delivery of lifesaving vaccines to the most vulnerable populations in the poorest countries over the next decade," WHO wrote in their press release about the project.
As the NIAID director, Fauci helped guide the vaccine-pushing project as a member of its Leadership Team. He was joined by other globalist kingpins including Anthony Lake, Executive Director for UNICEF; Margaret Chan, Director General of WHO; Joy Phumaphi, Chair of the International Advisory Committee and Executive Secretary, African Leaders Malaria Alliance; and Tachi Yamada, President of Global Health at the Bill & Melinda Gates Foundation.
The project was designed to assemble some of the most powerful globalist actors on the planet and encourage them to conspire on ways to peddle vaccines throughout the world.
"The Global Vaccine Action Plan will enable greater coordination across all stakeholder groups – national governments, multilateral organizations, civil society, the private sector and philanthropic organizations — and will identify critical policy, resource, and other gaps that must be addressed to realize the life- saving potential of vaccines," WHO wrote in their press release about the scheme.
Fauci has been the primary voice in the Trump administration urging the public to be skeptical of hydroxychloroquine, a possible miracle treatment for coronavirus. Fauci has remained a critic of hydroxychloroquine despite indications that it can be effective in helping the afflicted recover from the disease.
"No. The answer is no," Fauci said last month after he was asked about whether or not there was any evidence showing that hydroxychloroquine can be effective in treating the coronavirus.
When it became clear that hydroxychloroquine can be effective in treating the coronavirus, Fauci walked back his comments.
"Although there is some suggestion with the study that was just mentioned by Dr. Oz, granted that there is a suggestion that there is a benefit there, I think we've got to be careful that we don't make that majestic leap to assume that this is a knockout drug," Fauci said during an appearance on "FOX & Friends" last week.
Fauci may be trying to halt the use of hydroxychloroquine as part of the "Global Vaccine Action Plan" that he plotted many years ago. Gates has already talked about digital tracking implants being tagged into people's skin for authorities to enforce their vaccination schedule. Fauci could be serving as a bureaucratic enabler of Gates' sociopathic Big Brother ambitions.
Faces of coronavirus pandemic response connected to globalists
By Patrick Howley – April 4, 2020
President Donald Trump

is fighting to find a medical solution for

Coronavirus

in the short term, expressing hope that the anti-malaria drug

Chloroquine/hydroxychloroquine

can help patients suffering from the Chinese virus.
The truth is that President Donald Trump is locked in an intense power struggle with Bill Gates, who is pushing his vaccines, which may not be available to the public until after November's election. Gates has a lot of pull in the medical world, he has a multi-million dollar relationship with Dr. Fauci, and Fauci originally took the Gates line supporting vaccines and casting doubt on Chloroquine.
Coronavirus response team member Dr. Deborah Birx, appointed by former president Obama to serve as United States Global AIDS Coordinator, also sits on the board of a group that has received billions from Gates' foundation, and Birx reportedly used a disputed Bill Gates-funded model for the White Houses' Coronavirus effort. Gates is a big proponent for a population lockdown scenario for the Coronavirus outbreak.
National Institute of Allergy and Infectious Disease (NIAID, a division of National Institutes of Health, NIH) director Dr. Anthony Fauci, who is represented by the Aurumn Speakers Bureau, initially criticized Trump's hopeful assessment of Chloroquine, saying in an interview with CNN's Anderson Cooper that "There's no magic drug for coronavirus right now," and lectured, "Let me put it into perspective for the viewers .. there has been anecdotal non-proven data that it [chloroquine] works… but when you have an uncontrolled trial you can never definitely say that it works."
But now Fauci has changed his tune and launched a public relations campaign huddling closer to Trump. Fauci said that he would definitely prescribe Chloroquine for patients. "Yeah, of course, particularly if people have no other option. These drugs are approved drugs for other reasons. They're anti-malaria drugs, and they're drugs against certain autoimmune diseases like lupus. Physicians throughout the country can prescribe that in an off-label way. Which means they can write it for something it was not approved for."
But Fauci's apparent hostility toward Chloroquine/hydroxychloroquine remains clear:
The true behind-the-scenes story is coming to light:
Bill Gates Cast Doubt on Chloroquine And Said He Is Running A Study On It
Here is what Gates said regarding Chloroquine in a Reddit Ask Me Anything session:
"There are a lot of therapeutic drugs being examined. This is one of many but it is not proven. If it works we will need to make sure the finite supplies are held for the patients who need it most. We have a study going on to figure this out. We also have a screening effort to look at all the ideas for Therapeutics because the number being proposed is very large and only the most promising should be tried in patients. China was testing some things but now they have so few cases that that testing needs to move to other locations," Gates said.
Gates Is Funding Coronavirus Vaccine Candidates That Would Compete With Chloroquine, And Dr. Fauci's Agency Is Co-Partnering On The Project
The company Moderna is working on a Coronavirus vaccine, which they expect will go into clinical trials in April. Dr. Fauci has heaped praise on Moderna and said that a vaccine is the only way to definitively assure the end of the virus. Gates is working on multiple Coronavirus vaccine projects.
The New Eastern Outlook journal reported:
"Gates Foundation money is backing vaccine development on every front. Inovio Pharmaceuticals of Pennsylvania received $9 million from the Gates-backed CEPI, Coalition for Epidemic Preparedness Innovations, to develop a vaccine, INO-4800, which is about to test on humans in April, a suspiciously rapid time frame. In addition Gates Foundation just gave the company an added $5 million to develop a proprietary smart device for intradermal delivery of the new vaccine.
In addition Gates Foundation monies via CEPI are financing development of a radical new vaccine method known as messengerRNA or mRNA.
They are co-funding the Cambridge, Massachusetts biotech company, Moderna Inc., to develop a vaccine against the Wuhan novel coronavirus, now called SARS-CoV-2. Moderna's other partner is the US National Institute of Allergy and Infectious Diseases (NIAID), a part of the National Institutes of Health (NIH). Head of NIAID is Dr Anthony Fauci, the person at the center of the Trump Administration virus emergency response. Notable about the Fauci-Gates Moderna coronavirus vaccine, mRNA-1273, is that it has been rolled out in a matter of weeks, not years, and on February 24 went directly to Fauci's NIH for tests on human guinea pigs, not on mice as normal. Moderna's chief medical adviser, Tal Zaks, argued, "I don't think proving this in an animal model is on the critical path to getting this to a clinical trial…
Add to this the fact that the Gates Foundation and related entities such as CEPI constitute the largest funders of the public-private entity known as WHO, and that its current director, Tedros Adhanom, the first WHO director in history not a medical doctor, worked for years on HIV with the Gates Foundation when Tedros was a government minister in Ethiopia, and we see that there is practically no area of the current coronavirus pandemic where the footprints of the omnipresent Gates are not to be found. If that is to the good of mankind or grounds to be worried, time will tell."
"Going into a Phase One trial within three months of getting the sequence is unquestionably the world indoor record. Nothing has ever gone that fast," according to Fauci.
While it is uncertain that Moderna's answer is the solution, Fauci notes that the only surefire way to stop an outbreak is to develop a vaccine. Moderna manufactures drugs around messenger RNA molecules that carry instructions to reprogram cells in the body to operate differently and beneficially. Currently, its genetic technology has not created a vaccine for humans.
The first study of the vaccine will take place at NIAID. If it is successful, a second trial would feature closer to hundreds of people. Pending the results of future studies and regulations, the vaccine may not be readily available until next year, Fauci said.
Genetic Engineering & Biotechnology News reported in 2016 on Gates' relationship with Moderna:
"Moderna Therapeutics said today it received an initial $20 million grant from the Bill & Melinda Gates Foundation to develop a new affordable combination of messenger RNA–based antibody therapeutics geared toward preventing HIV infection.
The grant is intended for use in the antibody combination's preclinical study and a Phase I clinical trial. Gates Foundation's $20 million funding could potentially grow into a total $100 million commitment—including the HIV antibody project—toward development of additional mRNA-based treatments for various infectious diseases, Moderna said.
"The foundation's mission to help all people lead healthy and productive lives is well aligned with Moderna's mission to deliver on the promise of transformative mRNA science to bring new medicines to patients," Moderna CEO Stéphane Bancel said in a statement.
Moderna said the development effort would be led by its infectious disease–focused venture company, Valera…"
Fauci Is Tight with Bill Gates
"He's very good about not overpromising," Gates said of Fauci in 2018 as Gates worked on a universal flu vaccine. NIAID Council minutes from 2019 show Fauci's agency identifying a Gates Foundation workshop as being of interest. Gates met with Fauci in 2017 "to discuss research opportunities in global health." In 2010, Fauci was named to the Leadership Council of the "Decade of Vaccines" Collaboration, which the World Health Organizations, Fauci's agency NIAID, UNICEF, and the Bill and Melinda Gates Foundation convened.
Fauci hung out with Gates in 2018 at an NIH workshop:
Gates Admitted That He Stopped President Trump's Planned Vaccine Safety Commission With Robert Kennedy Jr. in the Early Days of the Trump Administration
In October 2019, Fauci Announced A Partnership Between the Gates Foundation and Fauci's Agency, In Which The Gates Foundation Pledged To Spend $100 Million
The American Journal of Managed Care reported on October 28, 2019:
"The National Institutes of Health (NIH) has announced plans to invest at least $100 million over the next 4 years to develop gene-based therapies for 2 diseases: HIV and sickle cell disease (SCD). The Bill and Melinda Gates Foundation (Gates Foundation) will also contribute $100 million to the goal of advancing these potential cures, with an aim toward providing affordable, globally available treatment that will be accessible to patients in low-resource settings.
According to the NIH, the collaboration between the organizations will focus on 2 key areas. First, it will identify potential candidate cures for preclinical and clinical evaluation, and second, it will define long-term opportunities to partner with organizations in Africa…
"This collaboration is an ambitious step forward, harnessing the most cutting-edge scientific tools and NIH's sizable global HIV research infrastructure to one day deliver a cure and end the global HIV pandemic," said NIAID director Anthony S. Fauci, MD, in a statement announcing the initiative. "We are taking into account those with the greatest need at the foundation of this effort, to ensure that, if realized, this exceptional public health achievement will be made accessible to all."
Dr. Fauci Is Speaking At The World Vaccine Congress in September Alongside A Coterie of Public Sector and Private Sector Folks From WHO, CDC, FDA, Merck, Pfizer, etc.
Fauci and fellow Coronavirus response team member Deborah Birx Have Democrat and Globalist Elite Friends Including Gates and Nancy Pelosi
Dr. Deborah Birx is garnering criticism for touting a disputed model for the Coronavirus outbreak prepared by the University of Washington's IHME, a project of the Bill and Melinda Gates Foundation. Birx's license to practice medicine in the state of Pennsylvania expired in 2014.
Deborah Birx Sits on the Board of The Global Fund, which is heavily funded by Bill Gates' organizational network, as journalist Jordan Schactel discovered. The Bill and Melinda Gates Foundation gave the Global Fund a $750 million promissory note in 2012.
The Global Fund explains, "The Bill & Melinda Gates Foundation is a key partner of the Global Fund, providing cash contributions, actively participating on its board and committees, and supporting the Global Fund's advocacy, communications and fundraising efforts. The Gates Foundation has contributed US$2.24 billion to the Global Fund to date, and pledged US$760 million for the Global Fund's Sixth Replenishment, covering 2020-2022."
When asked whether he had spoken directly to the President, Bill Gates clarified that he had spoken to the agencies most willing to carry out his agenda; the CDC and NIH.
The same globalists seem to have financial ties to every major propaganda movement
Kelen McBreen – SEPTEMBER 24, 2019
16-year-old climate opportunist

Greta Thunberg

is being pushed by the worldwide establishment after speaking in front of Congress, the

U.N.

, meeting the Pope and being the face of this weekend's climate protests.
How did this teenage girl become such a dominant figure in the issue of climate protection?
It turns out there are powerful forces behind the sudden rise of the Swedish adolescent, including some of the usual suspects.
A woman who accompanies Thunberg to most public events is German climate activist Luisa-Marie Neubauer.
EuropeReloaded.com reported, "Thunberg soon also got her own coach – a well-known climate activist from Germany by the name Luisa-Marie Neubauer (pictured). What is the likelihood of a young girl who starts a school strike outside the Swedish parliament, getting schoolchildren from all over the world to join her cause and fight against climate change? And how often do 16-year-olds have their own coaches?"
It turns out Neubauer is the "Youth Ambassador" of the "ONE" foundation, an international lobbying organization funded by George Soros, Bill and Melinda Gates, Bono and others.
In a tweet from 2018, Neubauer wrote, "Perks of being a ONE Youth Ambassador: you get to meet awesome ONE campaigners all over the world."
According to the "ONE" website, "ONE originated in conversations between Bill Gates and Bono in the early 2000s about the need to better inform Americans about extreme poverty around the world."
"Together with Melinda Gates, Bobby Shriver, George Soros, Ed Scott, Bob Geldof, and Jamie Drummond, they created an anti-poverty advocacy organization called DATA that focused on deploying celebrities and other influential individuals to urge world leaders to take action on specific development issues," the site continues.
Like anti-gun activist David Hogg, the globalist establishment is shoehorning Thunberg into the public spotlight to further their agenda even if it means taking advantage of a teenager with Asperger's.