When will Americans be judged by the content of their character and not by the color of their skin?
7/1/2020
While the establishment left-stream media is busy promoting the idea that white people are inherently racist, real-life experience proves that "white privilege" is not all it's cracked up to be.
https://banned.video/watch?id=5efbb2b5672706002f38331e
https://infowarsmedia.com/js/player.js
Retiring detective warns the "demise" of NYC is coming if police continue to be stripped of resources.
By Steve Watson – 6/29/2020
As police warn that the disbanding of vital units will lead to anarchy in

New York City

, a total of eleven people were shot in the space of under 12 hours on Saturday night.
According to a report by The New York Post, there were eight separate shooting incidents between the hours of 5.30 pm to 5am in Brooklyn, The Bronx, Queens and Manhattan.
Within one week there have now been 59 shootings in New York, with a total of 81 people shot.
Gun violence is up 358% in New York City since June 2019, with The New York Times reporting Tuesday that "It has been nearly a quarter century since New York City experienced as much gun violence in the month of June as it has seen this year."
The explosion in gun violence dovetails with the disbanding of NYPD anti-crime units, a decision that means around 600 plainclothes officers will be taken off targeted raids and reassigned.
A retiring NYPD detective, speaking anonymously with the NY Post,  recently warned that the move will "be the demise" of New York City.
"Anti-crime guys are the guys are the guys who the real bad guys are looking out for. Anti-crime guys are going to drive around in not just unmarked cars. They'll come around in other cars, rentals that the city gets that you wouldn't think are police cars." the detective noted.
"When you're a really bad guy, and I'm talking about really bad guys, who won't think twice about taking another life. When they step out of the car, those were the cops who they are afraid of," he urged.
The detective blasted Mayor Bill de Blasio, saying that he has "absolutely no idea what policing is," after he caved to the woke mob and embraced the "Defund the Police" movement.
'What we're dealing with is more than a mere unruly mob… It's a well-planned rebellion playing out on the streets of urban America'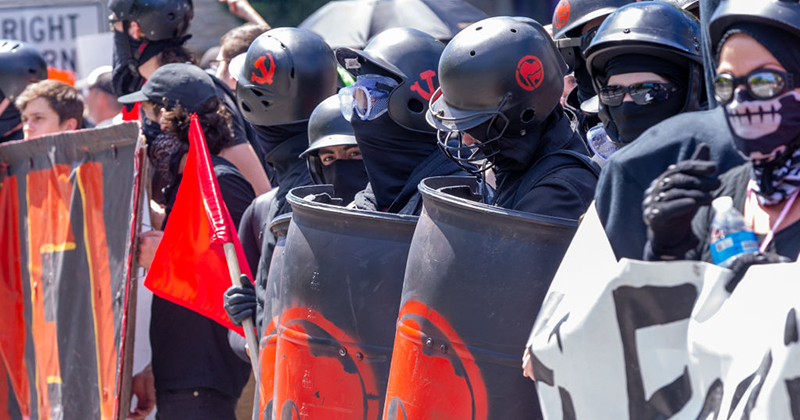 Luis Miguel | The New American – JUNE 22, 2020
Never underestimate your enemy.
The mainstream media would have us believe that the protests and riots that have swept the nation after the death of George Floyd are spontaneous demonstrations whose large turnouts validate the notion that the ideas they argue for— such as abolishing the police — are widely popular.
The average American does not have a full understanding of how much time and money it takes to pull off mass organization such as the one currently taking place. But at The New American, we have long reported on the vast amount of money and institutional resources being poured into Black Lives Matter and Antifa by global elites such as George Soros.
That these radical insurrectionists are so highly funded, organized, and armed should be a cause for concern among Americans and inspire patriots to greater involvement in the well-being of their local communities.
Nevertheless, many continue to write off Antifa, BLM, and other left-wing revolutionary groups as nothing more than unorganized college kids who, should they turn violent, could swiftly be dealt with by a lone gun-toting patriot.
Yet reality presents a far different picture. A recently published document by rioters in Minneapolis who successfully ran police out of the Third Precinct reveals an understanding of the principles of fourth-generation warfare, along with a well-honed level of coordination.
In short, what we're dealing with is more than a mere unruly mob. It's a well-planned rebellion playing out on the streets of urban America.
Published at the blog CrimethInc, which describes itself as a "rebel alliance" and a "think tank" for "anonymous collective action," the article is titled "The Siege of the Third Precinct in Minneapolis: An Account and Analysis."
"In this anonymous submission, participants in the uprising in Minneapolis in response to the murder of George Floyd explore how a combination of different tactics compelled the police to abandon the Third Precinct," reads a summary of the breakdown, whose author remains anonymous.
The author explains that the key to their victory over police was the combination of violent members of the "crowd" with nonviolent ones, the latter giving the former cover to attack police while making law-enforcement officers hesitant to hit back with lethal force:
We call the battles of the second and third days at the Precinct a siege because the police were defeated by attrition. The pattern of the battle was characterized by steady intensification punctuated by qualitative leaps due to the violence of the police and the spread of the conflict into looting and attacks on corporate-owned buildings. The combination of the roles listed above helped to create a situation that was unpoliceable, yet which the police were stubbornly determined to contain. The repression required for every containment effort intensified the revolt and pushed it further out into the surrounding area. By Day Three, all of the corporate infrastructure surrounding the Third Precinct had been destroyed and the police had nothing but a "kingdom of ashes" to show for their efforts. Only their Precinct remained, a lonely target with depleted supplies. The rebels who showed up on Day Three found an enemy teetering on the brink. All it needed was a final push.
As the author noted, the radicals' goal was to stir the police to violence: "It's important to note that the dynamic we saw on Day Two did not involve using non-violence and waiting for repression to escalate the situation. Instead, a number of individuals stuck their necks out very far to invite police violence and escalation."
But once officers moved to engage, the mob employed their "peaceful" members to discourage reprisal, "interrupting police violence with strategically deployed 'innocence' ('Hands up! Don't shoot!')."
The analysis goes on to relate that the crowd learned to quickly deal with tear gas by setting up eye-flushing stations with the help of on-scene medics. Once they learned that concussion grenades are not physically harmful if one is more than five feet away from them, the crowd remained calm when confronted by that type of weapon.
The insurrectionists also used looting as a battle tactic. "Looters can help feed and heal the crowd while simultaneously disorienting the police. In turn, those going head to head with the police can generate opportunities for looting," the article reads.
"Employing stores of looted bottled water, many people in the crowd were able to learn and quickly execute eye-flushing," it states about their response to tear gas.
Of course all this ignores the biggest weapon in their arsenal: Sympathizers in the government who keep the police from taking decisive action against them.
The analysis closes with a section titled "Visions of the Commune," a description of the agitators' reveling in the mayhem they created:
As the police made their retreat, a young Somali woman dressed in traditional garb celebrated by digging up a landscaping brick and unceremoniously heaving it through a bus stop shelter window. Her friends — also traditionally dressed — raised their fists and danced.
A masked shirtless man skipped past the burning Precinct and pumped his fists, shouting, "COVID IS OVER!" while twenty feet away, some teenage girls took a group selfie. Instead of saying "Cheese!" they said "Death to the pigs!" Lasers flashed across the smoke-filled sky at a police helicopter overhead.
A young kid who couldn't be more than seven or eight years old walked up to us with a whiskey bottle sporting a rag coming out the top. "Y'all got a light?" We laughed and asked, "What do you wanna hit?" He pointed to a friendly grocery store and we asked if he could find "an enemy target." He immediately turned to the US Bank across the street.
If the nation's patriots don't cease their underestimation of the Marxsist revolutionaries and rise to the occasion, the "Commune" will soon come to every neighborhood in America.
8/19/2020
We as a race need to turn from "no one is coming to save us" to "no one is going to stop us." If we unify, we have more power, potential and ability in our blood than any of us have even been alive to see manifested. It's on us now.
After there's no monuments and statues left, it will be people next.
They say it enforces negative stereotypes.
By Shane Trejo – 6/18/2020
There is a growing trend of newspapers across the country that are refusing to publish mugshot galleries because the pictures of minority criminals are supposedly reinforcing negative stereotypes.
The Tampa Bay Times announced on Monday that they would stop publishing mugshot galleries due to concerns that they "disproportionately show black and brown faces."
"The galleries lack context and further negative stereotypes," Tampa Bay Times executive editor Mark Katches said in a statement.
"We think the data is an important resource that our newsroom will continue to analyze and watch carefully, but the galleries alone serve little journalistic purpose," he added.
They followed suit shortly after the Orlando Sentinel announced that they were making a similar decision.
"We've come to realize that without context, the galleries have little journalistic value and may have reinforced negative stereotypes," the Sentinel wrote about the paper's decision to censor their mugshot database.
In addition, all Gannett-owned papers have announced that they will no longer publish "mugshot galleries, or mugshot photos that are not associated with a story or other editorial content," according to a Poynter report.
This is part of a broader campaign to suppress facts about crime from being known by the greater public. Big League Politics has reported about how tech corporations are censoring crime statistics from being shared on their platforms:
Instagram is banning federal crime statistics, which drive a stake through the heart of Black Lives Matter's narrative regarding supposed racial disparities, from being shared on their platform…

The murder rate is incredibly skewed with whites being killed by blacks at a extremely disproportional rate.

In a survey conducted by the Bureau of Justice Statistics, they found that there were a stunning 593,598 instances of documented interracial violent incidents last year, counting black-on-white instances as well as white-on-black instances. The findings are absolutely stunning.

Blacks committed an incredible 537,204 instances of interracial violent attacks against white people, accounting for 90 percent of the violence. White people only committed 56,394 attacks against black people over the same time period. Considering how many more white people there are in the country than blacks, these numbers are staggering.

In addition, data from the Justice Department recorded from 2017 indicates that black people are over-represented when it comes to hate crimes as well while white people are under-represented by 24 percent…

The Silicon Valley titans are at war against the truth. They want the left-wing mob to loot, riot and destroy without the public ever understanding what's really going on.
"Things are not as bad as they can be."
By Paul Joseph Watson – June 18, 2020
A scientist who accurately predicted back in 2010 that 2020 would be "mayhem" now says that a "civil war" in America could be coming next.
Professor Peter Turchin, whose expertise lies in cultural evolution and historical dynamics, said ten years ago in Nature that after the start of 2020, we would see the beginning of "a period of major social upheaval" marked by "mayhem" and "widespread civil unrest".
"They had no reason to believe I wasn't crazy," back in 2010, he told Time. "People did not understand that I was making scientific predictions, not prophecies."
Turchin had looked at data from both violent and peaceful anti-government protests stretching back 230 years before 2010, noting that periods of widespread unrest occur roughly every 50 years and that we were due another in 2020.
The professor said that there were "many signs" chaos would begin in 2020, and that a lot of it relates to the instability caused by "declining wages, wealth inequality and exploding national debt."
"As a scientist, I feel vindicated. But on the other hand, I am an American and have to live through these hard times," he said.
Turchin's track record of accuracy doesn't provide much comfort given what he is predicting comes next.
Due to the dreadful state of the economy as a result of coronavirus and regular violent disorder, the professor warns that the situation "may escalate all the way to a civil war."
"Things are not as bad as they can be," Turchin concluded.
Can't wait.
Senseless destruction of a community.
By Richard Moorhead – 6/18/2020
A citywide survey conducted by the city of

Minneapolis

reveals that more than

700 buildings

were either damaged, burned, or wholly destroyed in the riots that swept over the city following the death of

George Floyd

at the end of May.
A high resolution map reveals the location of every building damaged in the race riots. The destruction is spread widely throughout the city, although it's most concentrated on Lake Street in the city's downtown. Twelve buildings have been described as totally destroyed in the city's report.
City authorities previously determined that more than $55 million in property damages had been inflicted upon the city through the riots. Democratic Mayor Jacob Frey has floated the idea of asking for a federal bailout to repair the damages from the riots, although it's considered unlikely he'd succeed, having largely allowed the damages to occur when he failed to order a decisive police response to the riots.
Erik Hansen, director of economic policy and development for the city, highlighted the damages inflicted upon the community through the riots in a city report.
"This is not just the structures that have been impacted, it's the community that's been impacted, and if you take a look at where the destruction has happened, some of it is not because of the uprising, some of it is because people came into the community and tried to terrorize some neighborhoods and set buildings on fire."
The significant damages to the city of Minneapolis remain a dark cloud from which the city may not recover. As leftists continue in a serious proposal to abolish the city's police department and a sizable contingent of the city's population begins looking to move elsewhere, the city may face a future of decline and blight.
By Mr. Dapperton – 6/15/2020
I don't even care for celebrity culture. It's bad enough they kept saying "We're all in this together" while they sit back in their multi million dollar mansion, but now they pull this?!