May 27, 2020
I'm so tired of hearing the term "Social Distancing".
By Mark Dice – May 18, 2020
Greta is being abused. Her parents are pimping her out like a child actress.
Is this why Fauci has been so skeptical of hydroxychloroquine?
By Shane Trejo – Apr 7, 2020
Dr. Anthony Fauci

, who has become a beloved doom prophet fomenting mass hysteria among the American public amidst the coronavirus pandemic, once worked with technocratic oligarch

Bill Gates

on his "Global Vaccine Action Plan."
Activist reporter Mike Coudrey drew attention to this fact on his Twitter account in a post from Sunday:
The "Global Vaccine Action Plan" was announced in 2010 as a public-private partnership of the World Health Organization (WHO), the United Nations Children's Fund (UNICEF), the National Institute of Allergy and Infectious Diseases (NIAID), and the Bill & Melinda Gates Foundation.
"This plan will build on the successes of current work to achieve key milestones in the discovery, development and delivery of lifesaving vaccines to the most vulnerable populations in the poorest countries over the next decade," WHO wrote in their press release about the project.
As the NIAID director, Fauci helped guide the vaccine-pushing project as a member of its Leadership Team. He was joined by other globalist kingpins including Anthony Lake, Executive Director for UNICEF; Margaret Chan, Director General of WHO; Joy Phumaphi, Chair of the International Advisory Committee and Executive Secretary, African Leaders Malaria Alliance; and Tachi Yamada, President of Global Health at the Bill & Melinda Gates Foundation.
The project was designed to assemble some of the most powerful globalist actors on the planet and encourage them to conspire on ways to peddle vaccines throughout the world.
"The Global Vaccine Action Plan will enable greater coordination across all stakeholder groups – national governments, multilateral organizations, civil society, the private sector and philanthropic organizations — and will identify critical policy, resource, and other gaps that must be addressed to realize the life- saving potential of vaccines," WHO wrote in their press release about the scheme.
Fauci has been the primary voice in the Trump administration urging the public to be skeptical of hydroxychloroquine, a possible miracle treatment for coronavirus. Fauci has remained a critic of hydroxychloroquine despite indications that it can be effective in helping the afflicted recover from the disease.
"No. The answer is no," Fauci said last month after he was asked about whether or not there was any evidence showing that hydroxychloroquine can be effective in treating the coronavirus.
When it became clear that hydroxychloroquine can be effective in treating the coronavirus, Fauci walked back his comments.
"Although there is some suggestion with the study that was just mentioned by Dr. Oz, granted that there is a suggestion that there is a benefit there, I think we've got to be careful that we don't make that majestic leap to assume that this is a knockout drug," Fauci said during an appearance on "FOX & Friends" last week.
Fauci may be trying to halt the use of hydroxychloroquine as part of the "Global Vaccine Action Plan" that he plotted many years ago. Gates has already talked about digital tracking implants being tagged into people's skin for authorities to enforce their vaccination schedule. Fauci could be serving as a bureaucratic enabler of Gates' sociopathic Big Brother ambitions.
By Jose Nino – Apr 8, 2020
On April 7, 2020 the United States faced its deadliest day of the

Wuhan Virus

crisis.
According to NBC News, the Wuhan Virus killed 1,264 people over a 24 hour span in America as of 2:05 am ET on April 7. So far, 10,906 Americans have fallen to the Wuhan Virus.
On the other hand, NBC reported that not one death was recorded in the city of Wuhan, where the virus originated.
It tweeted, "U.S. reports 1,264 coronavirus deaths in over 24 hours. Meanwhile in China, where the pandemic broke out, not a single new coronavirus death was reported. https://nbcnews.to/3aRarPK"
In the meantime, the Trump Administration has maintained a level-headed approach dealing with the virus.
Dr. Anthony Fauci, the nation's leading infectious diseases expert, stated on April 6 he was "cautiously optimistic" that the worst case scenarios could be avoided "if we keep our foot on the accelerator" — making reference to social distancing policies that are in place in most of the country.
Fauci and other officials tasked with handing this crisis stressed the importance of stay-at-home orders during a briefing.
"I don't think anyone has ever mitigated the way I'm seeing people mitigate right now," he remarked.
On a more negative note, W warned that in the next week-and-a-half there would be a "big surge" in Wuhan Virus cases and deaths.
The president also noted that his administration was targeting certain places that have been disproportionately affected, which included New York, the city that has been the most impacted by the Wuhan Virus.
"We are pressing into action the full power of American government and American enterprise in our military has been incredible," he stated.
The lockdown is now being lifted in Wuhan.
A spokesman for China's National Health Commission warned his countrymen to stay on guard because the country still faces the risk of new outbreaks that could come about as a result of domestic and imported cases.
On April 6, Chinese health officials confirmed the occurrence of 32 new cases of the Wuhan Virus in mainland China.
In a similar vein, Wuhan only reported two new cases of the virus in the past two weeks.
However, these numbers should be a taken with a grain of salt.
After all, China is an authoritarian country, so it will not be known for its respect for transparency.
Previously, the Chinese government reportedly disappeared a scientist that blew the whistle on the virus.
Like its other mainstream counterparts, NBC is praising China and advancing its narratives during a time when the entire world is in a state of chaos due to China's negligence in containing this virus.
The mainstream is clearly in the tank for China.
By Jim Hoft – April 4, 2020
Come again?
Back in 2017 at forum on pandemic preparedness at

Georgetown University

Dr. Fauci made an interesting statement. Fauci told the audience the Trump administration will not only be challenged by ongoing global health threats such as influenza and HIV, but also a surprise disease outbreak.
That was quite a prediction considering it was back in 2017!
Via Ned Nikolav, Ph.D. and Healio.
TRENDING: WHOA! Dr. Fauci in 2017: President Trump Will Be Challenged By a "Surprise Global Disease Outbreak" (VIDEO)
This is the same guy who told Americans not to worry about the coronavirus back in January.
He completely missed it.
Here is the video—
Faces of coronavirus pandemic response connected to globalists
By Patrick Howley – April 4, 2020
President Donald Trump

is fighting to find a medical solution for

Coronavirus

in the short term, expressing hope that the anti-malaria drug

Chloroquine/hydroxychloroquine

can help patients suffering from the Chinese virus.
The truth is that President Donald Trump is locked in an intense power struggle with Bill Gates, who is pushing his vaccines, which may not be available to the public until after November's election. Gates has a lot of pull in the medical world, he has a multi-million dollar relationship with Dr. Fauci, and Fauci originally took the Gates line supporting vaccines and casting doubt on Chloroquine.
Coronavirus response team member Dr. Deborah Birx, appointed by former president Obama to serve as United States Global AIDS Coordinator, also sits on the board of a group that has received billions from Gates' foundation, and Birx reportedly used a disputed Bill Gates-funded model for the White Houses' Coronavirus effort. Gates is a big proponent for a population lockdown scenario for the Coronavirus outbreak.
National Institute of Allergy and Infectious Disease (NIAID, a division of National Institutes of Health, NIH) director Dr. Anthony Fauci, who is represented by the Aurumn Speakers Bureau, initially criticized Trump's hopeful assessment of Chloroquine, saying in an interview with CNN's Anderson Cooper that "There's no magic drug for coronavirus right now," and lectured, "Let me put it into perspective for the viewers .. there has been anecdotal non-proven data that it [chloroquine] works… but when you have an uncontrolled trial you can never definitely say that it works."
But now Fauci has changed his tune and launched a public relations campaign huddling closer to Trump. Fauci said that he would definitely prescribe Chloroquine for patients. "Yeah, of course, particularly if people have no other option. These drugs are approved drugs for other reasons. They're anti-malaria drugs, and they're drugs against certain autoimmune diseases like lupus. Physicians throughout the country can prescribe that in an off-label way. Which means they can write it for something it was not approved for."
But Fauci's apparent hostility toward Chloroquine/hydroxychloroquine remains clear:
The true behind-the-scenes story is coming to light:
Bill Gates Cast Doubt on Chloroquine And Said He Is Running A Study On It
Here is what Gates said regarding Chloroquine in a Reddit Ask Me Anything session:
"There are a lot of therapeutic drugs being examined. This is one of many but it is not proven. If it works we will need to make sure the finite supplies are held for the patients who need it most. We have a study going on to figure this out. We also have a screening effort to look at all the ideas for Therapeutics because the number being proposed is very large and only the most promising should be tried in patients. China was testing some things but now they have so few cases that that testing needs to move to other locations," Gates said.
Gates Is Funding Coronavirus Vaccine Candidates That Would Compete With Chloroquine, And Dr. Fauci's Agency Is Co-Partnering On The Project
The company Moderna is working on a Coronavirus vaccine, which they expect will go into clinical trials in April. Dr. Fauci has heaped praise on Moderna and said that a vaccine is the only way to definitively assure the end of the virus. Gates is working on multiple Coronavirus vaccine projects.
The New Eastern Outlook journal reported:
"Gates Foundation money is backing vaccine development on every front. Inovio Pharmaceuticals of Pennsylvania received $9 million from the Gates-backed CEPI, Coalition for Epidemic Preparedness Innovations, to develop a vaccine, INO-4800, which is about to test on humans in April, a suspiciously rapid time frame. In addition Gates Foundation just gave the company an added $5 million to develop a proprietary smart device for intradermal delivery of the new vaccine.
In addition Gates Foundation monies via CEPI are financing development of a radical new vaccine method known as messengerRNA or mRNA.
They are co-funding the Cambridge, Massachusetts biotech company, Moderna Inc., to develop a vaccine against the Wuhan novel coronavirus, now called SARS-CoV-2. Moderna's other partner is the US National Institute of Allergy and Infectious Diseases (NIAID), a part of the National Institutes of Health (NIH). Head of NIAID is Dr Anthony Fauci, the person at the center of the Trump Administration virus emergency response. Notable about the Fauci-Gates Moderna coronavirus vaccine, mRNA-1273, is that it has been rolled out in a matter of weeks, not years, and on February 24 went directly to Fauci's NIH for tests on human guinea pigs, not on mice as normal. Moderna's chief medical adviser, Tal Zaks, argued, "I don't think proving this in an animal model is on the critical path to getting this to a clinical trial…
Add to this the fact that the Gates Foundation and related entities such as CEPI constitute the largest funders of the public-private entity known as WHO, and that its current director, Tedros Adhanom, the first WHO director in history not a medical doctor, worked for years on HIV with the Gates Foundation when Tedros was a government minister in Ethiopia, and we see that there is practically no area of the current coronavirus pandemic where the footprints of the omnipresent Gates are not to be found. If that is to the good of mankind or grounds to be worried, time will tell."
"Going into a Phase One trial within three months of getting the sequence is unquestionably the world indoor record. Nothing has ever gone that fast," according to Fauci.
While it is uncertain that Moderna's answer is the solution, Fauci notes that the only surefire way to stop an outbreak is to develop a vaccine. Moderna manufactures drugs around messenger RNA molecules that carry instructions to reprogram cells in the body to operate differently and beneficially. Currently, its genetic technology has not created a vaccine for humans.
The first study of the vaccine will take place at NIAID. If it is successful, a second trial would feature closer to hundreds of people. Pending the results of future studies and regulations, the vaccine may not be readily available until next year, Fauci said.
Genetic Engineering & Biotechnology News reported in 2016 on Gates' relationship with Moderna:
"Moderna Therapeutics said today it received an initial $20 million grant from the Bill & Melinda Gates Foundation to develop a new affordable combination of messenger RNA–based antibody therapeutics geared toward preventing HIV infection.
The grant is intended for use in the antibody combination's preclinical study and a Phase I clinical trial. Gates Foundation's $20 million funding could potentially grow into a total $100 million commitment—including the HIV antibody project—toward development of additional mRNA-based treatments for various infectious diseases, Moderna said.
"The foundation's mission to help all people lead healthy and productive lives is well aligned with Moderna's mission to deliver on the promise of transformative mRNA science to bring new medicines to patients," Moderna CEO Stéphane Bancel said in a statement.
Moderna said the development effort would be led by its infectious disease–focused venture company, Valera…"
Fauci Is Tight with Bill Gates
"He's very good about not overpromising," Gates said of Fauci in 2018 as Gates worked on a universal flu vaccine. NIAID Council minutes from 2019 show Fauci's agency identifying a Gates Foundation workshop as being of interest. Gates met with Fauci in 2017 "to discuss research opportunities in global health." In 2010, Fauci was named to the Leadership Council of the "Decade of Vaccines" Collaboration, which the World Health Organizations, Fauci's agency NIAID, UNICEF, and the Bill and Melinda Gates Foundation convened.
Fauci hung out with Gates in 2018 at an NIH workshop:
Gates Admitted That He Stopped President Trump's Planned Vaccine Safety Commission With Robert Kennedy Jr. in the Early Days of the Trump Administration
In October 2019, Fauci Announced A Partnership Between the Gates Foundation and Fauci's Agency, In Which The Gates Foundation Pledged To Spend $100 Million
The American Journal of Managed Care reported on October 28, 2019:
"The National Institutes of Health (NIH) has announced plans to invest at least $100 million over the next 4 years to develop gene-based therapies for 2 diseases: HIV and sickle cell disease (SCD). The Bill and Melinda Gates Foundation (Gates Foundation) will also contribute $100 million to the goal of advancing these potential cures, with an aim toward providing affordable, globally available treatment that will be accessible to patients in low-resource settings.
According to the NIH, the collaboration between the organizations will focus on 2 key areas. First, it will identify potential candidate cures for preclinical and clinical evaluation, and second, it will define long-term opportunities to partner with organizations in Africa…
"This collaboration is an ambitious step forward, harnessing the most cutting-edge scientific tools and NIH's sizable global HIV research infrastructure to one day deliver a cure and end the global HIV pandemic," said NIAID director Anthony S. Fauci, MD, in a statement announcing the initiative. "We are taking into account those with the greatest need at the foundation of this effort, to ensure that, if realized, this exceptional public health achievement will be made accessible to all."
Dr. Fauci Is Speaking At The World Vaccine Congress in September Alongside A Coterie of Public Sector and Private Sector Folks From WHO, CDC, FDA, Merck, Pfizer, etc.
Fauci and fellow Coronavirus response team member Deborah Birx Have Democrat and Globalist Elite Friends Including Gates and Nancy Pelosi
Dr. Deborah Birx is garnering criticism for touting a disputed model for the Coronavirus outbreak prepared by the University of Washington's IHME, a project of the Bill and Melinda Gates Foundation. Birx's license to practice medicine in the state of Pennsylvania expired in 2014.
Deborah Birx Sits on the Board of The Global Fund, which is heavily funded by Bill Gates' organizational network, as journalist Jordan Schactel discovered. The Bill and Melinda Gates Foundation gave the Global Fund a $750 million promissory note in 2012.
The Global Fund explains, "The Bill & Melinda Gates Foundation is a key partner of the Global Fund, providing cash contributions, actively participating on its board and committees, and supporting the Global Fund's advocacy, communications and fundraising efforts. The Gates Foundation has contributed US$2.24 billion to the Global Fund to date, and pledged US$760 million for the Global Fund's Sixth Replenishment, covering 2020-2022."
When asked whether he had spoken directly to the President, Bill Gates clarified that he had spoken to the agencies most willing to carry out his agenda; the CDC and NIH.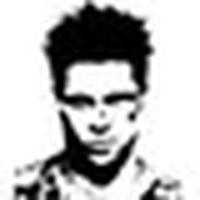 Summary:
Hong Kong reports largest daily jump in cases on record as travelers revive outbreak

NY rolls out restrictive new measures

NY case total tops 7k

Italy says Army will help enforce lockdown, effectively declaring martial law; might extend lockdown through early May

Spain death toll cracks 1,000

Italy reports another 627 deaths

Confirmed cases in US pass 14k

Drive thru testing site in NJ's Bergen County has a line that's over 1,000+ cars long

Switzerland bars all gatherings of more than 5 people

Trump says no plans for national lockdown

Germany to pass 'shadow' budget on Monday

EU suspends budget rules

Bavaria becomes first German state to impose 'lockdown'

Johnson says UK can defeat virus in 12 weeks if 'we work together'

Treasury now moving back both filing & payment deadlines for 2019

Novartis will donate up to 130 million doses of hydroxychloroquine to support global response

NBC News employee succumbs to virus

Dr. Fauci says social distancing should continue for several weeks

MTA confirms it has 23 sick workers

US, Mexico agree to shut southern border

China makes first purchase under 'Phase 1' trade deal

Altria chairman & CEO tests positive

Military confirms 35 American troops infected in Europe
Update (1320ET): As Italy's worst outbreak spirals further and further out of control, Italy is reporting 5,986 new cases of coronavirus and 627 new deaths on Friday, raising the countrywide total to 47,021 cases and 4,032 dead, as the total number of cases in Europe surpasses the total 'officially' confirmed in China.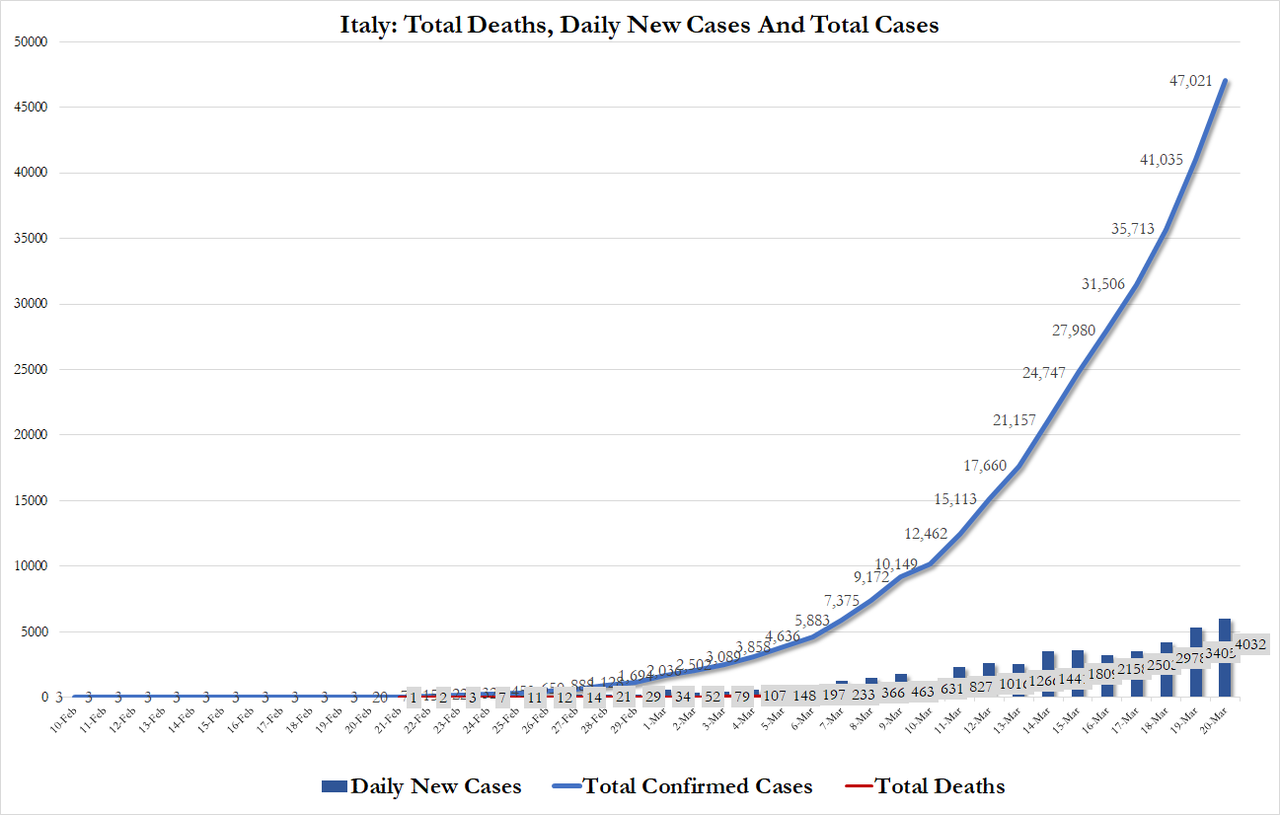 If you're curious about how things are looking on the ground in Italy, this Channel 4 report is chilling.
*  *  *
Update (1240ET): In an alarming video that shows just how huge demand is for COVID-19 tests, a drive-thru testing site in Bergen County has a line that's "several thousand cars long".
*  *  *
Update (1220ET): As President Trump and the White House task force (with Dr. Fauci making an appearance today) update the country on the federal government's efforts, Sec. of State Pompeo said that the US and Mexico had agreed to shut the southern border with Mexico..
In other news, drug company Novartis will donate up to 130 million doses of hydroxychloroquine to support the global virus response, according to a statement.
Trump also said that he probably won't ever institute a national lockdown, feeling that decisions like that are better left up to the states. Across the Atlantic, the EU on Friday confirmed that it would expand its budget rules to open the floodgates to fiscal stimulus, as expected.
*  *  *
Update (1120ET): The morning after California laid out the most restrictive measures to combat the virus in the US, NY Gov. Andrew Cuomo on Friday laid out new measures for New York State to combat the coronavirus outbreak, imposing new restrictions like ordering "100% of the workforce" to stay home.
During this time, Cuomo is order all businesses in the state that aren't deemed "essential" to close, and added that though public transit will remain open for people who need it to travel to their 'essential' jobs, and to get to places like hospitals and doctors offices and grocery stores and pharmacies, he urged New Yorkers to only take the trains if absolutely necessary. Cuomo also clarified that bank ATMs are an 'essential' service.
All non-essential businesses must close, Cuomo and NYC Mayor de Blasio have said that the state will find better ways to accommodate essential employees who need childcare or other things. But Cuomo threatened to fine businesses and individuals caught breaking the rules.
"These are not helpful hints…they will be enforced. There will be a civil fine and mandatory closure for any business that is not in compliance. Again, your actions can affect my health, that's where we are. There is a social compact that we have…we must make society safe for everyone," Cuomo said about the executive action that he's preparing to sign.
New York reported 2,950 new cases on Friday, bringing the state-wide total to 7,102 cases, with 4,408 cases in NYC.
As he chided the public for not taking the outbreak seriously enough, Cuomo declared that young people saying they can't get the virus is "simply wrong," claiming that 25% of cases are people ages 20-44.
When it comes to exercise, though gyms will be closed, Cuomo said New Yorkers can engage in 'solitary' activities like jogging, but said games of pickup basketball and team sports like that won't be permitted.
During the press conference, Cuomo confirmed that the state had reached the capacity to test 10,000 New Yorkers a day, becoming perhaps the only state in the country to overshoot on its daily testing target of 6k tests. Along with these new 'dramatic actions', Cuomo announced more confirmed cases and deaths.
Cuomo told a story about how the city governments of St. Louis and Philadelphia during the Spanish Flu epidemic dramatically impacted the outcomes for their local populations, and that Cuomo was trying to follow the better example, before bringing up the issue of mental health and the fact that his daughter was forced to isolate for 2 weeks.
At any rate, looking at the case curve, the number of cases expected could triple the state's capacity of beds and ventilators needed to save the lives of the sickest of patients.
The governor, who urged New Yorkers to "blame me" if things go badly with these measures, claiming that this decision was his after careful consideration and consultation with experts. "I did everything we could do…this is about saving lives…if everything we do saves just one life, I'll be happy," Cuomo said.
Moving on, Cuomo declared that he was banning evictions during the crisis, building on measures prohibiting banks from engaging in foreclosure, another unprecedented step.
In keeping with Cuomo's coordination with the governors of New Jersey and Connecticut, Cuomo said he would be speaking with Phil Murphy and Ned Lamont, the governors of NJ & CT, later in the day to discuss his measures and whatever can be done to continue coordinating their states' responses. Rumors have circulated in recent days that a similar lockdown might be declared in CT.
Asked by reporters how long to expect these circumstances to remain in place, Cuomo declared that "this could go on for months", one day after saying researchers projected that the outbreak would peak in 45 days.
Watch the rest of the press conference here:
From the sound of it, Cuomo's actions are still being well-received by New Yorkers and the country.
Elsewhere, in Switzerland, public health officials barred all gatherings of more than 5, possibly the most strict gathering ban instituted anywhere around the world.
*  *  *
Update (1055ET): Meanwhile, in London…
Boris Johnson's government has continued to deny reports about an impending 'lockdown' of London. But with 10k troops on standby, we suspect that Italy might soon have some company in the 'martial law' department.
*  *  *
Update (1015ET): The Treasury has officially moved back 'Tax Day', by postponing both the payment deadline (which it announced earlier) and the filing deadline (which it just announced Friday morning).
In other news, an NBC News employee has died from COVID-19.
As an update: Confirmed cases in the US passed 14,000 Friday morning, while the number of confirmed deaths hit 160.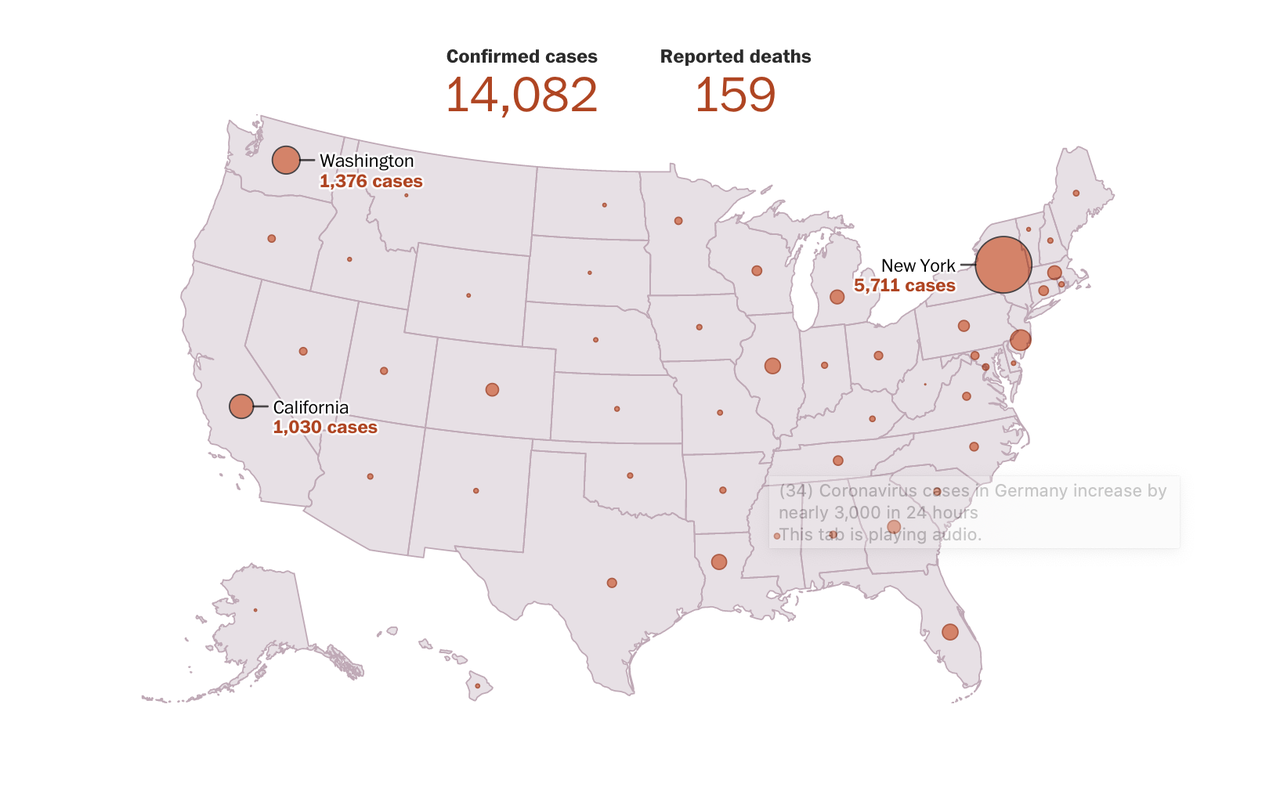 *  *  *
Update (0950ET): The market didn't seem to care all that much, but Handelsblatt reported Friday that the German government is planning to pass a planned €200 billion budget to combat the crisis, as Berlin continues to facilitate mass testing and triaging that has kept its mortality rate among the lowest in Europe.
This comes after Germany car companies said they would close more factories.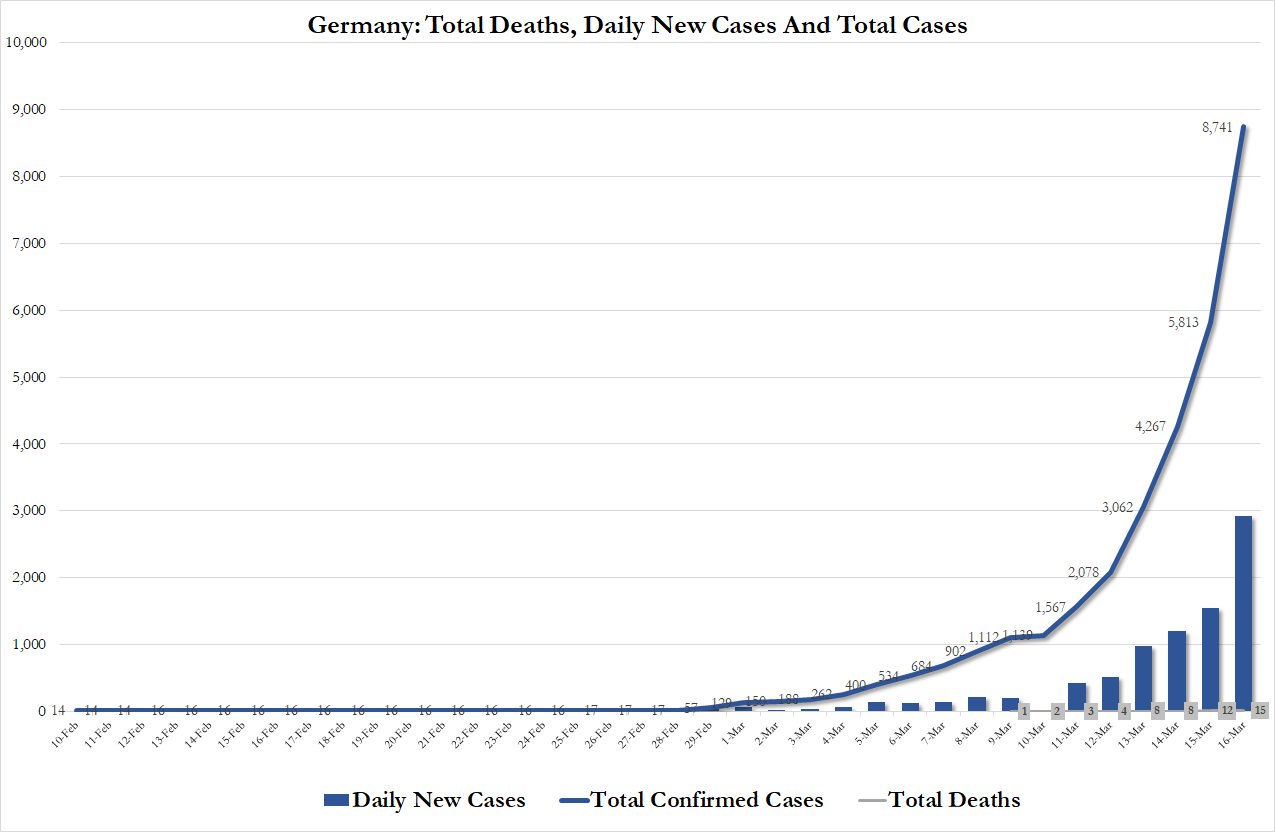 Barely a day has gone by over the past two new weeks that there hasn't been some report about Germany suspending its 'debt brake' due to the crisis and boost fiscal spending, as Christine Lagarde and the ECB have called on them to do. Even before the outbreak, reports about Germany passing a 'shadow budget' to boost tepid economic growth date back to at least the fall.
Germany's outbreak began in the state of Bavaria, still its worst-hit region. And as governments around the world tighten restrictions on movement, Bavaria on Friday imposed new "fundamental restrictions" on public life to aid the fight against COVID-19, DW reports. The move, of course, comes less than 12 hours after the governor of California imposed similar measures.
"We're shutting down public life almost completely," Bavarian Minister President Markus Söder said.
People will only be allowed to leave their homes for necessary purposes, such as going to work or the doctor and buying groceries or medicine.
"It's not easy to take these decisions," Söder said. "We take these decisions according to the best of our knowledge and conscience. There will be a Bavaria after corona, but it will be a stronger one if we don't look away."
The measures will go into effect for two weeks starting Friday evening.
In other news, the German state of Saarland wants to shut down restaurants and restrict people from going out in public, moves that are similar, though somewhat less restrictive, than Bavaria. Saarland State Premier Tobias Hans will recommend the move to his cabinet this afternoon, the state chancellery confirmed.
*  *  *
Update (0945ET): Six weeks ago, many branded us 'alarmists' for publishing warnings by credible epidemiologists and virologists about the infectious potential of the novel coronavirus.
If you still believe those warnings were 'alarmist', we wish you the best of luck during the coming weeks. You're going to need it.
*  *  *
Update (0928ET): The US military just confirmed that 35 American troops in Europe have tested positive.
Meanwhile, the FCA in the UK warned banks to ease up on repossessions and the like, issuing a statement claiming that "no responsible lender should be considering repossession as an 'appropriate measure' at this time. This comes after BoE Governor Bailey warned that banks should suspend foreclosures and repossessions.
Though it's faded into the background, tensions over whether China would be able to keep up with its 'Phase 1' trade deal commitments have slackened somewhat now that Beijing has made its first expected purchase of US agricultural goods.
CHINA BUYS 756,000 METRIC TONS OF U.S. CORN, FIRST MAJOR PURCHASE UNDER PHASE ONE TRADE DEAL
*  *  *
Update (0850ET): Prime Minister Giuseppe Conte blamed the Italian people earlier this week when he said he would extend Italy's nationwide lockdown until April 3, claiming that too many were still violating the lockdown despite stiff penalties.
As the country's death toll passes the death toll from mainland China (or the 'official' death toll at least), whispers about even restrictive measures appear to have just been validated: Prime Minister Giuseppe Conte on Friday effectively declared martial law Friday morning in Italy's worst-hit region of Lombardy, claiming that he will now be bringing in the Army to enforce the lockdown, something that the region's governor swiftly confirmed.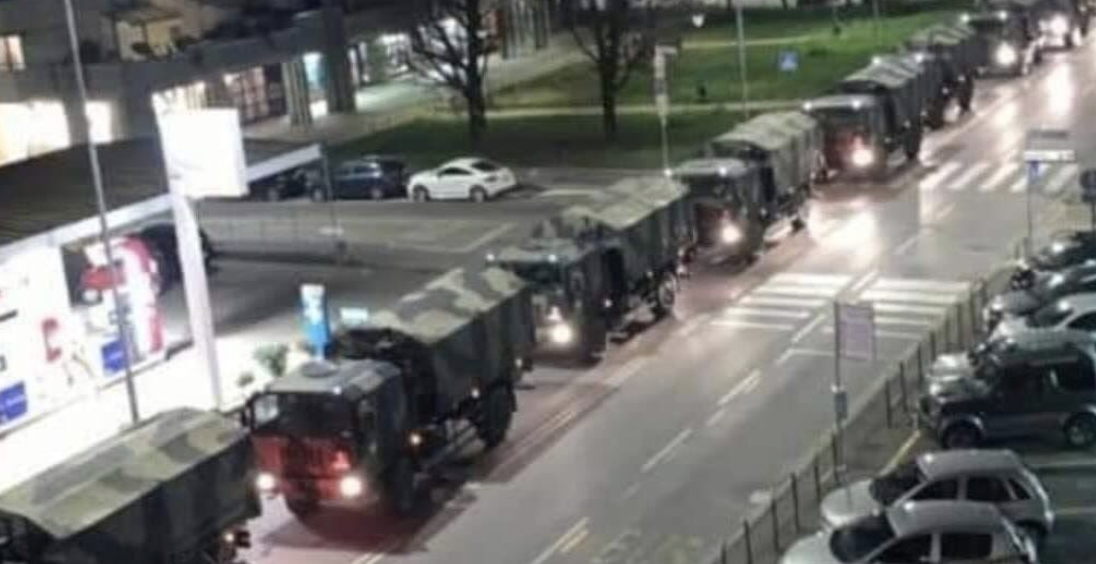 As many members of the Italian public continue to act with no respect for protecting the public health and the massive effort underway to contain the outbreak, for the first time, many are about to learn the meaning of discipline.
According to media reports, Conte is considering extending the lockdown until at least early May.
ITALY'S LOMBARDY REGIONAL HEAD SAYS GOVERNMENT HAS AGREED TO USE ARMY TO IMPOSE LOCKDOWN IN HIS REGION
Ultimately, whether the government decides to extend the lockdown will depend on factors like the continuing spread of the virus, as well as the public's response, and whether Italians finally start taking this seriously.
At this point, many expect that schools will not reopen before the summer break, the that the further tightening may not only include a ban on outdoor, but might also prohibit Italians from the cherished "passeggiate," leisurely strolls around town that allow one time to think and digest.
While the Italian outbreak still has no end in sight, over in the US, Dr. Anthony Fauci said Friday morning that social distancing in the US should continue for 'several' more weeks, as officials scramble to try and discern exactly how far the virus has penetrated, as hundreds of thousands of tests arrive at labs. Last night, during an appearance on Facebook live, Dr. Fauci confirmed that more tests are being shipped as private partnerships with firms like Thermo Fisher.
Reports claimed Friday that the Italian Treasury now expects the country's economy to contract by 3% this year, largely because of the lockdown.
Soldiers have already been deployed in some places to help enforce the lockdown and help with the crisis response.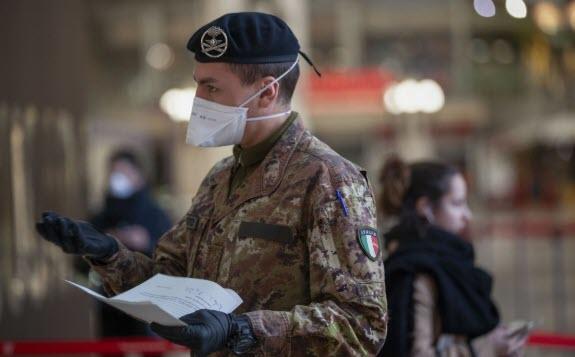 New York's MTA on Thursday announced that 23 workers have tested positive for the virus, this is up from just 1 worker as of early Thursday. The workers didn't display symptoms at work and were described as being of low risk to riders.
In other central bank news, the SNB has announced more measures, while Sweden has expanded a loan guarantee program.
Meanwhile, as Boris Johnson's government facilitates a policy u-turn to fight the virus, his former Chancellor is chiding the public on twitter.
At this point, it's almost like the more you yell at them to stop, the more panicked they become.
*  *  *
When historians look back at this time, we suspect that California Gov. Gavin Newsom's landmark decision to order more than 40 million Californians to remain at home on Thursday night will be remembered as an important demarcation point – the beginning of a more heavy handed response as it becomes increasingly clear that too many Americans are simply ignoring the government.
So far, NY Gov. Andrew Cuomo and President Trump have insisted that they have no plans to issue lockdown orders. But with the number of confirmed cases expected to soar in the coming days and over the weekend, the situation is certainly evolving rapidly, and rumors about other states considering preemptive lockdowns (remember, the whole point is to stay "ahead of the curve") continue to circulate.
Over the past week, central bankers around the world have slashed rates, stepped up bond buying programs, promised to expand their back-stopping of credit markets and – most importantly – urged the politicians in charge to do their part and pass massive fiscal stimulus. Late last night, the Senate unveiled a $1 trillion package that will feature direct transfers to many Americans.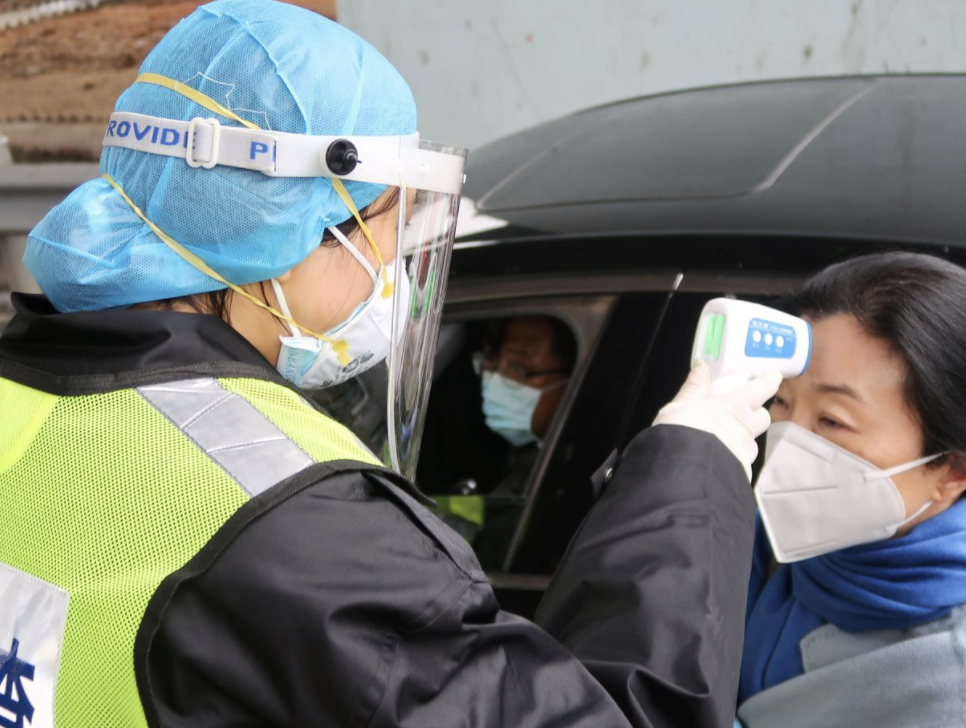 In the US, futures are pointing higher amid mounting hopes for a second straight close in the green. The improved sentiment is ostensibly due to the latest wave of central bank interventions. But that didn't stop a team of economists at Bank of America from releasing a new note calling for a global recession, with GDP growth dropping to 0% for the year in 2020. Explaining the shift in their thinking, the team wrote: "Our first piece on the virus shock was titled 'Bad or worse'; now we amend that to 'Really bad or much worse.'"
The World breathed a sigh of relief Thursday night when China reported no new domestically-transmitted cases of the coronavirus for a second straight day. Meanwhile, Reuters just reported that the foreign ministers of South Korea, China and Japan have held a video conference on Friday to discuss cooperation on the coronavirus pandemic as concerns grow about the number of infected people arriving in their countries from overseas, threatening to set off a second wave of infection. The State Department is doing its part: It issued a 'Level 4' travel warning last night advising Americans not to travel abroad, and for any Americans still outside of the country to either come home, or 'shelter in place'.
In the UK, Prime Minister Boris Johnson said last night that the UK could quash the virus in 12 weeks if Britons simply cooperate with the government's new efforts.
Unfortunately, it appears the dreaded 'second wave' of infections is already looming over Hong Kong.
After reporting 14 new cases in a single day earlier this week, a surprisingly large jump for a city that was widely praised for its swift and heavy handed response to the outbreak (proving that the city had retained the hard-learned lessons of SARS), Hong Kong on Friday reported a record jump in new cases as the city-state braces for a wave of new illnesses, many involving travelers from abroad and the HK residents they've infected.
Friday's surge of 48 cases is the largest daily jump since the outbreak began; it's equivalent to roughly a quarter of all cases confirmed in the city previously, according to the SCMP.
Even as the virus swept through parts of China and elsewhere in the region, Hong Kong managed to largely control its outbreak. Now, as life in the financial center had begun to return somewhat to normal, the wave of new cases is worrying experts who say it could lead to widespread community transmission. The city now has more than 250 confirmed infections.
The new confirmed cases take the city's total number to 256, and a top microbiologist said Hong Kong might be on the edge of an all-out "war" against an explosion in infections.

The Centre for Health Protection said 36 of the latest round of infected people, aged between four and 69, had a travel history. One of the local cases is a taxi driver who had picked up passengers from the airport.

When asked whether the government should ban non-locals from entering the city, Dr Chuang Shuk-kwan, head of the centre's communicable disease branch, said all the fresh infections were residents, except one – an Australian who had been to the United States and Portugal. He was transiting at the airport and sent to hospital after feeling unwell.
As SCMP explained, 1,000s of people returned to the city this week, with new asymptomatic spreaders evading checks and spreading the virus inside the city. The spike in new cases prompted the city's government to announce new quarantine measures requiring anyone arriving from abroad to self-isolate for 14 days, measures that have also been implemented by China. Also in China, the People's Daily reports that catering halls and shopping malls are reopening in Beijing.
Whether you trust the Chinese numbers or not, there's no question that the CCP leadership has reason to be cautious, now that it appears President Xi has evaded a historic embarrassment. According to Johns Hopkins, the number of confirmed cases ROW is now 2x the number from mainland China. Mandatory quarantines and outright bans for foreigners probably aren't bad ideas.
Meanwhile, Spanish authorities announced Friday morning that the death toll in the country has broken above 1,000 as citizens near the end of their first full week under an enforced lockdown.
The country reported 1,903 new cases, and 169 new deaths, raising its total to 19,980 cases and 1,002 dead.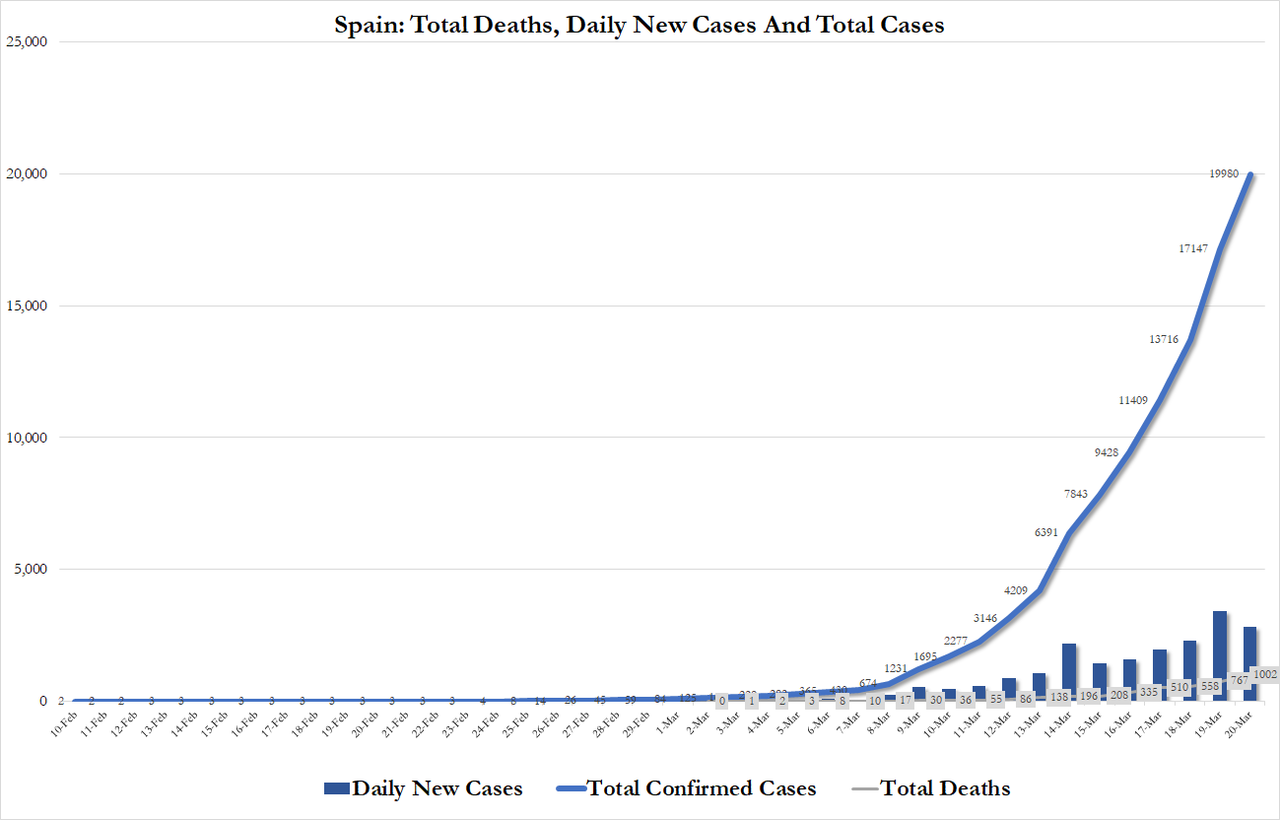 Meanwhile, on social media, snippets of video have circulated offering glimpses into the life on lockdown in Madrid and elsewhere around Spain.
Since the first case of COVID-19 was confirmed in the US, there has been no shortage of bitterly ironic headlines during this outbreak (remember when Rudy Gobert licked all those microphones?). But overnight, Altria Group – one of the largest tobacco companies in the world (it was better known as Phillip Morris before it rebranded a few years back) – said Howard A. Willard III, its Chairman and CEO, has tested positive for COVID-19.
Let's hope he's not a smoker.
By TRENT BAKER 3/13/2020
During a Friday interview on Fox & Friends, 

Dr. Anthony Fauci

, director of the National Institute of Allergy and Infectious Diseases, discussed COVID-19 and its spread in the United States.
With some from China suggesting the coronavirus was a weapon devised by the U.S. military and deployed in Wuhan and Democrats claiming that saying the disease originated in China is xenophobic, Fauci said "there's no doubt" it came from China.
"It absolutely came from Wuhan," Fauci stated. "There's no doubt about that."
In the interview, Fauci also called for people to "socially distance" themselves to help prevent the spread of the virus.
"The situation is different in Seattle, in Washington, because they've had the unfortunate situation of having community spread there. Also, in certain areas of California. That's a bit different than other areas in which there still will ultimately be infection but not exactly the way it is right now," Fauci advised. "So, you want to be proportionate in what you do, but for sure, you don't want to do nothing. You want to start doing something to socially distance yourself. How dramatic that is, closing schools and doing other things, should be proportionate. A lot of people, a lot of sections are doing it anyway. I don't criticize them for that. They may get fatigued from that, but I'd rather them do that than do nothing."