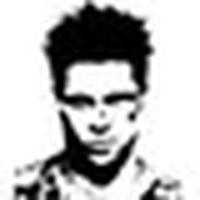 Summary:
Hong Kong reports largest daily jump in cases on record as travelers revive outbreak

NY rolls out restrictive new measures

NY case total tops 7k

Italy says Army will help enforce lockdown, effectively declaring martial law; might extend lockdown through early May

Spain death toll cracks 1,000

Italy reports another 627 deaths

Confirmed cases in US pass 14k

Drive thru testing site in NJ's Bergen County has a line that's over 1,000+ cars long

Switzerland bars all gatherings of more than 5 people

Trump says no plans for national lockdown

Germany to pass 'shadow' budget on Monday

EU suspends budget rules

Bavaria becomes first German state to impose 'lockdown'

Johnson says UK can defeat virus in 12 weeks if 'we work together'

Treasury now moving back both filing & payment deadlines for 2019

Novartis will donate up to 130 million doses of hydroxychloroquine to support global response

NBC News employee succumbs to virus

Dr. Fauci says social distancing should continue for several weeks

MTA confirms it has 23 sick workers

US, Mexico agree to shut southern border

China makes first purchase under 'Phase 1' trade deal

Altria chairman & CEO tests positive

Military confirms 35 American troops infected in Europe
Update (1320ET): As Italy's worst outbreak spirals further and further out of control, Italy is reporting 5,986 new cases of coronavirus and 627 new deaths on Friday, raising the countrywide total to 47,021 cases and 4,032 dead, as the total number of cases in Europe surpasses the total 'officially' confirmed in China.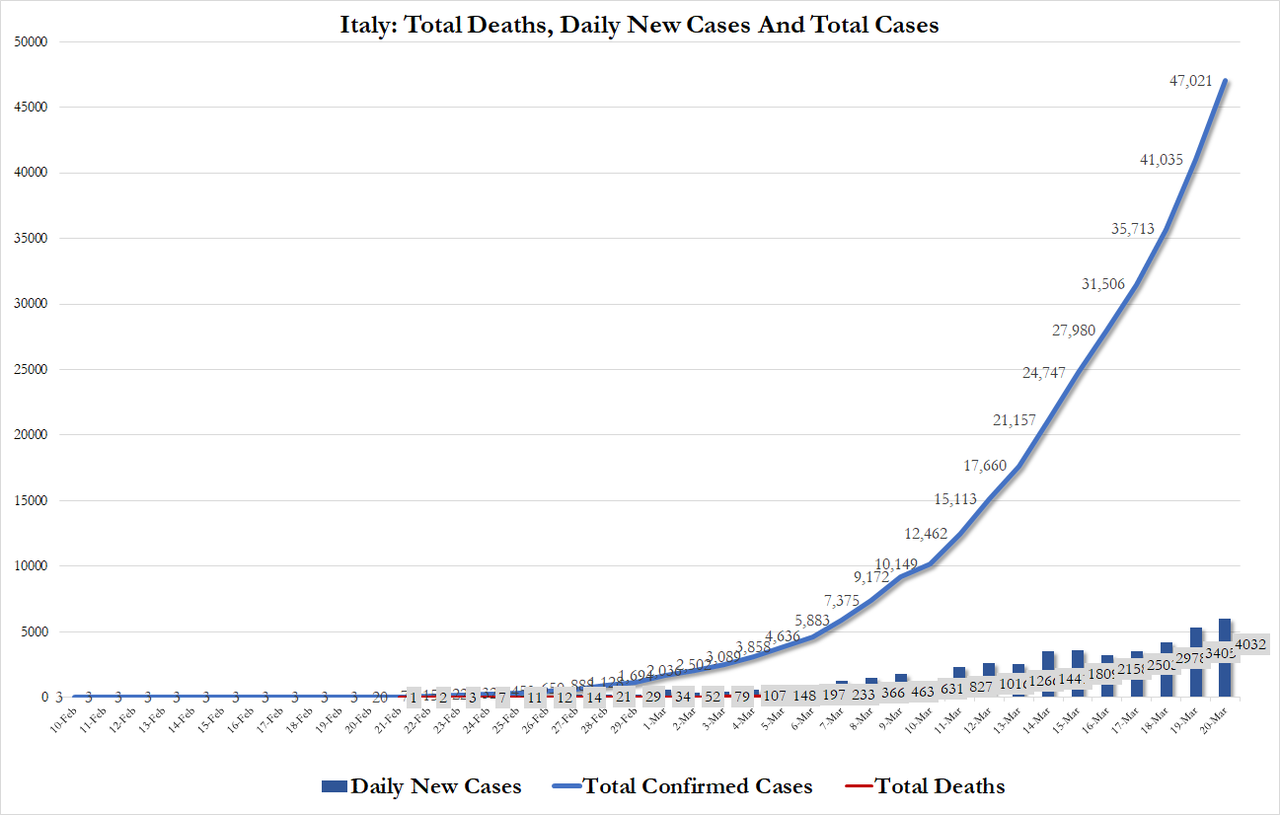 If you're curious about how things are looking on the ground in Italy, this Channel 4 report is chilling.
*  *  *
Update (1240ET): In an alarming video that shows just how huge demand is for COVID-19 tests, a drive-thru testing site in Bergen County has a line that's "several thousand cars long".
*  *  *
Update (1220ET): As President Trump and the White House task force (with Dr. Fauci making an appearance today) update the country on the federal government's efforts, Sec. of State Pompeo said that the US and Mexico had agreed to shut the southern border with Mexico..
In other news, drug company Novartis will donate up to 130 million doses of hydroxychloroquine to support the global virus response, according to a statement.
Trump also said that he probably won't ever institute a national lockdown, feeling that decisions like that are better left up to the states. Across the Atlantic, the EU on Friday confirmed that it would expand its budget rules to open the floodgates to fiscal stimulus, as expected.
*  *  *
Update (1120ET): The morning after California laid out the most restrictive measures to combat the virus in the US, NY Gov. Andrew Cuomo on Friday laid out new measures for New York State to combat the coronavirus outbreak, imposing new restrictions like ordering "100% of the workforce" to stay home.
During this time, Cuomo is order all businesses in the state that aren't deemed "essential" to close, and added that though public transit will remain open for people who need it to travel to their 'essential' jobs, and to get to places like hospitals and doctors offices and grocery stores and pharmacies, he urged New Yorkers to only take the trains if absolutely necessary. Cuomo also clarified that bank ATMs are an 'essential' service.
All non-essential businesses must close, Cuomo and NYC Mayor de Blasio have said that the state will find better ways to accommodate essential employees who need childcare or other things. But Cuomo threatened to fine businesses and individuals caught breaking the rules.
"These are not helpful hints…they will be enforced. There will be a civil fine and mandatory closure for any business that is not in compliance. Again, your actions can affect my health, that's where we are. There is a social compact that we have…we must make society safe for everyone," Cuomo said about the executive action that he's preparing to sign.
New York reported 2,950 new cases on Friday, bringing the state-wide total to 7,102 cases, with 4,408 cases in NYC.
As he chided the public for not taking the outbreak seriously enough, Cuomo declared that young people saying they can't get the virus is "simply wrong," claiming that 25% of cases are people ages 20-44.
When it comes to exercise, though gyms will be closed, Cuomo said New Yorkers can engage in 'solitary' activities like jogging, but said games of pickup basketball and team sports like that won't be permitted.
During the press conference, Cuomo confirmed that the state had reached the capacity to test 10,000 New Yorkers a day, becoming perhaps the only state in the country to overshoot on its daily testing target of 6k tests. Along with these new 'dramatic actions', Cuomo announced more confirmed cases and deaths.
Cuomo told a story about how the city governments of St. Louis and Philadelphia during the Spanish Flu epidemic dramatically impacted the outcomes for their local populations, and that Cuomo was trying to follow the better example, before bringing up the issue of mental health and the fact that his daughter was forced to isolate for 2 weeks.
At any rate, looking at the case curve, the number of cases expected could triple the state's capacity of beds and ventilators needed to save the lives of the sickest of patients.
The governor, who urged New Yorkers to "blame me" if things go badly with these measures, claiming that this decision was his after careful consideration and consultation with experts. "I did everything we could do…this is about saving lives…if everything we do saves just one life, I'll be happy," Cuomo said.
Moving on, Cuomo declared that he was banning evictions during the crisis, building on measures prohibiting banks from engaging in foreclosure, another unprecedented step.
In keeping with Cuomo's coordination with the governors of New Jersey and Connecticut, Cuomo said he would be speaking with Phil Murphy and Ned Lamont, the governors of NJ & CT, later in the day to discuss his measures and whatever can be done to continue coordinating their states' responses. Rumors have circulated in recent days that a similar lockdown might be declared in CT.
Asked by reporters how long to expect these circumstances to remain in place, Cuomo declared that "this could go on for months", one day after saying researchers projected that the outbreak would peak in 45 days.
Watch the rest of the press conference here:
From the sound of it, Cuomo's actions are still being well-received by New Yorkers and the country.
Elsewhere, in Switzerland, public health officials barred all gatherings of more than 5, possibly the most strict gathering ban instituted anywhere around the world.
*  *  *
Update (1055ET): Meanwhile, in London…
Boris Johnson's government has continued to deny reports about an impending 'lockdown' of London. But with 10k troops on standby, we suspect that Italy might soon have some company in the 'martial law' department.
*  *  *
Update (1015ET): The Treasury has officially moved back 'Tax Day', by postponing both the payment deadline (which it announced earlier) and the filing deadline (which it just announced Friday morning).
In other news, an NBC News employee has died from COVID-19.
As an update: Confirmed cases in the US passed 14,000 Friday morning, while the number of confirmed deaths hit 160.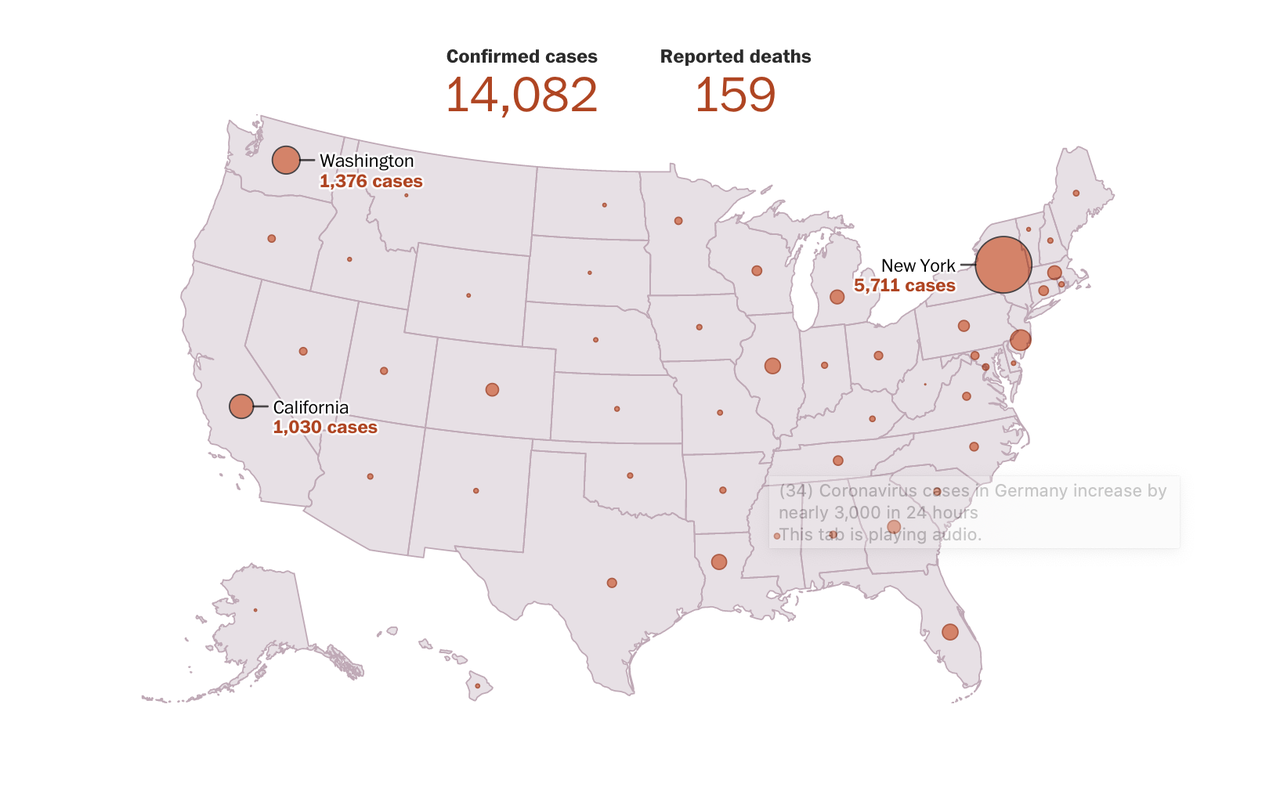 *  *  *
Update (0950ET): The market didn't seem to care all that much, but Handelsblatt reported Friday that the German government is planning to pass a planned €200 billion budget to combat the crisis, as Berlin continues to facilitate mass testing and triaging that has kept its mortality rate among the lowest in Europe.
This comes after Germany car companies said they would close more factories.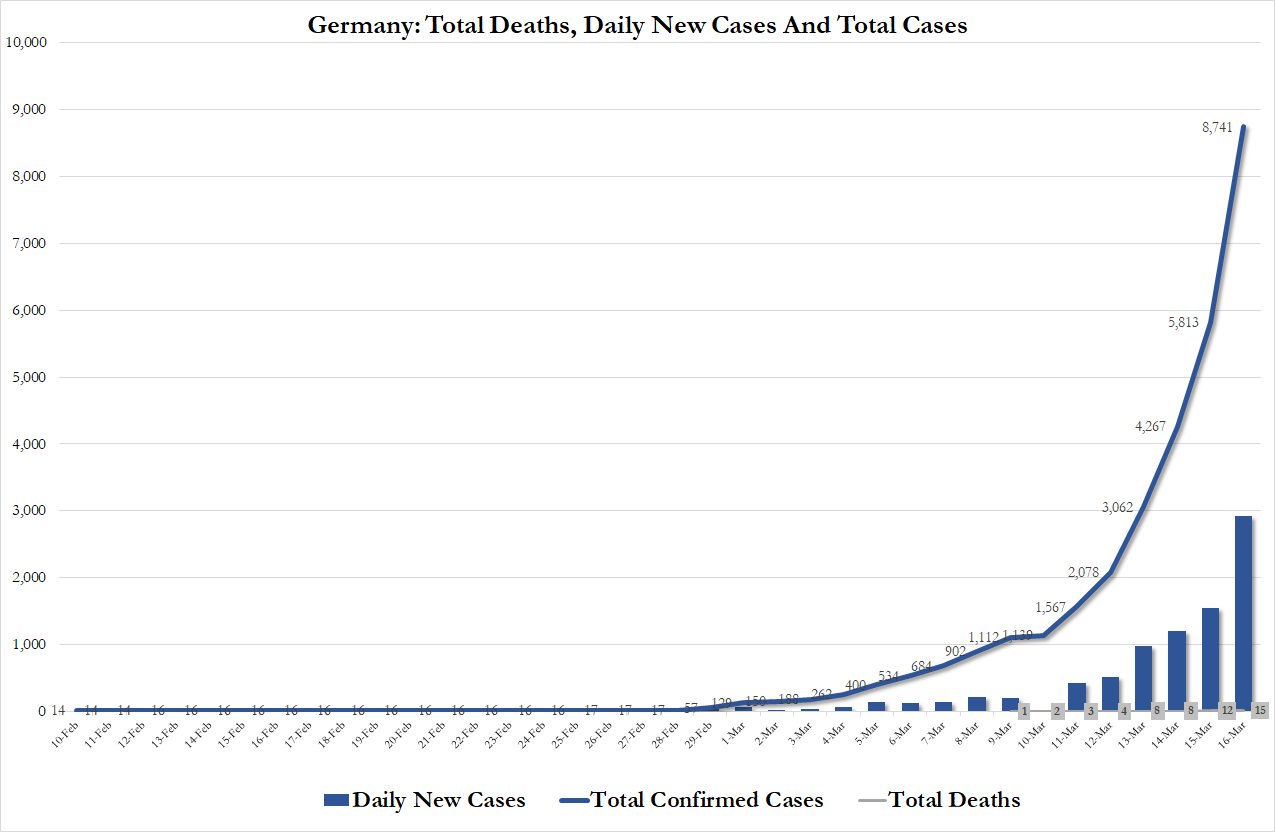 Barely a day has gone by over the past two new weeks that there hasn't been some report about Germany suspending its 'debt brake' due to the crisis and boost fiscal spending, as Christine Lagarde and the ECB have called on them to do. Even before the outbreak, reports about Germany passing a 'shadow budget' to boost tepid economic growth date back to at least the fall.
Germany's outbreak began in the state of Bavaria, still its worst-hit region. And as governments around the world tighten restrictions on movement, Bavaria on Friday imposed new "fundamental restrictions" on public life to aid the fight against COVID-19, DW reports. The move, of course, comes less than 12 hours after the governor of California imposed similar measures.
"We're shutting down public life almost completely," Bavarian Minister President Markus Söder said.
People will only be allowed to leave their homes for necessary purposes, such as going to work or the doctor and buying groceries or medicine.
"It's not easy to take these decisions," Söder said. "We take these decisions according to the best of our knowledge and conscience. There will be a Bavaria after corona, but it will be a stronger one if we don't look away."
The measures will go into effect for two weeks starting Friday evening.
In other news, the German state of Saarland wants to shut down restaurants and restrict people from going out in public, moves that are similar, though somewhat less restrictive, than Bavaria. Saarland State Premier Tobias Hans will recommend the move to his cabinet this afternoon, the state chancellery confirmed.
*  *  *
Update (0945ET): Six weeks ago, many branded us 'alarmists' for publishing warnings by credible epidemiologists and virologists about the infectious potential of the novel coronavirus.
If you still believe those warnings were 'alarmist', we wish you the best of luck during the coming weeks. You're going to need it.
*  *  *
Update (0928ET): The US military just confirmed that 35 American troops in Europe have tested positive.
Meanwhile, the FCA in the UK warned banks to ease up on repossessions and the like, issuing a statement claiming that "no responsible lender should be considering repossession as an 'appropriate measure' at this time. This comes after BoE Governor Bailey warned that banks should suspend foreclosures and repossessions.
Though it's faded into the background, tensions over whether China would be able to keep up with its 'Phase 1' trade deal commitments have slackened somewhat now that Beijing has made its first expected purchase of US agricultural goods.
CHINA BUYS 756,000 METRIC TONS OF U.S. CORN, FIRST MAJOR PURCHASE UNDER PHASE ONE TRADE DEAL
*  *  *
Update (0850ET): Prime Minister Giuseppe Conte blamed the Italian people earlier this week when he said he would extend Italy's nationwide lockdown until April 3, claiming that too many were still violating the lockdown despite stiff penalties.
As the country's death toll passes the death toll from mainland China (or the 'official' death toll at least), whispers about even restrictive measures appear to have just been validated: Prime Minister Giuseppe Conte on Friday effectively declared martial law Friday morning in Italy's worst-hit region of Lombardy, claiming that he will now be bringing in the Army to enforce the lockdown, something that the region's governor swiftly confirmed.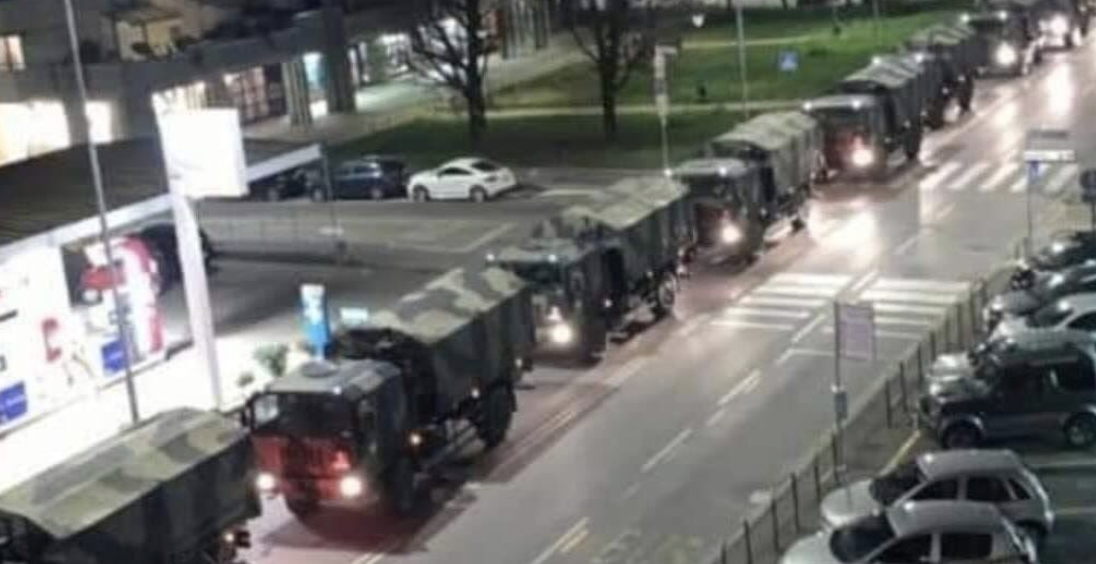 As many members of the Italian public continue to act with no respect for protecting the public health and the massive effort underway to contain the outbreak, for the first time, many are about to learn the meaning of discipline.
According to media reports, Conte is considering extending the lockdown until at least early May.
ITALY'S LOMBARDY REGIONAL HEAD SAYS GOVERNMENT HAS AGREED TO USE ARMY TO IMPOSE LOCKDOWN IN HIS REGION
Ultimately, whether the government decides to extend the lockdown will depend on factors like the continuing spread of the virus, as well as the public's response, and whether Italians finally start taking this seriously.
At this point, many expect that schools will not reopen before the summer break, the that the further tightening may not only include a ban on outdoor, but might also prohibit Italians from the cherished "passeggiate," leisurely strolls around town that allow one time to think and digest.
While the Italian outbreak still has no end in sight, over in the US, Dr. Anthony Fauci said Friday morning that social distancing in the US should continue for 'several' more weeks, as officials scramble to try and discern exactly how far the virus has penetrated, as hundreds of thousands of tests arrive at labs. Last night, during an appearance on Facebook live, Dr. Fauci confirmed that more tests are being shipped as private partnerships with firms like Thermo Fisher.
Reports claimed Friday that the Italian Treasury now expects the country's economy to contract by 3% this year, largely because of the lockdown.
Soldiers have already been deployed in some places to help enforce the lockdown and help with the crisis response.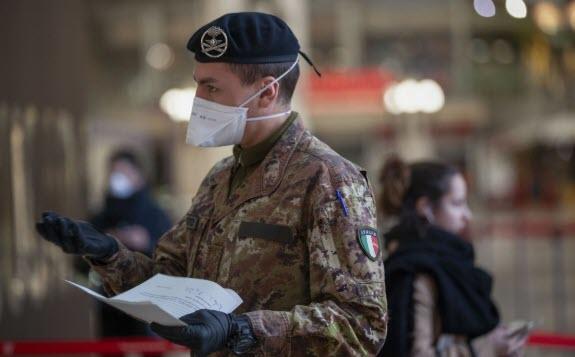 New York's MTA on Thursday announced that 23 workers have tested positive for the virus, this is up from just 1 worker as of early Thursday. The workers didn't display symptoms at work and were described as being of low risk to riders.
In other central bank news, the SNB has announced more measures, while Sweden has expanded a loan guarantee program.
Meanwhile, as Boris Johnson's government facilitates a policy u-turn to fight the virus, his former Chancellor is chiding the public on twitter.
At this point, it's almost like the more you yell at them to stop, the more panicked they become.
*  *  *
When historians look back at this time, we suspect that California Gov. Gavin Newsom's landmark decision to order more than 40 million Californians to remain at home on Thursday night will be remembered as an important demarcation point – the beginning of a more heavy handed response as it becomes increasingly clear that too many Americans are simply ignoring the government.
So far, NY Gov. Andrew Cuomo and President Trump have insisted that they have no plans to issue lockdown orders. But with the number of confirmed cases expected to soar in the coming days and over the weekend, the situation is certainly evolving rapidly, and rumors about other states considering preemptive lockdowns (remember, the whole point is to stay "ahead of the curve") continue to circulate.
Over the past week, central bankers around the world have slashed rates, stepped up bond buying programs, promised to expand their back-stopping of credit markets and – most importantly – urged the politicians in charge to do their part and pass massive fiscal stimulus. Late last night, the Senate unveiled a $1 trillion package that will feature direct transfers to many Americans.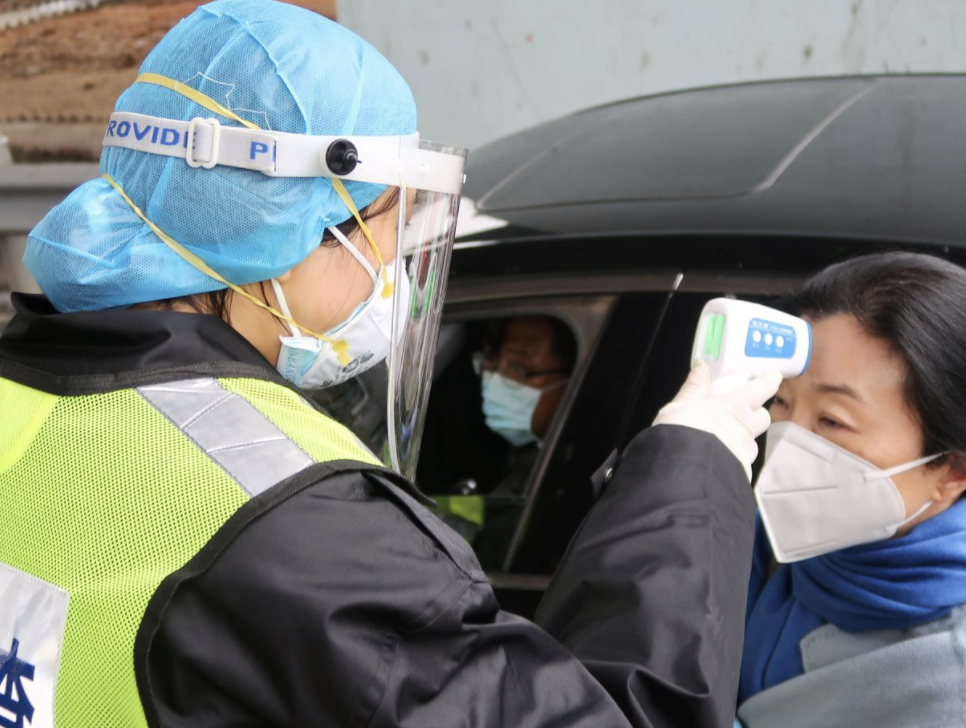 In the US, futures are pointing higher amid mounting hopes for a second straight close in the green. The improved sentiment is ostensibly due to the latest wave of central bank interventions. But that didn't stop a team of economists at Bank of America from releasing a new note calling for a global recession, with GDP growth dropping to 0% for the year in 2020. Explaining the shift in their thinking, the team wrote: "Our first piece on the virus shock was titled 'Bad or worse'; now we amend that to 'Really bad or much worse.'"
The World breathed a sigh of relief Thursday night when China reported no new domestically-transmitted cases of the coronavirus for a second straight day. Meanwhile, Reuters just reported that the foreign ministers of South Korea, China and Japan have held a video conference on Friday to discuss cooperation on the coronavirus pandemic as concerns grow about the number of infected people arriving in their countries from overseas, threatening to set off a second wave of infection. The State Department is doing its part: It issued a 'Level 4' travel warning last night advising Americans not to travel abroad, and for any Americans still outside of the country to either come home, or 'shelter in place'.
In the UK, Prime Minister Boris Johnson said last night that the UK could quash the virus in 12 weeks if Britons simply cooperate with the government's new efforts.
Unfortunately, it appears the dreaded 'second wave' of infections is already looming over Hong Kong.
After reporting 14 new cases in a single day earlier this week, a surprisingly large jump for a city that was widely praised for its swift and heavy handed response to the outbreak (proving that the city had retained the hard-learned lessons of SARS), Hong Kong on Friday reported a record jump in new cases as the city-state braces for a wave of new illnesses, many involving travelers from abroad and the HK residents they've infected.
Friday's surge of 48 cases is the largest daily jump since the outbreak began; it's equivalent to roughly a quarter of all cases confirmed in the city previously, according to the SCMP.
Even as the virus swept through parts of China and elsewhere in the region, Hong Kong managed to largely control its outbreak. Now, as life in the financial center had begun to return somewhat to normal, the wave of new cases is worrying experts who say it could lead to widespread community transmission. The city now has more than 250 confirmed infections.
The new confirmed cases take the city's total number to 256, and a top microbiologist said Hong Kong might be on the edge of an all-out "war" against an explosion in infections.

The Centre for Health Protection said 36 of the latest round of infected people, aged between four and 69, had a travel history. One of the local cases is a taxi driver who had picked up passengers from the airport.

When asked whether the government should ban non-locals from entering the city, Dr Chuang Shuk-kwan, head of the centre's communicable disease branch, said all the fresh infections were residents, except one – an Australian who had been to the United States and Portugal. He was transiting at the airport and sent to hospital after feeling unwell.
As SCMP explained, 1,000s of people returned to the city this week, with new asymptomatic spreaders evading checks and spreading the virus inside the city. The spike in new cases prompted the city's government to announce new quarantine measures requiring anyone arriving from abroad to self-isolate for 14 days, measures that have also been implemented by China. Also in China, the People's Daily reports that catering halls and shopping malls are reopening in Beijing.
Whether you trust the Chinese numbers or not, there's no question that the CCP leadership has reason to be cautious, now that it appears President Xi has evaded a historic embarrassment. According to Johns Hopkins, the number of confirmed cases ROW is now 2x the number from mainland China. Mandatory quarantines and outright bans for foreigners probably aren't bad ideas.
Meanwhile, Spanish authorities announced Friday morning that the death toll in the country has broken above 1,000 as citizens near the end of their first full week under an enforced lockdown.
The country reported 1,903 new cases, and 169 new deaths, raising its total to 19,980 cases and 1,002 dead.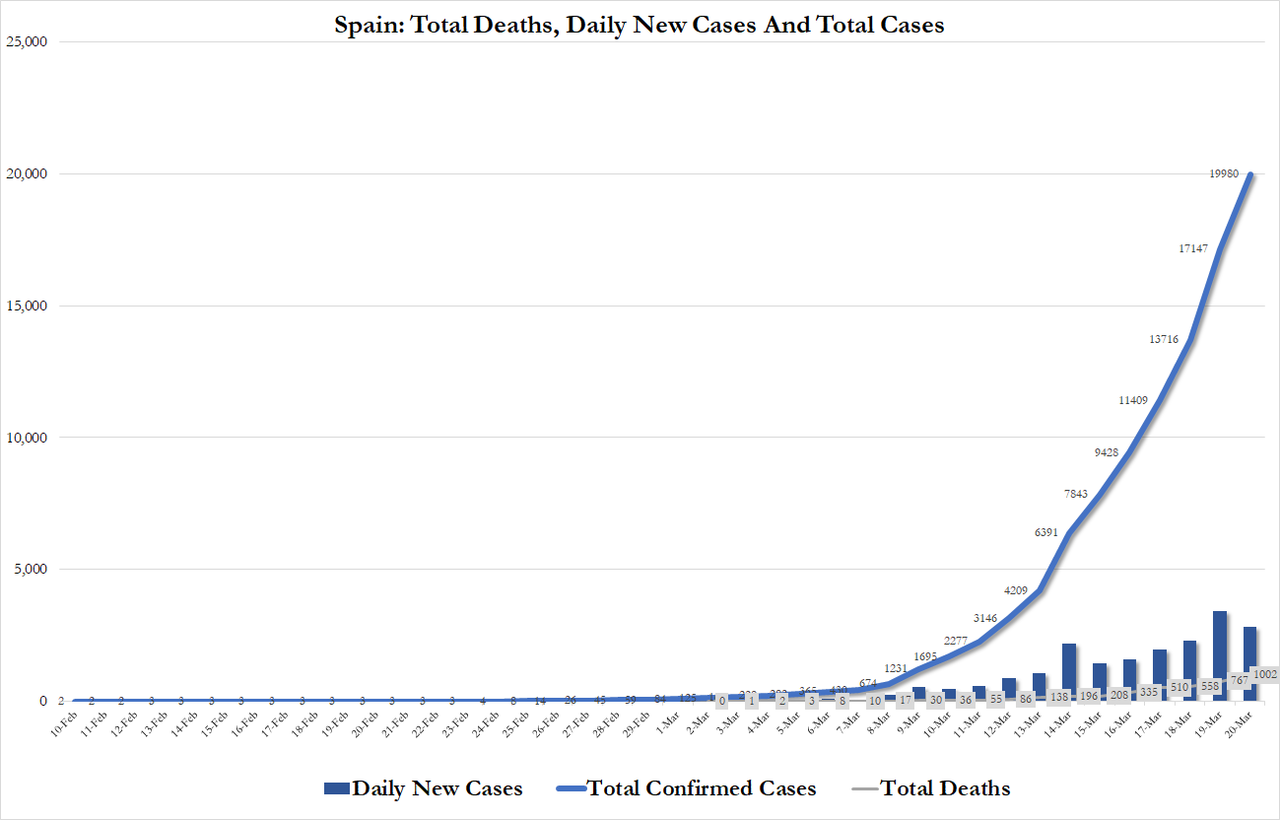 Meanwhile, on social media, snippets of video have circulated offering glimpses into the life on lockdown in Madrid and elsewhere around Spain.
Since the first case of COVID-19 was confirmed in the US, there has been no shortage of bitterly ironic headlines during this outbreak (remember when Rudy Gobert licked all those microphones?). But overnight, Altria Group – one of the largest tobacco companies in the world (it was better known as Phillip Morris before it rebranded a few years back) – said Howard A. Willard III, its Chairman and CEO, has tested positive for COVID-19.
Let's hope he's not a smoker.