Immigration and Customs Enforcement (ICE) released a list of criminal illegal aliens who were released from jail due to sanctuary city policies, many of whom went on to commit other crimes
By Jason Hopkins
Immigration and Customs Enforcement (ICE)

released a list of criminal illegal aliens who were released from jail due to sanctuary city policies, many of whom went on to commit other crimes.
Washington and Oregon, two states under Democratic Party control, have enacted some of the strongest sanctuary laws in the country that protect illegal immigrants from federal apprehension. Washington Democratic Gov. Jay Inslee signed legislation in May that prohibits local jails and state prisons from honoring ICE detainers, and bars them notifying ICE when a suspected illegal immigrant is about to be released from their custody.
The newly minted law puts Washington on par with Oregon and California in terms of the level of restriction placed against federal immigration authorities. Federal law enforcement officials argue that their job becomes much more difficult with these laws, and communities are put in more danger.
"There is an inherent increase in risk to personnel and bystanders when ICE officers and agents must go out into the community to proactively locate these previously detained criminal aliens," read a press release from the agency. "ICE commends our local law enforcement colleagues who work to minimize that risk by cooperating with ICE to apprehend criminal aliens at the time of their release from local custody."
In a bid to show the horrific consequences of sanctuary laws, ICE on Monday released details of some of the criminals in Washington and Oregon custody who went on to evade ICE apprehension.
Rosalio Ramos-Romas, a Honduran national, was deported from the U.S. four times before his arrest in Washington in October 2017. However, after local authorities failed to hand him over to ICE, he was then charged in January 2018 of stabbing his cousin to death, decapitating the body, and then attempting to hide the remains in a dumpster.
A county jail in Kent, Washington, did not honor a January 2014 retainer placed on Jorge Luis Romero-Arriaga, a Honduran living illegally in the U.S., despite being held on a charge of child rape. Local authorities instead released him into the community pending the results of his case. Romero-Arriaga was subsequently convicted in August 2015, according to ICE, and deported from the country.
The list went to describe other examples of illegal immigrants in Washington and Oregon committing murder after local jails ignored an ICE detainer and released them into the public. In another instances, a Washington county jail refused to honor an ICE request, despite that individual already having been convicted of rape in the state. (RELATED: Mexico Braces For Sudden Influx Of Illegal Immigrants Under Trump Deal)
Oregon Republicans, long a minority in their state, have grown frustrated over Democratic support for sanctuary policies.
"Oregon Democrats are more interested in political games, at the expense of real lives, than they are at upholding the rule of law," Jonathan Lockwood, a Republican spokesman at the Oregon Legislature, said in a statement to The Daily Caller News Foundation. "Gov. Kate Brown is endangering Oregonians on virtually every level and has no business being in the governor's office."
ICE argues that not cooperating with their agents puts the community at a greater risk of danger.
"When local law enforcement decides to uphold sanctuary policies and release illegal criminal aliens without notifying ICE, it is a decision to protect and release criminals who are preying on victims in our communities. By allowing criminal aliens, particularly those with egregious criminal records, to be released it places everyone in potential danger," said Bryan Wilcox, an acting field operations director for ICE's Enforcement and Removal Operations.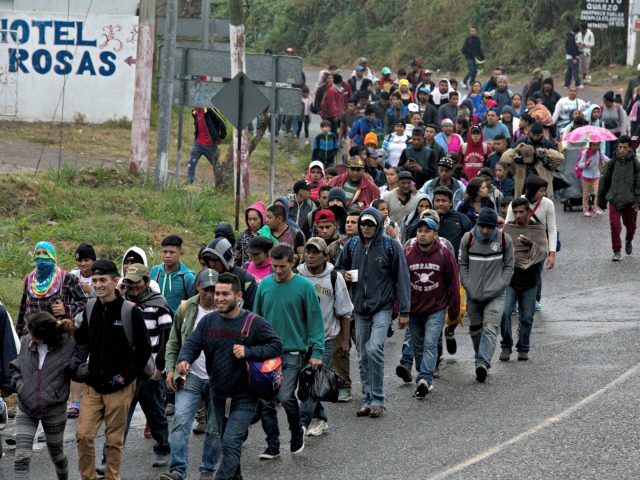 By Neil Munro
The United States

and

Guatemala

are preparing to sign a "safe third country" agreement to help curb Central American migration, a late-night Monday tweet from

President Donald Trump

revealed.
If signed, the agreement will give U.S. border officers the legal authority to quickly repatriate migrants who pass through Guatemala, regardless of the catch-and-release loopholes created and preserved by the U.S. Congress and courts. In effect, the deal would create a legal wall against Latin American, African, and Indian migrants who pass through Guatemala.
The tweet also said enforcement agencies will accelerate the repatriation of "millions" of illegal immigrants — even though Democrats and many establishment GOP legislators are blocking the legal reforms and funding needed to repatriate more than a small percentage of the more-than-11-million illegal migrants now living throughout the United States.
Trump's deputies are also pushing Mexico to sign a safe third country deal if Mexico cannot sharply reduce the huge migration by Latin Americans through its own territory to the United States.
Pro-migration advocates denounced the Guatemalan "safe third country" plan — even though their policies are allowing up to 1 million Central American migrants to flood into Americans' workplaces, neighborhoods, and classrooms. That wave of migrants — which now includes a growing number of Africans and Indians — is good for university class professionals, investors, and for business groups, but it hurts ordinary Americans by lowering wages, raising rents and importing more chaotic diversity.
"I don't know what this is about," said a tweet from Todd Schulte, director of a pro-migration, cheap-labor lobbying group set by West Coast investors, including Mark Zuckerberg. He continued:
But ICE does NOT have the ability/resources to "begin the process of removing millions" of people. People should be responsible when sharing this & note that, especially in these tough times. On "Safe Third Country", its designed to end all asylum.
However, the plan for a safe third country deal with Guatemala has hit a major obstacle on June 13, according to the Voice of America news service:
The State Department readout on the first day of talks suggested that there had been a "complete misinterpretation" by the Guatemalans regarding the draft agreement.

According to the readout, Guatemalan ministers reiterated "political will to reach an asylum burden sharing agreement," but raised "legal and constitutional issues" that would make a safe third country agreement "a challenging lift."

Rather than wrapping up the talks before Guatemala's scheduled national election on Sunday, the talks are likely to continue into next week.

The readout, sent by email Thursday evening from State Department legal adviser Marik String to staff, was obtained by VOA Friday morning from a State Department official who declined to be identified.

…

But according to the internal readout, the draft White House agreement was being viewed differently by the two sides.

"While [the Guatemalans] are supportive of taking returns from the United States, they did not realize they would be obligated to process the asylum claims of the returned individuals," String wrote.

According to String, the Guatemalan government thought the agreement would be "analogous to Mexican Migrant Protection Protocols (MPP)," a system currently in place between Mexico and the U.S. requiring migrants seeking asylum in the U.S. to wait in Mexico pending the adjudication of their claims.
The "Remain in Mexico" program is a step short of "safe third country."
It allows the U.S. officials to send large numbers of migrants back into Mexico until U.S. officials are ready to bring them in for their asylum hearing before a judge. That policy prevents the migrants from getting U.S. jobs — and so prevents the cartels from getting paid for delivering migrants to the U.S. border. Only about one-in-six migrants have been awarded asylum during the last few years, partly because the vast majority are economic migrants who would drive down wages for Americans.
Immigration by the Numbers
Each year, roughly four million young Americans join the workforce after graduating from high school or university.
But the federal government then imports about 1.1 million legal immigrants and refreshes a resident population of roughly 1.5 million white-collar visa workers — including approximately one million H-1B workers — and approximately 500,000 blue-collar visa workers.
The government also prints out more than one million work permits for foreigners, tolerates about eight million illegal workers, and does not punish companies for employing the hundreds of thousands of illegal migrants who sneak across the border or overstay their legal visas each year.
This policy of inflating the labor supply boosts economic growth for investors because it ensures that employers do not have to compete for American workers by offering higher wages and better working conditions.
Flooding the market with cheap, foreign, white-collar graduates and blue-collar labor also shifts enormous wealth from young employees towards older investors, even as it also widens wealth gaps, reduces high-tech investment, increases state and local tax burdens, and hurts children's schools and college educations. It also pushes Americans away from high-tech careers and sidelines millions of marginalized Americans, including many who are now struggling with fentanyl addictions. The labor policy also moves business investment and wealth from the Heartland to the coastal cities, explodes rents and housing costs, shrivels real estate values in the Midwest, and rewards investors for creating low-tech, labor-intensive workplaces.
Shot fired as three individuals attempted to pull Marine from vehicle, take sidearm
By Kelen McBreen
Three individuals allegedly attacked a U.S. Marine on Wednesday while he patrolled California's El Centro Sector of the southern border.
An official document detailing the incident was given to the Breitbart Border Team who say government officials will soon make a public announcement.
Sources say three unknown individuals opened the door of a Mobile Surveillance Camera (MSC) vehicle and attempted to pull the Marine out.
One man tried to grab the Marine's firearm during the struggle, causing a shot to be fired which hit an infrared display unit on the dash of the vehicle.
Upon hearing the gunshot, the three individuals fled, but Border Patrol believes nobody was injured by the gunfire.
The Marine who was attacked was left to watch over the vehicle as another Marine and a Border Patrol agent worked on fixing an issue with the vehicle's surveillance display.
Border Patrol agents arrived at the scene within minutes of the attack and found at least one of the individuals involved two miles away after a brief search.
CBP is leading an ongoing investigation into the event and the Pentagon is preparing a public statement.
This comes on the heels of another report claiming 15 armed cartel members approached a section of border wall being built near El Paso, Texas and threatened construction crews working on the project.
Below is a special report highlighting the increasingly out of control situation at America's southern border.
By Jose Nino
The International Rescue Committee

has plans to start giving gifts to migrants crossing the Southern border according to certain reports.
The IRC receives millions of taxpayer funds through the Department of Health and Human Services' Office of Refugee Resettlement. Now the organization is asking for money to pay for gifts for migrants at the Southern Border.
The committee's website says "When families flee their homes, they often leave with nothing but the clothes on their backs."
The IRC also notes that at "the U.S.-Mexico border and in crisis areas around the world, we provide families with emergency support and the basic necessities they need to survive and recover."
The website adds that "Emergency kits can include food, water, diapers, hygiene items, clothing, and other critical supplies."
The Trump administration has threatened to close the Southern border which has worried the IRC.
"As the White House continues to pursue its policy to close the U.S. southern border and push asylum-seeking families into Mexico, the IRC is urging the Administration to uphold asylum protections for desperate asylum-seeking families," the IRC saidon its website.
The IRC is urging the Trump administration to take action on the recent migrant wave.
The IRC also is calling on the Administration to support Central American countries in their efforts to reduce the violence that is driving people from their homes.
The committee CEO David Miliband asserts that Trump is "manufacturing a crisis at the US-Mexico border to justify his hardline immigration plans."
Miliband, who is a British citizen, said in an interview "The US government is failing in its most basic responsibilities, never mind as a global leader but as a local example of how a civilized country should behave."
The IRC CEO blames the Trump administration for the migrant surge and its failure to provide aid to Central American countries. Breitbart News, however, noted that under Trump's watch, the U.S. pledged to give out $10 billion in economic aid to Southern Mexico and Central America.
BLP reported on the financial costs of bringing in migrants, which has raised fiscal concerns among policymakers. Not only that, there are legitimate social concerns as well, given the nature of mass migrant waves congregating in enclaves that impede assimilation.
As reported by BLP, immigration continues to be the number #1 issue going into the 2020 election season.
by Bob Price
U.S. Border Patrol

officials are now using air transportation to move migrants from overcrowded processing centers to lesser-impacted facilities, particularly from the Rio Grande Valley Sector.
On Friday, officials in the Rio Grande Valley Border Patrol Sector began flying migrants from McAllen, Texas, to Del Rio, Texas, the Washington Post reported. The flights are operated by U.S. Immigration and Customs Enforcement (ICE) but the migrants remain in the custody of Border Patrol.
The Post reported that the flights are aimed at moving single adults and family units from South Texas detention facilities as authorities prepare for even-larger numbers of family units and unaccompanied minors. These types of flights are highly unusual for Border Patrol, the newspaper reported. The agency resorted to utilizing flights which carry up to 135 souls because all buses are being utilized to transport migrants from the border to the initial processing centers. The flights are said to cost taxpayers about $16,000 each or about $120 per migrant.
San Angelo Live reported that migrants are being flown to Laughlin Air Force Base near Del Rio. Border Patrol officials then utilize buses to move the migrants to the Border Patrol station. Border Patrol officials stress these are "non-criminal alien family units."
After processing, the Del Rio Sector will likely release family units with no criminal history or illnesses into local communities.
ICE officials are also screening family units in the Del Rio Sector for false or fraudulent family claims, Acting ICE Director Matthew T. Albence told Breitbart News in an interviewlast week.
"We have been working these cases from an investigative standpoint for quite a while," Director Albence told Breitbart News. "What we're doing now that is a little different is surging the additional resources to the ports of entry and Border Patrol stations where these individuals are being arrested and being processed. We've got teams in seven different locations who are conducting interviews of people who appear to be fraudulent families or where we have concerns that they are not who they say they are."
"The results have been staggering thus far," the director stated. "In just a couple of weeks, we've interviewed 256 family units and identified 65 fraudulent families. Almost three out of every ten families we've interviewed have become fraudulent."
In an effort to more quickly determine the instances of false familial claims, federal officials are about to deploy a "rapid DNA" testing program in two locations. He said this specific type of DNA testing will return a result in 90 minutes that can identify a parent-child relationship.
Albence said the Rapid DNA testing will being this week. "We hope to have some results next week."
By Hank Berrien
On Friday, Acting Defense Secretary Patrick Shanahan confirmed that the Pentagon has authorized an additional $1.5 billion to extend the wall along the U.S.-Mexicoborder 80 more miles.
Shanahan stated, according to Stars and Stripes: "The Department of Defense is fully engaged in addressing the crisis on our southwest border, with more than 4,000 servicemembers and 19 aircraft currently supporting the Department of Homeland Security. Today, I authorized the transfer of $1.5 billion toward the construction of more than 80 miles of border barrier. The funds were drawn from a variety of sources, including cost savings, programmatic changes, and revised requirements, and therefore will have minimal impact on force readiness."
The additional $1.5 billion comes after the transfer of $1 billion for an additional 60 miles of wall in Yuma, Arizona and El Paso, Texas, that was made in March.
Fox News reports, "But the plan to divert Pentagon funding has sparked criticism from congressional Democrats, who accused Shanahan of not seeking approval to 'reprogram' the funds without congressional authority. Shanahan and other senior defense officials claimed in response they did not have to get permission from Congress despite the objections from Democratic lawmakers."
The funds being transferred come from the Afghan Security Forces Fund, which describes itself as providing "assistance to the security forces of Afghanistan to include the provision of equipment, supplies, services, training, facility and infrastructure repair, renovation and construction, and funding."
AP reported in late February that Shanahan visited the southern border and asserted, "How do we get out of treating the symptoms and get at the root of the issue? I don't want to just add resources and not fix the problem." AP wrote, "Shanahan said he was not volunteering the Pentagon to take over any part of border control, which is the responsibility of the Department of Homeland Security. But he said his visit led him to question whether there should be a 'wholesale redesign' of the way border control is done by the federal government."
The Hill reported on Friday that Democrats would fight against transferring money for the wall:
The House Appropriations Committee on Thursday advanced a bill that would prohibit using military construction funds on a border wall. The prohibition, included in the fiscal 2020 military construction and veterans affairs appropriations bill, would prohibit funds from the 2015 through 2020 fiscal years from being "obligated, expended or used to design, construct, or carry out a project to construct a wall, barrier, fence, or road" along the U.S. southern border. And House Armed Services Committee Chairman Adam Smith (D-Wash.) told Shanahan during a panel hearing in March that the Pentagon would likely lose the reprogramming authority if it moved forward with the $1 billion funding transfer.
Rep. Debbie Wasserman Schultz (D-FL) added, "Funds for the wall should not be stolen from previously approved vital military construction projects that are a higher priority than any wall … Military construction dollars should be used only for the purpose they are provided, which is to support the Department of Defense' mission, service members and their families."
'I believe this is probably the record, you know, Border Patrol-wide, since ever, of agents calling in sick'
By Adan Zalazar
More agents than ever before are calling in sick to work or showing up sick, says a

Border Patrol union

representative who worries too many agents are succumbing to

illnesses brought by illegal aliens

.
Carlos Favela, president of the National Border Patrol Council Local 1929, says the number of agents affected by illnesses has reached alarming levels in recent years, with an estimated 20 to 25 agents from the El Paso sector calling in sick each day, while others come in to work sick because they've used up their sick days.
"I believe this is probably the record, you know, Border Patrol-wide, since ever, of agents calling in sick," Favela told ABC-7.
According to Favela, numerous agents are filing union reports claiming they've contracted everything from the H1N1 virus to chicken pox to Legionnaires' disease after coming in contact with sick illegals encountered at the border.
Favela says agents are concerned they could infect their family members with infectious diseases such as tuberculosis.
"The nightmare for the agent out in the field," said Favela, "is that they contract tuberculosis or some kind of bacterial disease and they unknowingly take that home to their families and then their whole family is sick."
To the border union president, the increase in sick agents coincides with the number of illegals arriving at the border.
KVIA reports, "Newly-released figures from the Department of Homeland Security reveal Border Patrol agents encountered 109,144 migrants in April 2019, the highest since 2007."
Favela argues it's hard to get the evidence needed to quantify the issue and prove a correlation, but he pushes back against Border Patrol officials who say they haven't noticed the trend.
"That's false," he said. "Ever since the big surge of the immigrants started coming in, even as far back as September, we started seeing those numbers slightly increase – of agents calling in sick."
The border rep is urging the CDC to implement changes to better protect agents' health, including providing more screenings from doctors instead of nurses and new quarantine facilities for sick illegals.
By Jose Nino
A recent survey shows that more than

one-third of Guatemalans

want to move to the United States.
The survey was conducted by the Association for Research and Social Studies and Barometro de las Americas which found that 39.2 percent of Guatemalans. 85 percent of those migrants would like to come to the United States.
Daniel Horowitz notes that roughly 5.6 million Guatemalans would like to come to America.
Guatemalan newspaper Prensa Libre highlighted how 58 percent of respondents claimed they had relatives in the United States. This same article attributes family reunifications and "lack of employment and poverty" as the motives for Guatemalans' desire to migrate stateside.
The Center for Immigration Studies reports that "the number of immigrants from Central America (legal and illegal) has grown 28-fold since 1970, from 118,000 to nearly 3.3 million in 2018 — six times faster than the overall immigrant population."
Other costs to immigration include assimilation struggles, which have been on display in immigrant communities throughout Europe.
These factors have American voters worried, with GOP voters viewing immigration as the #1 issue during the 2020 elections.
Hawaii's finest,

Senator Mazie Hirono

was confused on Tuesday about what the term "illegal" meant. Talking to ICE officials on Capitol Hill, Hirono repeatedly asked ICE officials what constitutes someone being here illegally. When a ICE official responded with a clear and simple answer, Hirono only got more confused. To be fair, Democrats have always had a hard time understanding crime.