FBI apprehends terrorists as they tried to board flight at Tucson International Airport
JULY 30, 2019
Two Somali refugees

were arrested after the

FBI

uncovered a plot for them to join

ISIS

abroad or conduct an attack

inside the United States

.
"Ahmed Mahad Mohamed and Abdi Yemani Hussein, were arrested for conspiring to provide material support and resources to ISIS, a designated foreign terrorist organization," reports the DOJ.
Mohamed had obtained lawful permanent residency within the U.S. and Hussein remained a refugee.
The suspects had been in communication with an undercover FBI agent whom they thought was an ISIS supporter and had purchased airline tickets to travel to Egypt, with the intention to travel on to Sinai and join ISIS.
If they were unable to travel for any reason, the pair had planned to carry out an attack inside the United States.
FBI agents arrested the suspects right before they tried to board a flight at Tucson International Airport in Arizona.
President Trump tweeted about the arrests this morning, commenting, "Somali refugees arrested in Tucson on way to Egypt. They were in touch with an agent posing as a terrorist. One of them stated, "The best wake up call is Islamic State to get victory or another 9/11." Get smart people!"
"Those who do not comply, will not be let in."
By Paul Joseph Watson – JULY 30, 2019
A swimming pool in the

German city of Düsseldorf

has been forced to introduce mandatory ID card checks in an effort to stop

sexual assaults

and rowdy behavior by migrant youths that has required the police to be called out on numerous occasions.
Following a crisis summit between administrators, the mayor and the police chief, an online ticket system linked to people's IDs has been established to control who is allowed to enter the pool.
"In Rheinbad we have introduced an identity card for all visitors," said Düsseldorf Mayor Thomas Geisel. "Those who do not comply, will not be let in. It is absolutely unacceptable and inconceivable that families who want to spend their free time here are harassed by youth gangs."
As we reported earlier this month, the pool had to be closed twice after hundreds of male migrants harassed a family, prompting a huge police deployment.
Last Friday, the pool had to be cleared again as around 60 North African migrants began engaging in aggressive beahvior. Outnumbered, the six security guards on patrol had to call police for backup. 20 officers arrived and the pool was closed.
"It should be known, that before the migrant crisis, German swimming pools didn't need six security guards to maintain order. It's likely that they didn't need any at all," comments Voice of Europe.
It remains to be seen how authorities will prevent the kind of people who cause mayhem from using the pool. They could only really do so by barring people from North African countries, which would set off a nationwide controversy and lead to widespread accusations of racism.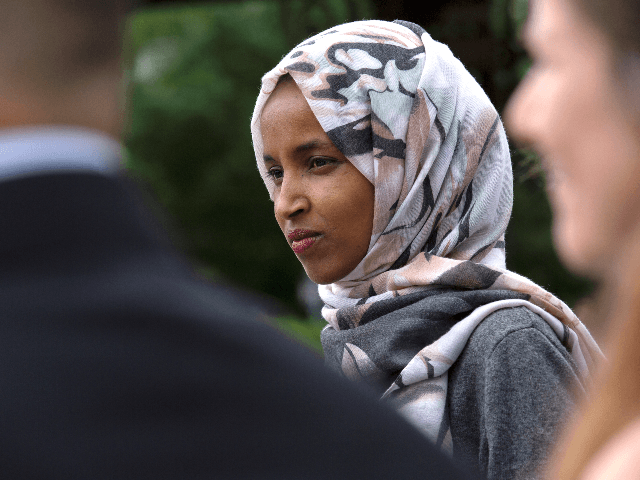 By Katherine Rodriguez
Rep. Ilhan Omar (D-MN)

said Sunday that

President Donald Trump

is "stoking white nationalism" after he penned an earlier tweet suggesting that a few unidentified progressive congresswomen should "go back" to where they came from.
"You are stoking white nationalism because you are angry that people like us are serving in Congress and fighting against your hate-filled agenda," Omar, who was born in Somalia and came to the U.S. as a refugee with her family, tweeted.
Omar's tweet was a response to Trump's series of Sunday morning tweets telling a group of progressive Democrat lawmakers to "go back and help fix the totally broken and crime infested places from which they came" before coming back to show the U.S. "how it is done."
His tweets evoked a response from House Speaker Nancy Pelosi, who "rejected" Trump's "xenophobic comments meant to divide our nation" and urged him to come up with an immigration policy that would "stop the raids."
Rep. Justin Amash (I-MI) also condemned Trump's comments, noting that most people in the group he singled out were American citizens who were "born here."
"To tell these American citizens (most of whom were born here) to 'go back' to the 'crime infested places from which they came' is racist and disgusting," Amash wrote.
Undocumented migrants

calling themselves the

'Black Vest'

protesters flooded the Pantheon in Paris and demanded the right to remain in France. The protesters vowed to remain on site until all of the illegals get proper papers.
The majority of the protesters, who call themselves 'Black Vests' – in an analogy with the Yellow Vests movement – are believed to be migrants of West African origin.
"We are paperless, voiceless, faceless for the French Republic. We come to the graves of your great men to denounce your disrespect," one of the protest organizers said in a statement ahead of the event.
"We will remain here until the last one of us has been given documents," a leaflet given out by an organiser read.
The protest triggered a massive police response, several people have been reportedly detained. Initially, the event was maily peaceful with the protesters displaying banners and shouting slogans without getting rowdy and avoiding scuffles with law enforcement.
https://www.rt.com/news/464038-black-vest-protesters-occupy-pantheon/
After spending several hours inside, the protesters vacated the monument, yet refused to disperse and tried to held a sit-in protest in front of it.
The situation around the Pantheon eventually turned violent with police repeatedly charging the crowd in an attempt to disperse it. Police used batons and pepper spray to subdue the protesters; several people have been reportedly injured in the scuffles.
Right wing leader Marine Le Pen called the occupation unacceptable. She tweeted: "In France, the only future for any illegal immigrant should be getting kicked out, because that's the law." 
There were those among the French politicians who, on the contrary, voiced support. "It's very important for me that everything goes – at the moment –without violence, peacefully. I hope that their demands will be heard, these people have been protesting for a long time, yet so far they see nothing from the government but a closed door," Eric Coquerel, a member of the National Assembly, stated.
A similar protest was staged by the group back in May, when the Black Vests occupied Charles de Gaulle airport in Paris. The protesters demanded legal papers for all, as well as accused the Air France carrier of collaborating with the government in the quest to deport illegal migrants.
By Joshua Caplan
Chicago Mayor Lori Lightfoot (D)

said Wednesday that the Windy City has made moves to bar Immigration and Customs Enforcement (ICE) from accessing its police databases amid reports of potential raids in more than 10 major U.S. cities slated for Sunday.
"They will not team up with ICE to detain any resident. We have also cut off ICE access from any CPD databases and that will remain permanent," Lightfoot said. "Chicago is and will always be a welcoming city that will never tolerate ICE tearing our families apart."
In a statement to the Chicago Tribune, police spokesman Anthony Guglielmi said the city's Citizen and Law Enforcement Analysis and Reporting (CLEAR) database will not be available to ICE officials, though several federal government agencies will still have access.
"All other federal agencies still have access to these systems, as sharing this information is crucial to active criminal investigations in which we are partnering with federal agencies along with intelligence sharing functions that are vital to national homeland security functions," Guglielmi stated.
Appearing Sunday on CBS News, Ken Cuccinelli, Acting U.S. Citizenship and Immigration Services (USCIS) Director said ICE is prepared to remove approximately one million illegal aliens with final orders for deportation. "[ICE agents are] ready to just perform their mission which is to go and find and detain and then deport the approximately one million people who have final removal orders," he said. "They've been all the way through the due process and have final removal orders. Who among those will be targeted for this particular effort or not is really just information kept within ICE."
Sunday's expected raid will target at least 2,000 illegal residents.
Last month, President Donald Trump called off planned raids to deport roughly 2,000 illegal aliens with final deportation orders after details of the operation were leaked to the Washington Post.
Thomas Homan, the former Director of ICE, suggested Acting DHS Secretary Kevin McAleenan was responsible for the leak, which prompted the operation's delay.
A Harvard/Harris survey shows a majority of Americans back plans to deport illegal aliens if Congress fails to act. More than 8-in-10 Republican voters support the move, while and more than 5-in-10 swing voters agree with it.
Riot cops deployed across major cities
JULY 12,2019
Algerian football fans in

Paris

,

Marseille

,

Lyon

and other cities celebrated their soccer team's

Africa Cup of Nations

win by rioting, looting stores and wielding chainsaws in a night of chaos.
Algerians poured out onto the streets following their team's victory over Ivory Coast last night.
Police were deployed to the center of Paris to keep order as vandals threw fireworks. One video even shows a man wielding a chainsaw.
Another clip shows aggressive fans, some wearing the colors of Algeria, smashing shop windows and breaking in.
The fans shouted "Allahu Akbar!," "Nique la France" (Fuck France) and "on va baiser des keufs" (We are going to fuck the cops) as they attacked store fronts.
"Tensions started boiling by around 11pm with at least one Molotov cocktail thrown at police lines. Riot forces responded with tear gas and rubber bullets to stop the crowd from vandalizing cars and looting shops," reports RT.
Similar disturbances were also reported in Marseille, Lyon, Valence and other French cities.
Another clip shows French police deploying tear gas as fans flee down a street.
As we previously reported, during last year's World Cup, a woman and her partner were viciously beaten in Paris by a group of Algerian men the sin of shouting "Vive la France!"
French cities were also besieged by anarchists and migrants after the World Cup final, with shops being looted, vehicles set alight and buildings torched.
By
A reporter for The Rebel confronted

Ilhan Omar

about her multiple marriages, as Omar stands accused of immigration fraud for allegedly marrying her own brother to get him into the country.
Can the Minneapolis Star Tribune be trusted with any real reporting when it comes to Ilhan Omar? Most probably not, given their love affair with the Somali immigrant woman who is currently running for Congress in Minnesota's fifth Congressional district.
Big League Politics was recently tipped off by someone who visited Star Tribune'soffice, and took a picture of a painting of Ilhan Omar hanging on wall at the Minneapolis newspaper headquarters.
Next to the portrait there is a framed biography of Omar, and a dramatic retelling of her journey from a refugee camp to Minnesota politics.
Among Omar's greatest legislative achievements in the Minnesota House since she was elected in 2016:
Opposing a ban on insurance payments to suicide terrorists
Opposing a ban on Female Genital Mutilation.
That's right, Ilhan Omar wants US insurance companies to pay out life insurance policies to jihadists who get killed while waging jihad overseas against the United States and our allies. She's also against banning Female Genital Mutilation – a barbaric Islamic practice of maiming young girls by cutting off their clitoris.
"Asked about having her portrait painted, Ilhan said since she was elected in 2016, all of a sudden she sees painting or drawings of her on social media quite frequently," the biography reads.
No doubt a celebrity politician has emerged in our midst, and who are we not to be impressed with her?
Could it be because there is now strong evidence Ilhan Omar committed immigration fraud and married her brother so she could get him into the US?
Recently, David Steinberg from PJ Media reported that official school records indeed support the claims she married her brother. Steinberg has turned his discoveries over to the U.S. Attorney's Office in Minnesota.
"As this implicates Rep. Omar in multiple state and federal felonies, I have contacted the U.S. Attorney's Office in Minnesota to submit all other information uncovered during our investigation," said Steinberg.
What about the multiple MN House Ethics Violations? Accepting payments for speaking at colleges she was going to vote on receiving subsidies from the state; using campaign resources for travel expenses and divorce fees.
These are the kind of things you won't read about in the biography hanging on the wall at the Star Tribune, which pretends to be objective.
The latest campaign finance violations were discovered discovered by MN Rep. Steve Drazkowski in the 2017 year-end report for Omar's campaign committee. The report showed over $3,000 in travel-related disbursements, including airfare to Estonia and travel expenses to Massachusetts so Omar could speak at a rally for a Boston City Council candidate.
"What we are seeing before our eyes is a serial violator of our laws," Drazkowski said.
However, the Star Tribune doesn't see any such issues. Instead the newspaper has been working hard to sell to Minnesotans the image of a suffering refugee with a magical story turning her into a charming success story for multiculturalism, the newest utopia of the Left.
When confronted with these allegations by her Republican opponent Jennifer Zielinski, Omar is quick to avoid giving any real answers, to counter-attack and insult Rep. Drazkowski whom she called a "sad, overzealous representative" in a recent interview at the Minnesota Public Radio. In the same interview, Omar complains about life in the United States and vows to vote for the impeachment of the President if elected to U.S. Congress. When asked whether she used campaign funds for travel and for her divorce, Omar denies any wrongdoing.
She hasn't denied however her 2013 trespassing arrest and booking at Hennepin County Jail "to prevent further criminal conduct," according to a newly uncovered police report. Again, the Star Tribune remained silent on the discover made by Alpha News.
Currently, in the lead, Ilhan Omar is set to "inherit" Keith Ellison's seat in U.S. Congress while he seems to be failing in his campaign for Minnesota Attorney General amid numerous allegations of domestic violence that have been brought against him.
No doubt the bias of the liberal Minnesota media has been a huge factor in turning Minnesota into a hotbed for Islamic terrorists, a hub for mega-Muslim events, and a launchpad for Muslim candidates who commit fraud and demonstrate defiance for the law even while seeking political offices.
HBO

's hit new series based on the

Chernoby

l tragedy has divided opinion online, but the oddest reaction yet has come from a budding UK actor wondering why the show's creators had not chosen more people of color for the cast.
While the docudrama has come under criticism for various historical inaccuracies, until now, the lack of racial diversity among the actors was not one of those criticisms — for the simple reason that 1980s Ukraine was not exactly a thriving hub of modern-day multiculturalism.
That should have been no reason to leave black and brown actors out though, according to actress Karla Marie Sweet, who tweeted that there are "so many great actors of colour" in the UK who "would've been amazing" in the series. Sweet felt "disappointed" to see "yet another hit show with a massive cast" that "makes it looks like PoC don't exist."
Just to clear up any confusion, the show "makes it look" like that to reflect the reality of the time and place — and the producers seem to have been at least trying to create an authentic vibe.
Needless to say, Sweet's tweet didn't exactly go down well on Twitter, where she was promptly told to "learn history."
"You didn't see PoC because they're not there!"
One user said perhaps the actors were chosen for the same reason that Martin Luther King should probably not be played by a white person — because he was black.
Another said he was taking a screenshot of the thread because "nobody will believe" something so stupid could have been posted.
To be fair, Sweet did at least acknowledge the lack of people of color in the USSR in another tweet, but suggested that since the actors spoke with British accents (it was a British production), the creators should have just thrown accuracy completely out the window and hired a more diverse-looking cast. Emotions like fear, panic and sadness can be "communicated just as effectively" by people of color, she added, missing the point entirely.
'Chernobyl' is a blast of a TV series – but don't call it 'authentic'
Having actors of another race would "break immersion" for the viewers, another user tried to explain — but ultimately, Sweet didn't seem open to criticism, later tweeting about the reactions she had received from "racist Twitter."