Published on Feb 19, 2019
By John Nolte
NBC's Savannah Guthrie and

Nathan Phillips

were both caught misleading Today Show viewers about how he has portrayed his service record Thursday morning.
Phillips is the left-wing American Indian activist who accosted a group of boys from Covington High School, a bunch of 16 year-olds in MAGA hats minding their own business waiting for a bus in front of the Lincoln Memorial. Using Phillips's proven lies and selectively edited video, the establishment media have now spent six days smearing the boys as racist aggressors.
These lies continue, even after the full video proves they did nothing wrong. For the better part of an hour, the boys were taunted by a group of black nationalists hurling racist and homophobic slurs. The boys reacted with good humor and even sought a dialogue.
Phillips then made his way into the crowd of boys beating a drum. Again, the boys said and did nothing disrespectful. Still, the lies persist — and did so right up until Thursday morning when Savannah Guthrie said something provably false while interviewing Phillips.
"There has also been some question about the nature of your military service and this is a good chance to clear it up," Guthrie said. "Some have said you were a Vietnam veteran, I don't believe you have said that, what exactly is the nature of your service?" [emphasis mine]
"I don't believe you have ever said that."
Please.
Sorry, but there is no way on God's green earth the mighty powers at NBC are not aware of video from January 3, 2018, where Phillips says exactly what Guthrie claims he never said — to wit: "I'm a Vietnam Vet."
In fact, as you will see below, Phillips has falsely identified himself as a "Vietnam vet" — on video.
Not only does NBC have the resources to dig the videos up from the original Facebook page, but the videos are currently flying all over the Internet.
Let's go to the videotape…
And last fall, he shared a photo of a medal inscribed with the words "Vietnam War Veteran."
In that video, Phillips appears to forget to use his customary phrasing: "Vietnam-times veteran," a talking point so slippery that CNN and a Native American reporter — apparently hearing what they wanted to hear — errantly transcribed it as "Vietnam veteran." In one 2015 interview, Phillips actually mixes up the word order, saying "As a Vietnam veteran times…"
Further, as Breitbart's Kristina Wong reports, Phillips described himself as a "recon ranger" — a position that does not exist but sounds enough like a combat role. However, a service record document presented by retired Navy SEAL Don Shipley (a perennial investigator of stolen valor claims) indicates he was instead a refrigerator mechanic.
To recap:
Guthrie: "Some have said you were a Vietnam veteran, I don't believe you have said that[.]"
Phillips last year: "I'm a Vietnam vet," a "recon ranger."
So what we have here is yet another example of NBC News deliberately misleading its viewers. This is all about protecting Phillips, all about not confronting him with his lies, which would have destroyed his credibility the moment Guthrie brought it up. After all, you can't lynch the future of white, Christian boys who support Trump unless you protect the narrative.
Needless to say, while answering Guthrie, Phillips spread a falsehood… again.
"What I've always said is that I've never stepped foot in South Vietnam," he told Guthrie with a straight face. "How much clearer can that be?" he added, with butter refusing to melt in his mouth.
Then Phillips said, "When I was discharged May 5th, 1976, I was told, 'Don't wear your uniform, don't say you're a veteran.'" [emphasis mine]
Phillips is also still standing by his false claim the boys chanted "Build the wall," even though countless hours of videotape show no such thing.
This is NBC's second round of shameless fake news in only two days. On Wednesday, NBC published a story that deliberately made it look as though Covington High School banned an openly gay student from giving a speech. Other than the fact the student did not, you know, attend Covington High School, the story was right on the money.
And all of these lies are coming off of NBC's Chuck Todd dousing himself in rocket fuel and lighting up a road flare in tribute to BuzzFeed's fake news fiasco from last week.
By Peter D'Abrosca
A notably anti-Christian congresswoman deleted a Tweet spreading the false narrative aired by the mainstream press regarding the interaction between several boys from

Covington Catholic High School

and proven liar Nathan Phillips, a Native American man.
"The boys were protesting a woman's right to choose and yelled 'it's not rape if you enjoy it.' They were taunting 5 Black men before they surrounded Phillips and led racist chants. Sandmann's family hired a right wing PR firm to write his non-apology," Rep. Ilhan Omar (D-Minn.) said in a now-deleted Tweet from Tuesday night.
Among the problems with Omar's Tweet is the fact that none of those things happened. Omar's Tweet also came a full three days after the fake news narrative surrounding the incident was debunked by video evidence showing the full context of the exchange.
Trending: Native Activist Who Harassed Catholic Teens Identified As Actor From 2012 Skrillex Video About Attacking Police
A prominent attorney, Robert Barnes, who is representing the Covington Catholic boys pro bono against those in the media who have libeled them, shot back at Omar.
"This is libel. Retract, or get sued," Barnes said.
Omar got herself into some hot water for mocking Vice President Mike Pence's Christian faith in December.
In another demonstration of why it's never a good idea to elect radical extremists to political office in the United States, Minnesota Congresswoman elect Ilhan Omar, who is a Somali Muslim immigrant, took to twitter to mock Vice President Mike Pence's Christian faith.
According to Twitter, you can't post facts about Sharia Law, but if you're a Muslim, you're allowed to call for Jews to be exterminated, and you can say anything you want about Christians and Jews. Not only is Twitter actively enforcing Sharia law around the world, but Twitter is also giving a platform to jihadis and terrorist organizations like the Muslim Brotherhood, CAIR,  Hamas, Linda Sarsour, and 9/11 co-conspirator Siraj Wahhaj, just to name a few.
Someone on Omar's staff must have alerted her to the fact that libeling teenagers is perhaps not the best optic, especially for a Freshman congresswoman. That she couldn't figure that out for herself is troublesome in itself.
Most of the cable news networks have backed off their libelous coverage of the boys' interaction with Phillips, but some, like NBC, are continuing to push the narrative even today.
Mainstream media has been pushing lie for days
Infowars.com – JANUARY 22, 2019
Leftist activist

Nathan Phillips

, who was presented by the corporate media as a Vietnam veteran being harassed by pro-Trump Catholic school students over the weekend in DC, never actually served in the Vietnam War, The Washington Post admitted.
Buried at the bottom of their story, WaPo quietly issued a bombshell correction to their false reporting about Phillips, admitting that he never fought in the Vietnam War and was not a "Vietnam veteran," as dozens of other publications asserted.
"Correction: Earlier versions of this story incorrectly said that Native American activist Nathan Phillips fought in the Vietnam War. Phillips served in the U.S. Marines from 1972 to 1976 but was never deployed to Vietnam."
But the damage has already been done, as the media has been promoting Phillips as a Vietnam War veteran for several days.
Interestingly, Phillips himself employs semantic games by referring to himself as a "Vietnam times veteran."
The fact that the Washington Post buried this key bit of revelatory information at the bottom of their article further highlights how the media at large is more interested in presenting a certain narrative than reporting objectively.
MSM including NPR, ABC, CBS, and NBC claim a group of school children harassed a group of native American, black, and minority adults when the footage shows the opposite actually occurred. Alex breaks down the propaganda campaign by MSM to smear Trump supporters as hateful.
By Joshua Caplan
Covington Catholic High School

, the Kentucky school at the center of a national controversy over a viral video of an encounter between some of its students and a Native American activist at Friday's March for Life in Washington, D.C., has canceled classes Tuesday due to safety concerns.
"After meeting with local authorities, we have made the decision to cancel school and be closed on Tuesday, January 22, in order to ensure the safety of our students, faculty and staff," Robert Rowe, the school's principal, wrote in an email to parents and employees. "All activities on campus will be cancelled for the entire day and evening. Students, parents, faculty and staff are not to be on campus for any reason. Please continue to keep the Covington Catholic Community in your prayers."
According to Fox 19, the school had readied additional security at Covington Catholic High School for when students return Tuesday following threats of violence issued against the school and its students since the weekend. The American Indian Movement Chapter of Indiana and Kentucky are scheduled to protest at the Diocese of Covington at 10:00 a.m. local time.
Initial video of a confrontation between Covington Catholic High School junior Nick Sandmann and Native American activist Nathan Phillips created a firestorm on social media, with media pundits from across the political spectrum accusing the student of disrespecting the man. Sandmann is seen grinning in a red Make America Great Again hat while simply standing in front of Phillips, an elder with the Omaha tribe. Several students could be seen laughing and making hand gestures believed to be mocking Phillips.
Yet, subsequent videos show that the students were not only approached by Philips first, but were verbally accosted by a religious group, Black Hebrew Israelites, which have been labeled by the Southern Poverty Law Center as a hate group.
In a pair of tweets, President Trump defended the students, stating that they had been unfairly treated by the media and expressed hope that the incident could be used to bring Americans together. "Looking like Nick Sandman & Covington Catholic students were treated unfairly with early judgements proving out to be false – smeared by media. Not good, but making big comeback!" the president tweeted.
"Nick Sandmann and the students of Covington have become symbols of Fake News and how evil it can be. They have captivated the attention of the world, and I know they will use it for the good – maybe even to bring people together. It started off unpleasant, but can end in a dream!" he added.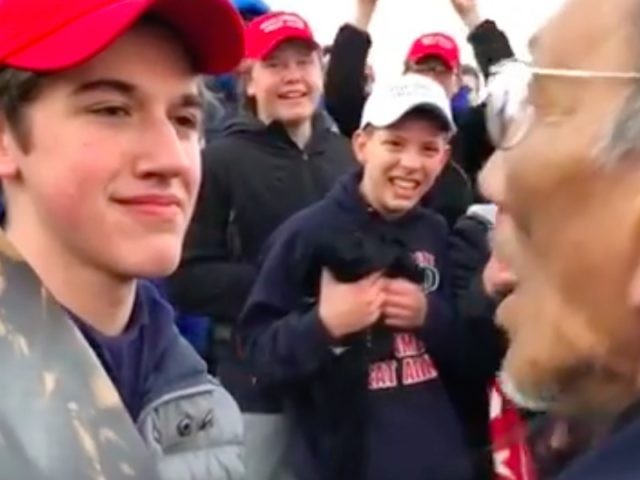 by Thomas D. Williams, PH.D
A Polish lawmaker has issued an invitation to students from

Covington Catholic High School

in Kentucky to address the Polish Parliament after they were falsely accused of mocking Native Americans following the March for Life in Washington, D.C.
"Dear Covington Catholic students, I'd like to invite you to the Polish Parliament. After watching this video, I am now standing up for these wrongfully accused young men and all of you!," wrote Dominik Tarczyński, Conservative member of the Polish Parliament, and newly elected Vice President of the European Conservatives in Council of Europe, in a Jan. 20 Twitter post.
"You are very welcome to come and speak out what You believe in," he added.
A short video released on social media this weekend made it appear that a group of students from Covington Catholic High School might have accosted Native American activist Nathan Phillips, whereas more extensive footage from different angles made it clear that it was Mr. Phillips who approached the boys and began playing his drum provocatively in the face of one of them.
Videos show that the students were not propagating racist abuse, they were being victimized by it. One of the activists who confronted the group told them: "You white people go back to Europe where you came from! This is not your land!"
In an interview Tuesday with LifeSiteNews, Mr. Tarczyński urged the boys to be "brave" in the face of the slander and threats being leveled against them.
"Dear American Friends — dear students — be brave as your President has been brave. Bravery is very important at this moment in time, for America and for the world. We need you. Be brave!" he said.
Pulling no punches, the Polish parliamentarian said the U.S. mainstream media had been guilty of "manipulation of the facts."
"This is about honest reporting of basic facts. In my opinion—considering the whole situation—there are some members of the American Media that are engaged with full manipulation of the facts," he said. "These students were harassed — they did nothing wrong — and yet, even now, so many are targeting them and blaming them."
"It's absolutely uncalled for, and unfair. This is why I thought it would be a good thing to have representation from the school, at the Polish Parliament, to have them as witnesses to this debate, fairly," he said.
Mr. Tarczyński said he wanted to provide the boys with the chance to "witness to our experiences as Catholics thrown into the public sphere — about the role of Catholic Youth in public and political discourse throughout the world."
"Frankly, I did this as an act of solidarity, of support — these young people need support, and their voices, unhindered," he said.
When I saw these videos, "I found myself witnessing just terrible, terrible harassment and I felt they needed support," Tarczyński said. "They need support now. You see this example isn't only isolated to America. It isn't just 'American Catholics.' It's not even about Poland. This is about honest reporting of basic facts."
"What the Left is trying to do — especially in Europe — is to force us to separate Faith from the State, to separate your actions at work from your beliefs," he said.
"Those pushing this narrative cannot use a logical argument, so they try to push us aside and delegitimize our voices," he said. "They try to restrict even our rights."
In the case of Europe, the battle also touches on the question of Christian identity, Tarczyński said.
"This idea of 'openness,' 'diversity' and all this humanistic, secularist rhetoric — when you simply look at the history of our continent, the history of Europe it was logically based — built on Christian Faith and a culture derived from that Faith," he said.
Nathan Phillips exposed as far-left provocateur
Jamie White | Infowars.com – JANUARY 21, 2019
A Native American activist who falsely claimed "harassment" by a group of pro-Trump Catholic school students has a history of feigning outrage to stoke racial tensions.
Several video feeds surfaced over the weekend showing activist Nathan Phillips banging a drum in front of a group of students outside the Lincoln Memorial for the pro-life march, which the mainstream media then claimed was an act of racism by the students.
The media demonization campaign resulted in the Covington Catholic school students receiving death threats, prompting several students and their parents to release lengthy statements setting the record straight.
As liberal figures and publications backtrack their accusations in light of additional video showing the full picture, more information is coming to light about Phillips and his history of "drumming up" racial division.
In 2015, Phillips accused a group of Eastern Michigan University students of racism after confronting them for wearing Native American garb for a theme party.
"For me just to walk by and have a blind eye to it," he told local media. "Something just didn't allow me to do it."
"They had their face painted," he added. "I said what the heck is going on here. 'Oh we are honoring you.' I said no you are not honoring me."
Additionally, the media is reporting that Phillips served as a Vietnam veteran, but the validity of those reports remain in question given Phillip's claim that he was a "Recon Ranger" is a nonexistent operational force.
Phillips also made his politics known in 2012 when he appeared in a Skrillex music videocalled "Make It Bun Dem," which demonizes law enforcement.
In further evidence that Phillips supports the left's agenda, he also protested the Dakota Access Pipeline at the Standing Rock reservation in 2018.
https://www.infowars.com/native-american-activist-who-claimed-harassment-actually-leftist-operative/