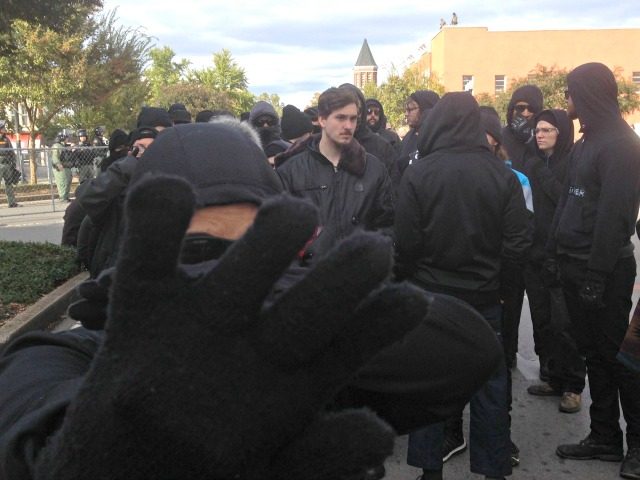 By Allum Bokhari
Twitter

has suspended the account of

Eoin Lenihan

, a researcher who mapped out connections between mainstream journalists and the violent far-left

Antifa

movement on Twitter, following a mass-reporting campaign by left-wing activists.
Lenihan published the results of his research at Quillette, where he explained the twofold objective of his project — first, to discover the journalists who were most closely linked to Antifa via social media. Second, to discover if those journalists covered the extremist movement favorably or negatively.
via Quillette:
In October 2018, my research partner and I decided to investigate the truth of this impression by using a mix of network mapping and linguistic analysis to see which prominent journalists who covered Antifa also were closely connected to leading Antifa figures on social media. We then inspected the Antifa-related stories these journalists had written.

We created a data set of 58,254 Antifa or Antifa-associated Twitter accounts based on the follows of 16 verified Antifa seed accounts. Using a software tool that analyzed the number and nature of connections associated with each individual account, we winnowed the 58,254 Antifa or Antifa-associated Twitter accounts down to 962 accounts. This represents a core group of Twitter users who are connected in overlapping ways to the most influential and widely followed Antifa figures. Of these 962 accounts, 22 were found to be verified—of which 15 were journalists who work regularly with national-level news outlets.
The journalists included contributors to The Guardian, The New Republic, Al Jazeera, and the Huffington Post.
Unsurprisingly, Lenihan's analysis of the journalists who mingle with Antifa on Twitter found that none of them covered the movement critically:
That correlation turned out to be quite pronounced: Of all 15 verified national-level journalists in our subset, we couldn't find a single article, by any of them, that was markedly critical of Antifa in any way. In all cases, their work in this area consisted primarily of downplaying Antifa violence while advancing Antifa talking points, and in some cases quoting Antifa extremists as if they were impartial experts.
Since he published his findings, Lenihan has had his account mass-reported on Twitter. Mass-reporting is when an account is swarmed by trolls who abuse the "report" button with the hopes of tricking a tech platform's algorithms into automatically suspending them. Of course, with much of Silicon Valley now categorizing ordinary conservative speech as violations of their terms of service, this is an increasingly easy task. Lenihan's account has now been suspended by Twitter for more than two days.
Breitbart News has previously covered the mainstream media's sympathy for Antifa (see CNN: Antifa's Violence Against 'Bigots' is 'Right' and New York Times Glorifies Antifa With Style Guide, Tactical Advice) as well as the violent movement's allies in Silicon Valley (see Wikipedia Editors Seek To Downplay Antifa Violence and Far-left Ideology and Damore Lawsuit Highlights Google's Links to 'Antifa' Domestic Terrorists).
Breitbart News has reached out to Twitter for comment.
By Tim Hains
Former CIA Director

John Brennan

warned Republicans who support President Trump that they are on a sinking ship, in an appearance Wednesday morning on MSNBC's "Morning Joe." 
"I'm waiting for the Republicans to realize that the Trump ship is a sinking one," he said.
"There are still rats on that ship, and there are individuals who are not going to separate themselves from Trump. They do so at their own peril. They need to fulfill their obligations, irrespective of their political affiliations. This is now the presidency and institutions of government we rely on to keep us safe and secure."
MIKE BARNICLE: Last week, there was another continued swipe ordered by the president of the United States, who whatever he says is a megaphone and resonates throughout the country because of the way it is carried, in which he basically said that people like you and several other people in the intelligence community were responsible for trying to participate in a coup, to undermine the presidency of the United States and to remove the president of the United States. What does it do — nevermind to you personally — what does it do to institutions like the NSA, the CIA, the FBI.

JOHN BRENNAN: It continues to show Mr. Trump's disdain for the intelligence and law enforcement communities, who are trying to do their jobs irrespective of political winds that might be blowing in Washington. It really is demoralizing for Mr. Trump to continue to say there is this "deep state" that tried to launch a coup, and that he is trying to "clean the swamp," while in fact, it is those professionals within the intelligence community, law enforcement community, who are trying to carry out their duties and responsibilities to the American people. Mr. Trump just continues to go down this road. I think it is having a very damaging impact.

WILLIE GEIST: What do you think, Director Brennan, happens from here? I think people watching want to know. They say, okay, Mueller didn't like how the report was characterized by the attorney general. Fine, on the issue of obstruction of justice. Now, what? Is it Mueller sitting before the Senate and answering specific questions about what is inside the report? What is the outcome of this?

JOHN BRENNAN: Barr has to be interrogated.

WILLIE GEIST: That starts this morning at 10:00.

JOHN BRENNAN: And then Bob Mueller has to get in front of Congress, then Congress has to do its job.

And I'm still waiting for the Republicans to realize that the Trump ship is a sinking one. There are still rats on that ship, and there are individuals who are not going to separate themselves from Trump. But they do so at their own peril. And they need to fulfill their obligations, irrespective of their political affiliations. And to do it now rather than to allow this continued sinking of not just the presidency, but of these institutions of government that we rely on to keep us safe and secure.
The pioneer cable news network is getting crushed in the ratings, coming in below Home and Garden TV, and has recently downsized and changed freelance payment terms – but shows no interest in changing the tone of its programming.
Both CNN and MSNBC have allowed themselves to be defined by hostility to both the administration and President Donald Trump personally since the 2016 election, breathlessly pushing the 'Russiagate' conspiracy theory.
While this strategy has largely worked for MSNBC – at least until special counsel Robert Mueller was forced to admit Russiagate was bogus – CNN has struggled to attract an audience beyond those trapped at hospitals and airports.
'You're called fake news': Lavrov shoots down CNN's 'fake question' on Venezuela
Nielsen TV ratings for May show Fox News dominating for the 35th straight month with 1.3 million total day viewers, MSNBC lagging behind with 909,000, and CNN in the eighth place with 552,000.
CNN wasn't even in the top 15 primetime spots (for comparison, HGTV came in fifth), and its three main primetime shows – hosted by Chris Cuomo, Anderson Cooper and Don Lemon – ranked 25, 26, and 35, respectively.
Could this have anything to do with the network's obsession with Trump and his administration that no longer bothers hiding naked partisanship? No way, says CNN leadership, insisting they are "real news" and claiming to be victims of Trump's "attacks" on "free press."
In the real world, CNN offered buyouts to 100 or so people at its Atlanta, Georgia headquarters, earlier this month, including CNN International executive vice president Tony Maddox. Since then, it has also laid off a number of people from its Health division and drastically cut back production at its London bureau.
Furthermore, the network's parent company Warner Media recently sent out a notice to contractors that it is changing payment terms beginning in June, from 30 days to 90 days – essentially asking anyone it contracts to wait three months to get paid.
But hey, have you heard that the US government now owns a condominium in New York City's Trump Tower, because of the Mueller probe? Priorities, people!
The twist is that CNN boss Jeff Zucker is laughing all the way to the bank, because CNN's annual profits have doubled to $1.2 billion during his tenure. Some 70 percent of the network's revenue comes not from advertisers but from carriage fees charged from cable and satellite operators. Some 90 million US households pay these fees every year, effectively subsidizing CNN and giving the network very little incentive to change its ways.
Published on May 31, 2019
By Jim Hoft
According to sources in

Texas US Border Patrol Agents

have apprehended illegal aliens crossing into the US from

Congo

.
There currently is a deadly Ebola outbreak in Congo.
According to the US Centers for Disease Control and Prevention:
** Travelers to this area could be infected with Ebola if they come into contact with an infected person's blood or other body fluids.
** Travelers should seek medical care immediately if they develop fever, headache, body aches, sore throat, diarrhea, weakness, vomiting, stomach pain, rash, or red eyes during or after travel.
The UN was urged earlier this week to ramp up Ebola prevention work in the Democratic Republic of the Congo to the highest level of emergency response.
Brian Kolfage told The Gateway Pundit that the "We Build the Wall" organization was told of these developments earlier this week during their construction project near El Paso.
** You can donate to "We Build the Wall" and help secure our southern border here.
By Cristina Laila
Congressman Elijah Cummings

' wife is breaking the law by refusing to hand over documents on her nonprofit, a lawyer said.
Cummings' wife Maya Rockeymoore is breaking the law by not handing over requested records on her nonprofit, a legal expert told the Daily Caller News Foundation. 
Last week it was first reported by the Washington Examiner that a charity run by Maya Rockeymoore, the wife of Rep. Elijah Cummings, received millions from special interest groups and corporations that had business before her husband's committee.
Democrat Maryland Rep. Elijah Cummings, Chairman of the House Oversight Committee was in very poor financial condition and heavily in debt due to unpaid child support to three women he had children with — until the last 10 years or so after he married his young, politically connected wife, Maya Rockeymoore.
At least three different groups have requested records from Maya Rockeymoore and she is refusing to hand over the documents, even though the law requires it, via the Daily Caller:
"Wow. That's illegal," Sally Wagenmaker, a Chicago attorney who specializes in nonprofit tax law, told TheDCNF. "It's interesting and sad. You have the right to get them. The organization absolutely is required to provide the information, so to not do so would appear to be flaunting the law."

"As a family member of an elected official, we'd expect high-road, integrity and compliance. If anyone should be responding promptly, it should be her. He should be above approach."

"One of the policy reasons for disclosure is to be able to to illuminate conflict of interest, and the media's role is to help illuminate that: is she trying to hide information, is she being secretive, does she think she's above the law? And one of the ways that happens is through the required disclosure of 990s," Wagenmaker said.
Tom Anderson, an investigator with the conservative leaning NPLC told the Daily Caller that his group called Maya Rockeymoore and she refused to engage, repeatedly asking, "And how can I help you?"
"We called the phone number for the nonprofit and she answered it like her personal cell. Then every time we asked a question, she just kept repeating 'And how can I help you?' And then finally hung up. It was so creepy.

"We pointed out that it was required by law, and her response was 'And how can I help you?' It was so weird."

"It's against the law. You have to hand those over. We're a 501(c)(3) and if George Soros or a 10-year old kid requested our 990, we'd have to hand it over on the spot. The idea that she thinks she doesn't have to is outrageous."
The backstory, via The Washington Examiner:
Rockeymoore runs two entities, a nonprofit group called the Center for Global Policy Solutions and a for-profit consulting firm called Global Policy Solutions, LLC, whose operations appear to have overlapped, according to the IRS complaint filed by watchdog group the National Legal and Policy Center on Monday. The complaint states that the arrangement may have been used to derive "illegal private benefit."

Global Policy Solutions received more than $6.2 million in grants between 2013 and 2016, according to tax records. Several of the nonprofit group's financial backers — which included Google, J.P Morgan and Prudential — have business interests before the House Committee on Oversight and Government Reform. Cummings has served as Democratic chairman of the committee since January and previously served as ranking member.
Cummings blasted a complaint to the IRS against his wife as "baseless," and a "political hit job" in a statement to Fox News.
"These baseless claims come from a group funded by right-wing mega-donors known for their political hit jobs," Cummings said in a statement to Fox News. "I am confident that they will be exposed for what they really are – a fabricated distraction from the important work being done on behalf of Americans, such as lowering the skyrocketing prices of prescription drugs."
Last week, Rep. Cummings' wife also blasted the Washington Examiner's complaint to the IRS as a "hit piece."
"It appears a conservative front group and a news outlet . . . are pushing a hit piece filled with faulty research, lies and innuendo in an attempt to tarnish my personal reputation, professional work and public service as well as that of my spouse," Rockeymoore Cummings said in a statement to The Washington Post, calling the effort a "distasteful attempt to intimidate my family into silence at such a pivotal moment in our nation's history."
Speaking of a "political hit job," Congressman Cummings' committee has launched multiple baseless investigations into President Trump's finances and security clearance process.
Shot fired as three individuals attempted to pull Marine from vehicle, take sidearm
By Kelen McBreen
Three individuals allegedly attacked a U.S. Marine on Wednesday while he patrolled California's El Centro Sector of the southern border.
An official document detailing the incident was given to the Breitbart Border Team who say government officials will soon make a public announcement.
Sources say three unknown individuals opened the door of a Mobile Surveillance Camera (MSC) vehicle and attempted to pull the Marine out.
One man tried to grab the Marine's firearm during the struggle, causing a shot to be fired which hit an infrared display unit on the dash of the vehicle.
Upon hearing the gunshot, the three individuals fled, but Border Patrol believes nobody was injured by the gunfire.
The Marine who was attacked was left to watch over the vehicle as another Marine and a Border Patrol agent worked on fixing an issue with the vehicle's surveillance display.
Border Patrol agents arrived at the scene within minutes of the attack and found at least one of the individuals involved two miles away after a brief search.
CBP is leading an ongoing investigation into the event and the Pentagon is preparing a public statement.
This comes on the heels of another report claiming 15 armed cartel members approached a section of border wall being built near El Paso, Texas and threatened construction crews working on the project.
Below is a special report highlighting the increasingly out of control situation at America's southern border.
Published on May 31, 2019