"There are no principles — not ethical, moral, legal, constitutional, religious, spiritual — NONE. There's only power."
Breitbart – MAY 30, 2019
Actor Jeffrey Wright

on Wednesday appeared to warn that when the political left in America "get the power" back from Republicans, "everybody else" should "fucking duck."
"Message from the @GOP:" Jeffrey Wright began, "There are no principles — not ethical, moral, legal, constitutional, religious, spiritual — NONE. There's only power. And when we get the power, everybody else fucking duck."
"Lesson for everybody else: Get the power," the Westworld star's message concluded. It came as former Special Counsel Robert Mueller delivered remarks at the Justice Department on Wednesday about the conclusion of his election interference investigation.
"If we had confidence that the president did not commit a crime, we would have said so," Robert Mueller said, Wednesday echoing the conclusions made in his 800-plus page report."Charging the president with a crime was therefore not an option we could consider. It would be unfair to potentially accuse somebody of a crime when there can be no court resolution of the actual charge. So that was Justice Department policy. Those were the principles under which we operated."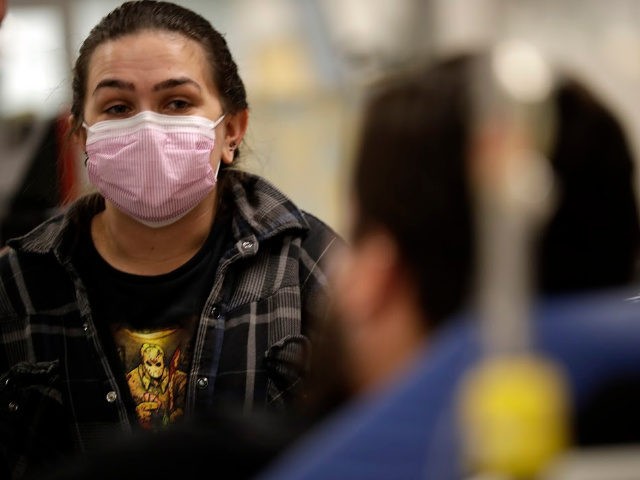 By Penny Starr
U.S. Customs and Border Protection

reports that an average of 4,500 people are detained at the

United States border with Mexico

each day, and according to a Wednesday report from county health officials, many of them are bringing diseases with them.
Hundreds of the detained migrants are being relocated to San Diego, California, and the County of San Diego Communications Office has confirmed that, as of Wednesday, there have been 59 cases of flu among these migrants since May 19, 2019; and 82 people (33 families) have been quarantined at local hotels.
The sick migrants came from a federal facility in McAllen, Texas, where some 8,000 are being held — "two times the agency's maximum capacity in the area," according to Fox 5.
Fox 5 reported:
Federal officials shut down the Texas facility for cleaning after the outbreak and began moving the detainees to San Diego.

The first of those transfers arrived in San Diego on May 19. To date, nearly 300 people at a migrant shelter in Bankers Hill operated by Jewish Family Service of San Diego have received a health screening.

DHS [Department of Homeland Security] officials and U.S. Customs and Border Protection announced the plan to begin flying detained asylum seekers from Texas to San Diego on May 17. Federal immigration authorities are operating 10 jets between San Diego and Texas, with roughly 130 people aboard each flight. DHS officials said they aim to charter three flights a week to San Diego International Airport, from which the asylum seekers will be moved to local CBP processing stations like Brown Field.
San Diego is not the only American city that is receiving migrants.
An Associated Press (AP) report revealed that, aside from DHS releasing nearly 200,000 border crossers and illegal aliens into American communities since December 2018, the agency is flying border crossers and illegal aliens into U.S. cities and then releasing them:
U.S. Immigration and Customs Enforcement (ICE) has historically ensured that families had travel plans before releasing them, but last year it shortened custody stays in response to the growing numbers of arrivals from Mexico. They began dropping migrants off in cities along the border at burgeoning shelters and bus stations.

At the same time, U.S. Customs and Border Protection, which turns over border crossers to ICE after arresting them, has begun flying migrants to other cities for processing and is releasing them directly into communities without going through ICE, saying their own facilities are at capacity. As numbers have swelled in border cities, authorities have begun looking farther inland.
The Centers for Disease Control and Prevention (CDC) estimates that from October 1, 2018, to May 4, 2019, there were between 36,400 and 61,200 flu-related deaths.
Judicial Watch President

Tom Fitton

reacts to

Robert Mueller

's comments on the Russia probe.
Robert Mueller

is special counsel no more, but he fired a parting shot during his televised statement that has sent Democrats into a frenzy of calls for impeaching

President Donald Trump

, whether by accident or by design.
At a remarkable press conference on Wednesday – at which he refused to take questions – Mueller sank the theory that Attorney General William Barr somehow misinterpreted his report, and sent a clear message to House Democrats eager to have him testify about the probe that "the report is my testimony."
'Case closed!' Trump tweets nothing's changed as resigned Mueller says charging him wasn't an option
Despite years of work, millions of dollars and near-unlimited powers, Mueller's special prosecutors found zero evidence of collusion or conspiracy – and absent that underlying crime, no grounds to charge the US president with obstruction of justice, even as they wrote up 240 pages of tortured reasoning as to why they wanted to. Case closed, conspiracies put to bed, lots of people with egg on their face, time for the republic to move on, right?
Wrong!
Did you honestly expect people who have gone all in on a conspiracy theory about Russia somehow "stealing" the election from Hillary Clinton – investing not just the past three years, but their entire political and media capital into it – to give up just because there isn't a grain of truth in it? Instead, they latched onto Mueller's carefully weasel-worded declaration:
That was no mere misstep, either. Mueller followed that line up with a passage about how his office did not make a determination whether Trump committed a crime because the standing policy of the Office of Legal Counsel (OLC) is that a sitting president cannot be indicted. Not their fault, you see, they had no choice.
Except they did, and they had the avenue to make their claim – but chose not to, knowing that Barr would shoot it down, because he disagreed with their interpretation of obstruction laws long before he became AG. But those are details known to lawyers and honest legal analysts, not the propagandists and conspiracy-peddlers who have spent years whipping the American public into a hysteria not seen since the 1950s.
Mueller's was a weasel statement, worthy of former FBI boss and his personal friend James Comey – who actually admitted to Congress that he hoped to force the appointment of a special counsel by leaking the memos of his meetings with Trump to the press.
It also seems to have been a dog-whistle to Democrats, who have been arguing ever since the Mueller report was published that it totally proved obstruction of justice and gave them the pretext for impeachment. A variety of party luminaries, such as House Judiciary Committee Chair Jerry Nadler (D-New York), presidential candidate Senator Cory Booker (D-New Jersey) and firebrand Alexandria Ocasio-Cortez (D-New York), now doubled down on the claim.
What happens next is anybody's guess: Democrats may hope enough Republicans will break ranks to successfully impeach and convict Trump, though that's no more likely to succeed than any of the schemes to overturn the 2016 election result so far. Or they might hope that impeachment proceedings will mobilize their voters for 2020. Either way, the opposition party and the media aligned with it are determined to keep flogging the dead horse of Russiagate, hoping it will deliver them victory.
Those who believe Mueller's mission was to "get Trump" will no doubt be happy with the former special counsel's last move. But Americans who hoped he would clear the air clogged by endless conspiracy theories have every right to feel disappointed.
After Special Counsel

Robert Mueller

delivered a public statement standing by the findings of his final report, liberal commentators began reading between the lines. How long before Putin is accused of getting to Mueller?
Mueller delivered his public statement on Wednesday, and offered very few surprises. His final report, which cleared President Donald Trump of colluding with Russia in 2016 and found insufficient evidence to bring obstruction charges against the president, "speaks for itself," Mueller said. The Special Counsel also stated that Attorney General William Barr has already "made the report on our investigation largely public," and that he would not testify on anything beyond the publicly available information.
Pulling a Comey: How Mueller dog-whistled Democrats into impeachment of Trump
So a bland statement of Justice Department policy? On the surface, yes. But that didn't stop Democrats from clamoring for further investigations, or viewing Mueller's declination to prosecute as a dog-whistle for impeachment.
Journalist Mark Ames joked that "Putin has a Mueller pee tape," a reference to one particularly lurid tale presented in the 'Steele Dossier.' Ironically, the Steele Dossier – though completely uncorroborated – was used by the FBI to justify surveilling the Trump campaign and played a central role in kick-starting the investigation that Mueller eventually took over.
Ames added: "If Maddow doesn't air a segment tonight claiming Putin has a Mueller pee tape, it can only mean one thing – Putin has a Maddow pee tape."
Actually, the idea that Maddow would air such a segment on Mueller is not a far-fetched one.
In the two years since Mueller took over the 'Russiagate' investigation, Maddow has flung dung-heaps of conspiratorial Russian nonsense at viewers every night. There was her warning that the Kremlin could "flip the off switch" on the US power grid and freeze Americans to death last winter, the suggestion that Trump personally paid for the services of "Russian hackers," and the insistence that Vladimir Putin would use the (then debunked) 'Pee Tape' to force Trump to withdraw US troops from Eastern Europe (the exact opposite happened).
Fake news takedown: Journalist shreds Rachel Maddow's Russiagate conspiracies
Of course, Maddow is not the only peddler of Russian hysteria out there. Nor is MSNBC the only outlet to do a little mind-reading in its coverage of Mueller's statement.
"He seems to think that the president committed a crime," one talking head offered on Wednesday, adding that perhaps "future prosecutors" should re-examine the president's conduct once he leaves office.
CNN correspondent Sara Murray weighed in with her own Mueller lip-reading: "Mueller was telling everybody 'Look at what I'm saying, I couldn't do it (prosecute), because the law would not allow me to, but, even if the law did not allow me to charge him, I still could not clear him and I am telling you that."
No idea is too wild or unbelievable for Maddow or the CNN talking heads to entertain. Tune in, but bring the tinfoil hat and the rubber sheets.
Published on May 30, 2019