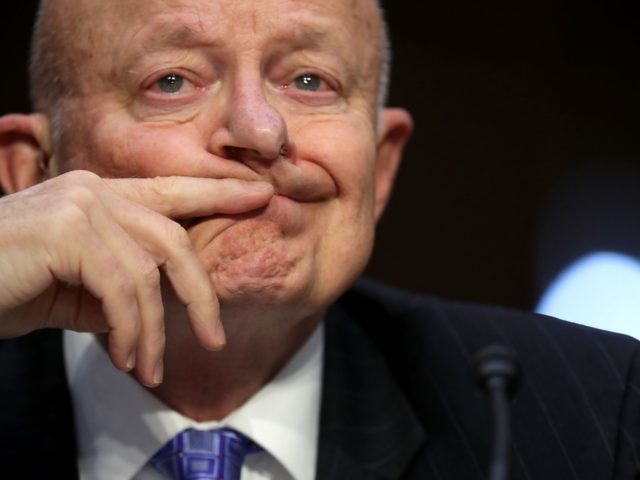 By Aaron Klein
The text of emails buried in a footnote in Special Counsel

Robert Mueller

's final report reveals that President Trump asked disgraced ex-FBI Director

James Comey

and former Director of National Intelligence and Trump critic

James Clapper

to publicly refute the infamous Steele dossier after the discredited charges were first leaked to the news media.
Clapper refused Trump's request, the emails reveal.
Trump's requests to Comey and Clapper were in response to media leaks about the dossier. The first leak was a CNN January 10, 2017 report exposing classified briefings to Trump and Barack Obama about the dossier. Those briefings were presented by Comey, Clapper, CIA Director John Brennan and NSA Director Admiral Mike Rogers.
Following the CNN report, the full dossier document was published hours later by BuzzFeed.
"He [Trump] asked if I could put out a statement. He would prefer of course that I say the documents are bogus, which, of course, I can't do," Clapper wrote to Comey in a January 11, 2017 email.
"He called me at 5 yesterday and we had a very similar conversation," Comey wrote back to Clapper one day later.
It was not clear why Clapper would not at least put out a public statement calling into question the Steele charges related to alleged collusion or discredited claims about a "pee" tape involving Trump, none of which had been verified by the FBI. Indeed, the FBI at that time possessed information calling Steele's claims and the origins of the dossier into question.
Comey himself previously admitted in testimony that he pushed back against a request from Trump, made during an Oval Office meeting, to possibly investigate the origins of the unsubstantiated claims made in the infamous anti-Trump dossier. Comey recounted: "I replied that he should give that careful thought because it might create a narrative that we were investigating him personally, which we weren't, and because it was very difficult to prove a negative."
Yet Comey did not inform Trump at the time that the FBI chief personally cited the dossier as evidence in three successful FISA applications signed by Comey himself to obtain warrants to spy on Trump campaign adviser Carter Page. The first was signed in October 2016; the second and third were renewal applications since a FISA warrant must be renewed every 90 days.
In his classified briefing to Trump on the dossier charges, there is no record indicating that Comey informed the politician that the document, authored by former British spy Christopher Steele, was produced by the controversial Fusion GPS firm.
There is also no evidence that Comey told Trump at any time that Fusion was paid for the dossier work by Trump's main political opponents, namely Hillary Clinton's 2016 presidential campaign and the Democratic National Committee (DNC) via the Perkins Coie law firm.
Bruce Ohr, a career Justice Department official, admitted in testimony released in March that he informed the FBI that the anti-Trump dossier was tied to Hillary Clinton's presidential campaign. Ohr testified that he further warned his FBI superiors that the dossier information was likely "biased" against Trump and that he thought Steele was "desperate that Trump not be elected."
Ohr revealed that he spoke to the FBI about the role of Fusion GPS in producing the dossier, and informed the agency that his wife, Nellie Ohr, worked at the time for Fusion GPS.
Critically, Ohr said that he transmitted all of that information in the time period before the FBI under Comey certified the FISA application to obtain a warrant to conduct surveillance on Carter Page, a former adviser to President Trump's 2016 campaign. Comey signed the first FISA application in late October 2016.
The emails between Comey and Clapper, meanwhile, came on the heels of the January 10, 2017 news media leaks about the dossier.
On January 10, CNN was first to report the leaked information that the controversial contents of the dossier were presented during classified briefings inside classified documents presented one week earlier to then President Obama and President-elect Trump by Comey, Clapper, Brennan and Rogers. Comey reportedly briefed Trump alone on the most salacious charges in the dossier.
Prior to CNN's report leaking the Comey briefing to Trump, which was picked up by news agencies worldwide, the contents of the dossier had been circulating among news media outlets, but the sensational claims were largely considered too risky to publish.
All that changed when the dossier contents were presented to Obama and Trump during the classified briefings. In other words, Comey's briefings themselves and the subsequent leak to CNN about those briefings by "multiple US officials with direct knowledge," seem to have given the news media the opening to report on the dossier's existence as well as allude to the document's unproven claims.
ollowing the CNN report, BuzzFeed published the full Steele dossier.
Deep State Blame Game: Comey, Clapper, Brennan Spar over Who Pushed 'Pee' Dossier as Credible Intel
The Comey-Clapper email exchange cited in the Mueller report may take on more relevance now that Comey, Brennan and Clapper are the subjects of a dispute over which top Obama administration officials advocated for the infamous Steele dossier to be utilized as evidence in the Russia collusion investigation.
The argument erupted into the open with a Brennan surrogate being quoted in the news media this week opposing Comey not long after Attorney General William Barr appointed a U.S. attorney to investigate the origins of the Russia collusion claims.
The fiasco was kicked into high gear after Fox News cited "sources familiar with the records" pointing to an email chain from late-2016 showing Comey allegedly telling FBI employees that it was Brennan who insisted that the anti-Trump dossier be included in a January 6, 2017 U.S. Intelligence Community report, known as the ICA, assessing Russian interference efforts.
A former CIA official, clearly defending Brennan, shot back at the assertion, instead claiming that it was Brennan and Clapper who opposed a purported push by Comey to include the dossier charges in the ICA.
"Former Director Brennan, along with former [Director of National Intelligence] James Clapper, are the ones who opposed James Comey's recommendation that the Steele Dossier be included in the intelligence report," the official told Fox News.
"They opposed this because the dossier was in no way used to develop the ICA," the official added. "The intelligence analysts didn't include it when they were doing their work because it wasn't corroborated intelligence, therefore it wasn't used and it wasn't included. Brennan and Clapper prevented it from being added into the official assessment. James Comey then decided on his own to brief Trump about the document."
The official was addressing the reported email from Comey fingering Brennan as insisting that the dossier be utilized in the ICA report on Russian interference.
Discussing the issue during a segment on Fox News, former GOP Rep. Trey Gowdy said on "The Story with Martha MacCallum" that "Comey has a better argument than Brennan, based on what I've seen."
One day earlier, Gowdey stated on Fox News, "Whoever is looking into this, tell them to look into emails" from December 2016 concerning both Brennan and Comey.
Gowdy told Fox News, where he is now a contributor, that his comments on the matter were based on sensitive documents that he reviewed while he served as chairman of the Republican-led House Oversight Committee.
Contrary to the ex-CIA official's assertion that the dossier was not included in the intel community's ICA Russia report, there have been testimony and media statements involving key players saying that it was part of the overall assessment.
Last December, Comey outright contradicted Brennan's own testimony that the anti-Trump dossier was, as Brennan put it, "not in any way used as the basis for the intelligence community's assessment" that Russia interfered in the 2016 presidential election.
In testimony before the House Judiciary and Oversight and Government Reform committees, Comey stated that material from the Steele dossier was indeed utilized in the IC report. Internally, the FBI referred to the dossier as "crown material."
"So do you recall whether any quote, crown material or dossier material was included in the IC assessment?" Gowdy asked Comey at the time.
"Yes," Comey replied. "I'm going to be careful here because I'm talking about a document that's still classified. The unclassified thing we talked about earlier today, the first paragraph you can see of exhibit A, is reflective of the fact that at least some of the material that Steele had collected was in the big thing called the intelligence community assessment in an annex called annex A."
Annex A in the report was titled, "Russia—Kremlin's TV Seeks To Influence Politics, Fuel Discontent in US."
The annex, like the rest of the report, contains the following disclaimer:
This report is a declassified version of a highly classified assessment; its conclusions are identical to those in the highly classified assessment but this version does not include the full supporting information on key elements of the influence campaign.
Comey went on to describe a conversation that he said he had with Brennan about how to include the dossier material in the IC assessment:
Gowdy: Do you recall the specific conversation or back and forth with then-Director Brennan on whether or not the material should be included in the IC assessment?

Comey. Yes. I remember conversation — let me think about it for a second. I remember there was conversation about what form its presentation should take in the overarching document; that is, should it be in an annex; should it be in the body; that the intelligence community broadly found its source credible and that it was corroborative of the central thesis of the intelligence community assessment, and the discussion was should we put it in the body or put it in an attachment.

I'm hesitating because I don't remember whether I had that conversation — I had that conversation with John Brennan, but I remember that there was conversation about how it should be treated.
Comey's descriptions are at direct odds with a statement Brennan made during May 2017 testimony before the House Intelligence Committee in which Brennan claimed the dossier was "not in any way used as the basis for the intelligence community's assessment" on alleged Russian interference. Brennan repeated that claim during numerous news media interviews.
Comey is not the only former top official involved in the IC report to say that the dossier played a role in the report's conclusions.
As RealClearPolitics.com documents, former NSA Director Rogers wrote in a classified letter that the dossier played a role in the IC's assessment and a dossier summary was included in an initial draft appendix:
In a March 5, 2018, letter to House Intelligence Committee Chairman Devin Nunes, Adm. Rogers informed the committee that a two-page summary of the dossier — described as "the Christopher Steele information" — was "added" as an "appendix to the ICA draft," and that consideration of that appendix was "part of the overall ICA review/approval process."
Meanwhile Clapper, who served as director of National Intelligence under the Obama administration, conceded during a previous CNN interview that the IC assessment was able to corroborate "some of the substantive content of the dossier," implying that the dossier itself was a factor.
"I think with respect to the dossier itself, the key thing is it doesn't matter who paid for it," Clapper said. "It's what the dossier said and the extent to which it was — it's corroborated or not. We had some concerns about it from the standpoint of its sourcing which we couldn't corroborate."
"But at the same time, some of the substantive content, not all of it, but some of the substantive content of the dossier, we were able to corroborate in our Intelligence Community assessment which from other sources in which we had very high confidence to it," he added.
It was Clapper's agency that released the Intelligence Community report.
The purported inclusion of the dossier may help to explain why Rogers' NSA assessed the conclusion that Russian President Vladimir Putin favored Trump and worked to get him elected only with a classification of "moderate confidence," while the FBI and CIA gave it a "high confidence" rating.
The dispute comes as U.S. Attorney John Durham has been charged by Barr with conducting a probe of the origins of the Russia investigation. In addition to ICA report tactics, Durham's probe is likely to also focus on the use of the dossier in obtaining a FISA warrant to spy on Page.
Published on May 17, 2019
Another preventable crime.
According to reports from Thursday evening, an

illegal alien from Kenya

living in Texas has been charged with 11 killings, after previously being charged with the murder of an 81-year-old woman.
"Kim Leach, a spokeswoman for the Dallas County district attorney's office, said 46-year-old Billy Chemirmir was indicted Tuesday on six more counts of capital murder in the deaths of women ranging in age from 76 to 94," according to Associated Press. 
Chemirmir is accused of killing the elderly women and stealing their jewelry and other valuables.
A Collin County grand jury brought five more capital murder charges against Chemirmir, as well as two counts of attempted capital murder for similar attacks which the victims survived.
"Chemirmir has been in custody since March 2018 in the death of the 81-year-old Dallas woman, Lu Thi Harris," the report said. "Police in Plano were investigating Chemirmir in connection with suspicious death and suspicious person calls at a senior apartment complex in that Dallas suburb and found evidence linking him to Harris' death in Dallas, authorities said. Plano is in Collin County."
He was caught after attempting to smother a 91-year-old woman in March. While unconscious, her robbed her. But paramedics revived her, and she described him to police. They began to recognize the pattern, identified Chemirmir as the suspect, and eventually took him into custody.
News of the brutal killing spree comes as leaders in Washington, D.C. remain gridlocked over border security.
Big League Politics reported:
President Donald J. Trump has declared a national state of emergency, for which several heavily-blue states immediately sued his administration. Democrats refuse to budge on the issue, unwilling to secure America's borders. As illegal border crossings surge, they blocked a meaningful amount of wall funding in the 2019 federal budget.

In what many conservatives see as a colossal failure, the Republican Congress, led by former Speaker Paul Ryan, current Minority Leader Kevin McCarthy and Senate Majority Leader Mitch McConnell, failed to deliver wall funding to the president's desk during all of 2017 and 2018, when Republicans held the House, the Senate, and the White House.
The Trump administration revealed a plan for a merit-based system of immigration Thursday.
Even NYC liberals know the communist mayor isn't fit to be president
Appearing on Good Morning America with his wife Chirlane McCray on Thursday morning,

NYC Mayor Bill de Blasio

was repeatedly called a "liar" by a large group of protesters gathered outside the ABC studio.
Conservative commentator Candace Owens reported Black Lives Matter was set to protest the television appearance, adding, "How bad of a mayor must you be to have united the NYPD and Black Lives Matter against your candidacy? Your city hates you, Bill."
Published on May 15, 2019
By Danielle Ryan
There is nothing inherently wrong with the new 'Christchurch Call' to curb violent and terrorist content online. No one in their right mind wants mass shootings live-streamed online — but it's what comes next that should worry us.
Drawn up in the aftermath of the Christchurch mosque massacre, which was streamed live online, New Zealand Prime Minister Jacinda Ardern's 'Christchurch Call' is billed as a "roadmap for action" and calls for the "immediate and permanent" removal of "terrorist and violent extremist content" from social media platforms. It has been signed by 18 governments and eight tech companies.
On the face of it, that sounds fine. It's difficult to argue against removing terrorist content from the platforms so many of us use on a daily basis. The trouble is, Ardern has already admitted that the pledge is simply a "starting point" — and if you were expecting this to be the moment at which social media companies finally began to push back a little bit, sorry to disappoint you, but they're all in on it together.
ALSO ON RT.COMFacebook ban on Alex Jones and others is a form of modern-day book burning
Endorsing censorship
Lord of social media, Facebook CEO Mark Zuckerberg, who is afflicted with an obvious and ever-worsening God complex, offered a full-throated endorsement of online censorship a few days ago, saying "…the question of what speech should be acceptable and what is harmful needs to be defined by regulation, by thoughtful governments."
That's right, Zuck thinks "thoughtful governments" should be deciding what is "acceptable" for us to say online. There's no ambiguity there. It's a simple, straight-forward endorsement of the idea that governments should be allowed to regulate our speech. If that doesn't worry you, then maybe you're the kind of person who reads dystopian novels and cheers for the wrong side.
Zuckerberg's comment isn't exactly out of the blue. Facebook is already under fire for censoring political speech from both the right and left ends of the political spectrum. The company has banned a slew of right-wing commentators and conservative agitators from its platform and taken worrying steps against leftist and anti-war activists around the world.
Just the beginning
So, if social media companies aren't going to fight back on our behalf (and they clearly are not), who will? The obvious answer is "journalists" — but they don't appear to be in too much of a rush to halt this creeping censorship either. Some of them appear to be advocating more censorship, rather than less.
ALSO ON RT.COMNo kissing gays or conservative hunters: Overcautious Facebook blocks political ads in SwedenIn an interview with Le Monde on Monday, Ardern was asked why she decided to focus "uniquely on violent terrorist content, and not more broadly on hate speech, which also contributes to the drift in social media?"
Ardern replied that focusing on terrorist content was just the "point of departure" on which everyone could agree. So this is a journey we are on. We've departed at 'terrorism is bad' — but where will we end? Ardern said she was wary that going any further right now would "open the way for debate" on potential risks to freedom of expression. But in a joint press conference on Wednesday with French President Emmanuel Macron, she said her hope was that working together, governments and tech companies could "eliminate ideologies of hate."
That would be lovely — and if only the word were so simple, we could just eliminate all the meanies from the internet and live in an online utopia. Unfortunately, this is completely unrealistic, and when you start talking about eliminating certain ideologies, that's where things get sketchy. Particularly if we're going to delegate the task of deciding what is and is not "harmful" (as Zuckerberg said) to "thoughtful governments."
'Hate speech' or 'free speech'?
Florida's Republican governor Ron DeSantis is set to sign a bill that would make it a "hate crime" to "demonize" or"delegitimize" Israel. The bill purports to be about "anti-Semitism" but it's really just a vehicle to censor and even criminalize political speech. You see, that's the kind of thing that "thoughtful" politicians get up to if left to their own devices. Then again, the Florida bill probably isn't something that would ring alarm bells at Facebook HQ, either. Zuckerberg already happily complies with orders from the Israeli government to delete Palestinian activist accounts.
As for the US government, it has refused to sign Ardern's 'Christchurch Call' citing first amendment rights — but declining to sign a vague and non-binding agreement doesn't mean much. Capitol Hill is still swarming with politicians just dying to enforce more restrictions on free speech.
ALSO ON RT.COMFrance wants more govt regulation of Facebook and Zuckerberg calls it 'model' approachDemocratic Senator Chris Murphy tweeted in the aftermath of last year's Infowars ban that the very "survival of [US] democracy" depends on Facebook's willingness to "take down" more websites that "tear our country apart." Sure, why don't they just get rid of any content that could conceivably be categorized as divisive? Sounds like a foolproof plan.
A US government intelligence report last year highlighted a former RT show hosted by Abby Martin as an example of content that sowed "radical discontent" in society for critically covering controversial issues like US regime change wars, fracking, capitalism and police brutality. Be careful out there, you never know what could be defined as "radical" content next.
As journalist Igor Ogorodnev wrote in a recent oped, the aftermath of an atrocity "is a honeypot for short-sighted do-gooders buzzing about looking to do something, but also opportunist politicians to realize their long-harbored ambitions."
Trying to distract us
Social media is what the public uses to organize en masse in the 21st century.
Is it any wonder that Macron, facing months of Yellow Vest protests against his government, is helping lead the charge toward more online censorship?
A French government report recently called for the eradication of content that damages "social cohesion" and warned that"false information,""unfounded rumors" and "individuals pursuing political or financial objectives" can have an impact on "the social order." But who decides what constitutes "false information" and "unfounded rumors"? Is Macron's government "thoughtful" enough for Zuckerberg?
ALSO ON RT.COMWhite House posts call for social media censorship stories, triggering hope & cynicismOf course, it's much easier for governments to pass the blame for social discontent onto companies like Facebook, while arguing that censorship is the only solution. If they didn't do that, they'd have to admit that what really drives mass discontent are the neoliberal policies that have had a detrimental effect on basic standards of living, wiped out people's life savings and ravaged the planet.
But maybe that's all something Ardern and Macron can work on some other day — that is, if we're allowed to talk about it.
The statements, views and opinions expressed in this column are solely those of the author and do not necessarily represent those of RT.
In this episode of "Inside Judicial Watch" JW Senior Investigator Bill Marshall discuss how records obtained through a court-ordered discovery revealed that the Obama White House was tracking a FOIA request for Clinton emails.
Both voted for Communist Party candidates
Zero Hedge – MAY 16, 2019
The heads of Obama's

FBI

and

CIA

both voted for communists during the Cold War, yet were somehow able to move up the ranks within the same US intelligence community that had spent decades fighting that very ideology.
Journalist Paul Sperry noted on Wednesday that former FBI Director James Comey admitted in a 2003 interview to having voted communist before casting his ballot for Jimmy Carter in 1980.
"In college, I was left of center," Comey told New York Magazine, and through a gradual process I found myself more comfortable with a lot of the ideas and approaches the Republicans were using." He voted for Carter in 1980, but in '84, "I voted for Reagan—I'd moved from communist to whatever I am now. I'm not even sure how to characterize myself politically. Maybe at some point, I'll have to figure it out."
Of note, Comey's wife and four daughters were all giant Hillary Clinton supporters who wanted her to win "really badly."
Former CIA Director John Brennan, meanwhile, admitted in 2016 to voting communist in the 1970s. When asked at the Congressional Black Caucus Foundation's annual conference whether past activism would create a barrier for diverse candidates who want to enter the intelligence community, Brennan said that he was forced to admit to voting for communist Gus Hall for president in 1976, according to CNN.
"I froze, because I was getting so close to coming into CIA and said, 'OK, here's the choice, John. You can deny that, and the machine is probably going to go, you know, wacko, or I can acknowledge it and see what happens," CNN quoted Brennan as saying.
Brennan (who was sworn in as CIA director on a draft of the US Constitution, without the Bill of Rights, instead of a Bible) said that while he had voted Communist, he wasn't an official member of the Communist Party – and was relieved that he had been accepted into the CIA.
"I said I was neither Democratic or Republican, but it was my way, as I was going to college, of signaling my unhappiness with the system, and the need for change. I said I'm not a member of the Communist Party, so the polygrapher looked at me and said, 'OK,' and when I was finished with the polygraph and I left and said, 'Well, I'm screwed.'"
"So if back in 1980, John Brennan was allowed to say, 'I voted for the Communist Party with Gus Hall' … and still got through, rest assured that your rights and your expressions and your freedom of speech as Americans is something that's not going to be disqualifying of you as you pursue a career in government," the former CIA Director concluded.
So two of President Obama's spy chiefs voted communist, while Obama was influenced by the likes of radicals Bill Ayers, Saul Alinsky and his pastor – Jeremiah 'God damn America' Wright. Weeks before he died of a sudden heart attack at the age of 43, journalist Andrew Breitbart claimed to have a videos that would expose Obama as a communist radical.
None of the above sounds very "America First"…