Says he not only sees himself as a Democrat-socialist, but a full-blown socialist
Joshua Caplan | Breitbart – FEBRUARY 26, 2020
Senior ABC News correspondent David Wright

accused his own network of denying President Donald Trump "credit" for his administration's accomplishments and revealed that he's a "socialist," according to an undercover video captured by

Project Veritas

.
"I feel terrible about it," Wright says of ABC's coverage of the presidential election. "I feel that the truth suffers, the voters are poorly informed and people have the opportunity to tune into whatever they want to hear."
"It's like there's no upside in, or our bosses, don't see an upside in doing the job we're supposed to do; which is to speak truth to power and hold people accountable," he adds.
In another part of the video, Wright claims that the media doesn't hold President Donald Trump to account, and then admits that reporters don't give the president "credit" where it's due. "I think, some of that at least in the place that I work and places like it, is that with Trump, we're interested in three things: we're interested in the outrage of the day, the investigation, and of the palace intrigue of who's backstabbing who," he says.
Later in the footage, Wright is asked about his political ideology, to which he says that he not only sees himself as a Democrat-socialist, but a full-blown socialist. "I think there should be national health insurance," Wright argues. "I'm totally fine with reining in corporations, I think there are too many billionaires, and I think that there's a wealth gap. That's a problem."
The video concluded with Wright saying that the establishment media is more interested in covering the election as a "horse race" than a contest about issues important to voters. "I don't think we're terribly interested in voters," he concedes.
"In addition to the candidate of the week, we need the story to move on," Wright explains. "We're happy to have Buttigieg be the story last week and we're happy to have Klobuchar as a new subject this week, and then when we're tired of her we'll be delighted if Elizabeth Warren kicks ass in Nevada because then we have something new to talk about."
"We're all guilty of the same thing," Wright continues." I think that all of the big news organizations… ABC, CBS, NBC."
"We recognize that we're dinosaurs and we're in danger of dying," he adds.
The Washinton Post reported that 
ABC News has suspended correspondent Wright "for unguarded remarks he made in a video by operatives of Project Veritas."
In a statement to Project Veritas, ABC News said of the decision: "Any action that damages our reputation for fairness and impartiality or gives the appearance of compromising it harms ABC News and the individuals involved. David Wright has been suspended, and to avoid any possible appearance of bias, he will be reassigned away from political coverage when he returns."
They refused to cover her destruction of the Democrats' narrative.
By Shane Trejo – 1/28/2020
During the Senate impeachment trial on Monday, Trump defense lawyer

Pam Bondi

destroyed the false narrative pushed by the Democrats regarding Ukraine.
"When the House managers gave you their presentation, when they submitted their brief, they repeatedly referenced Hunter Biden and Burisma. … They referenced Biden or Burisma over 400 times. And when they gave these presentations they said there was nothing to see, it was a sham," Bondi said to the Senate. "This is fiction."
Bondi exposed the details of Hunter Biden's dealings in the Ukraine. She noted that he received $83,333 per month from Burisma Holdings because of his connections, and his dad made sure that Prosecutor General Viktor Shokin was let go after he attempted to investigate.
She also referenced the United Kingdom's Serious Fraud Unit, law enforcement in Ukraine, deputy assistant secretary at the State Department George Kent, and many different news outlets including the Washington Post, ABC News and the Kyiv Post to make the case that Biden's shady business dealings were worth investigating.
"You've heard from the House managers that there is not anything to see here; that all of this is baseless," Bondi concluded. "All that we are saying is that there was a basis to talk about this, to raise this issue. And that is enough."
While Bondi may have been the star during today's impeachment hearings in the Senate, the fake news media made sure to do everything possible to ignore her.
Hoover Institution media fellow and best-selling author Paul Sperry reported about the blackout on his Twitter account.
CNN attempted to "fact check" Bondi's arguments by presenting globalist spin to obscure the plain truth of the matter. They cited several stooges who toe the Democrat line.
"Shokin was not investigating. He didn't want to investigate Burisma," said Daria Kaleniuk, executive director of Ukraine's Anti-Corruption Action Center, to the Washington Post in July 2018. "And Shokin was fired not because he wanted to do that investigation, but quite to the contrary, because he failed that investigation."
"Rather than supporting Ukraine's reforms and working to root out corruption, corrupt actors within the prosecutor general's office are making things worse by openly and aggressively undermining reform," said Geoffrey Pyatt, the US ambassador to Ukraine under Barack Hussein Obama.
The fake news has shamed themselves yet again as they work with the Democrats in an attempt to overthrow the 2016 election. However, Bondi's arguments will be on the public record forevermore regardless of the attempts by the fake news to censor her.
A good reminder of what we can expect when President Trump's defense team has their first opportunity in five months to defend him
The Last Refuge – JANUARY 24, 2020
A good reminder of what we can expect when President Trump's defense team has their first opportunity in five months to defend him. 
During a broadcast segment on ABC news reporters in the Capitol were interviewing President Trump defense attorney Jay Sekulow.
Back in the ABC studio, Clinton operative George Stephanopoulos did not want to see ABC broadcasting statements from the defense and he is caught on camera using hand signals to tell the producers to cut-off the broadcast.   Stephanopoulos realized he was caught:
Also visible at 47 seconds of the tweet video:
This powerful video compilation exposes the mainstream media's false narrative that attendees of the Virginia Gun March are racists and rednecks. In reality, Americans of every race, creed and color are united in their loyalty to the Constitution and are prepared to fight to protect it. This footage highlights the danger a unified populace poses to the political establishment who want the American people divided, NOT united.
By Tyler Durden – 11/5/2019
ABC News has responded to the

Veritas video

, saying "at the time, not all of our reporting met our standards to air, but we have never stopped investigating the story. Ever since we've had a team on this investigation and substantial resources dedicated to it. That work has led to a two-hour documentary and a 6-part podcast that will air in the new year."
Robach added in a statement "I was caught in a private moment of frustration," and was "upset that an important interview I had conducted with Virginia Roberts didn't air because we could not obtain sufficient corroborating evidence." (Somehow the Miami Herald got the job done, however.)
O'Keefe suggests this is a 'cover your ass, lawyer-speak response.'
A new undercover video from Project Veritas reveals that ABC News knew of Jeffrey Epstein's sex crimes, yet decided to ignore it according to undercover footage from Project Veritas.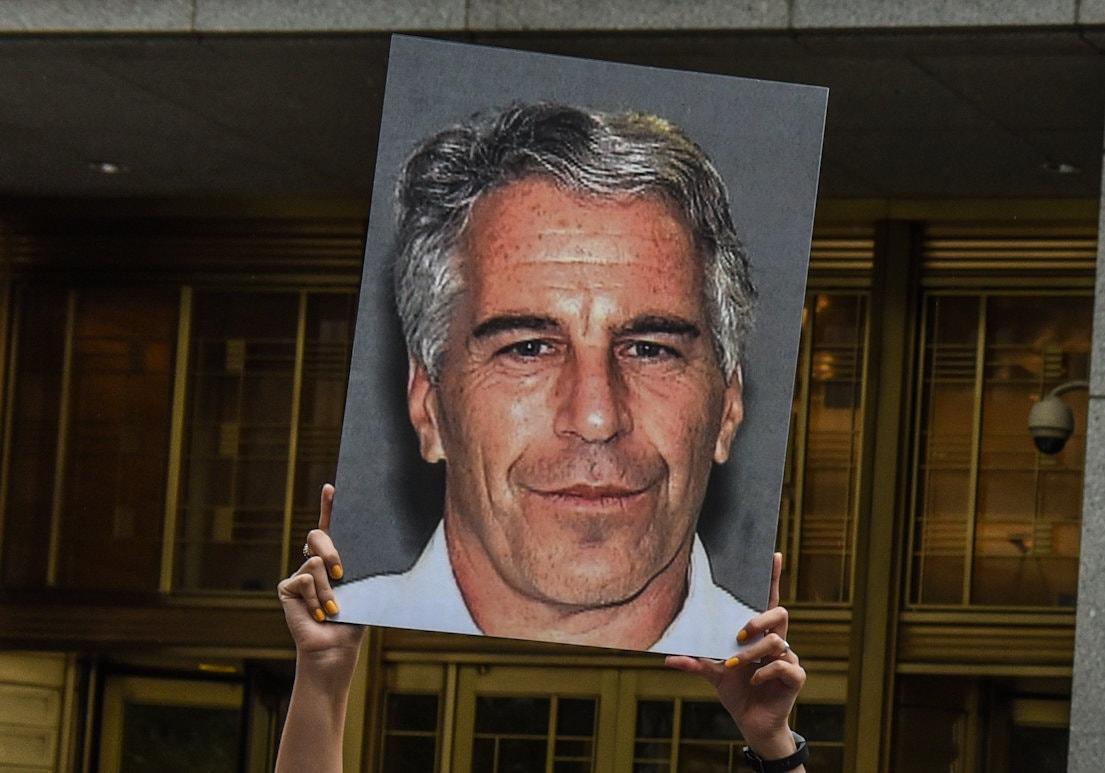 Amy Robach, 'Good Morning America' Co-Host and Breaking News Anchor at ABC, explains how a witness came forward years ago with information pertaining to Epstein, but Disney-owned ABC News refused to air the material for years. Robach vents her anger in a "hot mic" moment with an off-camera producer, explaining that ABC quashed the story in it's early stages.  "I've had this interview with Virginia Roberts (Now Virginia Guiffre) [alleged Epstein victim]. We would not put it on the air. Um, first of all, I was told "Who's Jeffrey Epstein.  No one knows who that is.  This is a stupid story."

She continues, "The Palace found out that we had her whole allegations about Prince Andrew and threatened us a million different ways." -Project Veritas
"…[T]here will come a day when we will realize Jeffrey Epstein was the most prolific pedophile this country has ever known," said Attorney Brad Edwards.
According to Robach, "I had it all three years ago."
Watch:
This is far from the first time Epstein's crimes have been covered up, minimized, or ignored.
Perhaps most famously, former US Secretary of Labor Alex Acosta negotiated a 'sweetheart deal' for Epstein in 2008 after he pleaded guilty to soliciting prostitution from a minor. The pedophile financier was able to 'work' outside of prison most days, during which time he reportedly continued to abuse girls.
Additionally, the Manhattan DA's office headed by Cyrus Vance Jr. had 'graphic and detailed evidence' of Epstein's crimes when a prosecutor argued for leniency during his 2011 sex offender registry hearing, according to an April report in the New York Post.
In advance of the hearing, then-deputy chief of Sex Crimes, Jennifer Gaffney, had been given a confidential state assessment that deemed Epstein to be highly dangerous and likely to keep preying on young girls, the DA's office admitted in its own appellate brief eight months after the hearing.

…

Manhattan prosecutors were aware the state board had assigned Epstein a risk assessment of 130, a number that is "solidly above the 110 qualifying number for level three," with "absolutely no basis for downward departure," the brief notes.

Nevertheless, Gaffney argued that he should be labeled a level one offender, the least restrictive, which would keep him off the online database. –New York Post
While Acosta lost his job in the Trump administration over his actions in 2008, will anyone be held truly accountable for enabling Epstein's decades-long pattern of abuse?
by Jim Hoft November 5, 2019
James O'Keefe

 
and
Project Veritas
released never before seen video involving the

Jeffrey Epstein

story on Tuesday morning.
An ABC News insider leaked the shelved video of "Good Morning America" co-host Amy Robach on a hot mic explaining how her network spiked an investigative report on Jeffrey Epstein, "the most prolific pedophile of our time."
The investigation implicated Bill Clinton and Prince Andrew.
From the video…
• "I've Had This Story for Three Years… (ABC) Would Not Put It on The Air" says Good Morning America Breaking News Anchor, and 20/20 Co-Anchor Amy Robach. "It Was Unbelievable… We Had – Clinton, We Had Everything…"
• Robach: "We Had Her Whole Allegations About Prince Andrew…I Got a Little Concerned About Why I Couldn't Get On."
• Amy Robach Describes How She Interviewed a Woman Who Had the Courage to Come Forward "Years" Ago About Epstein: "She Had Pictures, She Had Everything. She Was in Hiding for Twelve Years. We Convinced Her to Come Out. We Convinced Her to Talk to Us."
• Robach Details ABC's Initial Response to Her: "Who's Jeffrey Epstein? No One Knows Who That is. This is a Stupid Story
• Robach: "Now it's All Coming Out … I Freaking Had All Of It…"
In the video taken earlier this year Amy Robach says Epstein's death was not a suicide.
Here is the video via Project Veritas:
Project Veritas reported:
Newly revealed footage leaked by an ABC insider has exposed how network executives rejected allegations against Jeffrey Epstein years ago, even though there was content regarding the merit of those claims in-hand.
Amy Robach, 'Good Morning America' Co-Host and Breaking News Anchor at ABC, explains how a witness came forward years ago with information pertaining to Epstein, but Disney-owned ABC News refused to air the material for years. Robach vents her anger in a "hot mic" moment with an off-camera producer, explaining that ABC quashed the story in it's early stages. "I've had this interview with Virginia Roberts (Now Virginia Guiffre) [alleged Epstein victim]. We would not put it on the air. Um, first of all, I was told "Who's Jeffrey Epstein. No one knows who that is. This is a stupid story."
She continues, "The Palace found out that we had her whole allegations about Prince Andrew and threatened us a million different ways."
Robach goes on to express she believes that Epstein was killed in prison saying, "So do I think he was killed? 100% Yes, I do…He made his whole living blackmailing people… Yup, there were a lot of men in those planes. A lot of men who visited that Island, a lot of powerful men who came into that apartment."
Robach repeats a prophetic statement purportedly made by Attorney Brad Edwards "…[T]here will come a day when we will realize Jeffrey Epstein was the most prolific pedophile this country has ever known," and Disgustedly Robach states "I had it all three years ago."
Project Veritas intends to continue its investigation into corruption in the Mainstream Media. We encourage that Brave insiders at these organizations come forward with any information they have, so that the public knows what is really going on within these media companies.
Posted By Ian Schwartz
CNN

: The 2020 presidential candidates comment on the impeachment inquiry at the CNN/New York Times debate in Westerville, Ohio.
ANDERSON COOPER, CNN MODERATOR: Since the last debate, House Democrats have officially launched an impeachment inquiry against President Trump, which all the candidates on this stage support.  Senator Warren, I want to start with you.  You have said that there's already enough evidence for President Trump to be impeached and removed from office.  But the question is, with the election only one year away, why shouldn't it be the voters who determine the president's fate?
WARREN:  Because sometimes there are issues that are bigger than politics.  And I think that's the case with this impeachment inquiry.
When I made the decision to run for president, I certainly didn't think it was going to be about impeachment.  But when the Mueller report came out, I read it, all 442 pages.  And when I got to the end, I realized that Mueller had shown, too, a fare-thee-well, that this president had obstructed justice and done it repeatedly.  And so at that moment, I called for opening an impeachment inquiry.
Now, that didn't happen.  And look what happened as a result.  Donald Trump broke the law again in the summer, broke it again this fall.  You know, we took a constitutional oath, and that is that no one is above the law, and that includes the president of the United States.
Impeachment is the way that we establish that this man will not be permitted to break the law over and over without consequences.  This is about Donald Trump, but, understand, it's about the next president and the next president and the next president and the future of this country.  The impeachment must go forward.
COOPER:  Thank you, Senator Warren.  You're all going to get in on this, by the way.  Senator Sanders, do Democrats have any chance but to impeach President Trump?  Please respond.
SANDERS:  No, they don't.  In my judgment, Trump is the most corrupt president in the history of this country.  It's not just that he obstructed justice with the Mueller Report.  I think that the House will find him guilty of — worthy of impeachment because of the emoluments clause.  This is a president who is enriching himself while using the Oval Office to do that, and that is outrageous.
And I think in terms of the recent Ukrainian incident, the idea that we have a president of the United States who is prepared to hold back national security money to one of our allies in order to get dirt on a presidential candidate is beyond comprehension.  So I look forward, by the way, not only to a speedy and expeditious impeachment process, but Mitch McConnell has got to do the right thing and allow a free and fair trial in the Senate.
COOPER:  Vice President Biden, during the Clinton impeachment proceedings, you said, and I quote, "The American people don't think that they've made a mistake by electing Bill Clinton, and we in Congress had better be very careful before we upset their decision."  With the country now split, have Democrats been careful enough in pursuing the impeachment of President Trump?
BIDEN:  Yes, they have.  I said from the beginning that if, in fact, Trump continued to stonewall what the Congress is entitled to know about his background, what he did, all the accusations in the Mueller Report, if they did that, they would have no choice — no choice — but to begin an impeachment proceeding, which gives them more power to seek more information.
This president — and I agree with Bernie, Senator Sanders — is the most corrupt president in modern history and I think all of our history.  And the fact is that this president of the United States has gone so far as to say, since this latest event, that, in fact, he will not cooperate in any way at all, will not list any witnesses, will not provide any information, will not do anything to cooperate with the impeachment.  They have no choice but to move.
COOPER:  Senator Harris, House Speaker Nancy Pelosi has said that members of Congress have to be, in her words, fair to the president and give him a chance to exonerate himself.  You've already said that based on everything you've seen, you would vote to remove him from office.  Is that being fair to the president?
HARRIS:  Well, it's just being observant, because he has committed crimes in plain sight.  I mean, it's shocking, but he told us who he was.  Maya Angelou told us years ago, listen to somebody when they tell you who they are the first time.
During that election, Donald Trump told us he could shoot somebody on Fifth Avenue and get away with it.  And he has consistently since he won been selling out the American people.  He's been selling out working people.  He's been selling out our values.  He's been selling out national security.  And on this issue with Ukraine, he has been selling out our democracy.
Our framers imagined this moment, a moment where we would have a corrupt president.  And our framers then rightly designed our system of democracy to say there will be checks and balances.  This is one of those moments.  And so Congress must act.
But the reality of it is that I don't really think this impeachment process is going to take very long, because as a former prosecutor, I know a confession when I see it.  And he did it in plain sight.  He has given us the evidence.  And he tried to cover it up, putting it in that special server.  And there's been a clear consciousness of guilt.  This will not take very long.  Donald Trump needs to be held accountable.  He is, indeed, the most corrupt and unpatriotic president we have ever had.
COOPER:  Senator Booker, you have said that President Trump's, quote, "moral vandalism" disqualifies him from being president.  Can you be fair in an impeachment trial?  Please respond.
BOOKER:  So, first of all, we must be fair.  We are talking about ongoing proceedings to remove a sitting president for office.  This has got to be about patriotism and not partisanship.
Look, I share the same sense of urgency of everybody on this stage.  I understand the outrage that we all feel.  But we have to conduct this process in a way that is honorable, that brings our country together, doesn't rip us apart.
Anybody who has criticisms about a process that is making all the facts bare before the American public, that works to build consensus, that's what this nation needs, in what is a moral moment and not a political one.  So I swore an oath to do my job as a senator, do my duty.  This president has violated his.  I will do mine.
COOPER:  Thank you, Senator Booker.
Senator Klobuchar, you have — what do you say to those who fear that impeachment is a distraction from issues that impact people's day-to-day lives, health care, the economy, and could backfire on Democrats?
KLOBUCHAR:  We can do two things at once.  That's our job.  We have a constitutional duty to pursue this impeachment, but we also can stand up for America, because this president has not been putting America in front of his own personal interests.
He has not been standing up for the workers of Ohio.  He's not been standing up for the farmers in Iowa.  And I take this even a step further.  You know, when he made that call to the head of Ukraine, he's digging up dirt on an opponent.  That's illegal conduct.  That's what he was doing.  He didn't talk to him about the Russian invasion.  He talked to him about that.
So I'm still waiting to find out from him how making that call to the head of Ukraine and trying to get him involved in interfering in our election makes America great again.  I'd like to hear from him about how leaving the Kurds for slaughter, our allies for slaughter, where Russia then steps in to protect them, how that makes America great again.  And I would like to hear from him about how coddling up to Vladimir Putin makes America great again.
It doesn't make America great again.  It makes Russia great again.  And that is what this president has done.  So whether it is workers' issues, whether it is farmers' issues, he has put his own private interests…
COOPER:  Thank you.
KLOBUCHAR:  … and I will not do that.
COOPER:  Thank you.  Secretary Castro, is impeachment a distraction?
CASTRO:  Not at all.  We can walk and chew gun at the same time.  And all of us are out there every single day talking about what we're going to do to make sure that more people cross a graduation stage, that more families have great health care, that more folks are put to work in places like Ohio, where Donald Trump has broken his promises, because Ohio, Michigan, and Pennsylvania actually in the latest jobs data have lost jobs, not gained them.
Not only that, what we have to recognize is that not only did the Mueller Report point out 10 different instances where the president obstructed justice or tried to, and he made that call to President Zelensky of the Ukraine, but he is in ongoingly — in an ongoing way violating his oath of office and abusing his power.
We have to impeach this president.  And the majority of Americans not only support impeachment, they support removal.  He should be removed.
COOPER:  Mayer Buttigieg, you have said that impeachment should be bipartisan.  There's been, obviously, very little Republican support to date, yet Democrats are proceeding.  Is that a mistake?
BUTTIGIEG:  Well, it's a mistake on the part of Republicans, who enable the president whose actions are as offensive to their own supposed values as they are to the values that we all share.
Look, the president has left the Congress with no choice.  And this is not just about holding the president accountable, for not just the things emerging in these investigations, but actions that he has confessed to on television.  It's also about the presidency itself, because a president 10 years or 100 years from now will look back at this moment and draw the conclusion either that no one is above the law or that a president can get away with anything.
But everyone on this stage, by definition, is competing to be a president for after the Trump presidency.  Remember, one way or the other, this presidency is going to come to an end.  I want you to picture what it's going to be like, what it's actually going to feel like in this country the first day the sun comes up after Donald Trump has been president.
It starts out feeling like a happy thought; this particular brand of chaos and corruption will be over.  But really think about where we'll be:  vulnerable, even more torn apart by politics than we are right now.  And these big issues from the economy to climate change have not taken a vacation during the impeachment process.
I'm running to be the president who can turn the page and unify a dangerously polarized country while tackling those issues that are going to be just as urgent then as they are now.
COOPER:  Thank you, Mr. Mayor.  Congresswoman Gabbard, you're the only sitting House member on this stage.  How do you respond?
GABBARD:  If impeachment is driven by these hyperpartisan interests, it will only further divide an already terribly divided country.  Unfortunately, this is what we're already seen play out as calls for impeachment really began shortly after Trump won his election.  And as unhappy as that may make us as Democrats, he won that election in 2016.
The serious issues that have been raised around this phone call that he had with the president of Ukraine and many other things that transpired around that are what caused me to support the inquiry in the House.  And I think that it should continue to play its course out, to gather all the information, provide that to the American people, recognizing that that is the only way forward.
If the House votes to impeach, the Senate does not vote to remove Donald Trump, he walks out and he feels exonerated, further deepening the divides in this country that we cannot afford.
COOPER:  Thank you, Congresswoman.
Mr. Steyer, you've been calling for impeachment for two years.  Does there need to be bipartisan support?
STEYER:  Well, Anderson, this is my first time on this stage, so I just want to start by reminding everybody that every candidate here is more decent, more coherent, and more patriotic than the criminal in the White House.
(APPLAUSE)
But I also want to point out that Anderson's right.  Two years ago, I started the Need to Impeach movement, because I knew there was something desperately wrong at 1600 Pennsylvania Avenue, that we did have the most corrupt president in the country, and that only the voice and the will of the American people would drag Washington to see it as a matter of right and wrong, not of political expediency.  So, in fact, impeaching and removing this president is something that the American people are demanding.  They're the voice that counts, and that's who I went to, the American people.
COOPER:  Mr. Yang, do you think there's already enough evidence out there to impeach the president?  Please respond.
YANG:  I support impeachment, but we shouldn't have any illusions that impeaching Donald Trump will, one, be successful or, two, erase the problems that got him elected in 2016.  We're standing in the great state of Ohio, the ultimate purple state, the ultimate bellwether state.
Why did Donald Trump win your state by eight points?  Because we got rid of 300,000 manufacturing jobs in your towns.  And we are not stopping there.  How many of you have noticed stores closing where you work and live here in Ohio?  Raise your hands.
It's not just you.  Amazon alone is closing 30 percent of America's stores and malls, soaking up $20 billion in business while paying zero in taxes.  These are the problems that got Donald Trump elected, the fourth industrial revolution.  And that is going to accelerate and grow more serious regardless of who is in the Oval Office.
The fact is, Donald Trump, when we're talking about him, we are losing.  We need to present a new vision, and that even includes talking about impeaching Donald Trump.
COOPER:  Congressman O'Rourke, on impeachment, please respond.
O'ROURKE:  You know, I think about everyone who's ever served this country in uniform.  We have two examples here on this stage tonight in Mayor Buttigieg and Congresswoman Gabbard, those who have willingly sacrificed their lives to defend this country and our Constitution.  We are the inheritors of their service and their sacrifice.
And we have a responsibility to be fearless in the face of this president's criminality and his lawlessness.  The fact that as a candidate for the highest office in the land, he invited the participation, the invasion of a foreign power in our democracy.  As president, he lied to investigators, obstructed justice, fired James Comey, head of the FBI, tried to fire Mueller, head of the investigation, then invited President Zelensky to involve himself in our politics, as well as China, in exchange for favorable trade terms in an upcoming trade deal.
COOPER:  Thank you, Congressman.
O'ROURKE:  If we do not hold him to account, if there is not justice, not only have we failed this moment, our Constitution and our country, but we have failed everyone who has sacrificed and laid their lives down on the line.
COOPER:  Thank you.
O'ROURKE:  And we cannot do that.
Chris Menahan
InformationLiberation
Oct. 15, 2019
ABC News

is refusing to issue an on-air correction to the

fake video

they put out twice which they claimed showed "Turkey's military bombing Kurd civilians" after being "abandon[ed]" by President Trump.
From NewsBusters:
On Monday, ABC News got caught lying about having a video allegedly showing Turkish troops slaughtering Kurdish civilians in northern Syria, when, in fact, it was video from a gun range in Kentucky. Seemingly thinking a pair of weak apologies on Twitter were enough, the liberal broadcast network refused to correct the record and inform viewers on their journalistic malpractice during that evening's World News Tonight.
[…] Later that evening, despite anchor David Muir dedicating five minutes and 28 seconds to the fighting in Syria, the network refused to acknowledge their misleading story and correct the record for their millions of viewers. And as the Examiner further reported:

[…] According to TVNewser, for the week of September 30, World News Tonight raked in 8.2 million viewers. For that same week, TVNewser found Good Morning America came in first with 3.7 million viewers. So, it's likely that the show misled millions of people while a fraction of them saw the tweets. Let's see if they're saving the on-correction for Tuesday morning.

Nicholas Fondacaro noted Tuesday morning it has been over 24 hours without an on-air correction.

ABC News mislead millions with outright fake news and propaganda on two of their flagship programs but then "corrected" their propaganda with some tweets on the least popular of all the major social media sites.
If it wasn't for Wojciech Pawelczyk catching this hoax and going viral, ABC News' propaganda never would have been exposed and they'd probably still be airing the footage on all their other programs.

Incidentally, the Kurds we "abandoned" have since allied with Assad to fight against Turkey's invasion.

Had they done this on day one rather than hold out for the US to reverse course to please neocons like Lindsey Graham they likely would not have suffered such massive losses from Turkey's blitzkrieg.
Posted By Tim Hains
Hunter Biden

defended the ethical implications of his private ventures in an interview with

ABC News

, but conceded a political "mistake."
"I know I did nothing wrong at all. Was it poor judgment to be in the middle of something that is a swamp in many ways? Yeah," he told ABC's Amy Robach at his Los Angeles home.
"I don't regret being on the board [of a Ukrainian gas company]. What I regret is not taking into account that there would be a Rudy Giuliani and a president of the United States that would be listening to this ridiculous conspiracy idea,"he said, saying the allegations of impropriety have been "debunked by everyone."
Robach next asked if he would have gotten the board seat if he had a different last name.
"I don't know, probably not," he responded.
OCT 15, 2019
More evidence that the media is faker than the Kardashians' faces