'What we're dealing with is more than a mere unruly mob… It's a well-planned rebellion playing out on the streets of urban America'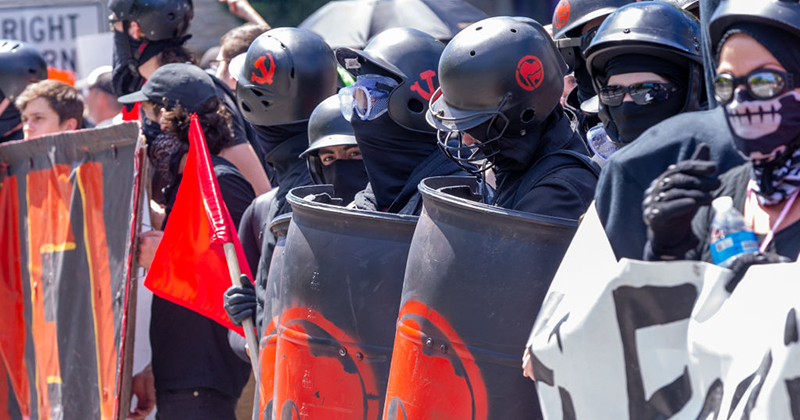 Luis Miguel | The New American – JUNE 22, 2020
Never underestimate your enemy.
The mainstream media would have us believe that the protests and riots that have swept the nation after the death of George Floyd are spontaneous demonstrations whose large turnouts validate the notion that the ideas they argue for— such as abolishing the police — are widely popular.
The average American does not have a full understanding of how much time and money it takes to pull off mass organization such as the one currently taking place. But at The New American, we have long reported on the vast amount of money and institutional resources being poured into Black Lives Matter and Antifa by global elites such as George Soros.
That these radical insurrectionists are so highly funded, organized, and armed should be a cause for concern among Americans and inspire patriots to greater involvement in the well-being of their local communities.
Nevertheless, many continue to write off Antifa, BLM, and other left-wing revolutionary groups as nothing more than unorganized college kids who, should they turn violent, could swiftly be dealt with by a lone gun-toting patriot.
Yet reality presents a far different picture. A recently published document by rioters in Minneapolis who successfully ran police out of the Third Precinct reveals an understanding of the principles of fourth-generation warfare, along with a well-honed level of coordination.
In short, what we're dealing with is more than a mere unruly mob. It's a well-planned rebellion playing out on the streets of urban America.
Published at the blog CrimethInc, which describes itself as a "rebel alliance" and a "think tank" for "anonymous collective action," the article is titled "The Siege of the Third Precinct in Minneapolis: An Account and Analysis."
"In this anonymous submission, participants in the uprising in Minneapolis in response to the murder of George Floyd explore how a combination of different tactics compelled the police to abandon the Third Precinct," reads a summary of the breakdown, whose author remains anonymous.
The author explains that the key to their victory over police was the combination of violent members of the "crowd" with nonviolent ones, the latter giving the former cover to attack police while making law-enforcement officers hesitant to hit back with lethal force:
We call the battles of the second and third days at the Precinct a siege because the police were defeated by attrition. The pattern of the battle was characterized by steady intensification punctuated by qualitative leaps due to the violence of the police and the spread of the conflict into looting and attacks on corporate-owned buildings. The combination of the roles listed above helped to create a situation that was unpoliceable, yet which the police were stubbornly determined to contain. The repression required for every containment effort intensified the revolt and pushed it further out into the surrounding area. By Day Three, all of the corporate infrastructure surrounding the Third Precinct had been destroyed and the police had nothing but a "kingdom of ashes" to show for their efforts. Only their Precinct remained, a lonely target with depleted supplies. The rebels who showed up on Day Three found an enemy teetering on the brink. All it needed was a final push.
As the author noted, the radicals' goal was to stir the police to violence: "It's important to note that the dynamic we saw on Day Two did not involve using non-violence and waiting for repression to escalate the situation. Instead, a number of individuals stuck their necks out very far to invite police violence and escalation."
But once officers moved to engage, the mob employed their "peaceful" members to discourage reprisal, "interrupting police violence with strategically deployed 'innocence' ('Hands up! Don't shoot!')."
The analysis goes on to relate that the crowd learned to quickly deal with tear gas by setting up eye-flushing stations with the help of on-scene medics. Once they learned that concussion grenades are not physically harmful if one is more than five feet away from them, the crowd remained calm when confronted by that type of weapon.
The insurrectionists also used looting as a battle tactic. "Looters can help feed and heal the crowd while simultaneously disorienting the police. In turn, those going head to head with the police can generate opportunities for looting," the article reads.
"Employing stores of looted bottled water, many people in the crowd were able to learn and quickly execute eye-flushing," it states about their response to tear gas.
Of course all this ignores the biggest weapon in their arsenal: Sympathizers in the government who keep the police from taking decisive action against them.
The analysis closes with a section titled "Visions of the Commune," a description of the agitators' reveling in the mayhem they created:
As the police made their retreat, a young Somali woman dressed in traditional garb celebrated by digging up a landscaping brick and unceremoniously heaving it through a bus stop shelter window. Her friends — also traditionally dressed — raised their fists and danced.
A masked shirtless man skipped past the burning Precinct and pumped his fists, shouting, "COVID IS OVER!" while twenty feet away, some teenage girls took a group selfie. Instead of saying "Cheese!" they said "Death to the pigs!" Lasers flashed across the smoke-filled sky at a police helicopter overhead.
A young kid who couldn't be more than seven or eight years old walked up to us with a whiskey bottle sporting a rag coming out the top. "Y'all got a light?" We laughed and asked, "What do you wanna hit?" He pointed to a friendly grocery store and we asked if he could find "an enemy target." He immediately turned to the US Bank across the street.
If the nation's patriots don't cease their underestimation of the Marxsist revolutionaries and rise to the occasion, the "Commune" will soon come to every neighborhood in America.
"Things are not as bad as they can be."
By Paul Joseph Watson – June 18, 2020
A scientist who accurately predicted back in 2010 that 2020 would be "mayhem" now says that a "civil war" in America could be coming next.
Professor Peter Turchin, whose expertise lies in cultural evolution and historical dynamics, said ten years ago in Nature that after the start of 2020, we would see the beginning of "a period of major social upheaval" marked by "mayhem" and "widespread civil unrest".
"They had no reason to believe I wasn't crazy," back in 2010, he told Time. "People did not understand that I was making scientific predictions, not prophecies."
Turchin had looked at data from both violent and peaceful anti-government protests stretching back 230 years before 2010, noting that periods of widespread unrest occur roughly every 50 years and that we were due another in 2020.
The professor said that there were "many signs" chaos would begin in 2020, and that a lot of it relates to the instability caused by "declining wages, wealth inequality and exploding national debt."
"As a scientist, I feel vindicated. But on the other hand, I am an American and have to live through these hard times," he said.
Turchin's track record of accuracy doesn't provide much comfort given what he is predicting comes next.
Due to the dreadful state of the economy as a result of coronavirus and regular violent disorder, the professor warns that the situation "may escalate all the way to a civil war."
"Things are not as bad as they can be," Turchin concluded.
Can't wait.
The FBI is running cover for ANTIFA terrorists.
By Shane Trejo – 6/3/2020
The

Federal Bureau of Investigation (FBI)

is claiming that there is "no intelligence" indicating that

ANTIFA

had a role in fomenting riots that have gripped the country.
This directly contradicts President Donald Trump and Attorney General Bill Barr, who immediately assigned the blame toward ANTIFA for the violence that is happening nationwide.
"The violence instigated and carried out by ANTIFA and other similar groups in connection with the rioting is domestic terrorism and will be treated accordingly," Barr said.
Meanwhile, Trump took to Twitter to announce that "the United States of America will be designating ANTIFA as a Terrorist Organization."
The FBI's Washington D.C. field office reportedly claims that they have "no intelligence indicating ANTIFA involvement/presence" in the riots. They also claim that "CHS [Confidential Human Source] canvassing, open source/social media partner engagement, and liaison" absolve ANTIFA from any blame.
However, the FBI is assigning blame to right-wingers for mean words allegedly made in social media groups. They claim individuals on social media "called for far-right provocateurs to attack federal agents" and "use automatic weapons against protesters." The DHS also claims that far-right social media posts "incited followers to engage in violence and start the 'boogaloo' — a term used by some violent extremists to refer to the start of a second Civil War — by shooting in a crowd."
Big Tech is working with the deep state to cover for ANTIFA terrorists and spread the conspiracy theory that white nationalists are somehow responsible for the violence:
Social media giant Twitter has resorted to blaming a white nationalist group that no longer exists for fomenting riots that have resulted in death and destruction throughout the country.

One Twitter account, @ANTIFA_US, was lampooning the anti-American terrorist group with various posts mocking their extremist stances. They had written that the terrorist group was planning to "move into the residential areas" and "take what's ours."

Twitter, which has been known to harbor hate speech from ANTIFA domestic terrorists for many years, is blaming the defunct Identity Evropa (IE) group for the parody account that has since been removed from the platform. IE was officially disbanded in March 2019…

The American Identity Movement (AIM), a group that was founded to disavow the controversial history of IE, released a statement to address the phony reports running cover for ANTIFA terrorists.

"The unsubstantiated assertion was made without citing any alleged evidence upon which Twitter based such a dubious and inflammatory statement. No effort was made by Twitter to verify its contentions. The issuance of such an unlikely claim without any effort to verify it would be the height of irresponsibility even in normal times," AIM wrote.

"There appears to be an organized effort by partisan politicians, advocacy journalists, and left-wing activists to shield the rioters who have shaken the nation from coast to coast in recent days by pushing a kooky conspiracy theory that "white supremacists" have infiltrated the rioters and are the "real" source of the arsons and attacks on policemen," they continued.

"Neither Identity Evropa nor American Identity Movement have advocated, incited, or participated in violence or the fabrication of Antifa Twitter accounts. In addition to moral objections to such behavior, there would be no point in concocting such tweets when social media is replete with Antifa approval, incitement to and participation in such actions," AIM added.
The sorcerers in Big Tech, the fake news media, and the Democrat Party are trying to invert reality with devious propaganda so the Soros-funded ANTIFA collective can avoid consequences for their many terror campaigns.
By Joe Hoft – May 19,2020
The Intel Community

is reportedly no longer delivering the threats briefings. 
It appears Director

Chris Wray

's FBI cannot be trusted.
Jack Posobiec reported overnight that the Acting Director of National Intelligence, Ric Grenell, is no longer allowing the FBI to deliver the threats briefings.
Obviously the FBI is in serious trouble.
The
FBI Director

Christopher Wray

is a corrupt and a worthless leader of the world's most powerful law enforcement agency. 
Judge Jeanine also said as much just last night adding that Wray is part of the deep state.
After years of corruption, Wray and his FBI can no longer be trusted to do what is right and just.

This post was updated to clarify the FBI will no longer deliver the threats briefings.
May 18, 2020
I just opened my dictionary to look up the word "pettiness". You'll never guess what I found! "CNN" and "MSNBC".
By Mark Dice – May 15, 2020
AOC is less intelligent than a brain damaged goat. And, that's being generous.
By Joe Hoft – May 15, 2020
Representative Jim Jordan

requested the US State Department under

Mike Pompeo

to turn over documents related to Obama Deep State employee

Eric Ciaramella

and Ukrainian firm Burisma.
Sara Carter reported overnight:
Republicans are demanding that Secretary of State Mike Pompeo turn over a broad scope of unredacted Obama-Biden State Department documents pertaining to the corrupt Ukrainian company that was at the center of the impeachment inquiry earlier this year against President Donald Trump.
In a document sent to Pompeo, Jordan wrote:
"I write regarding documents that the State Department recently released pursuant to the Freedom of Information Act (FOIA)," stated Jordan, in a letter to Pompeo on Thursday. "Although these documents are partially redacted, they appear to shed new light on the actions of State Department employees during the Obama-Biden Administration in relation to the corrupt Ukrainian energy company, Burisma Holdings, and its founder, Mykola Zlochevsky."

Jordan requested that the information be delivered to the committee by May 28. He asked for:

Unredacted copies of all documents released pursuant to the Freedom of Information Act relating to Burisma Holdings, Mykola Zlochevsky, or Hunter Biden;
All documents and communications referring or relating to Burisma Holdings or Mykola Zlochevsky for the period January 1, 2014, to January 20, 2017; and
All documents and communications referring or relating to Hunter Biden, Christopher Heinz, or Devon Archer for the period January 1, 2014, to January 20, 2017.

According to Jordan the State Department documents also reveal that the alleged "whistleblower" who began the partisan impeachment against Trump "also played a role in facilitating the Obama-Biden Administration's interactions with the Ukrainian government relating to Burisma and Hunter Biden."

Jordan told Pompeo that the documents reportedly detail "how the 'whistleblower,' as a National Security Council (NSC) detailee, hosted a White House meeting that took place with Ukrainian prosecutors in January 2016 regarding a concern that Hunter Biden's role with Burisma could complicate a potential prosecution of the company's wrongdoing."
We first reported on the meeting at the White House involving the suspected fraudulent impeachment whistleblower, Eric Ciaramella, in early November 2019.
According to Stephen McIntyre a demand that Ukrainian top prosecutor Viktor Shokin be fired as a condition for an IMF loan, almost certainly originated with Biden staff.
The demand was first announced to Ukrainian prosecutors at a January 19, 2016 meeting with US officials hosted by Eric Ciaramella.
A search on the White House visitor logs during the final year (2016) of the Obama administration lists Eric Ciaramella over 200 times. Ciaramella hosted a meeting with Ukrainian diplomat Andrii Telizhenko on January 19, 2016 in the Obama White House.
And we also discovered that Artem Sytnyk, the director of Ukraine's National Anti-Corruption Bureau (NABU), a Soros group, who leaked documents on kickbacks to Manafort during the 2016 election, was also at the meeting.
Fool Nelson first reported this on October 12 before Ciaramella was alleged publicly to be the whistleblower.
We reported that this was the only listed White House meeting attended by Andrii Telizhenko in 2016. This was also the meeting where Hunter Biden was discussed. This was the meeting where Ukrainians were told to end their investigation of Hunter Biden. And White House expert Eric Ciaramella HOSTED the January 19, 2016 meeting.
Other individuals with shady backgrounds visited Eric Ciaramella in the White House –
Here's a guest from the Hudson Institute and Estonia –
(The Hudson Institute promoted a piece by George Soros where he claimed the war on drugs had failed.)
And another from Estonia –
And a Deep State Pentagon official specializing in Russia, George Tagg, Jr. –
And another connection to Soros via USAID – Suren Avanesyan – Soros reportedly received US taxpayer dollars through this agency –
Suren Avanesyan currently serves as Acting Division Chief of the Democracy and Governance Division and Senior Advisor for Rule of Law, Governance and Anti-Corruption in the Bureau for Europe and Eurasia in the United States Agency for International Development (USAID). As Division Chief, he is responsible for managing a team of senior technical advisors, project support staff and for determining strategic direction and priorities of the Democracy and Governance Division.
Here's Bart M.J. Szewczyk from the Marshall Fund –
About the Marshall Fund –
And here's another connected to USAid and George Soros – John VanSandt –
And another connection to the Ukraine – Joseph Wereszynski –
And the Ambassador to Lithuania –
And another from the Marshall Fund – Michael Kimmage –
And a lady from Lithuania – Solvita Aboltina – she looks nice –
And a couple more from the Baltic States – where money laundering ran high
And another from Latvia –
What were all these shady individuals from Baltic States and Soros connected entities doing with Eric Ciaramella in Obama's White House?
Let's hope Pompeo's State Department addresses the House request.  If not, then it's time for Pompeo to go.
Hat tip D. Manny
MAY 15, 2020
The nine most scary words you'll ever hear: "I'm from the government , and I'm here to help"! President Ronald Reagan.
By Jim Hoft – May 14, 2020
DEEP STATE ERUPTS!
Judge Sullivan appoints Retired Judge to Fight Back Against Trump DOJ and

Attorney General William Barr

!
As we reported last night–
Obama's Deep State henchmen who set up General Flynn and the crooked politicians and media hacks who supported them are terrified.
TRENDING: BREAKING: DEEP STATE FIGHTS BACK! Judge Sullivan Appoints Retired Judge to Argue Against Government's Motion to Dismiss Case Against Flynn – Wants to Hold Flynn in Contempt!
More information on Obamagate is expected to drop in the coming days.
An audio of former President Barack Obama, whose Administration spied on the Trump team and Administration, was released by deep state reporter Michael Isikoff at Yahoo News on Friday night.
In the "call" which appears totally set up, Obama says he is concerned about "the rule of law."
Obama also accused Flynn of committing "perjury"!
Apparently, Judge Emmet G. Sullivan took this call to heart.
On Tuesday the Clinton-appointed judge made a dirty, political move to delay justice for General Mike Flynn.
The Justice Department dropped its case against General Mike Flynn last Thursday after bombshell documents released proved he was framed by Comey's FBI.
But Judge Sullivan extended the case by soliciting amicus briefs to allow for public comment on Flynn's criminal case.
And now this…
Judge Sullivan today appointed retired Clinton appointee judge John Gleeson to argue against the government's motion to dismiss the charge against Flynn!
This is unheard of!
On May 11, 2020, John Gleeson penned this Washington post article "The Flynn case isn't over until the judge says it's over".
First the attorneys for the Mueller team withheld Brady evidence from General Flynn for over a year and now this crooked judge won't acquit!
Also Sullivan asked the retired judge to look at whether Flynn could be held in criminal contempt for perjury.
**** This is exactly what Obama said — even though Flynn DID NOT commit perjury!
THE DEEP STATE IS FIGHTING BACK!
Via Kyle Cheney from far left Politico.
Here is Judge Sullivan with James Boasberg & Rosemary Collyer who both signed the FISA warrant. Judge Contreras Flynn's first Judge had to be removed from the case because of his personal relationship with Strzok. And the corrupt Amy Berman Jackson.