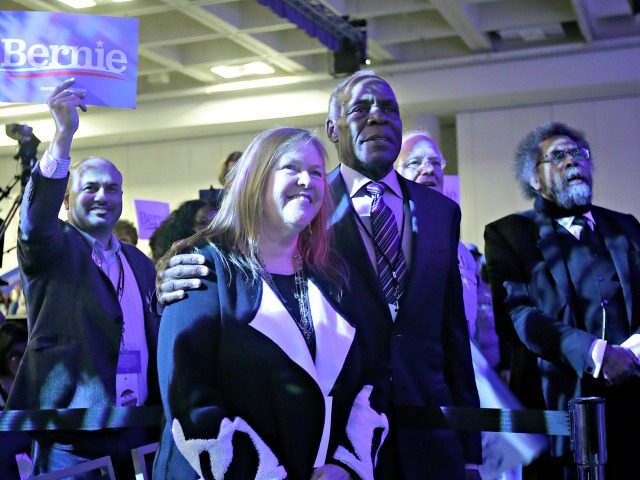 By Haris Alic
A major donor who introduced 2020 Democrat presidential candidate

Sen. Bernie Sanders (I-VT)

at his first 2020 "grassroots fund-raiser" previously advocated for the South to secede so it could stop "dumbing down national politics."
On Saturday, Sanders's presidential campaign hosted a star-studded event in San Francisco, which it billed as "grassroots fundraiser and friendraiser." Tickets for attendance started at $27 and went up to $2,800, the maximum contribution allowed by the Federal Election Commission.
Although the event drew attention with its high-profile speakers, including actor Danny Glover and activist Cornel West, the man who introduced Sanders, Guy Saperstein, received little notice. In its coverage of the fundraiser, The New York Times described Saperstein as a "retired civil rights lawyer" and wealthy "political contributor," who was out of place given Sanders' broadsides against big money in politics.
What the Times failed to mention is that Saperstein, a former president of the Sierra Club, has a long and somewhat controversial history in Democratic politics.
As previously reported by the Washington Free Beacon, Saperstein in 2014 was a member of a private Google group consisting of "progressive organizers, reporters, and campaign apparatchiks." As a member of that group, Saperstein openly discussed his support for Southern secession.
"For more than 100 years, the South has been dumbing down national politics, tilting the country in a conservative direction, supporting militarism, all while demanding huge financial subsidies from blue states," Guy Saperstein wrote in emails to other members. "It would be 100% fine with me if the South was a separate nation, pursuing its own priorities and destiny."
When the emails were leaked to Media Trackers, a now defunct Wisconsin conservative news outlet, Saperstein doubled down on his stance.
"Secession would be a gradual process, giving any blacks who felt threatened time to relocate," he told Media Trackers at the time.
It is unclear if Sanders knew about Saperstein's prior remarks. The senator's campaign did not return requests for comment.
The issue, however, underscores a potential vulnerability for the self-described Democratic socialist from Vermont. During his 2016 presidential campaign, Sanders failed to gain traction in the South. Sanders lost every single state in the region to former Secretary of State Hillary Clinton, the eventual nominee. In some states like South Carolina, where African-American voters make up a large portion of the Democratic electorate, Sanders was defeated by landslide margins.
Saperstein is also a former member of the Democracy Alliance, the secretive group of liberal billionaires—which also includes Tom Steyer and George Soros—that funds Democratic campaigns and causes across the country.
'Fuck you and Donald Trump, nigga!'
An angry anti-Trumper harassed and physically assaulted Trump supporters during a pro-Trump demonstration in

California

.
Video footage shows an angry black man pull up in a car and get out to curse at several Trump supporters demonstrating on a curb, going as far as knocking the hat off one and spitting on a woman while shouting "Fuck Donald Trump!"
"Fuck Donald Trump, nigga! Fuck Donald Trump! Fuck you and Donald Trump!" he yelled inches from their faces. "Because you don't like my skin, nigga! That's why!"
A pro-Trump woman yelled back through a megaphone, "Donald Trump is your president whether you like that shit or not, if you don't like the president then you can get the fuck outta my country then!"
The man then approached her, saying "Fuck you and that nigga!" before spitting on her.
Other anti-Trumpers arrived, trying to fight the Trump supporters and steal one of their American flags.
Police soon arrived and arrested the irate man after being presented video evidence of his assaults against supporters.
As we've reported, violence against Trump supporters is frequent, consistent, and well-documented despite mainstream media efforts to downplay or ignore these reports.
Deep State goon terrified of Barr's candor and transparency
By Newswars.com
A former

FBI

agent expressed his dismay on

MSNBC

over

Attorney General William Barr

's string of televised interviews explaining the Department of Justice's actions in investigating the origins of the Deep State Russia witch hunt.
Speaking on "AM Joy" on Saturday, expert Clint Watts lamented Barr's network appearances, claiming he's "advancing" Trump's "conspiracy" that the Deep State tried to overthrow him with the FBI's Russia probe.
"Why is the Attorney General doing interviews?" Watts asked. "The Attorney General answers questions, he doesn't raise them. So every time he goes out and does one of these interviews, he is advancing the conspiracy without evidence."
"The attorney general's job is to present evidence on the basis of cases. A year ago, when he's out in the private sector and he's hanging out and he wants to write a 19-page memo, he has the right to do that."
"He doesn't need to be asking questions and sowing a conspiracy," Watts added.
Interesting take, considering the media and Democrats, in a massive propaganda effort, have been pushing the conspiracy theory for over two years without evidence that President Trump colluded with Russia to win the 2016 presidential election.
By Tim Hains
Former CIA Director

John Brennan

warned Republicans who support President Trump that they are on a sinking ship, in an appearance Wednesday morning on MSNBC's "Morning Joe." 
"I'm waiting for the Republicans to realize that the Trump ship is a sinking one," he said.
"There are still rats on that ship, and there are individuals who are not going to separate themselves from Trump. They do so at their own peril. They need to fulfill their obligations, irrespective of their political affiliations. This is now the presidency and institutions of government we rely on to keep us safe and secure."
MIKE BARNICLE: Last week, there was another continued swipe ordered by the president of the United States, who whatever he says is a megaphone and resonates throughout the country because of the way it is carried, in which he basically said that people like you and several other people in the intelligence community were responsible for trying to participate in a coup, to undermine the presidency of the United States and to remove the president of the United States. What does it do — nevermind to you personally — what does it do to institutions like the NSA, the CIA, the FBI.

JOHN BRENNAN: It continues to show Mr. Trump's disdain for the intelligence and law enforcement communities, who are trying to do their jobs irrespective of political winds that might be blowing in Washington. It really is demoralizing for Mr. Trump to continue to say there is this "deep state" that tried to launch a coup, and that he is trying to "clean the swamp," while in fact, it is those professionals within the intelligence community, law enforcement community, who are trying to carry out their duties and responsibilities to the American people. Mr. Trump just continues to go down this road. I think it is having a very damaging impact.

WILLIE GEIST: What do you think, Director Brennan, happens from here? I think people watching want to know. They say, okay, Mueller didn't like how the report was characterized by the attorney general. Fine, on the issue of obstruction of justice. Now, what? Is it Mueller sitting before the Senate and answering specific questions about what is inside the report? What is the outcome of this?

JOHN BRENNAN: Barr has to be interrogated.

WILLIE GEIST: That starts this morning at 10:00.

JOHN BRENNAN: And then Bob Mueller has to get in front of Congress, then Congress has to do its job.

And I'm still waiting for the Republicans to realize that the Trump ship is a sinking one. There are still rats on that ship, and there are individuals who are not going to separate themselves from Trump. But they do so at their own peril. And they need to fulfill their obligations, irrespective of their political affiliations. And to do it now rather than to allow this continued sinking of not just the presidency, but of these institutions of government that we rely on to keep us safe and secure.
The pioneer cable news network is getting crushed in the ratings, coming in below Home and Garden TV, and has recently downsized and changed freelance payment terms – but shows no interest in changing the tone of its programming.
Both CNN and MSNBC have allowed themselves to be defined by hostility to both the administration and President Donald Trump personally since the 2016 election, breathlessly pushing the 'Russiagate' conspiracy theory.
While this strategy has largely worked for MSNBC – at least until special counsel Robert Mueller was forced to admit Russiagate was bogus – CNN has struggled to attract an audience beyond those trapped at hospitals and airports.
'You're called fake news': Lavrov shoots down CNN's 'fake question' on Venezuela
Nielsen TV ratings for May show Fox News dominating for the 35th straight month with 1.3 million total day viewers, MSNBC lagging behind with 909,000, and CNN in the eighth place with 552,000.
CNN wasn't even in the top 15 primetime spots (for comparison, HGTV came in fifth), and its three main primetime shows – hosted by Chris Cuomo, Anderson Cooper and Don Lemon – ranked 25, 26, and 35, respectively.
Could this have anything to do with the network's obsession with Trump and his administration that no longer bothers hiding naked partisanship? No way, says CNN leadership, insisting they are "real news" and claiming to be victims of Trump's "attacks" on "free press."
In the real world, CNN offered buyouts to 100 or so people at its Atlanta, Georgia headquarters, earlier this month, including CNN International executive vice president Tony Maddox. Since then, it has also laid off a number of people from its Health division and drastically cut back production at its London bureau.
Furthermore, the network's parent company Warner Media recently sent out a notice to contractors that it is changing payment terms beginning in June, from 30 days to 90 days – essentially asking anyone it contracts to wait three months to get paid.
But hey, have you heard that the US government now owns a condominium in New York City's Trump Tower, because of the Mueller probe? Priorities, people!
The twist is that CNN boss Jeff Zucker is laughing all the way to the bank, because CNN's annual profits have doubled to $1.2 billion during his tenure. Some 70 percent of the network's revenue comes not from advertisers but from carriage fees charged from cable and satellite operators. Some 90 million US households pay these fees every year, effectively subsidizing CNN and giving the network very little incentive to change its ways.