By Errin Haines Whack
When Democrat

Beto O'Rourke

takes the stage in the second round of presidential primary debates on Tuesday, three young black men from Michigan who were inspired by ex-NFL player Colin Kaepernick to kneel during the national anthem before their high school football games will be in the audience as guests of the former Texas congressman.
O'Rourke reached out to ex-Lansing Catholic High School football players Michael Lynn III, Matthew Abdullah and RoJe Williams and spoke with them by phone last week. Teammate Kabbash Richards is away at college and unable to attend the debate.
O'Rourke, whose defense of NFL players who chose to take a knee to protest police brutality and racism went viral in 2018, learned of the men's story and found them through "general local outreach," his campaign said.
In a statement to The Associated Press on Monday, O'Rourke said the four "have served their community in one of the most American ways possible."
As a Democratic primary candidate, O'Rourke has been outspoken on issues of race, particularly white identity and privilege. Earlier this month, he revealed that he and his wife, Amy, recently discovered they have ancestors who owned slaves.
As players at Lansing Catholic, the four took a knee together in 2017. Lynn, the team captain, said he decided to kneel after watching Kaepernick, a former San Francisco 49ers quarterback, and thinking about the racism he dealt with as one of a handful of black students at his high school.
"I was a senior. I was getting to the age where I wanted to say something,"said Lynn, who recalled trying to speak up when his white teammates would make inappropriate jokes or comments.
Lynn and his teammates were benched for their protest, and eventually Lynn and Abdullah transferred to other high schools.
It was nearly a year later that Lynn's mother sent him the video of O'Rourke's remarks, in which the then-Senate candidate explained to a mostly white crowd that Kaepernick's protest was about focusing attention on the killings of unarmed black men by law enforcement.
"I can think of nothing more American than to peacefully stand up or take a knee for your rights anytime, anywhere or anyplace," O'Rourke said to applause at an August 2018 campaign event that quickly went viral, thrusting the obscure O'Rourke into the national spotlight and propelling him to a 2020 presidential run.
Lynn recalled feelings of affirmation after watching the video.
"People on the other side of it make us feel like we're not as American as them," Lynn said. "The fact that he said that and feels that way, from his heart, that was really powerful. That's what put Mr. O'Rourke on my radar."
The three men have reached voting age and will meet O'Rourke for the first time Tuesday night.
Lynn said he is undecided about whom to vote for but looks forward to shaking O'Rourke's hand and seeing all the candidates in person.
"That's going to be cool," Lynn said.
___
This story has been corrected to show O'Rourke found the men through local outreach, not after one of their families donated to his campaign; the teammate's name is spelled Kabbash, not Kabbalah; and the teammate was not on the phone call.
FBI apprehends terrorists as they tried to board flight at Tucson International Airport
JULY 30, 2019
Two Somali refugees

were arrested after the

FBI

uncovered a plot for them to join

ISIS

abroad or conduct an attack

inside the United States

.
"Ahmed Mahad Mohamed and Abdi Yemani Hussein, were arrested for conspiring to provide material support and resources to ISIS, a designated foreign terrorist organization," reports the DOJ.
Mohamed had obtained lawful permanent residency within the U.S. and Hussein remained a refugee.
The suspects had been in communication with an undercover FBI agent whom they thought was an ISIS supporter and had purchased airline tickets to travel to Egypt, with the intention to travel on to Sinai and join ISIS.
If they were unable to travel for any reason, the pair had planned to carry out an attack inside the United States.
FBI agents arrested the suspects right before they tried to board a flight at Tucson International Airport in Arizona.
President Trump tweeted about the arrests this morning, commenting, "Somali refugees arrested in Tucson on way to Egypt. They were in touch with an agent posing as a terrorist. One of them stated, "The best wake up call is Islamic State to get victory or another 9/11." Get smart people!"
"Those who do not comply, will not be let in."
By Paul Joseph Watson – JULY 30, 2019
A swimming pool in the

German city of Düsseldorf

has been forced to introduce mandatory ID card checks in an effort to stop

sexual assaults

and rowdy behavior by migrant youths that has required the police to be called out on numerous occasions.
Following a crisis summit between administrators, the mayor and the police chief, an online ticket system linked to people's IDs has been established to control who is allowed to enter the pool.
"In Rheinbad we have introduced an identity card for all visitors," said Düsseldorf Mayor Thomas Geisel. "Those who do not comply, will not be let in. It is absolutely unacceptable and inconceivable that families who want to spend their free time here are harassed by youth gangs."
As we reported earlier this month, the pool had to be closed twice after hundreds of male migrants harassed a family, prompting a huge police deployment.
Last Friday, the pool had to be cleared again as around 60 North African migrants began engaging in aggressive beahvior. Outnumbered, the six security guards on patrol had to call police for backup. 20 officers arrived and the pool was closed.
"It should be known, that before the migrant crisis, German swimming pools didn't need six security guards to maintain order. It's likely that they didn't need any at all," comments Voice of Europe.
It remains to be seen how authorities will prevent the kind of people who cause mayhem from using the pool. They could only really do so by barring people from North African countries, which would set off a nationwide controversy and lead to widespread accusations of racism.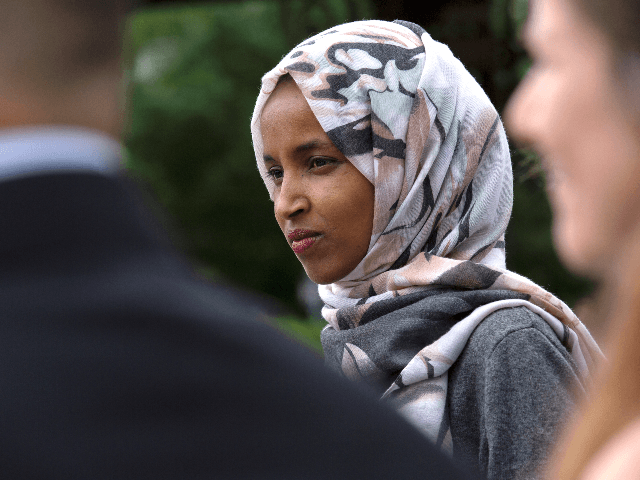 By Katherine Rodriguez
Rep. Ilhan Omar (D-MN)

said Sunday that

President Donald Trump

is "stoking white nationalism" after he penned an earlier tweet suggesting that a few unidentified progressive congresswomen should "go back" to where they came from.
"You are stoking white nationalism because you are angry that people like us are serving in Congress and fighting against your hate-filled agenda," Omar, who was born in Somalia and came to the U.S. as a refugee with her family, tweeted.
Omar's tweet was a response to Trump's series of Sunday morning tweets telling a group of progressive Democrat lawmakers to "go back and help fix the totally broken and crime infested places from which they came" before coming back to show the U.S. "how it is done."
His tweets evoked a response from House Speaker Nancy Pelosi, who "rejected" Trump's "xenophobic comments meant to divide our nation" and urged him to come up with an immigration policy that would "stop the raids."
Rep. Justin Amash (I-MI) also condemned Trump's comments, noting that most people in the group he singled out were American citizens who were "born here."
"To tell these American citizens (most of whom were born here) to 'go back' to the 'crime infested places from which they came' is racist and disgusting," Amash wrote.
Undocumented migrants

calling themselves the

'Black Vest'

protesters flooded the Pantheon in Paris and demanded the right to remain in France. The protesters vowed to remain on site until all of the illegals get proper papers.
The majority of the protesters, who call themselves 'Black Vests' – in an analogy with the Yellow Vests movement – are believed to be migrants of West African origin.
"We are paperless, voiceless, faceless for the French Republic. We come to the graves of your great men to denounce your disrespect," one of the protest organizers said in a statement ahead of the event.
"We will remain here until the last one of us has been given documents," a leaflet given out by an organiser read.
The protest triggered a massive police response, several people have been reportedly detained. Initially, the event was maily peaceful with the protesters displaying banners and shouting slogans without getting rowdy and avoiding scuffles with law enforcement.
https://www.rt.com/news/464038-black-vest-protesters-occupy-pantheon/
After spending several hours inside, the protesters vacated the monument, yet refused to disperse and tried to held a sit-in protest in front of it.
The situation around the Pantheon eventually turned violent with police repeatedly charging the crowd in an attempt to disperse it. Police used batons and pepper spray to subdue the protesters; several people have been reportedly injured in the scuffles.
Right wing leader Marine Le Pen called the occupation unacceptable. She tweeted: "In France, the only future for any illegal immigrant should be getting kicked out, because that's the law." 
There were those among the French politicians who, on the contrary, voiced support. "It's very important for me that everything goes – at the moment –without violence, peacefully. I hope that their demands will be heard, these people have been protesting for a long time, yet so far they see nothing from the government but a closed door," Eric Coquerel, a member of the National Assembly, stated.
A similar protest was staged by the group back in May, when the Black Vests occupied Charles de Gaulle airport in Paris. The protesters demanded legal papers for all, as well as accused the Air France carrier of collaborating with the government in the quest to deport illegal migrants.
Riot cops deployed across major cities
JULY 12,2019
Algerian football fans in

Paris

,

Marseille

,

Lyon

and other cities celebrated their soccer team's

Africa Cup of Nations

win by rioting, looting stores and wielding chainsaws in a night of chaos.
Algerians poured out onto the streets following their team's victory over Ivory Coast last night.
Police were deployed to the center of Paris to keep order as vandals threw fireworks. One video even shows a man wielding a chainsaw.
Another clip shows aggressive fans, some wearing the colors of Algeria, smashing shop windows and breaking in.
The fans shouted "Allahu Akbar!," "Nique la France" (Fuck France) and "on va baiser des keufs" (We are going to fuck the cops) as they attacked store fronts.
"Tensions started boiling by around 11pm with at least one Molotov cocktail thrown at police lines. Riot forces responded with tear gas and rubber bullets to stop the crowd from vandalizing cars and looting shops," reports RT.
Similar disturbances were also reported in Marseille, Lyon, Valence and other French cities.
Another clip shows French police deploying tear gas as fans flee down a street.
As we previously reported, during last year's World Cup, a woman and her partner were viciously beaten in Paris by a group of Algerian men the sin of shouting "Vive la France!"
French cities were also besieged by anarchists and migrants after the World Cup final, with shops being looted, vehicles set alight and buildings torched.
By Robert Bridge
America's

'progressive'

lunatic fringe is in a heated contest with itself to see who can make the most outrageous claims of victim-hood and oppression. Such a deranged pastime can only lead to national ruin.
In the latest episode of stupid Liberal stunts, we pay a visit to the Starbucks in Tempe, Arizona, where a disgruntled individual reportedly felt uneasy about a heavy police presence inside the coffee shop. Was this anxious person a criminal, perchance, annoyed that his plans for daylight robbery were dashed by Tempe's finest? Nope. Perhaps he was an escapee from the local penitentiary who'd just had the misfortune of being in the wrong place at the wrong time? Wrong again.
Arizona cops spark #dumpstarbucks campaign after officers asked to leave store
According to the Tempe Officers Association, six members of the local police force were standing together "having a cup of coffee before their long 4th of July shift" when they were approached by a barista, who informed the officers that an ordinary customer "did not feel safe" because of their presence.
The barista then requested – with the sweetest smile money can buy, no doubt – that the cops "move out of the customer's line of sight or leave." The compliant officers, probably too stunned to formulate a better response, obeyed the request and hastily beat a retreat out the door.
This brief exchange proves the all-American maxim, which says 'the customer is always right,' has been taken to a whole new level of madness. Worse, it demonstrates how easily offended Americans – indoctrinated as they are on a regular basis with political correctness and social justice ideology – have become over the most trivial matters.
What should have occurred – and in fact would have occurred about a decade earlier – is that the Starbucks employee, taken aback by such a strange complaint (on the Fourth of July, no less!) would have consulted with his or her manager on the matter. Then, in all likelihood, the manager would have calmly explained to the distressed customer that the police officers were regular patrons and had every right to be inside the shop, too. Far more likely, however, is that nobody would have thought to express discomfort about police officers inside of a coffee shop just a few short years ago. But these are brave new days in the United States.
It should come as no surprise that the Starbucks employee was only too happy to indulge the complaining customer. The barista, however, should not be judged too harshly. After all, playing the victim card has become institutionalized to such a degree in the US that even city councils and corporations appear helpless before its powerful influence.
Just this month, for example, former NFL quarterback Colin Kaepernick complained to Nike, the sports shoe maker, that "he and others" found their latest line of footwear, which carried the Betsy Ross-era flag of a younger United States, "offensive." Why? Because the 13-star flag, representing the colonies that fought successfully against British rule, made its inaugural appearance when slavery was still part of the young nation's experience.
How did the Fortune 500 company respond to the complaint by Kaepernick, whose claim to fame to date has been to 'take a knee' during the opening national anthem before NFL games to protest police brutality? Nike responded much like the Starbucks barista did when confronted by the "annoyed" customer: it immediately acquiesced to the request, pulling the line of trainers from production, even though the claim that the flag is associated with 'white supremacist' groups is a gross exaggeration: it even featured prominently at Barack Obama's 2013 presidential inauguration.
Meanwhile, in yet another blow this month to diehard American traditions and institutions, very non-politically correct MAD magazine fell heavier into the dust than a bronze Civil War-era statue. The 67-year old satire publication, which encouraged several generations of Americans to take a cynical, distrustful attitude towards politics, as well as other features of modern society, was destined to fall in these very unfunny times. After all, with every fiber in the liberal body acting as antennae to hunt down the slightest offense, even ironic ones, the death and demise of a magazine that preyed on moronic behavior with scathing wit never stood a chance.
Earlier in July, the wise city fathers of Charlottesville, Virginia, said they will no longer celebrate Thomas Jefferson's birthday as an official city holiday, opting instead for a day devoted to the emancipation of African-American slaves. Jefferson was both a slave-holding president as well as a Founding Father who wrote the original draft of the Declaration of Independence.
America's homegrown Taliban, which consider themselves to be 'progressive,' are actively destroying statues, publications, flags, symbols and even intellectual debate on college campuses. This unprecedented phenomenon has spawned a dangerous mindset in Americans that supports the idea that any person who feels uncomfortable with some aspect of society – even if it happened hundreds of years ago – should be coddled like a child and given exactly what they want.
America takes great pride in being a nation of vast cultural diversity – possibly the most diverse collection of people ever assembled under one roof. Yet, at the same time, it has declared open season on tolerance and difference of opinion. Even history itself has been declared an enemy. This is an impossible and even dangerous venture. Today, no idea, no historic artifact, no symbol that attracts uncomfortable associations for some minority group of people is deemed permissible. What is quickly happening, therefore, is that a large segment of the US population has declared war on American history, which is filled – as is the history of every nation – with stories of triumph mixed with tragedy.
However, to think that by destroying historical statues and forbidding the expression of certain words and emblems will somehow correct past wrongs is a very dangerous misconception. In fact, what this 'killing of history' will ultimately do is guarantee that the American people will be doomed to repeat terrible chapters of their violent past.
It's time to stop coddling the complainers and leave the historical markers alone. If we're going to continue to be a nation of many different colors and creeds, then we need to bravely and honestly accept our history, warts and all. It is really the only way forward.