By Jose Nino – 2/18/2020
At the New Republic, staff write Osita Nwanevu called for the destruction of the GOP.
Nwanevu cited the cases of President Donald Trump and Roy Moore as why the GOP should go the way the of the Dodo.
The writer took issue with the Republican National Committee's decision to continue supporting Moore amid allegations of child molestation. He also criticized the Trump administration for its caging of children at the border.
What bothers Nwanevu the most is how the Republican Party has backed Trump all of this time.
He even tried to link Trump to the previous failed administration George W. Bush.
Nwanevu attempted to draw the comparison below:
Trump's own rhetoric of division and exclusion was preceded by the 2004 reelection campaign for George W. Bush, which took advantage of homophobia to boost turnout from social conservatives. Before thousands of Puerto Ricans devastated by Hurricane Maria were forced by the Trump administration's shoddy recovery effort to ask themselves whether they were really Americans after all, thousands of African Americans failed by the Bush administration's relief efforts after Hurricane Katrina posed the same question to themselves. Trump's intimations that the federal executive is above the law may well have been bolstered by the Bush administration's warrantless surveillance of the American people. Even Trump's efforts to integrate his companies within the processes of the state were preceded by the Bush administration's curious keenness for contracts with Halliburton, the company Vice President Dick Cheney ran before Bush took office.
The writer also criticized Trump for sowing divisions based on racial lines.
In Nwanevu's view, "Donald Trump is not a departure from the values defining the Republican Party, but the culmination of its efforts to secure power in this country."
He took it a step further by describing the Republican party as "a reliable opponent of equality and a malignant force in American life—a cancer within a patient in denial about the nature and severity of her condition" that must ultimately be "destroyed—vanquished from the American political scene with a finality that can only be assured not by electoral politics or structural reforms alone, but by a moral crusade."
The staff writer gushed about demographics, largely propelled by post-1965 Immigration Act policies, as a main driver of the inevitable political change in America.
The Left is no longer hiding their intentions when it comes to mass migration.
They understood full well its political implications, which is why they constantly brag about the GOP's upcoming demise.
The GOP should take these threats seriously, and work day and night to re-elect President Trump and take back the U.S. House.
Trump should take the gloves off in his second term and carry out substantial immigration restrictions such as ending birthright citizenship and chain migration, fully funding the border wall, restricting pathways to citizenship, and completely defunding sanctuary cities to deny Democrats the permanent electoral majority they so desire.
The time for talk is over.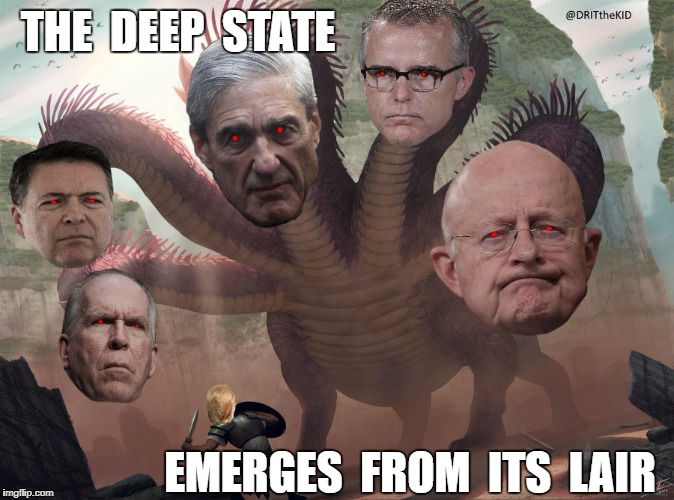 by Kristinn Taylor February 18, 2020
Just weeks after

President Donald Trump

was acquitted by the Senate of bogus partisan impeachment charges by the

House of Representatives

, a group of federal judges will hold an 'emergency meeting' on Tuesday. 
The judges will meet to discuss the intervention by Attorney General William Barr against the abusive proposed sentence for Roger Stone and the criticism by President Trump of the proposed sentence and the federal judge overseeing the case, Judge Amy Berman Jackson, as well as other actions by Barr and Trump regarding 'politically sensitive' cases before the judiciary.
The emergency meeting will be held via conference call with officers and members of the executive committee of the 1,100 member Federal Judges Association because, association president Judge Cynthia Rufe (a Bush 43 appointee) said, "We just could not wait until April to discuss matters of this importance." The judges' annual meeting is set for April 18-19 in Denver.
The meeting comes on the heels of a letter signed by over 1,000 former Justice Department Deep State operatives calling on Barr to resign for overruling the punitive sentence of 7-9 years in prison proposed by federal prosecutors for Stone. The four prosecutors in the case resigned in protest over Barr's intervention.
Judge Jackson will preside over a phone hearing in the Stone case on Tuesday. Stone has asked for a new trial after it was reported last week the foreman of the jury that convicted him is a virulent anti-Trump Democrat who posted about Stone's case.
USA Today reported on the emergency meeting:
A national association of federal judges has called an emergency meeting Tuesday to address growing concerns about the intervention of Justice Department officials and President Donald Trump in politically sensitive cases, the group's president said Monday.

Philadelphia U.S. District Judge Cynthia Rufe, who heads the independent Federal Judges Association, said the group "could not wait" until its spring conference to weigh in on a deepening crisis that has enveloped the Justice Department and Attorney General William Barr.

"There are plenty of issues that we are concerned about," Rufe told USA TODAY. "We'll talk all of this through."

…Rufe said the judges' association is "not inclined to get involved with an ongoing case," but she voiced strong support for Jackson.
"I am not concerned with how a particular judge will rule," Rufe said, praising Jackson's reputation. "We are supportive of any federal judge who does what is required."
Rufe said the group has not decided how it will report the result of its meeting, if at all. "We just could not …wait until April to discuss matters of this importance," she said.
After Trump took Jackson to task on Twitter last week, another jurist – District of Columbia Chief U.S. District Judge Beryl Howell – appeared to rally to Jackson's side.
"The Judges of this Court base their sentencing decisions on careful consideration of the actual record in the case before them; the applicable sentencing guidelines and statutory factors; the submissions of the parties, the Probation Office and victims; and their own judgment and experience," Howell said in a written statement. "Public criticism or pressure is not a factor."
The Federal Judges Association describes itself:
The Federal Judges Association (FJA) is a national voluntary organization of United States federal judges, appointed pursuant to Article III of the Constitution, whose mission is to support and enhance the role of its members within a fair, impartial and independent judiciary; to actively build a community of interest among its members; and to sustain our system of justice through civics education and public outreach.

The independence of Article III judges is assured under the Constitution by their appointment for life without diminution in pay. Nominated by the President of the United States and confirmed by the United States Senate, Article III judges are thus protected from intimidation, undue influence, coercion, or domination so that they may judge fairly and independently in every case, as the law and facts require.

Inevitably, from time to time, some judicial decisions are unpopular. The FJA, as an independent organization, can speak in one voice to protect the independence of the judiciary and to explain its significance to a free society. The Association expresses the collective view of Article III judges to other branches of government and the public on issues related to fair and impartial courts.
Mitt Romney

is the latest token Republican being hoisted up on the shoulders of the mainstream media thanks to his "courageous" decision to defy Donald Trump by voting with Democrats to impeach the president.
You would think the Utah senator single-handedly defeated Islamic State (IS, formerly ISIS) and then rescued a few kittens out of trees on his way home the way the media is writing about him.
The New Yorker declared that the former presidential candidate "seized" a chance to "rewrite his own place in history" with his impeachment vote.
An opinion piece in the Washington Post deemed the decision "courageous," and Twitter was full of love for the man once eviscerated by liberal commentators for simply saying "binders full of women."
The lionization of Romney is nothing new. The mainstream media always keeps a few token Republicans around, and they usually have one they deem worthy of their praises, so long as that person happens to fit with the current agenda, and the current agenda is opposing Trump, so Romney is temporarily safe from the usual scorn his party affiliation and faith receive.
Others have also found themselves walking down that path of praise, past mockery cast aside so they can be deemed heroes for daring to break from Republican ranks and oppose the president.
John McCain
Romney has been crowned the new McCain.
"Like McCain before him, Romney rebukes Trump," Roll Call wrote after Romney's impeachment vote.
Washington Post's Jennifer Rubin applauded Romney's impeachment vote speech by calling it "McCain-esque."
McCain wasn't always liked though. When he ran against Barack Obama in 2008, the late Arizona senator was painted as an over-the-hill Republican grouch with racist policies. The Pew Research Center found in the weeks leading up to the election, negative stories about McCain were three to one. Obama, meanwhile, had the opposite problem. Only about a third of stories written about him were negative.
Google McCain's name today and you'd be hard-pressed to find a bad word about him. Why is that? Could it be his time spent as a prisoner of war in Vietnam? No, it's because he was one of Trump's most consistent Republican critics.
The New York Times, the same paper that ran an editorial in 2008 accusing McCain of possibly running racist ads, published piece after piece defendingMcCain from Trump attacks. Quite a flip.
Like Romney, McCain was a defeated political opponent later praised as an elder statesman and protector of all things good simply because he didn't like Trump.
Anthony Scaramucci
He may have only served as the director of communications in the White House for eleven days, but that hasn't stopped Scaramucci from turning himself into a self-appointed expert on the president.
Once one of Trump's most loyal supporters, Scaramucci did a complete 180 degree turn in recent months and now appears to oppose everything he once promoted. What's ironic about him now appearing on CNN and MSNBC or writing op-eds for Huffington Post and Washington Post about how he saw the wrong in his views is the same left-wing media he now frequents is the reason he was out of a job in the first place.
Scaramucci was fired after an interview with the New Yorker where he said some pretty vulgar things about White House officials, including Steve Bannon. Scaramucci thought the comments were off the record and was just as shocked as everyone else when he saw them in print.
George W. Bush
Before the possibility of Trump becoming president was ever a reality, George W. Bush was sold by the mainstream media as the worst Republicans had to offer. He was blasted as racist, incompetent, cowardly, on and on it went. The hysteria over Bush was so bad conservative columnist Charles Krauthammer coined the term "Bush Derangement Syndrome" — sound familiar? — to describe the extremeness that came with critiques of the man.
Leftists like Michael Moore blasted Bush and higher-ups in his administration as war criminals for starting the war in Iraq. Former Los Angeles prosecutor Vincent Bugliosi wrote an entire book about prosecuting Bush for murder, and he's the same guy who wrote 'Helter Skelter', the book about cult leader Charles Manson!
A film was even released fantasizing about Bush's assassination, 'Death of a President', and it premiered at the Toronto Film Festival. And before there was ever a push for Nancy Pelosi to impeach Trump, she was being pushed to impeach Bush. It was hard to imagine at the time that any politician could ever inspire the vitriolic hate that Bush did.
Then Trump came into the picture and knocked W.'s brother Jeb out of the running for president. George W. Bush in turn criticized Trump. He even defended the media as "essential to democracy" while Trump popularized terms like "fake news" in his war with the press.
Bush went from a threat to democracy to an "unlikely savior," as the New York Times so subtly put it. He has been so redeemed in some eyes that more loyal leftists have become a tad uncomfortable with the man ranking on 'most admired' lists and hanging with celebs like Ellen DeGeneres. They have taken to trying to remind people of the good old days where people fantasized about everything from the man in prison to in the grave on a daily basis.
By Aaron Klein – Oct 17, 2019
Itinerary for a

trip to Ukraine

in August organized by the Atlantic Council think tank reveals that a staffer on

Rep. Adam Schiff

's House Permanent Select Committee on Intelligence held a meeting during the trip with acting U.S. Ambassador to Ukraine Bill Taylor, now a key witness for Democrats pursuing impeachment.
The Atlantic Council is funded by and works in partnership with Burisma, the natural gas company at the center of allegations regarding Joe Biden and his son, Hunter Biden.
Taylor has been called by House Democrats to appear next week to provide a deposition as part of the investigation being led by Schiff into President Trump's phone call with Ukrainian President Volodymyr Zelensky.
Taylor himself has evidenced a close relationship with the Burisma-funded Atlantic Council, writing analysis pieces published on the Council's website and serving as a featured speaker for the organization's events. He also served for nine years as senior advisor to the U.S.-Ukraine Business Council, which has co-hosted scores of events with the Atlantic Council.
As Breitbart News reported, Thomas Eager, a staffer on Schiff's House Intelligence Committee, took a trip to Ukraine in August billed as a bipartisan "Ukraine Study Trip" in which ten Congressional staffers participated.
Eager is also currently a fellow at the Atlantic Council's Eurasia Congressional Fellowship, a bipartisan program that says it "educates congressional staff on current events in the Eurasia region." The pre-planned Ukraine trip was part of the fellowship program.
Burisma in January 2017 signed a "cooperative agreement" with the Council to specifically sponsor the organization's Eurasia Center, the same center that sponsored Eager's Ukraine trip.
A closer look at the itinerary for the August 24 to August 31 trip shows that the delegation's first meeting upon arrival in Ukraine was with Taylor.
Spokespeople for Schiff's office did not reply to multiple Breitbart News requests sent over the course of the last three days for comment on Eager's meeting with Taylor.
When Breitbart News first reported on Eager's visit to Ukraine two weeks ago, Schiff's office quickly replied to several comment requests, denying any impropriety related to Eager's association with the Atlantic Council or the trip.
The unanswered Breitbart email requests to Schiff's office from the past three days posed the following question:
While in Ukraine, did Mr. Eager speak to Mr. Taylor about the issue of reports about any representatives of President Trump looking into alleged Biden corruption in Ukraine?
The dates of the pre-planned trip are instructive. Eager's visit to Ukraine sponsored by the Burisma-funded Atlantic Council began 12 days after the so-called "whistleblower" officially filed his August 12 complaint.
Schiff and his office have offered seemingly conflicting statements on the timeline of the California Congressman's initial contact with the so-called "whistleblower."
Speaking on September 17, Schiff told MSNBC, "We have not spoken directly with the whistleblower. We would like to."
Schiff's spokesperson, Patrick Boland, was quoted on October 2 saying, "At no point did the committee review or receive the complaint in advance." Boland said Schiff's committee received the complaint the night before it publicly released the document.
On Oct 2, however, the New York Times reported that Schiff received some of the contents of the complaint through an unnamed House Intelligence Committee aide initially contacted by the so-called "whistleblower," described as a CIA officer.
The Times reported the aide "shared some of what the officer conveyed to Mr. Schiff."  The referenced officer refers to the so-called "whistleblower."
The newspaper also reported:
By the time the whistle-blower filed his complaint, Mr. Schiff and his staff knew at least vaguely what it contained
Speaking to CBS's Face the Nation on Sunday, Schiff conceded that he was not clear enough about his contact with the so-called "whistleblower."
"I should have been much more clear," Schiff said.
Taylor, who emerged from government retirement in June to serve as charge d'affaires in Kyiv, is being deposed by House Democrats after text messages provided to Democrats showed him expressing concern about Trump's requests for Ukraine to investigate the Bidens over issues related to Burisma.
NBC News quoted sources saying Taylor will be represented during the deposition by attorney John Bellinger, who served at the National Security Council and as the State Department's lead lawyer under President George W. Bush's administration.
Bellinger was a prominent "Never Trump" Republican, drafting an August 2016 letter with dozens of other senior Republican national security officials warning Trump would be the "most reckless President in American history."
Taylor and Atlantic Council
Taylor has authored numerous analysis pieces published by the Atlantic Council.
In March, three months before he became Trump's ambassador to Ukraine, the Atlantic Council featured an oped co-authored by Taylor in which the diplomat argued Ukraine "has further to travel toward its self-proclaimed European goal" of reformation.
In 2017, Taylor wrote a piece for the Council about a Ukrainian parliament vote on health care reform.
In November 2011, the Atlantic Council hosted Taylor as the featured speaker at a discussion event when he was appointed that year as Special Coordinator for Middle East Transitions at the State Department.
When he deployed to Ukraine as Trump's ambassador in June, the U.S.-Ukraine Business Council (USUBC), which has co-hosted events with the Atlantic Council, authored a piece in the Kyiv Post welcoming him.
Taylor for the last nine years served as a senior adviser to the USUBC.
The USUBC's piece noted that the "USUBC has worked closely with Ambassador Taylor for many years," touting his role as the business group's senior adviser.
On June 26, just nine days after arriving in Ukraine as ambassador, the USUBC already hosted Taylor for a roundtable discussion about his new position.
Vadym Pozharskyi, adviser to the board of directors at Burisma Holdings, was also previously hosted as a USUBC featured speaker.
A USUBC senior adviser is David J. Kramer, a long-time adviser to late Senator John McCain, who served at the McCain Institute for International Leadership as senior director for human rights and democracy. Kramer played a central role in disseminating the anti-Trump dossier.
In the USUBC piece welcoming Taylor to Ukraine, Kramer himself commented about Taylor's ambassador position.
"He's a great choice for now," Kramer gushed.
Geysha Gonzalez is the sponsoring Atlantic Council officer listed on the Congressional disclosure form for Schiff staffer Eager's trip to Ukraine. She is deputy director of the Atlantic Council's Eurasia Center.
Gonzalez is also one of eleven members of the rapid response team for the Ukrainian Election Task Force, which says it is working to expose "foreign interference in Ukraine's democracy."
Another member of the team is Kramer.
Kramer revealed in testimony that he held a meeting about the anti-Trump dossier with a reporter from BuzzFeed News, who he says snapped photos of the controversial document without Kramer's permission when he left the room to go to the bathroom. That meeting was held at the McCain Institute office in Washington, Kramer stated.
BuzzFeed infamously published the Christopher Steele dossier on January 10, 2017, setting off a firestorm of news media coverage about the document.
The Washington Post reported last February that Kramer received the dossier directly from Fusion GPS after McCain expressed interest in it.
In a deposition taken on December 13, 2017, and posted online earlier this year, Kramer revealed that he met with two Obama administration officials to inquire about whether the anti-Trump dossier was being taken seriously.
In one case, Kramer said that he personally provided a copy of the dossier to Obama National Security Council official Celeste Wallander.
In the deposition, Kramer said that McCain specifically asked him in early December 2016 to meet about the dossier with Wallander and Victoria Nuland, a senior official in John Kerry's State Department.
Schiff signed form
Schiff's signature appears on the required post-travel disclosure form filed with the House Committee on Ethics documenting the visit to Ukraine. The form signed by Schiff says that Eager's trip to Ukraine was paid for by the "Atlantic Council's Eurasia Center."
The form bearing Schiff's signature (above) describes the visit thusly:
Series of meetings and visits with gov't officials, party officials, civil society and private sector reps in Ukraine to learn about ongoing political and military issues, including conflict in the East.
The costs for Eager's visit listed on the form are $2202.91 for transportation, $985.50 for lodging, and $630.15 for meal expenses.
Speaking to Breitbart News, Gonzalez confirmed that Eager started his one-year fellowship with the organization in January and that Eager is still a fellow.
Gonzalez said the pre-planned trip was part of the fellowship program, which also includes a full year of round tables and other educational events. She said it was not within her portfolio to comment on issues of funding from Burisma or other donors.
Burisma and Atlantic Council 
Besides funding the Atlantic Council, Burisma also routinely partners with the think tank.
Only four months ago, the company co-hosted the Council's second Annual Kharkiv Security Conference.
Burisma further co-hosted a U.S.-Ukraine Business Council event with the Council last year in Washington, DC.  David Kramer of the dossier episode is a senior adviser to the Business Council.
Burisma and the Atlantic Council also signed a cooperative agreement to develop transatlantic programs with Burisma's financial support, reportedly to focus "on European and international energy security."
Burisma advertises that it committed itself to "15 key principles of rule of law and economic policy in Ukraine developed by the Atlantic Council."
Common funding themes
Besides Burisma funding, the Atlantic Council is also financed by billionaire activist George Soros's Open Society Foundations, Google, the Rockefeller Brothers Fund, Inc., and the U.S. State Department.
Google, Soros's Open Society Foundations, the Rockefeller Fund, and an agency of the State Department each also finance a self-described investigative journalism organization repeatedly referenced as a source of information in the so-called "whistleblower's" complaint alleging Trump was "using the power of his office to solicit interference from a foreign country" in the 2020 presidential race.
The charges in the July 22 report referenced in the "whistleblower's" document and released by the Google and Soros-funded organization, the Organized Crime and Corruption Reporting Project (OCCRP), seem to be the public precursors for a lot of the so-called "whistleblower's" own claims, as Breitbart News documented.OPEN
One key section of the so-called "whistleblower's" document claims that "multiple U.S. officials told me that Mr. Giuliani had reportedly privately reached out to a variety of other Zelensky advisers, including Chief of Staff Andriy Bohdan and Acting Chairman of the Security Service of Ukraine Ivan Bakanov."
This was allegedly to follow up on Trump's call with Zelensky in order to discuss the "cases" mentioned in that call, according to the so-called "whistleblower's" narrative. The complainer was clearly referencing Trump's request for Ukraine to investigate the Biden corruption allegations.
Even though the statement was written in first person –  "multiple U.S. officials told me" – it contains a footnote referencing a report by the Organized Crime and Corruption Reporting Project (OCCRP).
That footnote reads:
In a report published by the Organized Crime and Corruption Reporting Project (OCCRP) on 22 July, two associates of Mr. Giuliani reportedly traveled to Kyiv in May 2019 and met with Mr. Bakanov and another close Zelensky adviser, Mr. Serhiy Shefir.
The so-called "whistleblower's" account goes on to rely upon that same OCCRP report on three more occasions. It does so to:
Write that Ukraine's Prosecutor General Yuriy Lutsenko "also stated that he wished to communicate directly with Attorney General Barr on these matters."
Document that Trump adviser Rudy Giuliani "had spoken in late 2018 to former Prosecutor General Shokin, in a Skype call arranged by two associates of Mr. Giuliani."
Bolster the charge that, "I also learned from a U.S. official that 'associates' of Mr. Giuliani were trying to make contact with the incoming Zelenskyy team." The so-called "whistleblower" then relates in another footnote, "I do not know whether these associates of Mr. Giuliani were the same individuals named in the 22 July report by OCCRP, referenced above."
The OCCRP report repeatedly referenced is actually a "joint investigation by the Organized Crime and Corruption Reporting Project (OCCRP) and BuzzFeed News, based on interviews and court and business records in the United States and Ukraine."
BuzzFeed infamously also first published the full anti-Trump dossier alleging unsubstantiated collusion between Trump's presidential campaign and Russia. The dossier was paid for by Hillary Clinton's campaign and the Democratic National Committee, and was produced by the Fusion GPS opposition dirt outfit.
The OCCRP and BuzzFeed "joint investigation" resulted in both OCCRP and BuzzFeed publishing similar lengthy pieces on July 22 claiming that Giuliani was attempting to use connections to have Ukraine investigate Trump's political rivals.
The so-called "whistleblower's" document, however, only mentions the largely unknown OCCRP and does not reference BuzzFeed, which has faced scrutiny over its reporting on the Russia collusion claims.
Chris Menahan
InformationLiberation
War-hungry Democrats furious over President Trump's decision to get our troops out of northern

Syria

stormed out of a meeting with Trump at the White House on Wednesday evening after Trump allegedly called

Nancy Pelosi

a "third-rate politician."
From the New York Post:
Speaker Nancy Pelosi and Sen. Chuck Schumer stormed out of a White House sitdown on Syria with President Trump after he called Pelosi " a third-rate politician" and a Communist sympathizer in what the House speaker termed "a meltdown."

"He was insulting, particularly to the speaker. She kept her cool completely. But he called her a third rate politician. He said that there are communists involved and you guys might like that," Schumer said.
"This was not a dialogue. It was sort of a diatribe, a nasty diatribe not focused on the facts, particularly the fact of how to curtail ISIS, a terrorist organization that aims to hurt the United States," he said.

Pelosi said Trump was shaken by an earlier House vote condemning his decision to pull troops from northern Syria.

A major faction of the Kurds are communists. That's what Trump was obviously talking about. He's absolutely right they support them — as does antifa.

ISIS collapsed after Trump ordered the CIA to stop funding them and gave Putin the OK to wage total war on all their strongholds in Syria.

Based off the statements of Pelosi, Schumer and Hoyer, it seems like they're the ones who threw a fit.

Remember how Chuck Schumer was all smiles and literally cheered after exiting a meeting with Trump on Iran back on June 20 with Trump after Iran shot down a US drone?

Trump had allegedly approved strikes on Iran that day, though he backed out before giving the final go-ahead.

Our crooked establishment on both sides is absolutely furious Trump is actually moving to put America First and potentially exit their beloved forever war in Syria.

They're doing everything in their power to keep the US involved.

Lindsey Graham has been whining incessantly about how Trump's decision to pull some of our troops out may "become a nightmare for Israel."

Trump smacked Graham down during an epic press conference Wednesday afternoon:

Nothing unites our criminal establishment more than their lust for forever wars.

Watch Trump's full press conference:
Apparently, the Iraq War architect thinks his views need to be heard by the public.
Iraq War architect and former U.S President

George Bush

slammed President Trump's moves to get the United States untangled from endless and distant foreign wars when speaking alongside

Bill Clinton

at the Nir School of the Heart.
Bush's words come days after the political establishment has erupted in rage over President Trump's decision to remove around 1,000 U.S service members from Syria's Civil War.
The member of the political dynasty said that "an isolationist United States is destabilizing around the world. We are becoming isolationist and that's dangerous for the sake of peace."
For many Americans, it's frankly rich to hear the widely unpopular and disliked former President attack one of his successors for a foreign policy of restraint. As President, George Bush initiated one of the worst foreign policy disasters in the history of the United States, invading Iraq on the false premise of a nuclear program that the country didn't actually have.
Millions died as a result of Bush's colossal blunder, and the Middle East remains destabilized to this day, in part because of the invasion that removed dictator Saddam Hussein from power. Thousands of American military personnel were killed or injured in the war, and countless more continue to suffer from post-traumatic stress. Many Iraq War veterans have committed suicide.
George Bush claimed he was obeying an unwritten rule during the presidency of Barack Obama by declining to criticize him. That rule flew out of the window almost immediately during Trump's presidency, with the former President tacitly and explicitly criticizing Trump from almost the beginning of his presidency.
It may come as a relief for the family-dynasty former President to see his image rehabilitated by elite liberals with a short memory hoping to align with the well-entrenched neoconservative element in the federal bureaucracy he represents.
And then we all know what happened a day later…
By Shane Trejo
While the anniversary of the

Sept. 11, 2001

terrorist attacks on the

World Trade Center

and

Pentagon

are remembered every year with heavy hearts, the bizarre and inexplicable events that happened the day before are usually glossed over, lost down the memory hole due to the war on terror that has gripped the nation for nearly 18 years now.
On Sept. 10, 2001, then-Defense Secretary Donald Rumsfeld announced that $2.3 trillion had gone missing at the Pentagon. He made a statement blaming the corrupt and inefficient bureaucracy for these funds vanishing essentially into thin air.
CBS News issued a report as apart of their "Eye on America" series about the loss of funds, and how that scandal was conveniently lost in the shuffle only a day after it was made public:
While Rumsfeld's announcement could have garnered widespread outrage and eventually sparked an impetus to reform the out-of-control Pentagon bureaucracy, that was made impossible after the attacks as the public suddenly supported even more national defense spending to defeat global terrorism.
Since the attacks, the problem of disappearing defense funds has gotten exponentially worse. It was widely reported earlier this year that the Pentagon can not account for $21 trillion in spending as the military-industrial complex has swelled to unforeseen proportions while endless wars continue throughout the Middle East.
Forbes published an analysis by top economists of the astronomical military waste at the Pentagon:
Mark Skidmore and Catherine Austin Fitts, former Assistant Secretary of Housing and Urban Development, conducted a search of government websites and found similar reports dating back to 1998. While the documents are incomplete, original government sources indicate $21 trillion in unsupported adjustments have been reported for the Department of Defense and the Department of Housing and Urban Development for the years 1998-2015.

While government budgets can be complex, our government, like any business, can track receipts and payments and share this information in ways that can be understood by the public. The ongoing occurrence and gargantuan nature of unsupported, i.e., undocumented, U.S. federal government expenditures as well as sources of funding for these expenditures should be a great concern to all tax payers.

Taken together these reports point to a failure to comply with basic Constitutional and legislative requirements for spending and disclosure. We urge the House and Senate Budget Committee to initiate immediate investigations of unaccounted federal expenditures as well as the source of their payment.
While the credible reports of unprecedented government waste are disheartening enough, new developments show that more than bureaucratic incompetence may have proceeded the 9/11 attacks. A recent academic study commissioned by the University of Alaska-Fairbanks has concluded that office fires could not have caused the fall of building seven of the World Trade Center, casting aspersions on the official story offered by federal investigators.
Until a new independent investigation is commissioned, serious and troubling questions will always remain about arguably the most consequential day in American history.
By
President Donald Trump

was magnanimous in victory as the

Robert Mueller

investigation formally cleared him of Russia collusion and obstruction of justice, according to attorney general

William Barr

. Trump hinted that investigators will now look into "the other side," as

Rep. Devin Nunes

prepares to probe the Democrats who cooked up the media hoax in an effort to divert attention from their

Uranium One

dealings with the Russian government.
Trump told reporters that the idea of Russia collusion is "the most ridiculous thing I've ever heard," while White House press secretary Sarah Sanders said that Trump and his supporters are "vindicated" and Rudy Giuliani trolled Adam Schiff with a call for an apology.
"It's a shame that the country had to go through this," President Trump said.
The Russian lawyer Natalia Veselnitskaya who set up Don Trump Jr. for a meeting in Trump Tower as part of a Fusion GPS plot was operating out of the Washington offices of Cozen O'Connor, a law firm run by an anti-Trump former Obama administration official whose super PAC donated to Hillary Clinton and Jeb Bush in the 2016 presidential election.
Veselnitskaya's work from the Cozen O'Connor office provides more evidence of a Democrat and establishment Republican effort to set up the Trump campaign for a future Russian collusion case. Veselnitskaya was allowed into the United States by the Obama Department of Justice while the former Obama official who runs Cozen O'Connor publicly warned then-candidate Trump that if he became president he would be investigated by the DOJ for contacts with foreign leaders. Veselnitskaya reportedly had dinner meetings with Fusion GPS chief Glenn Simpson the day before she met in Trump Tower and also the day after she went inside Trump Tower.
Big League Politics has confirmed that a Cozen O'Connor partner who lives in the same apartment building as James Comey's friend Daniel Richman — who leaked classified information to the press on Comey's behalf — spoke with Richman during the period that Comey and the Fusion GPS team were trying to obtain FISA warrants on Trump Tower.
Let's break down the facts of an Obama administration official's involvement in the Trump Tower plot:
Russian and U.S. citizen Rinat Akhmetshin, a Soviet military veteran, was present at Veselnitskaya's meeting with Don Jr. in Trump Tower after leading a lobbying push supposedly to repeal the Magnitsky Act. Akhmestshin is believed by insiders to be linked to Russian government intelligence, a fact that the Washington Post seized on when reporting that he met with Don Jr. and Jared Kushner in Trump Tower. A nonprofit group focused on promoting Akhmetshin and Veselnitskaya's cause to lawmakers actually hired Cozen O'Connor, which the law firm confirms.
The Washington Post reported (emphasis added):
"In the spring of 2016, as the presidential race was heating up, Akhmetshin and lobbyists he hired sought meetings on Capitol Hill to make their case against the sanctions law. Akhmetshin hired former Democratic congressman Ron Dellums, along with a team of lobbyists from the law firm of Cozen O'Connor.
Steve Pruitt, a business colleague speaking on Dellums's behalf, said his involvement was brief and ended when he determined that Congress was unlikely to change the law.
In June, after visiting Trump Tower in New York, Veselnitskaya came to Washington to lend a hand in the lobbying effort.
She attended a meeting of the team at the downtown offices of Cozen O'Connor, where she spoke at length in Russian about the issues but confused many in the room, who had not been told previously about her involvement, according to several participants."
Proof government education has completely failed millions of Americans
Kaitlin Bennett | Infowars.com – FEBRUARY 25, 2019
Joined by Borderline Bar shooting survivors Alex Chatoff and Alyssa Shandra, Kaitlin Bennett asked Californians on Venice Beach if they could name the

45th President

.
Their answers ranged from Obama, to Clinton and even George Washington.