Chris Menahan
InformationLiberation
War-hungry Democrats furious over President Trump's decision to get our troops out of northern

Syria

stormed out of a meeting with Trump at the White House on Wednesday evening after Trump allegedly called

Nancy Pelosi

a "third-rate politician."
From the New York Post:
Speaker Nancy Pelosi and Sen. Chuck Schumer stormed out of a White House sitdown on Syria with President Trump after he called Pelosi " a third-rate politician" and a Communist sympathizer in what the House speaker termed "a meltdown."

"He was insulting, particularly to the speaker. She kept her cool completely. But he called her a third rate politician. He said that there are communists involved and you guys might like that," Schumer said.
"This was not a dialogue. It was sort of a diatribe, a nasty diatribe not focused on the facts, particularly the fact of how to curtail ISIS, a terrorist organization that aims to hurt the United States," he said.

Pelosi said Trump was shaken by an earlier House vote condemning his decision to pull troops from northern Syria.

A major faction of the Kurds are communists. That's what Trump was obviously talking about. He's absolutely right they support them — as does antifa.

ISIS collapsed after Trump ordered the CIA to stop funding them and gave Putin the OK to wage total war on all their strongholds in Syria.

Based off the statements of Pelosi, Schumer and Hoyer, it seems like they're the ones who threw a fit.

Remember how Chuck Schumer was all smiles and literally cheered after exiting a meeting with Trump on Iran back on June 20 with Trump after Iran shot down a US drone?

Trump had allegedly approved strikes on Iran that day, though he backed out before giving the final go-ahead.

Our crooked establishment on both sides is absolutely furious Trump is actually moving to put America First and potentially exit their beloved forever war in Syria.

They're doing everything in their power to keep the US involved.

Lindsey Graham has been whining incessantly about how Trump's decision to pull some of our troops out may "become a nightmare for Israel."

Trump smacked Graham down during an epic press conference Wednesday afternoon:

Nothing unites our criminal establishment more than their lust for forever wars.

Watch Trump's full press conference:
10/4/2019
Finally, a bold, unabashed admission from a Deep Stater that there IS a Deep State.
Rogue, entitled elites defying the peoples government.
The GOP has to stop running. They need to stand their ground. This way out of hand.
When this blows up in his face, it's going to take down the entire Democrat party for 2020 and beyond
Mike Adams | NaturalNews.com – OCTOBER 3, 2019
(Natural News – Oct. 2, 2019) Earlier today, President Trump declared that he believes

Rep. Adam Schiff

 wrote the so-called "whistleblower" complaint (see video below).
But the official whistleblower complaint story is unraveling by the hour as new facts emerge, pointing to a far more shocking likelihood: That Adam Schiff may have fabricated the existence of the whistleblower himself, in effect projecting his own complaint onto a fictional persona that he is now going to question in a private, closed-door congressional session where he will essentially be questioning himself.
This scenario isn't proven yet, but it's looking more and more like Adam Schiff may have pulled a Jussie Smollett. Instead of tying a noose around his own neck and faking a hate crime, he may have fabricated an entire "whistleblower" persona and written the whistleblower complaint himself in a psychotic, desperate effort to try to destroy Trump before AG William Barr drops the mother of all bombshells about the Democrats' involvement in a vast criminal conspiracy to try to overthrow the President of the United States of America.
Schiff knows that if Trump isn't stopped, a long list of left-wing traitors will likely be prosecuted and jailed. That list may include Adam Schiff himself, who has been linked to Ukrainian arms dealers, and Joe Biden's son who is now known to have received $3.4 million in "criminally obtained" laundered money, transferred to his business accounts as part of Joe Biden's shakedown of international oligarchs and mafia organizations. Don't forget, either, that Barack Obama laundered billions of dollars internationally in order to fund Iran's nuclear weapons program, a clear act of criminal treason against the United States.
This entire "whistleblower" hoax has been masterfully orchestrated by a combination of deep state intelligence players, left-wing media hacks and Democrat legislators. They are all playing their roles as crisis actors, feigning outrage over a non-crime "crime," even resorting to completely fictionalizing a whole new "transcript" of what they hope Trump said on a phone call with Ukraine's President (which Adam Schiff read into the congressional record a few days ago to try to gaslight the entire nation about what Trump really said).
Democrat deep staters have reached the point where there's nothing they won't try to take down Trump, since they are fully aware that Trump is already in the process of rolling a large number of truth grenades into their deep state bunkers, all of which will detonate in short order with catastrophic consequences for the treasonous Dems.
IT'S NOT JUST SCHIFF: THE NYT AND WASHINGTON POST ROUTINELY FABRICATE FAKE "ANONYMOUS SOURCES" TO PUSH LIES ABOUT TRUMP
As you'll see confirmed in the coming days, it seems increasingly likely that Rep. Schiff is his own made-up source, which is consistent with the new rules of so-called "journalism" at the Washington Post and New York Times, where "anonymous sources" are fabricated out of thin air to substantiate any false allegations they wish to print.
Ironically, the New York Times has now reported that Schiff knew about the whistleblower complaint days before it was officially filed. That's because, of course, he's the one who wrote it!
To the shock and dismay of all informed observers, the Democrats are now fabricating everything, not just the news. They are falsifying transcripts, falsifying evidence and probably even falsifying entire personalities whom they can label "whistleblowers" while demanding no one ever learn their real identities. Adam Schiff has become to politics what Bernie Madoff was to investing: Nothing but a highly-positioned con artist whose reckless psychosis will send shrapnel tearing through the entire Democrat party once the delusion implodes.
Perhaps Rep. Schiff has a hand puppet in his bedroom that talks to him and tells him all the evil things Trump has done. We're looking at extreme mental illness with this devious character… the kind of villainous evil that we see depicted in The Joker from Batman movies, or the original Psycho thriller where Norman Bates took orders from his long-dead mother who encouraged him to be a creepy stalker of hotel guests.
The only difference is that Norman Bates wasn't a member of Congress, and he didn't try to gaslight an entire nation into believing his decaying dead mother was really a whistleblower who could take down a president.
Speaking of creepy movies, this is way beyond Sixth Sense, as Adam Schiff not only sees dead people; they seem to actually talk to him and provide him with testimony to take down Trump because Orange Man Bad. Or better yet, perhaps Adam Schiff gets witnesses to talk to him through Ouija boards or bizarre, demonic incantations involving pentagrams and the entrails of murdered human babies which are readily available for sale at your local Planned Parenthood abortion clinic as long as you claim the organs are for "medical research."
This entire fiasco is also a near carbon copy of the playbook used via Christine Blasey Ford to try to fling false accusations against Brett Kavanaugh, by the way. Of course, Ford was a real person (with a fake story), while this Ukraine "whistleblower" increasingly appears to be a complete fabrication and not a real person at all. With Ford, they were faking memories. With Schiff, they're faking entire sources.
No doubt Shift Schiff is desperately running around the halls of Washington D.C. right now trying to recruit someone who will agree to be named as a whistleblower, so I don't doubt that Schiff can eventually produce a name and perhaps even a body (whether it's alive or dead is yet to be seen), but it will become obvious within hours that this whistleblower is nothing but a proxy, having no direct knowledge whatsoever of the events claimed in the official complaint, which was clearly written by Schiff himself.
The bottom line? Rep. Adam Schiff appears to be engaged in one of the most malicious and psychotic acts of insane criminality that has ever been carried out by an active member of the U.S. Congress, and when this blows up in his face, it's going to take down the entire Democrat party for 2020 and beyond.
The Schiff is going to hit the fan, in other words.
In a hilarious kind of way, Adam Schiff is truly God' gift to Trump's re-election efforts in 2020, and as much as Mad Maxine is now calling for President Trump to be arrested and tortured in solitary confinement, I wouldn't be surprised at all of it's actually Adam Schiff who ends up in prison… perhaps with a few cell mates named Brennan and McCabe who also end up thinking dead people are talking to them, too. Could all those voices in their heads actually be the ghosts of Arkancide?
Stay tuned. More details coming soon on this story as we watch Schiff squirm.
By Jim Hoft
President Trump

spoke to the

United Nations

General Assembly in New York City.
It was another historic speech.
President Trump called out China, Iran, North Korea and the Taliban.
President then called out the open borders social justice activists.
President Trump: Illegal immigration is one of our most critical challenges which undermines prosperity, rips apart societies and empowers US criminal cartels. Mass illegal migration is unfair, unsafe and unsustainable for everyone involved… The receiving countries are overburdened with more migrants than they can responsibly accept. And the migrants themselves are exploited, assaulted and abused by vicious coyotes. early Nearly one-third of women who make their way to our border are sexually abused. Yet here in the United States and around the world there is a growing cottage industry of radical activists and non-governmental organizations that promote human smuggling. These groups encourage human smuggling. These groups encourage illegal migration and demand erasure of national borders. Today I have a message for those open borders activists who cloak themselves in the rhetoric of social justice. Your policies are not just. Your policies are cruel and evil. You are empowering criminal organizations that prey on innocent men, women and children.
He then thanked Mexican President Lopez Obrador for his assistance at the US southern border.
By Hank Berrien
An

Australian couple

traveling through Asia who wanted to "break the stigma around travelling to countries which get a bad wrap [sic] in the media," reportedly found out the hard way that some countries may well deserve the reputation they have: the couple was reportedly arrested 10 weeks ago in Iran.
Jolie King, who has dual U.K. and Australian nationality, and Mark Firkin, have over 20,000 followers on Instagram and YouTube, where they document their travels. According to the BBC, the couple was traveling through Asia to Great Britain, starting in 2017. The pair had a drone they used to take footage of the dozen countries through which they were passing.
According to the Australian Broadcasting Corporation, that drone landed them behind bars in Iran 10 weeks ago. "The pair has been held as prisoners for about 10 weeks after being arrested for reportedly flying a drone without a permit," ABC reports.
The BBC reports that the couple is "believed to be being held in Tehran's Evin prison."
Another British-Australian woman, reportedly a University of Cambridge-educated scholar, has been jailed for 10 years in Iran, according to the BBC.
Australian Foreign Minister Marise Payne said she spoke to the Iranian government about all three people last week. "Since they were detained, the Australian Government has been pressing the Iranian Government for their release," said Payne. "I have communicated with my Iranian counterpart, Foreign Minister Zarif, many times about these cases, including through face-to-face face meetings. We met as recently as last week."
"Our biggest motivation … is to hopefully inspire anyone wanting to travel, and also try to break the stigma around travelling to countries which get a bad wrap [sic] in the media," King and Firkin had written about their travels.
In July, Australia announced that it would join the U.S. and the U.K. as they monitored the Strait of Hormuz. Reported Iranian provocations involving other nations' ships have been rampant near the Strait in recent months.
The BBC reported that U.K. Foreign Secretary Dominic Raab met the Iranian ambassador and "raised serious concerns about the number of dual national citizens detained by Iran and their conditions of detention," according to the Foreign Office.
The story of King and Firkin bears similarities to another story reported by The Daily Wire in August 2018 in which a "young American couple who took a year-long bike trip around the world, believing that evil was a make-believe concept, took a fatal route in Tajikistan near the Afghan border, where alleged ISIS terrorists stabbed them to death. Jay Austin and Lauren Geoghegan, 29, quit their jobs last year in order to make their trip."
Austin had written:
You watch the news and you read the papers and you're led to believe that the world is a big, scary place. People, the narrative goes, are not to be trusted. People are bad. People are evil. People are axe murderers and monsters and worse.

I don't buy it. Evil is a make-believe concept we've invented to deal with the complexities of fellow humans holding values and beliefs and perspectives different than our own—it's easier to dismiss an opinion as abhorrent than strive to understand it. Badness exists, sure, but even that's quite rare. By and large, humans are kind. Self-interested sometimes, myopic sometimes, but kind. Generous and wonderful and kind. No greater revelation has come from our journey than this.
In June 2019, the man who was the alleged ringleader in the attack on Austin and Geohegan was asked if he interacted with the tourists at the gas station they stopped at just prior to the attack, Hussein Abdusamadov replied,"Yes. I talked to them. I asked them where they were from. I asked them what nationalities they were and they told me they were Americans … They said they were Americans and laughed." He concluded, "Americans had to be killed." 
Security teams for

Facebook

,

Google

,

Twitter

and

Microsoft

met with the

FBI

, the Department of Homeland Security and the Director of National Intelligence's office to coordinate a strategy to secure the 2020 elections.
The tech platforms met with government officials at Facebook's Menlo Park headquarters on Wednesday, the company has confirmed, boasting that Big Tech and Big Brother have developed a "comprehensive strategy" to get control of previous election-related "vulnerabilities" while "analyzing and getting ahead of new threats."
Facebook has scrambled to get in front of the 2020 election after being blamed for Trump's 2016 electoral victory over merely allowing the "Russian trolls" to buy a bunch of ads, most of which appeared after the vote and had nothing to do with the election. But the company insisted last week it had tightened its rules for verifying purchasers of "political" ads, for real this time, after the 2018 contest showed they could still be duped into running obviously-fake ads "paid for by" the Islamic State terror group and Cambridge Analytica.
Big election business: Democratic candidates, even critical of Facebook, pour millions into platform
Aside from the occasional purge of accounts accused of being linked to countries like Russia, Iran, and China on the US' ever-lengthening enemies' list, however, it's hard to tell what exactly any platform has done to make itself immune to 'manipulation'. Twitter banned state-owned media from buying ads on its platform last month, holding the move up as a victory against the dreaded "foreign meddling," but its own founder's account was hacked last week, suggesting it has bigger security issues than a few wrongthink-prone advertisers.
And Google's potential to sway elections has been the subject of Senate hearings – yet the company has remained silent on addressing the problem, suggesting it doesn't see it as a bug at all, but a feature. Subsidiary YouTube, meanwhile, conducted another round of deplatforming last month even while declaring it was an open platform for controversial ideas.
The electoral meeting of the minds came less than a week after the Pentagon's Defense Advanced Projects Research Agency (DARPA) declared war on deepfakes and other potentially discord-sowing information, promising to neutralize all "malicious" content within four years – if not for this election, then certainly for the next.
Until then, there's Microsoft's ElectionGuard software, which the company announced in July it would provide to all the nation's voting machines, free of charge, out of the goodness of its (and the Pentagon-owned contractor that helped develop the program's) heart. And if Microsoft's act of selfless charity doesn't convince a district their democracy is worth protecting, there's always Cyberdome, the election security nonprofit advised by half a dozen former intel agency heads who want what's best for your vote (when they're not authorizing torture or warrantless wiretapping).
Getting the DHS involved was a nice touch, too, after that agency was accused of attempting to hack electoral systems in multiple states thousands of times during the period surrounding the 2016 election. Unlike the "Russian hacking" allegations that remain unproven, multiple officials from Idaho, Georgia, Indiana, West Virginia, and Kentucky claim the agency attempted to access their systems after they opposed its efforts to "secure" those systems. After initially denying any involvement, the DHS claimed the attempted breach alarms were set off accidentally, during routine "legitimate work."
By Jeff Dunetz
Saturday was a horrible day for America. Two mass shootings. Thirty-one people were killed and more than fifty injured.
Liberals and the mainstream media (yes I know that's redundant) were quick to place blame for the mass shootings on President Trump's rhetoric and his followers.  Perhaps the most hypocritical example was former VP Joe Biden's speech that directly linked the anti-Trump interpretation of President Trump's rhetoric to this past weekend's shootings. If Biden really believes what he says, he should be slamming the anti-Jewish hatred spewed by Barack Obama, the president for whom he worked.
Biden should be asked,  "If President Trump's words incited this week's shootings shouldn't you be blaming Barack Obama's anti-Semitic words and actions for the recent Synagogue shooting's in Pittsburgh and Poway?   The only answer is yes!
For example, President Obama's 
July 31, 2015 phone call organized
 by the Anti-Israel group
J Street
and other progressive Jewish groups could be summed up in one sentence. Please help because those rich people are helping those warmongering Jews to fight this incredible Iran deal because they don't like me and they want to start a war just like they did in Iraq.
In the 20-minute phone call Obama said over and over those opponents of the Iran deal come from the same "array of forces that got us into the Iraq war." he identified those forces as a "bunch of billionaires who happily finance super PACs" are "putting the squeeze on members of Congress."
The message was clear to the Jewish participants, William Daroff Senior Vice President for Public Policy & Director of the Washington office of The Jewish Federations of North America tweeted during the meeting "Jews are leading effort to kill #Irandeal. 'Same people opposing the deal led us into Iraq war,'" and followed with "Canard: Jews got us into Iraq War."
In a meeting with a hand-picked list of Jewish leaders, Lee Rosenberg of AIPAC questioned Obama's statement comparing people who object to the Iran deal with those who supported the invasion of Iraq because many anti-Semites claim the Jews pushed Bush into invading Iraq. Obama explained that Netanyahu supported the Iraq invasion (which is true). What the former-president left out was that the prime minister at the time was Ariel Sharon. Sharon strongly urged Bush not to invade Iraq.
Obama also forgot to mention that his vice president Joe Biden, both of his secretaries of state Kerry and Clinton, and his biggest ally in the Senate Minority Leader Harry Reid all supported the invasion of Iraq in Congress and now support his flawed Iran deal.
He even doubled down accusing the Jewish State of being a bunch of warmongers.  During an August 2015 speech at American University, Obama again tried to scapegoat the Jews, saying:
So this deal is not just the best choice among alternatives, this is the strongest nonproliferation agreement ever negotiated, and because this is such a strong deal, every nation in the world that has commented publicly, with the exception of the Israeli government, has expressed support."
Yes, Israel opposed the deal, so did Saudi Arabia, Pakistan, UAE, Bangladesh and most of the other Sunni Muslim States vehemently opposed the JCPOA because of their fears that Shia Iran would use nukes to attack them. But Obama wanted to scapegoat the Jews, and the media was quiet.
Beginning with his first campaign for president, Obama surrounded himself with anti-Semites like General Merrel McPeak.  McPeak was the 2008 Obama for President Co-Chair who had an impressive resume of blaming our foreign policy on the "Jewish Lobby."  Perhaps the best example of McPeak's Antisemitism was when he was asked during an interview why there isn't peace in the Middle East. He answered, "New York City. Miami. We have a large vote — vote, here in favor of Israel. And no politician wants to run against it." (in other words, those pesky Jews, who control America's policy on the Middle East).
One of his first presidential appointments was the anti-Semitic Chas Freeman who blamed his resignation on the evil Israel lobby (a nicer way of saying Jewish lobby). Actually, Chas, it was a lot less than an evil Israel lobby, much of it was the work of a few Jewish bloggers — one of whom was named The Lid who pointed out that you believed things like China was too gentle in putting down the Tiananmen Square protests, the Muslims discovered America and worse.
In 2015 former speaker Boehner invited two world leaders to speak to a joint session of congress. Both times the Speaker's invitation was made on his own without first checking with the White House. The invitation of the Jewish leader Benjamin Netanyahu was criticized by Obaman; in fact, he encouraged his fellow Democrats to boycott the speech. The speech by the second world leader Pope Francis was celebrated despite the White House not being informed of the invite before it was made. The Catholic's invitation wasn't criticized only the Jew's visit. I am not saying Netanyahu's visit was criticized only because he is Jewish—I'm just pointing out a fact,
Obama denied Jewish ties to the Land of Israel which according to the State Department definition is anti-Semitic.  in his 2009 Cairo speech, Obama said Israel was only created because people felt guilty about the Holocaust.
America's strong bonds with Israel are well known. This bond is unbreakable. It is based upon cultural and historical ties, and the recognition that the aspiration for a Jewish homeland is rooted in a tragic history that cannot be denied. Around the world, the Jewish people were persecuted for centuries, and Antisemitsm in Europe culminated in an unprecedented Holocaust. Tomorrow, I will visit Buchenwald, which was part of a network of camps where Jews were enslaved, tortured, shot and gassed to death by the Third Reich. Six million Jews were killed – more than the entire Jewish population of Israel today.
Obama showed the world that he honored Antisemitism. His first Presidential Medal of Freedom honorees was Bishop Desmond Tutu and Mary Robinson. The friendliest thing Bishop Desmond Tutu ever said about Jews was "People are scared in this country [the US], to say wrong is wrong because the Jewish lobby is powerful." He also said that "the Jews thought they had a monopoly on God."
Tutu's co-honoree Mary Robinson presided over the "World Conference against Racism, Racial Discrimination, Xenophobia and Related Intolerance" that turned into a non-stop hate-fest against Jews and Israel. The conference was so anti-Semitic that Colin Powell, the Secretary of State at the time, walked out.
During his presidency, Obama has allied himself with Al Sharpton who was a leader of the anti-Semitic pogrom in Crown Heights and incited the anti-Semitic firebombing of Freddy's Fashion Mart in Harlem. He sent his closest adviser, Valerie Jarrett, to keynote an anti-Semitic ISNA conference whose discussions included: how key Obama aides are "Israeli," proving Jews "have control of the world," and how the Holocaust is the punishment of Jews for being "serially disobedient to Allah."
In 2010 Obama's National Security Adviser, Gen. Jim Jones gave the keynote speech at a Washington Institute For Near East Policy and started it out with an anti-Semitic "joke," teaching the crowd that Jews are just greedy merchants in the same vein as Shakespeare's Shylock.
For his second Secretary of Defense Obama appointed Chuck Hagel who believed in the nefarious "worldwide Jewish conspiracy." Hagel was once quoted as saying "The political reality is that…the Jewish lobby intimidates a lot of people up here."
Obama once called Zbigniew Brzezinski someone I have learned an immense amount from", and "one of our most outstanding scholars and thinkers. Back in back in 2007, Brzezinski schooled the future president on foreign policy. The former National Security Adviser to Jimmy Carter is a Judeophobic conspiracy theorist, who believes the Jews control U.S foreign policy and Congress.
Of the anti-Semitic Occupy Wall Street movement, the President said, "We are on their side."
Radical Islamists attacked the Kosher supermarket Hyper-Cacher (French for Super Kosher) in Paris on a Friday afternoon. The attack happened just before the Jewish Sabbath when they knew it would be crowded with Jews. Obama first insisted it was not an anti-Semitic act. And when the world leaders came together to march in Paris as a protest against the Charlie Hebdo shooting and the anti-Semitic Hyper-Cacher attack Obama was conspicuous in his absence.
During his last year as president, Obama's State Department condemned Israel for allowing people to build houses on land on the western side of the Jordan River. But that's only part of the story.  The property was legally purchased in 2009 by Dr. Irving and Cherna Moskowitz from a US Presbyterian Church. There were no complaints when the  Presbyterian Church owned it. Team Obama wasn't objecting to the fact that houses were being built on that land back then. If the homes were intended for Christian or Muslim families, there would have been no issue.
As it is was with so many other cases during the Obama administration, the objection was based on that Jews were going to live in those buildings. There is no other faith in the world that the Obama administration objected to legally purchasing land or buildings then moving into the property they legally purchased.
Obama signed the bipartisan Trade Facilitation and Trade Enforcement Act of 2015, which contained provisions fighting the anti-Semitic BDS movement,  but upon signing the bill, announced that he would not enforce the anti-BDS provisions
One of Obama's last acts as president was abstaining on a UN Security Council resolution. That abstention was named by the Simon Weisenthal Center as the most anti-Semitic act of 2016:
US President Barack Obama's "abstention" was actually an endorsement of an onerous, one-sided resolution that, among other items, defines Judaism's holiest site as "occupied Palestinian territory" and encourages nations to undertake the boycott of goods made by Jews in east Jerusalem and the West Bank. Make no mistake. This new resolution – developed with the Obama administration's knowledge and some say with its collusion – is much worse and more dangerous than the United Nation's notorious 1975 "Zionism equals racism" resolution.
The list of Obama's Antisemitism would be much longer if examples from the Obama administration's own definition of how anti-Israel acts and statements could be considered anti-Semitic were added. Obama's hatred of Jews met that definition also. But you get the idea.
NOT ONCE! Not once in all those (and other) cases where Obama and his team seemed to step over the line into Antisemitism territory were there questions from the media asking Obama if he had an issue with Jews. Not once did any of the mainstream media point out Obama's possible anti-Semitism.  But they invent Trump's racism. and if Joe Biden believes words create maniacs who want to kill people why was he silent with Obama?
Here's the bottom line, I do not believe Obama's anti-Semitic speech and/or actions motivated the shooting at the Pittsburgh or Poway Synagogue shootings. Nor do I think Bernie Sanders had anything to do with the shooting of Rep. Scalise at a GOP baseball practice, or that Elizabeth Warren motivated the Dayton shooting. And I certainly don't believe the liberal line that President Trump incited this weekend's horrible massacres.
But if liberal politicians, media talking heads and especially Joe Biden are blaming Trump's words for the massacres in Dayton and Ohio, then it is just as legitimate to blame Obama for the horrible synagogue shootings in recent months.
The Islamic Revolutionary Guard Corps

has seized the British oil tanker Stena Impero in the

Strait of Hormuz

, Iranian media reported. UK authorities said the tanker had 'veered off course' before capture.
The Stena Impero was headed to Saudi Arabia but left the international sea lanes and headed north towards the Iranian island of Qeshm, marine tracking data showed on Friday.

Prior to the seizure, the tanker turned off its tracking device and had ignored warnings, Iranian military sources told state media.
"The reason behind the detention of the British tanker is that it did not adhere to the sea routes in the Strait of Hormuz, turned off the automatic identification system (AIS), polluted international waters and did not pay attention to the warnings of Iran," the source said.
The 30,000-ton tanker is owned by Stena Bulk, and was bound for the Saudi port of Al Jubail.
Stena issued a statement that the ship was "approached by unidentified small crafts and a helicopter during transit of the Strait of Hormuz, while the vessel was in international waters."
The company is "presently unable to contact the vessel which is now heading north towards Iran." There are 23 crew members aboard.
UK authorities said they were "assessing the situation following reports of an incident in the Gulf."
Another tanker, the Liberian-flagged Mesdar, abruptly changed course and headed for the Iranian mainland on Friday evening. The ship is owned by Norbulk Shipping UK and was bound for Ras Tanura in Saudi Arabia.
Tehran and London have been at odds since July 4, when Royal Marines boarded and seized Iranian tanker Grace 1 off Gibraltar, accusing the ship of illegally transporting oil to Syria. Iranian authorities condemned the seizure as "piracy" and vowed to retaliate.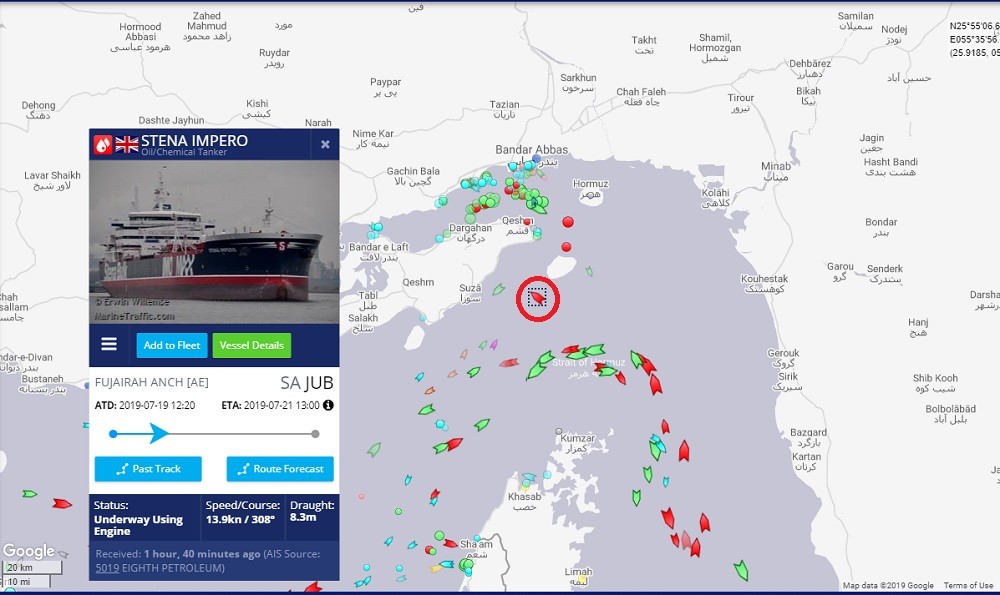 Six days later, the Royal Navy said its frigate HMS Montrose intervened to prevent several Iranian boats from seizing the UK-flagged tanker British Heritage in the Persian Gulf.
Earlier this week, alarms were raised after the disappearance of the Emirati-based tanker MT Riah, flying the Panamanian flag. Iran said the tanker experienced technical troubles and had been towed to port for repairs.
On Thursday, a US warship entered the Persian Gulf and reportedly shot down an Iranian drone that had approached to within 1,000 meters in a "threatening" manner. Iran has denied losing any drones, however.
Washington has sought to establish a "coalition" of allied navies in the region to ensure "freedom of navigation" in the Strait of Hormuz, one of the most important shipping lanes in the world for oil traffic.