A leaked document tells 45 stories of

Google employees

who claim they've experienced

sexual harassment

, personal insults, and racism, and were then sidelined and denied promotion for being "too much of an activist."
Apparently a product of the company's campaign to uncover cases of retaliation, the document is a cache of personal accounts submitted by Google employees to an internal company forum.
The document was first revealed by Recode earlier this month, but Motherboard published it in full.
Writing anonymously, Googlers describe cases of their managers' unethical business decisions, ill treatment of minorities and women within the company, and the tech giant's attempts to keep some unpleasant things 'in the family'.
One employee writes that their "reputation has been damaged both inside the company and throughout the industry at large" by the retaliation against them, while "the person who had been perpetuating the retaliation simply received additional "managerial coaching."
A female employee "experienced blatant racist and sexist things from my coworker" and after reporting them "was warned that things will get very serious if continued."
No one protected me, the victim. I thought Google was different. 
Her claims are echoed by those of her colleague: "I whistle blew a colleague who used the N-word in jokes. HR found nothing conclusive. I was on track to becoming our team's tech lead, but now I can barely even get an invitation to lunch."
Having an active position on social issues is also not welcomed at Google, apparently, as detailed by another Googler: "They [directors] made terrible comments about people in all kinds of protected situations — including saying that a woman could not receive an 'exceeds expectations' because she had recently been on leave and that someone should be rated downward for being 'too much of an activist.'"
Google has neither confirmed nor denied the authenticity of the accusations. But Eileen Naughton, Google's vice president of People Operations, said they are working hard to bring cases of inappropriate treatment to light: "Reporting misconduct takes courage and we want to provide care and support to people who raise concerns. All instances of inappropriate conduct reported to us are investigated rigorously."
In March, Google decided to pay $135 million to two former executives accused of sexual harassment. While last year, around 20,000 Google employees took part in a global protest urging the corporation to stop forced arbitration for issues of sexual harassment and discrimination and release a transparency report on sexual abuse in the company. Meredith Whittaker and Claire Stapleton, who stood at the core of the protest, later published an internal open letter, claiming they faced retaliation from the company for their action. Whittaker quit Google in July.
Published on Aug 20, 2019
Bernie is trying to recruit more baseball field shooters.
A politics editor at the

New York Times

faces charges of anti-Semitism and bigotry after a series of old insensitive tweets surfaced online. This comes after a similar scandal with its Washington editor and leaked editorial tapes.
Breitbart News uncovered the tweets in an investigation published on Thursday, detailing a litany of offensive and racially-charged remarks from senior staff editor Tom Wright-Piersanti, who has worked at the Gray Lady for a little over five years, according to his LinkedIn profile.
Before that, on New Year's day in 2010, Wright-Piersanti said: "I was going to say 'Crappy Jew Year,' but one of my resolutions is to be less anti-Semitic. So… HAPPY Jew Year. You Jews."
The tweet has since been deleted.
In another missive dated December 2009, the future Times editor posted a photo of a vehicle with what appears to be a menorah – associated with the religious holiday of Hanukkah – on its roof, and asked "Who called the Jew police?"
Though the "Jew police" tweet was still publicly viewable when Breitbart's story first ran, it has also since mysteriously vanished from Wright-Piersanti's Twitter page.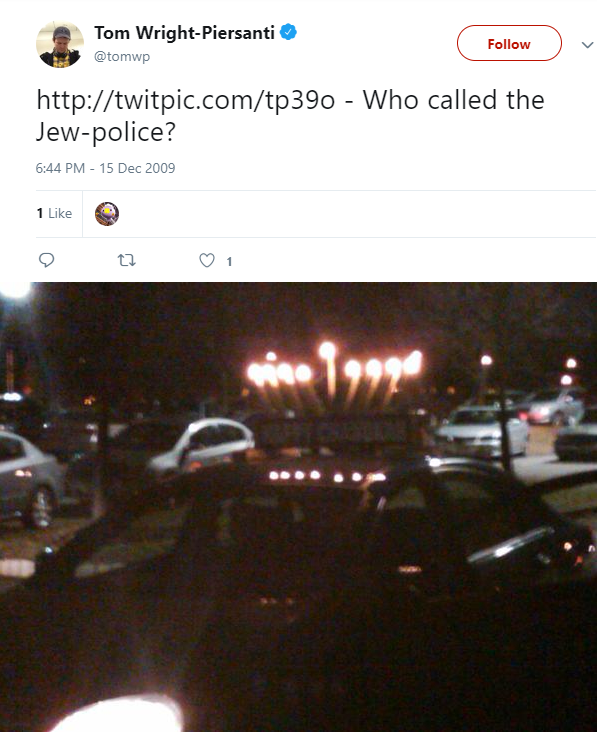 The apparently anti-Semitic comments prompted the Zionist Organization of America (ZOA), one of the oldest Jewish political advocacy groups in the US, to demand for the editor's swift termination, and a review of past stories he edited.
"The Zionist Organization of America urges the New York Times to immediately dismiss this individual and to undertake a review of all of the stories that he has edited for possible antisemitic bias," a spokesperson for ZOA told Breitbart News.
In addition to members of the Jewish faith, Wright-Piersanti's tweets often fixated on "Indians" as well, though it's not always clear if he is referring to Native AmericRAans or people from India.
"There are four indian guys with mohawks in this one class, and each one is a douche in his own awful way," he tweeted in December 2009.
I hate mohawk Indians.
A number of other posts singled out Indians for ridicule or insult as well, all of which remain public on Wright-Piersanti's page at the time of publication.
In another deleted tweet, the Times editor mused "With asian babies, is it racist to say to the parents, 'Aw, he looks just like you!'? What if you say it before you see any pictures?"
While the Times has not yet addressed the allegations publicly, Wright-Piersanti tweeted an apology on Thursday morning, after scrubbing a number of the offending tweets from his page, which he briefly set to private.
I have deleted tweets from a decade ago that are offensive. I am deeply sorry.

— Tom Wright-Piersanti (@tomwp) August 22, 2019
Following the publication of Brietbart's investigation, Donald Trump Jr., the president's son, weighed in on the story, tweeting "Disgusting. But we shouldn't expect any better from the New York Times. This is who they are."
Earlier this month, the Times demoted its deputy Washington editor for "serious lapses in judgement" in the form of tweets criticized as 'racist.'
NYT shifts from Russiagate to racism, insisting Orange Man Still Bad
Last week, a transcript of an internal town hall meeting surfaced, showing that the newspaper deliberately decided to shift its coverage of President Donald Trump from his supposed connections to Russia to "race and other divisions."
"Those who do not comply, will not be let in."
By Paul Joseph Watson – JULY 30, 2019
A swimming pool in the

German city of Düsseldorf

has been forced to introduce mandatory ID card checks in an effort to stop

sexual assaults

and rowdy behavior by migrant youths that has required the police to be called out on numerous occasions.
Following a crisis summit between administrators, the mayor and the police chief, an online ticket system linked to people's IDs has been established to control who is allowed to enter the pool.
"In Rheinbad we have introduced an identity card for all visitors," said Düsseldorf Mayor Thomas Geisel. "Those who do not comply, will not be let in. It is absolutely unacceptable and inconceivable that families who want to spend their free time here are harassed by youth gangs."
As we reported earlier this month, the pool had to be closed twice after hundreds of male migrants harassed a family, prompting a huge police deployment.
Last Friday, the pool had to be cleared again as around 60 North African migrants began engaging in aggressive beahvior. Outnumbered, the six security guards on patrol had to call police for backup. 20 officers arrived and the pool was closed.
"It should be known, that before the migrant crisis, German swimming pools didn't need six security guards to maintain order. It's likely that they didn't need any at all," comments Voice of Europe.
It remains to be seen how authorities will prevent the kind of people who cause mayhem from using the pool. They could only really do so by barring people from North African countries, which would set off a nationwide controversy and lead to widespread accusations of racism.
Published on Jul 29, 2019
Orange man still bad.
A reporter referred to an attack on two men by over a dozen youths as a "terrific attack".
By Tom Pappert
In what may represent a stunning display of horrific race relations in the

mainstream media

, an African American reporter for Fox 5 DC referred to an attack on a

white man

as a "terrific attack" on live television, and the news station uploaded the video to its website.
"A massive beat down caught on camera in the district," said one Fox 5 reporter, before another added "More than a dozen teens carrying out the attack near a D.C. hotel, Fox 5's Ike Ejiochi is on top of the story for us tonight, he's live in Northwest with the details."
The video then turns to a live feed of Ejiochi on the ground at the scene of the horrific attack.
"Jim, this was a terrific attack," says Ejiochi. Big League Politics edited the clip for brevity, but Ejiochi did not correct himself, or use another adjective to describe the beating. Full video is available at Fox 5's website.
WATCH:
According to Fox 5's own reporting, it was a truly disgusting attack. Over 12 African American teens, who may be as young as 13 or 14, are scene punching, kicking, pushing, and spitting on two white men in video captured on local security cameras.
It is not currently known whether the attack was racially motivated.
Video of the incident captured by a surveillance camera shows the two men being surrounded while walking toward the doors of the hotel. One of the victims was able to get inside of the lobby while the other victim was punched and pushed to the ground after being swarmed by several of the attackers.
Police say the suspects could be as young as 13 or 14 years old. The man who is seen on the video being struck, kicked and even spit on was transported to a nearby hospital. He suffered injuries to the head and left eye socket.
The second victim suffered a swollen left eye and was also admitted to the hospital. He told police that before the attack began, one of the suspects screamed "That's him," and pointed to the man he was with.
The D.C. Police Department is currently seeking "the public's assistance in identifying suspects in reference to an Aggravated Assault offense" related to the incident.
The police department posted a Tweet about the incident, and included a YouTube video of the horrific attack:
Big League Politics contacted Fox 5 D.C. to see if they intended to describe the terrible attack as "terrific" and did not receive an immediate response.
By Joel B. Pollak
Sen. Kamala Harris (D-CA)

released a $75 billion plan Friday aimed specifically at

helping African-Americans overcome the wealth gap

. The plan includes $60 billion to historically black colleges and universities (HBCUs) and $12 billion to support black entrepreneurs.
The Root notes the details of the plan:
Harris' latest plan to address the wealth gap calls for pumping $60 billion into HBCUs, like her alma mater Howard, and other "minority-serving institutions" or MSIs, to increase the number of black graduates in STEM [science, technology, engineering, and math] programs.

…

Under her plan, $10 billion would be allocated to a fund to help HBCUs build out their STEM facilities, while another $50 billion would be provided in a competitive fund to help HBCUs and MSIs do such things as provide students with scholarships, support post-doctoral fellows, build curriculum, and gird cutting-edge research programs.

Harris also said she will provide another $2.5 billion toward HBCU programs that train black teachers.
Harris' plan also calls for helping African Americans start small businesses by creating a $12 billion "capital grant and technical support" program, with the funds distributed by the Commerce Department's Minority Business Development Agency.
(Read the full article at The Root here.)
Harris is on record supporting a form of reparations for slavery. She told NPR earlier this year that the reparations could involve spending on mental health for African-Americans, adding: "What I mean by [reparations] is that we need to study the effects of generations of discrimination and institutional racism and determine what can be done, in terms of intervention, to correct course."
President Donald Trump has also made support for HBCUs a central focus of his education policy, and a core part of his outreach to the black community.
NYPD needs to Go on strike until Deblasio steps Down
They dont like cops? They gonna love the Military. Keep it up!
All of NYPD should walk off the job & we will see how long the city is left standing. I will give it 12 hours.
Democrats only have victims as followers and as a Hispanic woman I was brainwashed for many years to vote Democrat. I would never vote Democrat again!! While Republicans may not be the answer Democrats are definitely the problem.
Read more
Find each one of these scumbags put them behind bars for Interfering with an Arrest & assault!
We are not overall a 3rd world country yet but we have pockets that closely resembles it.
This is sad…the other side don't know what is right and wrong anymore.
I don't know how any white person can vote democrat at this point. Blows my mind. It's the party of criminals and blatant racism against whites.
Wait until New York has that black out they talking about that might happen. Who are they gonna call Ghostbusters LOL
The California progressive had led a drive to rename manholes "maintenance holes."
A Berkeley, California city councilor denied a request to appear on primetime Fox News host

Tucker Carlson

's show on Thursday in prolific fashion.
Rigel Robinson tweeted an email exchange with a booker for Carlson's show, in which he called the primetime host a "white supremacist goblin."
The city councilor had sponsored a drive to rename manholes- the term commonly used in the English language for the covers of sewer access pipes on the streets- to "maintenance holes." According to Robinson, the new word imagined for the the objects is nominally more "inclusive" than its predecessor.
Carlson's scheduler reached out hoping to book Robinson to explain his move. Robinson flipped out in response, making the leap from gender-neutral language to accusing Carlson of racism in relatively unprecedented terms.
"Unfortunately I won't be able to come on the show," Robinson expressed in his email. "Tucker Carlson is a dangerous, xenophobic, racist, white supremacist goblin who I am not interested in engaging with."
The email thread in which Robinson accused Carlson of being a fantasy creature from J.R.R Tolkien's universe was deleted on Twitter as of Friday morning, and it's unclear if the tweet was removed by the city councilor or censored by Twitter. Robinson's affiliation with the progressive left makes the former far more likely.
Although his desperate bid to avoid being questioned on Orwellian redefinition tactics appears to have succeeded for now, the progressive has made it clear that he has no genuine argument for stripping the term "manhole" of its commonly known and traditional title.