by Kristinn Taylor March 4, 2020
Senate Minority Leader Chuck Schumer (D-NY)

threatened two conservative Supreme Court justices as he spoke at a pro-choice rally in front of the Supreme Court Wednesday as the Court heard a Louisiana case on restricting abortion, June Medical Services v. Russo, described by ScotusBlog,
"Whether the U.S. Court of Appeals for the 5th Circuit's decision upholding Louisiana's law requiring physicians who perform abortions to have admitting privileges at a local hospital conflicts with the Supreme Court's binding precedent in Whole Woman's Health v. Hellerstedt."
Schumer gives the thumbs down as he mentions Justices Neil Gorsuch and Brett Kavanaugh.
Schumer turned and pointed at the Supreme Court building behind him and menacingly screamed as he shook his fist:
"I want to tell you Gorsuch! And I want to tell you Kavanaugh! You have released the whirlwind, and you will pay the price! You won't know what hit you! If you go forward with these awful decisions…"
By Tyler Durden – 12/20/2019
Authored by Tom Luongo via Gold, Goats, 'n Guns blog,
The

Democrats

declared war this week. Not on

President Donald Trump

but on the United States and the

Constitution

.
What started as a coup to overturn the 2016 election has now morphed into a Civil War as Speaker Nancy Pelosi (D-San Fran-feces) presided over the passage of a bill which creates a clear Constitutional Crisis.
And that means we have multiple factions vying for control of our government, the definition of a Civil War.
In passing these articles of impeachment against President Trump Congress has arrogated to itself powers it does not have.
The first article asserts a motive to Trump's actions to invalidate his role as chief law enforcement officer for the country. It doesn't matter if you like him or any President having this power, he does have it.
Read that first article and then apply it to a country other than Ukraine where Trump didn't have 'probable cause' for investigation into corruption and malfeasance there.
That could be Abuse of Power.
But this happened in Ukraine where Trump clearly has probable cause.
The following is the scenario the first impeachment article is asserting as the basis for abuse of power, through ascribing political motives to the President:
One day President Trump wakes up and says, "Shit! Joe Biden's leading me in the polls. I need to do something about this."

So, Trump twirls his orange comb-over and calls up the Prime Minister of Armenia, a Russian ally, to whom we've pledged aid. Since it's a Russian ally and Trump may have colluded with the Russians, they would be a good candidate to help him.

But Joe Biden has no history of diplomacy or oversight in Armenia as Vice-President. There's no record of any contact of any kind with Biden in Armenia, for argument's sake.

Trump then, during the phone call, shakes down the Armenian PM for that aid, explicitly saying he must create dirt on Joe Biden or he would withhold appropriated aid funds to the country.

Then, after getting caught, Trump tries to hide the record of the phone call by hiding behind Executive Privilege.
That would be Abuse of Power and an impeachable offense. It would be regrettable but indefensible that the odious jackals in Congress were right to impeach him. They would, actually, be defending the Constitution and fully within their rights.
But, that's not what happened.
Biden was put in charge of Ukraine by President Obama. He had full discretion on policy towards Ukraine and was caught on tape bragging about doing exactly what the impeachment article is accusing Trump of doing. Shaking Ukraine down for favors in order to get $1 billion in aid.
Since the prosecutor who Biden had fired was investigating corruption into his son Hunter's involvement with Ukrainian gas company Burisma, this admission is pretty damning, showing clear personal motive to use his office to stop investigation into his family.
This is Abuse of Power. This is subjecting U.S. foreign policy to the whims of an elected official, squelching an investigation into his personal family, using the office for personal gain.
So, when viewed through this lens the first impeachment article is a complete lie. Trump didn't do the things asserted. The transcript of the phone call with Ukrainian President Zelensky proves that.
Trump made the phone call public immediately.
The phone call and Trump's order to review the foreign aid were contemporaneous but not conditional. If you have a non-charitable view of the President it may raise some questions, but there was probable cause here.
Your opinions on Trump do not add up to High Crimes and Misdemeanors.
The implications of this impeachment article are, however, staggering.
It says explicitly that the U.S. president cannot discharge his duties as a law enforcement official if the person of interest is someone of the opposite party or a potential electoral opponent.
It says that probable cause is not a standard for investigation only political considerations.
That's a clear violation of Congress' role. Congress writes laws. The President executes them. If the Congress wants to assume law enforcement powers it should work to amend the Constitution.
This is a clear example of why impeachment is a political process not a legal one. But, if they are going to act this politically, at least they should put the veneer of legality on it. Even the equally odious Republicans who impeached Bill Clinton did that.
But in asserting this as an offence Congress seeks to place the Legislative Branch as superior to the Executive in matters of law enforcement and implementation.
That's a clear violation of the separation of powers. It may suck that the guy holding the Office of the Presidency is someone you don't like or not willing to turn a blind eye to corruption, but doing his job is not a 'high crime or misdemeanor.'
The second article is even worse. Because asserts the power to subpoena members of the Executive branch under the impeachment inquiry into the first article. And since Congress has sole authority over impeachment, no judicial review of its subpoena power can be made.
This is fully unconstitutional since it subverts the power of the Judicial branch to settle disputes between the Executive and Legislative branches as established by the Constitution.
Pelosi and company are broadening the definition of 'the sole power of impeachment' to say that whatever Congress deems as worthy of an impeachment inquiry is therefore law and the other branches have no say in the matter.
This is patent nonsense and wholly tyrannical.
Rod Rosenstein and Andrew Weismann tried to use an equally broad interpretation of 'obstruction of justice' to include future harm to continue the special council's investigation into Trump's alleged collusion with Russia.OB
Moreover it renders the concept of judicial review as laid down in Marbury vs. Madison null and void. Congress cannot just make up laws and crimes out of whole cloth and then unilaterally declare them constitutional under the rubric of impeachment.
The Supreme Court has the right to strike down bills Congress passes as unconstitutional.
This drives a massive wedge through the separation of powers in a blatant power grab by Pelosi and the Democratic House majority to protect themselves from Trump's investigations into their crimes surrounding events in Ukraine.
When viewed dispassionately, Obstruction of Congress is not a crime but rather a function of each of the other two branches of government. It's no better when the President hides behind Executive Orders to legislate unconstitutionally.
And it's even worse when the Supreme Court makes up laws from the bench rather than kick the ball back to Congress and start the process all over again.
That's what the whole three co-equal branches of government is supposed to mean.
Now, in practice I don't believe the three branches are equal, as the Judicial branch routinely oversteps its authority. But in this case if it does not step in immediately and defend itself from this Congress then the basic fabric of our government unravels overnight.
That the second impeachment article is directly dependent on the flawed (or non-existent) logic of the first impeachment article renders the whole thing simply laughable on the face of it.
I'm no legal scholar so when I can see how ridiculous these articles are then you know this has nothing to do with the law but everything to do with power.
And the reality is, as I discussed in my latest podcast, what this impeachment is really about is distracting and covering up the multiple layers of corruption in U.S. foreign and domestic policy stretching back decades. Many of the tendrils emanating from the events surrounding the FISA warrants improperly granted connect directly to the Clintons, Jeffrey Epstein, William Browder and the rape of Russia in the post-Soviet 90's.
We're talking an entire generation or more of U.S. officials and politicians implicated in some of the worst crimes of the past thirty years.
The stakes for these people are existential. This is why they are willing to risk a full-blown constitutional crisis and civil war to remove Trump from office.
They know he's angry at them now. This is personal as well as philosophical. Trump is a patriot, a narcissist and a gangster. That's a powerful combination of traits.
The polls are shifting his way on this as the average person knows this impeachment is pathetic. They are tired of the Democrats' games the same way British voters are over the arguments against Brexit.
So the old adage about killing the king come to mind. If Pelosi et.al. miss here, the retribution from Trump will be biblical.
The damage to the society is too great to argue irrelevancies. No one outside of the Beltway Bubble and the Crazies of the Resistance cares about what Trump did here. It's too arcane and most people are against giving a shithole like Ukraine taxpayer money in the first place.
The whole thing is a giant pile of loser turds steaming up the room and impeding getting any work done.
In the end We'll know if Trump has his ducks in a row in how Senate Majority Leader Mitch McConnell plays his cards versus Pelosi. If McConnell pussy-foots around and gives Pelosi anything on how the trial in the Senate is conducted then the fix is in and Trump is done.
But, if McConnell shuts this down then what comes next will be a righteous smackdown of Trump's political opponents that will make the phone call with Zelensky look like a routine call to Dominos' for a double pepperoni.
Either way, this coup attempt by Pelosi is now open warfare. There will be casualties.
*  *  *
Join My Patreon if you want help navigating what's the next stop on the short bus to Crazytown. Install the Brave Browser to suck the money away from Google and protect your privacy.
Despite latest debunked accusation, freshman congresswoman determined to unseat Supreme Court Justice
Jamie White  – SEPTEMBER 17, 2019
Rep. Ayanna Pressley (D-Mass.)

, a member of the "Squad" of far-left freshmen congresswomen, will introduce a resolution calling for an impeachment inquiry of Supreme Court Justice

Brett Kavanaugh

following a debunked New York Times hit piece 

against him alleging sexual misconduct.
"I believe Christine Blasey Ford. I believe Deborah Ramirez. It is our responsibility to collectively affirm the dignity and humanity of survivors," Pressley said in a statement, reported WBUR.
"Sexual predators do not deserve a seat on the nation's highest court and Brett Kavanaugh's confirmation process set a dangerous precedent," she said. "We must demand justice for survivors and hold Kavanaugh accountable for his actions."
Pressley plans to introduce the resolution even after the Times issued a major correction noting the accuser of the alleged misconduct claims she has no memory of the alleged incident even taking place, and refused to be interviewed.
The Squad's leader Rep. Alexandria Ocasio-Cortez (D-N.Y.) also called for Kavanaugh's impeachment on Twitter before the NYT's clarification, deleted her post following the clarification, then curiously, reposted her impeachment call on Monday.
The latest accusation against Kavanaugh has been outright debunked. So why is the left still moving forward with efforts to remove Kavanaugh?
The answer is because their aim has always been about preventing Kavanaugh from serving in the court due to their belief that he will attempt to outlaw abortion and repeal Roe v Wade.
The lawyer of Kavanaugh's original accuser Christine Blasey-Ford said just weeks ago that her client's motivation to accuse Kavanaugh of sexual misconduct was rooted in her desire to protect abortion.
Pressley's impeachment resolution has virtually no chance of passing, as it requires a majority of the House and two-thirds of the Republican-led Senate to unseat Kavanaugh from the Supreme Court.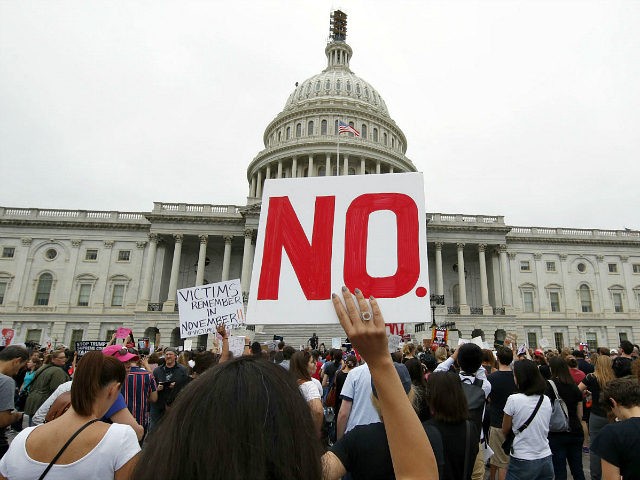 By Aaron Klein
NEW YORK

— Demand Justice, an organization founded by former members of Hillary Clinton's 2016 presidential campaign and associated with a "social welfare organization" financed by billionaire activist George Soros, has played a central role in leading activism against Supreme Court Justice Brett Kavanaugh based on a quickly deteriorating claim in a controversial New York Times article.
Demand Justice is fiscally sponsored by a nonprofit arm of the secretive, massively funded Arabella Advisors strategy company that pushes the interests of wealthy leftist donors. Arabella specializes in sponsoring countless dark money pop-up organizations designed to look like grassroots activist groups, as exposed in a recent extensive report by conservative watchdog Capital Research Center.
Within hours of the release of the questionable Times article, Demand Justice not only launched a social media campaign but used the piece to push their October 6 event to "protest this corrupt Supreme Court and demand an investigation of Kavanaugh."
The event is being organized with the radical Soros-funded Women's March and CPD Action, whose sister group, Center for Popular Democracy, is also funded by Soros.
Within less than 24 hours, Demand Justice used the Times piece to further promote their rally and renew the event's aim "to #ImpeachKavanaugh."
Together with the Women's March and CPD Action, Demand Justice went on a public relations offensive against Kavanaugh utilizing the latest accusation storyline to comment in the news media.
"This new report corroborates the allegations made by Debbie Ramirez and proves the FBI investigation conducted last year was a sham from the start," the three groups said in a statement widely picked up by the news media.
"At this point, an impeachment inquiry in the House is the only appropriate way to conduct the fact-finding that Senate Republicans refused to conduct."
The trio called on House Speaker Nancy Pelosi and House Judiciary Chairman Jerrold Nadler to immediately launch an impeachment inquiry.
Demand Justice has since blasted out emails and other messages to supporters urging Kavanaugh's impeachment, based in part on the Times piece.
Demand Justice has been at the forefront of anti-Kavanaugh activism. Even before President Donald Trump first announced Kavanaugh as his official nominee, Demand Justice committed to spending about $5 million to oppose any eventual Trump nominee for the Supreme Court. The organization seeks to raise $10 million in its first year.
Breitbart News reported that within less than one hour of Trump's announcement that Kavanough was his nominee, Demand Justice had already put up the website stopkavanaugh.com, exclaiming: "We need to demand that the Senate defeat the Brett Kavanaugh nomination."
The news media has routinely produced articles on Demand Justice protesters, with many pieces failing to inform readers that this is not a grassroots group but an organization spawned by professional organizers and tied to deep leftist funding.
Brian Fallon, the head of Demand Justice, served as press secretary for Clinton's 2016 presidential campaign. The group's digital team is headed by Gabrielle McCaffrey, who was a digital organizer for Clinton's campaign.
In an interview with the New York Times, Fallon would not comment on the source of the group's financing, but the newspaper noted that he was recently a featured speaker at the conference of the Democracy Alliance, a grouping of progressive donors.
Democracy Alliance's founding donors include billionaires George Soros and Tom Steyer. Indeed, Fallon's panel at Democracy Alliance was moderated by Sarah Knight of Soros's Open Society Foundations.
Demand Justice is fiscally sponsored by the Sixteen Thirty Fund, one of four nonprofits run by Arabella Advisors.
The Capital Research Center's expose documented that from 2013-2017 alone, Arabella's four nonprofits spent a combined $1.16 billion with the aim of advancing "the political policies desired by wealthy left-wing interests through hundreds of 'front' groups."
"And those interests pay well: the network's revenues grew by an incredible 392 percent over that same period," the report related.
"Together, these groups form an interlocking network of 'dark money' pop-up groups and other fiscally sponsored projects, all afloat in a half-billion-dollar ocean of cash," states the report. "The real puppeteer, though, is Arabella Advisors, which has managed to largely conceal its role in coordinating so much of the professional Left's infrastructure under a mask of 'philanthropy.'"
The New York Times piece at the center of Demand Justice's latest anti-Kavanaugh push purports to have "uncovered" a "previously unreported story" about the Supreme Court justice. The article was adapted from a forthcoming anti-Kavanaugh book by the newspaper's reporters Robin Pogrebin and Kate Kelly.
At first, the Times reported these standalone details:
A classmate, Max Stier, saw Mr. Kavanaugh with his pants down at a different drunken dorm party, where friends pushed his penis into the hand of a female student.
The Times issued a massive correction after it was reported that the newspaper had omitted the detail — included in the book — that the female accuser does not remember the incident.
The correction reads:
An earlier version of this article, which was adapted from a forthcoming book, did not include one element of the book's account regarding an assertion by a Yale classmate that friends of Brett Kavanaugh pushed his penis into the hand of a female student at a drunken dorm party. The book reports that the female student declined to be interviewed and friends say that she does not recall the incident. That information has been added to the article.
The allegation itself is "confusing" to National Review writer John McCormack, who opines:
If you take this confusing accusation in the essay at face value, it doesn't even appear to be an allegation of assault against Kavanaugh.

If Kavanaugh's "friends pushed his penis," then isn't it an allegation of wrongdoing against Kavanaugh's "friends," not Kavanaugh himself? Surely even a modern liberal Yalie who's been to one of those weird non-sexual "naked parties" would recognize both the female student and Kavanaugh are both alleged victims in this alleged incident, barring an additional allegation that a college-aged Kavanaugh asked his "friends" to "push his penis."
Despite Demand Justice's activism and amid the collapsing Times claim, Nadler does not seem to be in a rush to impeach Kavanaugh, saying, "We have our hands full with impeaching the president right now and that's going to take up our limited resources and time for a while."
JOHN NOLTE
The far-left New York Times has been shamed into adding a humiliating "correction" to its latest and now-debunked smear of Associate Supreme Court Justice

Brett Kavanaugh

.
The correction admits a fairly, somewhat, kinda, sorta, maybe important piece of information about how Kavanaugh's alleged "victim" refused to talk to the Times and doesn't remember the alleged "assault."
Prior to publishing the smear, the Times knew this fact and still chose to deliberately hide it from the public. And we all know why… It proves the whole story is fake news.
Now…
Did you catch that?
Did you catch what the New York Times is now admitting…?
Let me repeat it for the CNN-impaired:
Brett Kavanaugh's alleged victim doesn't recall being an alleged victim.
The "victim" doesn't remember the assault.
The "victim" doesn't remember being sexually assaulted.
She doesn't remember it happening.
And the New York Times not only went ahead and reported the story as credible, the New York Times hid that information from its readers.
On Saturday, the failing New York Times published a piece claiming it had found a new Kavanaugh accuser. Here's the bombshell portion:
We also uncovered a previously unreported story about Mr. Kavanaugh in his freshman year that echoes Ms. [Deborah] Ramirez's allegation. A classmate, Max Stier, saw Mr. Kavanaugh with his pants down at a different drunken dorm party, where friends pushed his penis into the hand of a female student. Mr. Stier, who runs a nonprofit organization in Washington, notified senators and the F.B.I. about this account, but the F.B.I. did not investigate and Mr. Stier has declined to discuss it publicly. (We corroborated the story with two officials who have communicated with Mr. Stier.)
But what the Times didn't tell its readers is that the alleged victim of this alleged assault, the very person  into whose alleged hand the alleged penis was allegedly thrust, does not recall anything about the penis incident and does not want to talk to the media.
Does that piece of information not seem somewhat pertinent to the story? And when I say "pertinent," I of course mean "the story is totally bogus and never should have been published."
This now-debunked bombshell is based on an upcoming book by two New York Times reporters. In the book, they do admit the alleged victim does not remember the assault. But still, knowing this, the Times deliberately left that information — the only information that matters — out of its bombshell.
And the only reason we know the Times withheld this information is because the Times got caught.
Thankfully, and the Times obviously didn't expect this, a few conservatives received an advanced copy of the book; they located this pertinent fact and blew it up on social media. This is the only reason why, after 36 hours of attempting to deceive the public, the Times grudgingly added the following correction Sunday evening:
Editors' Note: An earlier version of this article, which was adapted from a forthcoming book, did not include one element of the book's account regarding as assertion by a Yale classmate that friends of Brett Kavanaugh pushed his penis into the hand of a female student at a drunken dorm party. The book reports the female student declined to be interviewed and fr8iends say that she does not recall the incident. That information has been added to the article.
The updated story reads like this and even the update is a lie…
(We corroborated the story with two officials who have communicated with Mr. Stier; the female student declined to be interviewed and friends say she does not recall the episode.)
It's worth pointing out Max Stier is a Democrat operative, a former attorney for the Clintons, and who also refused to talk to the Times.
Finally, when the Times claims in its update that it "corroborated the story" that's a lie. All the Times did was talk to a couple of people who say Stier told them about a sexual assault that the victim doesn't even recall happening. That's not corroboration, that's "hearsay."
But…
Since this is the new standard of journalism, I have something to report…
I am deeply ashamed to admit it, but I honestly don't remember New York Times Executive Editor Dean Baquet sexually assaulting me.
Here's my headline:
I Do Not Remember Dean Baquet Sexually Assaulting Me
So a Democrat operative is running around claiming he witnessed an assault that the victim herself cannot remember, but even he is not talking to the Times about it — Gee, I wonder why?
Anyway, I honestly don't remember Dean Baquet sexually assaulting me. How can I deny something when I don't have any memory of it ever happening?
Feel free to quote me on that.
by Cristina Laila February 5, 2019
As

TGP

's Kristinn Taylor reported,

Ruth Bader Ginsburg

made her first public appearance Monday night since her lung surgery in December.
According to reports, Ginsburg attended a concert celebrating herself titled, Notorious RBG in Song, that featured her daughter-in-law, soprano Patrice Michaels.
Various reporters who attended the event Monday night claimed they saw Ruth Bader Ginsburg, but said she played it lowkey and sat in the back of the room.
Attendees who saw RBG described her as looking "quite glam" and "magnificent," however there are no photos of the Supreme Court Justice attending the event Monday night.
A few photos of the event were posted online, however there are no photos of Ruth Bader Ginsburg yet.
The AP reported no photos were allowed, and that Ginsburg's son said she is walking a mile per day.
"The National Constitution Center, which sponsored the concert, did not permit photography."
One WaPo columnist claimed he was hugged and wished a happy birthday by RBG Monday night.
David Hagedorn, who describes himself as a "Dining columnist for Arlington & Bethesda Magazines; Washington Post contributor; freelance food/travel/design writer" deleted his tweet and locked his Twitter account.
"What a delight to see RBG tonight at "Notorious RBG in Song," written & beautifully performed by her daughter-in-law, Patrice Michaels. She sat in the back, a few rows behind us, looking resplendent. Being hugged & wished a happy birthday by her made a grand night spectacular," Hagedorn said in a since-deleted tweet.
Hagedorn then made his Twitter account private.
The pair stands accused of raping a young man at a party in Houston.
By Peter D'Abrosca
Missing Supreme Court Justice

Ruth Bader Ginsburg

used her power as a justice of the peace to marry a gay couple in 2014.
Tuesday, that couple was charged with rape.
"David Daniels, 52, and his conductor husband Scott Walters, 37, were arrested in Michigan, where they live, on Tuesday night," according to DailyMail.
RBG made headlines when she married the couple less than five years ago. A year later, the Supreme Court upheld a ruling that allowed gay marriage to become the law of the land.
The couple stands accused of raping Samuel Schultz after a performance in Houston in 2010, three years BEFORE their publicity stunt with Ginsburg. They will be extradited to Texas to face the charges.
"Schultz came forward last August with his allegations, waiving his anonymity as the possible victim of a sex crime to describe how the couple allegedly preyed on him. He reported his claims to the Houston Police Department at the same time," according to the report.
He described a grizzly scene in which he blacked out after being offered a drink, only to wake up sore and bleeding.
"Daniels has been accused in the past of soliciting men on Grindr and was reported to police in 2017 for allegedly asking a man to perform a sex act through the app," the report said. "He has also previously faced complaints from students at the University of Michigan, where he is a tenured professor including one who sued him in October."
The University of Michigan has not fired him, but instead said it would "closely monitor the situation."