This is the new war on terror.
By Shane Trejo – May 26, 2020
The

deep state

is demonizing protesters who are taking to the streets because their livelihoods are being destroyed as a domestic terrorist threat.
The federal government is warning the so-called essential workers and government bureaucrats that they may be targeted by anti-quarantine demonstrators with violent attacks. The feds have transitioned from focusing on ISIS and Al Qaeda to profiling freedom lovers in fighting their war on terror.
"Some illicit actors probably will view any continued state-mandated orders as government overreach, and anticipated safety guidelines and policies—specifically the use of face masks—probably also will serve as a driving factor behind continued violent incidents related to the pandemic," analysts with the Department of Homeland Security (DHS) wrote in their assessment.
Protesters have been demonized because they have demonstrated their 2nd Amendment rights at anti-lockdown rallies across the country. However, the actual instances of violence have come from authorities enforcing the Draconian policies instituted primarily by Democrat governors across the nation.
Big League Politics reported on one woman who was dragged out of the Michigan Capitol for attempting to report on the legislature, suffering horrible injuries and having a PTSD-induced panic attack in the process:
Anti-quarantine protesters in Michigan are claiming that they were accosted by security personnel while protesting inside the Capitol against the shutdown that is crippling the state economy.

Governor Gretchen Whitmer has been the target of high-profile protests in recent weeks due to her restrictions on Michigan citizens. Her goons have hassled Michigan residents for boating, cited people for gathering outdoors in private backyards, and put thousands of small businesses out of commission. This caused protesters to gather outside of her taxpayer-funded mansion last week, and commence the historic "Operation Gridlock" display that has since gone viral and spread throughout the country.

Graphic videos have been posted on social media of protesters being physically removed from the Capitol premises. One protester, Michigan United for Liberty organizer Wendy Darling, received particularly harsh treatment. During one stretch of the video, she can be seen having a panic attack. She reported suffering serious injuries and needing to be hospitalized because of how she was treated by security personnel in the Capitol.

"I went above and beyond to get extra press credentials today and then they wouldn't let us in and wouldn't let the Capitol Police come in and took upon theirself to assault and battery me," Darling said in a video address to her supporters describing the abusive treatment she received while awaiting her X-rays in a local hospital.

"The numbness from the panic attack is wearing off. In a lot of pain. Whole right side of body, head, neck, back, my right wrist is the worst from the Friction burns," Darling wrote about her incident in the Michigan United for Liberty group on Facebook.
The deep state is demonizing the anti-quarantine protesters just like they demonized President Trump as a Russian agent. This is their latest scam to maintain their stranglehold on power and keep lockdown tyranny in place heading into this year's crucial election.
By Dustin Nemos – May 14, 2020
These good cops should sue the hell out of this corruption!!!

God help them for standing for freedom!
By Jim Hoft – May 14, 2020
DEEP STATE ERUPTS!
Judge Sullivan appoints Retired Judge to Fight Back Against Trump DOJ and

Attorney General William Barr

!
As we reported last night–
Obama's Deep State henchmen who set up General Flynn and the crooked politicians and media hacks who supported them are terrified.
TRENDING: BREAKING: DEEP STATE FIGHTS BACK! Judge Sullivan Appoints Retired Judge to Argue Against Government's Motion to Dismiss Case Against Flynn – Wants to Hold Flynn in Contempt!
More information on Obamagate is expected to drop in the coming days.
An audio of former President Barack Obama, whose Administration spied on the Trump team and Administration, was released by deep state reporter Michael Isikoff at Yahoo News on Friday night.
In the "call" which appears totally set up, Obama says he is concerned about "the rule of law."
Obama also accused Flynn of committing "perjury"!
Apparently, Judge Emmet G. Sullivan took this call to heart.
On Tuesday the Clinton-appointed judge made a dirty, political move to delay justice for General Mike Flynn.
The Justice Department dropped its case against General Mike Flynn last Thursday after bombshell documents released proved he was framed by Comey's FBI.
But Judge Sullivan extended the case by soliciting amicus briefs to allow for public comment on Flynn's criminal case.
And now this…
Judge Sullivan today appointed retired Clinton appointee judge John Gleeson to argue against the government's motion to dismiss the charge against Flynn!
This is unheard of!
On May 11, 2020, John Gleeson penned this Washington post article "The Flynn case isn't over until the judge says it's over".
First the attorneys for the Mueller team withheld Brady evidence from General Flynn for over a year and now this crooked judge won't acquit!
Also Sullivan asked the retired judge to look at whether Flynn could be held in criminal contempt for perjury.
**** This is exactly what Obama said — even though Flynn DID NOT commit perjury!
THE DEEP STATE IS FIGHTING BACK!
Via Kyle Cheney from far left Politico.
Here is Judge Sullivan with James Boasberg & Rosemary Collyer who both signed the FISA warrant. Judge Contreras Flynn's first Judge had to be removed from the case because of his personal relationship with Strzok. And the corrupt Amy Berman Jackson.
By Jim Hoft
Intelligence Committee Inspector

General Michael Atkinson

is testifying behind closed doors on Friday in front of the House Intelligence Committee.
During a break in testimony Rep. John Ratcliffe (R-TX) told reporters that Adam Schiff should be disqualified because he is both a "fact witness" and an investigator in the case.
Here is Rep. Ratcliffe (R-TX) speaking to reporters on Friday.
Rep. Ratcliffe: No where else in the United States of America can you be both the fact witness and the lead prosecutor for an investigation in ANYTHING much less an investigation to remove the president from office. It's entirely inappropriate and Chairman Schiff should be disqualified from running an investigation where his committee members or staff are fact witnesses about contact with the whistleblower and the whistleblower process.
Visa via CSPAN:
Paul Pelosi Jr.
By Jim Hoft
Quid-Pro-Joe

and his son

Hunter

are not the only Democrat family members cashing in on their prominent positions.
Nancy Pelosi's son Paul is also on the board of an energy company.
Paul Pelosi Jr. also traveled to Ukraine.
AND — Better Yet — Speaker Nancy Pelosi even appears in the company's video ad!
According to Patrick Howley at National File Speaker Pelosi's son Paul Jr. was an executive at Viscoil.
Paul Jr. traveled to Ukraine in 2017.
And, Speaker Nancy Pelosi is featured prominently in the Viscoil video ad!
10/4/2019
Finally, a bold, unabashed admission from a Deep Stater that there IS a Deep State.
Rogue, entitled elites defying the peoples government.
The GOP has to stop running. They need to stand their ground. This way out of hand.
Nickelback-themed video showed Biden & son meeting with Ukraine gas exec.
Paul Joseph Watson  – OCTOBER 3, 2019
Twitter

removed a viral meme posted by President Trump which highlighted

Joe Biden

's duplicity on his son's business dealings in response to a claim by the copyright owner.
The meme showed Biden denying that he had ever spoken to his son Hunter about the latter's overseas business dealings.
The clip then cuts to a Nickelback video with the lyrics, "Look at this photograph, every time I do it makes me laugh."
A photograph of Biden, his son Hunter, and a man identified as a "Ukraine gas exec" on a golf course together appears on screen with hearts drawn around their heads.
The meme was removed by Twitter this morning in response to a request from the copyright owner.
Warner Media Group owns the rights to Nickelback's music and it is likely they who asked Twitter to take it down.
The copyright claim is completely without merit as the meme is clearly transformative and therefore fair use.
This clearly seems like a political move to prevent more people from seeing the meme and uncovering Biden's duplicity.
An alternate version appears below.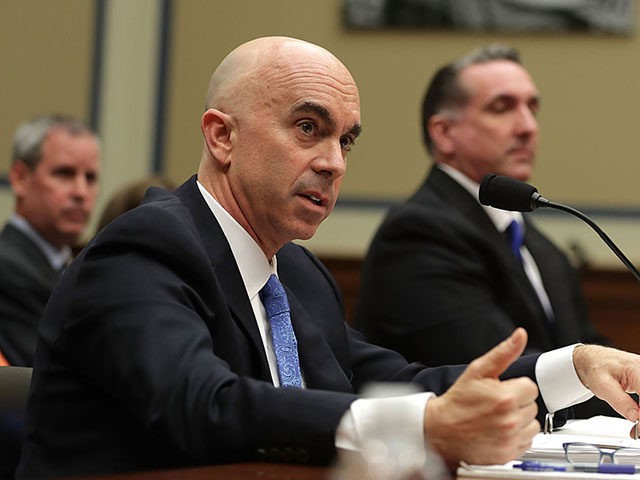 By Edwin Mora
The inspector general (IG) at the U.S. Department of State has requested to provide an "urgent" briefing

related to Ukraine

to congressional staffers on Wednesday afternoon on a matter that he was made aware of four months ago, Breitbart News has learned.
A Trump administration official told Breitbart News that Steve Linick, the IG at the State Department who began his tenure under former President Barack Obama in 2013, "has been sitting on the alleged 'urgent' matter for four months."
Citing anonymous sources, ABC News first reported the upcoming IG briefing to staffers from various committees in the House and Senate, noting that it came at the behest of Linick.
Linick is expected to focus on "documents obtained from the department's Office of the Legal Adviser related to the State Department and Ukraine," ABC News reported.
The administration official indicated to Breitbart News that the documents were initially turned over to a non-political lawyer in the civil service, who in turn gave them to Linick four months ago.
Echoing ABC News, the administration official identified the subject of the briefing as Rudy Giuliani, U.S. President Donald Trump's personal attorney, and Ukraine.
The details behind the "urgent" briefing "remain unknown," ABC News acknowledged. However, it added:
Linick is expected to meet with congressional staff in a secure location on Capitol Hill.

The unusual nature and timing of the briefing – during a congressional recess – suggests it may be connected to a recent intelligence community whistleblower allegation which describes, in part, the State Department's role in coordinating interactions between Rudy Giuliani, the president's personal attorney, and Ukrainian officials.
On Wednesday, hours before the briefing, U.S. Secretary of State Mike Pompeo confirmed that he was on the July 25 call between Trump and his Ukrainian counterpart, Volodymyr Zelensky. The call is at the center of imminent impeachment proceedings that Democrats in the House have vowed to pursue.
Democrats argue that Trump pressured Zelensky to investigate former Vice President Joe Biden and his son Hunter.